East Austin, with food trucks, music and bars, is one of the best neighborhoods to explore. Stay at the Heywood and then eat and drink your way through the neighborhood as you explore the restaurants, food trucks and music venues.
On E. Cesar Chavez Street you will find:
Heywood Hotel: Located at 1609 E. Cesar Chavez Street, just East of downtown Austin, this is a former two bedroom bungalow that was recently converted and added on to create a small seven room boutique hotel with a sleek, contemporary design. The location is convenient to access the hot areas of downtown and to get to I-35 and to the airport. No breakfast is served but there is coffee and tea service, great bedding, large bathrooms, fresh fruit available, ample parking, attractive rooms, flat screen TVs and WiFi, plus very helpful and friendly owners and staff. Besides it is a very good value. I would definitely go back.
Veracruz All Natural:  This is considered one of the top food trucks and restaurants for tacos in Austin. The food truck at 1704 E. Cesar Chavez is closing and moving to a permanent restaurant in 2020. There are other locations in town as well for you to enjoy.
A local friend raves about Counter Culture at 2337 E. Cesar Chavez for its vegan comfort food.
Cenote Coffee Café: On East Cesar Chavez, west of the hotel, is this attractive coffee house and bar.
Las Trancas, according to Chef Paul Qui in a recent WSJ article, is also great for late night tacos. 1210 E Cesar Chavez St.
At 2400 E. Cesar Chavez is Blue Owl Brewing. This is a microbrewery and tasting room that specializes in sour beers. I enjoyed tasting their Van Dayum sour red ale, a Belgian style ale. 
Recently opened is Friends & Allies Brewing featuring their brewery and beer garden. 979 Springdale Rd.
Nearby, East 6th Street has many bars, music venues, restaurants and food trucks. Recent finds include:
Zilker Brewing, 1701 E. 6th St.: This local microbrewery has an attractive tasting room that features its ales, IPAs, stouts and saisons. Their Coffee Milk Stout was quite good.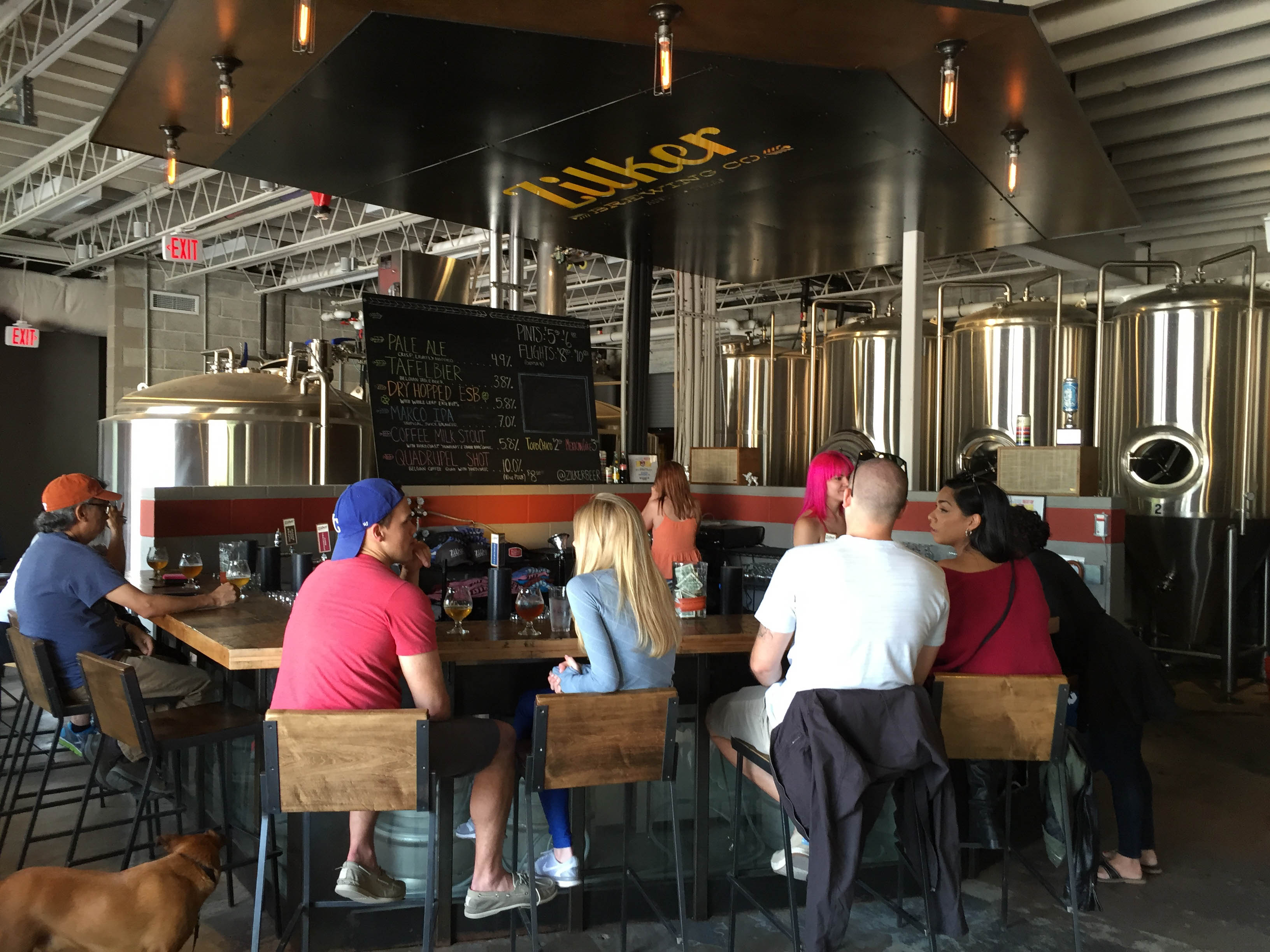 Cuvee Coffee, 200 E 6th: A fun coffee shop on the East side serving coffee drinks, cold brew coffee and beer.  
South of Caesar Chavez is Launderette at 2115 Holly St. I loved the atmosphere, design and food at this hot East Austin restaurant. I enjoyed brunch on Saturday with an asparagus benedict with asparagus, serrano ham, house made English muffins and a truffle hollandaise. The fried oysters Florentine also looked very good with poached eggs, spinach and a mustard hollandaise. I loved my carrot parsnip cake made with goat cheese, parsnip, carrot-asian fruit gelee and honey rosemary ice cream and a taste of their root beer ice cream. They have been nominated for a James Beard Award in 2016 for Best New Restaurant. It does get very busy, so I would go early to avoid the lines.
Several blocks north of E. Sixth St. is Manor Street. Here you can find coffee houses, cafes, restaurants and bars. I enjoyed exploring the area and enjoyed cocktails and dinner with friends. My recommendations include:
Dai Due: This  popular restaurant, at 2406 Manor Rd., has received very good reviews and press. It was listed by Bon Appetit Magazine as one of the top 10 new restaurants in 2015. The restaurant began as a farmer's market stand and then as a pop-up dinner series. It s now in a new permanent space with both indoor and outdoor dining, an open kitchen and butcher shop in the front. Emphasizing local ingredients, you can order from the ala carte menu or go for the "supper club" multi-course menu. I enjoyed a fish entree while my friends loved the ribs.  
School House Pub: A fun spot for cocktails, with a school house theme, at 2207 Manor Rd. They feature a number of specialty cocktails with names like Detention, Hall Pass, Teacher's Pet and Night School. I really enjoyed The Smoky River made with Pig's Nose Scotch, Cherry Herring, honey, lemon, Laphroiag Scotch Spritz and Smoked Salt.
A Chicago friend just enjoyed dinner at the Salty Sow gastropub at 1917 Manor Rd. which features contemporary farmhouse fare and hand- crafted cocktails.
Hillside Farmacy: Just East of 1-35 at 1209 E. 11th St., this is a great spot for breakfast, lunch, dinner and afternoon tea. I really liked the atmosphere and design which features a large bar and old pharmacy shelves featuring many local products from Austin and the nearby area.
East Side King Food Trailers: Don't miss Chef Paul Qui's four food trucks on the east side of Austin. 1618 E. 6th.
Conde Nast Traveler just featured The Hightower as a great new neighborhood restaurant.