Kansas City is becoming a foodie destination. With its traditional restaurants, great barbecue spots and new restaurants opening almost monthly, you won't go hungry. My favorites by neighborhood include:
BBQ FAVORITES
As a well-known meat packing city with large stockyards, Kansas City became a destination for barbecue pit masters. It attracted the families of Bryan, Gates, Boyd, Harris and Thompson. Therefore, a barbecue culture emerged that is still prevalent today with over 100 restaurants in the metro area. Now, each time I head back home, I try to make a point to check out new spots on each trip.  My favorites include.
Changing its name to Joe's Kansas City Bar-B-Que is the former Oklahoma Joe's Bar-B-Que. This popular barbecue restaurant is located in a working Shamrock gas station at 3002 West 47th, at the corner of Mission Road, and is one of the most famous of the Kansas City barbecue restaurants. Make sure to go early as the line starts forming well before they open at 11am. There are two other locations in town, but I would recommend the original for the atmosphere. They have a wide variety of sandwiches and dinners. I loved the BBQ Beef Brisket and the baked beans, while my friend enjoyed the combination brisket and pulled pork sandwich with the red beans and rice. Make sure to add this to your list of to-dos in KC. According to the Wall Street Journal, "Putting it in the company with the French Laundry and El Bulli, Anthony Bourdain named Joe's one of the 13 places to eat before you die".
Q39: Make sure to book your reservation beforehand online, since this new restaurant featuring barbecue and wood-fired grilling, is packing them in. I loved the casual, contemporary atmosphere and the great food. Open for lunch and dinner, I enjoyed a business lunch. They offer a large selection of sandwiches, salads, soups, brisket burgers, BBQ lunch plates and sides. I really enjoyed the Judges Plate with three meats, pulled pork, sliced brisket and smoked chicken along with an apple coleslaw. I liked their traditional molasses based KC barbecue sauce, but two spicier options were available to try as well. 1000 W. 39th.
Arthur Bryant's is a must for its famous KC barbeque. The original location is at 1727 Brooklyn and is the best for atmosphere. Be patient, as the lines can be long.
Danny Edward's Boulevard BBQ.  This is a great new find on my most recent trip to KC. At 2900 SW Boulevard, they feature a number of BBQ sandwiches, plates and sides. The atmosphere is casual and fun.  I thought the pulled pork sandwich was really great!!  They have been featured in Saveur and Bon Appetit Magazines.
Jack Stack Barbecue: Not to be missed it the original Martin City location at 135 & Holmes. It has a casual, rustic atmosphere with great food. I enjoyed the combination hickory smoked brisket and pulled pork with great baked beans and their cheesy corn bake with corn, smoked ham and cheese.  They feature a number of sandwiches, soups, salads, ribs, seven types of smoked meat plus  barbecue chicken.
Scott's Kitchen and Catering at Hangar 29:  At 11920 N. Ambassador Dr., just east of the airport, this is a newer spot created by Scott Umscheid. He opened this casual spot in 2017 after competing in and excelling in a number of local barbecue competitions. I thought the pulled pork sandwich was very tasty. I had a great visit with Scott. His father-in-law used to work for TWA nearby at the airport, therefore, there is airplane theme with pictures of the old TWA planes and jets that I used to fly on as a child. They feature a number of breakfast items, sandwiches, ribs, smoked meat plates, tacos, burritos and bowls and sides.
Woodyard Bar-B-Que: At 3001 Merriam Lane in Kansas City, KS, near the intersection of I-35 and I-635, Woodyard is a rustic BBQ spot that should be high on your list to try. They feature a number of sandwiches, sides, hot wings, ribs and plates with an emphasis on pulled pork, brisket, turkey, sausage, ham and burnt ends. It has both indoor and outdoor seating. It has been featured in a number of articles and on some of the best food and travel TV networks.
LC's Bar-B-Q: 5800 Blue Parkway east of the Country Club Plaza, this is a popular spot that has been featured in a number of articles on the best BBQ in KC. I enjoyed the casual atmosphere and the food. Their meats include beef, ribs, ham, turkey and pork along with sausage, chicken, shrimp, burnt ends and chicken wings. The menu includes sandwiches, sides and combination platters.
You might check out the KC Barbecue Tours if you want to explore several spots.
WESTSIDE
Novel: Located at 815 W. 17th St., this is a must visit restaurant when you are in town. I just had an really wonderful meal there with a local friend. It is located in an old house with dining on two floors. It is has a warm, inviting decor with great service. I enjoyed a perfect, beet salad, scallop entree with a side of amazing brussel sprouts. I tried two tasty desserts, a pumpkin flan and a chocolate cake with nut and caramel sauce. They also offer a tasting menu with wine parings.
The Westside Local: Located at 1663 Summit St., west of the Crossroads district and the new Kauffman Center for the Performing Arts, this is a great, casual neighborhood restaurant supporting local farms and producers. It has exposed brick walls, a very creative menu and good service. There is an outdoor patio during warmer weather. We enjoyed a cheese and charcuterie plate and great entrees including chipotle salmon, quinoa with salmon, mussels and pork belly. I really liked the suggested parings of wine, beers and ciders with each entrée. I tried a great cider with my salmon that I would not normally have tried. This is one of several small restaurants in the neighborhood.
Blue Bird Bistro: This is a small, neighborhood bistro that has been there for 22 years. They feature organic food in a warm, casual environment. They offer, breakfast, lunch, brunch and dinner. They offer a menu featuring salads, burgers and entrees from salmon, beef to vegetarian options. I enjoyed a casual dinner with friends. 1700 Summit. I look forward to going back for brunch next time I am in town.
Chez Elle Creperie and Coffee: Known for it French crepes, at 1713 Summit, and situated in a 100-year old converted theater. One of the best places for breakfast in the US according to Travel + Leisure Magazine. I enjoyed a great dessert crepe and a latte!!
Fevere Bread, 1701 Summit: Features wonderful artisanal breads.
Los Alamos Market y Cocina: They feature Mexican cuisine in a casual/grocery store setting. It is owned by Agustin Juarez, a delightful man from Guanajuato MX, not far from San Miguel de Allende. 1667 Summit. Just a little south along Southwest Blvd. are a number of Mexican restaurants, stores and bakeries. Check out Panaderia de las Americas at 826 Southwest Blvd. for Mexican bread and pastries. La Posada Mexican Food Products at 722 Southwest Blvd. has tamales and other food items.
The Roasterie: This specialty coffee roaster provides coffee for espresso bars, coffeehouses, fine restaurants and grocery stores in Kansas City and beyond. The coffees are imported from 31 countries and are air-roasted for great flavor. I have enjoyed the Brookside location, at 6223 Brookside, in the past but my new favorite is their Factory Cafe at 1204 W. 27. In business for 20 years, this facility contains their offices, roasting plant, store and cafe. I love the decor featuring a photograph of a Lockheed Constellation airplane. There is also an airplane above the plant that is visible throughout the neighborhood. There are free tours and tastings available.
WESTPORT
Bluestem: Located in Westport at 900 Westport Road, Bluestem is one of the best restaurants in Kansas City offering what they bill as progressive American cuisine with seasonal and local. I enjoyed the restaurant for Sunday brunch. It had a good selection of brunch items, served in a bright dining room. The service was excellent. The dinner menu comes highly recommended. The chef/owners, Colby and Megan Garrelts, met at the well-known restaurant Tru, in Chicago, and opened the restaurant with great acclaim in 2004. Colby Garrelts is the 2013 James Beard award winner for Best Chef Midwest and received Food & Wine Magazine's Best New Chef recognition in 2005. Both have been featured in an article in the New York Times about great food outside the big cities.
Port Fonda: Located at 4141 Pennsylvania in Westport, this is a great contemporary Mexican restaurant with very good food and a fun decor and vibe. I enjoyed lunch with a friend in town from London. Around the corner is the Julep Cocktail Club known for its craft cocktails. They also feature food and small plates.
Cucina Della Ragazza:  At 301 Westport Rd., this is a  fun casual, neighborhood Italian restaurant and wine bar. Open for four years, it features authentic Italian food and wine. I enjoyed a great dinner with my brother on my last visit to KC. They are open for lunch, dinner and brunch on weekends. The chicken saltimbocca with chicken, prosciutto and spinach and served with green beans and creamy polenta was very good.
Oddly Correct Coffee Bar: Aat 3940 Main St., this is a local coffee roaster. They are on a mission to service the purest coffee possible, thus no sweeteners are offered. I really liked my latte without the sugar. They also offer coffee and prints for sale.
Broadway Coffee in Westport at 4106 Broadway is another good option for coffee.
If you want tea, I always stop in at Tea Drops in Westport at 4111 Pennsylvania Ave.
THE COUNTRY CLUB PLAZA
Good choices on the Country Club Plaza include Plaza III, Classic Cup and Kona Grill; all are good. Just to the east is the famous Winstead's for great hamburgers and Grand Street which I have enjoyed several times over the years. I recently tried the new Bo Lings which is a good spot for Chinese food and dim sum.
Glace Artisan Ice Cream: This local's favorite is located at 4960 Main, just south of the Plaza. I thought the goat cheese with pear was very good. They have two locations including a second in suburban Leawood, KS.
Nearby is Andre's Confiserie Suisse: Andre's has specialized in luxury Swiss chocolates and confections since 1955. They have a small cafe in front and a larger, traditional Swiss inspired restaurant in the rear. Their pastries and chocolates are wonderful. 5018 Main St.
At 4558 Main, is Cafe Trio which friends enjoy. It is on my list to check out on my next trip as is Black Dirt at 5070 Main which was recently opened by Justus Drugstore in Smithville.
Rye, the great restaurant in Leawood, has recently opened Rye on the Plaza at 4646 J.C. Nichols Pkwy.  I can't wait to try that as well.
THE CROSSROADS ARTS DISTRICT
Just east of the Crossroads Arts District is The Antler Room at 2506 Holmes.  Named one of Bon Appetit's America's Best New Restaurants 2017,  I had one of the best meals in the last year when I was back in town for the Holidays.  They feature a number of small plates which is great since you really want to be able to taste a number of different dishes. I loved the broccoli baba ghanouj with roasted root vegetables, umeboshi butter and dukkah. The cauliflower with squash sauce, almonds, pickled beets and apples was amazing as was the rigatoni with  duck confit, spicy greens, mushrooms and ricotta. Don't miss the octopus with curry spice, bitter greens, almonds, pickled onion and papadum plus the pappardelle  pasta with endive, beet, candied orange peel and raw sheep's milk cheese. I can't way to go back .
One of my favorite spots to eat, particularly during the Holidays, is Webster House. At 1644 Wyandotte, this is an old school that has been turned into a wonderful store and restaurant. There are several rooms to choose from. I love the bar and the area near the kitchen. It is right across the street from the Kauffman Center for the Performing Arts, so it is a great spot before a performance.
The Rieger Hotel Grill & Exchange: Located at 1924 Main in Mid-town Kansas City, the restaurant opened in 2010 in an historic building that was a hotel from 1915 and also home to one of the largest whiskey distributors in the country before it was shut down during prohibition. The dining room has an historic, yet contemporary feel and offers a menu featuring local farm-to-table items. I had the delicious smoked trout salad with bread topped off by a sunny side up farm egg. My friend had the hearty pork belly entree. We split a great chocolate dessert with homemade ice cream. There is a fun cocktail lounge/speakeasy in the basement called Manifesto, which you enter from the alley in the back. Text them and they will send you the secret password to get in!!
Café Gratitude: At 333 Southwest Blvd and Broadway, this is an eclectic organic, farm-to-table restaurant and café. Check it out as you explore the Crossroads area of galleries. They have a large selection of teas, smoothies, entrees and desserts.
Lidia's Kansas City: Opened in 1998, by Lidia and Joseph Bastianich from New York, in an old railroad house in the Crossroads Arts District, this is one of my favorites in town. On my last trip, I enjoyed their Sunday brunch with a large buffet including gnocchi with duck ragout, spaghettini squash, pears, walnuts and endive, arugula salad and dessert selections. I always love the warm, old warehouse with exposed brick walls and  glass chandeliers in the shape of grapes.
Grunauer: Located in the Crossroads district, this is a really good restaurant for Austrian specialties that is open for lunch and dinner. Their original restaurant is still serving similar food in Vienna. I had a perfect lunch of roast pork, red cabbage and a bread dumpling. They also serve Julius Meinl coffee which they get from their location in Chicago. The atmosphere is warm and very European. It is located at 101 W. 22nd St., next to Lidia's.
Thou Mayest Coffee Roasters, 419 E 18th St.: This newer coffee roaster in the Crossroads arts District serves coffee and cocktails. It has a fun, casual atmosphere.
Lulu's Thai Noodle Shop at 2030 Central, this casual spot, features Thai street food, noodle and rice dishes plus sandwiches, wraps, bowls, curries, soups and salads.
Grinders: A fun casual spot for salads, sandwiches, wraps, burgers, pizza and grinder sandwiches. 415/417 E. 18th St.
Anton's Tap Room: At 1610 Main, this restaurant, in the Crossroads Arts District, is getting good press including a great review in the New York Times. They feature an extensive list of craft brews and a butcher shop. There is even a talapia and herb farm in the basement. They offer a menu featuring fish and pasta but are known for great dry-aged steaks and beef. I enjoyed my smoked brisket bahn mi sandwich for lunch and loved the atmosphere.
YJ's Snack Bar: At 128 W. 18th St., this is a funky, casual spot in the middle of the growing Crossroads District. They feature coffee and snacks plus breakfast, lunch and dinner.
Tannin Wine Bar & Kitchen: At 1526 Walnut this is a great new find.  This well-known wine bar has just had a menu makeover by Justus Drug Store's chef Jonathan Justus.  Now you can have great food in addition to great wines. I had a delicious meal with family and loved the kale salad with broccoli, brussel sprouts, granny smith apples, almonds, dried cranberries and red onion.  The salmon entree was also excellent. I recommend going during happy hour when they offer discounts both on wine, cocktails and the menu items.
Two other  great spots include  Extra Virgin at 1900 Main for Mediterranean tapas and great cocktails and the more formal, Michael Smith next door. Here you can order a four, five or six course tasting menu with wine pairings. I loved the decor of Extra Virgin.
Messenger Coffee Co. + Ibis Bakery: This is a large coffee shop and bakery located at 1624 Grand. You will find the bakery, coffee shop and cafe on the first floor, the roastery and seating on the second and an outdoor deck complete with fireplace on the third. It is a fun, happening spot.
Affare: Located at 1911 Main St. they are known for modern German dining. They have a sleek space with a large bar in the rear. The best deal is the $44 four course prix fixe dinner on Thursday evenings including wine pairings.  I enjoyed a lovely meal with my nephew who works across the street. The menu for the night I was there included a hazelnut chicken terrine, a smoked salmon with golden raisin chutney creme fraiche and potato leek rosti plus a honey duck break with butternut squash gnocchi and roasted romanesco. The last course was a trio of desserts including flourless chocolate cake, almond-quince sponge and cranberry bellini.  What a great meal!!
Mildred's Coffee House at 1821 Wyandotte is a great spot for coffee along with breakfast and lunch sandwiches and salads. I was just back again, and had a great latte!
THE KANSAS SIDE
Rye: Located south of Kansas City, in Leawood, KS, is Rye at 10551 Mission Road. It is owned by the same team as Bluestem. Chef Colby Garrelts is the 2013 James Beard award winner for Best Chef Midwest. Open for lunch and dinner, it is easier to get in for lunch. Featuring Midwestern cuisine, the lunch menu has soups, salads, burgers, sandwiches and entrees. They are known for their fried chicken. The pulled pork sandwich with a side of grits and pickled cucumbers was excellent. The apple/pear tart was also worth the visit. The decor is a combination of old barn wood and a warm, contemporary style with open kitchen concept.
Story: Story is located in The Village Shopping Center at 3931 W. 69th Terrace in Prairie Village. It is a short drive southwest of the Plaza. This sleek modern restaurant features fresh, local seasonal creative American cuisine with Spanish, French and Italian influences. Carl Thorne-Thomas, chef and owner, was a James Beard semifinalist for Best Chef Midwest. He was Food & Wine Magazine's 2014 winner of The People's Best New Chef award and their 2013 winner for The People's Best New Chef: Midwest.Their special Sunday night entrees for $10 are a great bargain!
Hi Hat Coffee: Located at 5012 State Line Road, this is a tiny coffee spot loved by locals. They have a small number of indoor seats but a much larger outdoor seating area. Stop by next door, at 5006 State Line, for Annedore's Fine Chocolates. They have a great selection of handmade chocolates.
The Roasterie: This local coffee roaster has just added a fun new location in Woodside Village at 2250 W. 47th Pl. With a similar airplane theme as the original, it is a fun spot to relax and enjoy the fun, contemporary atmosphere.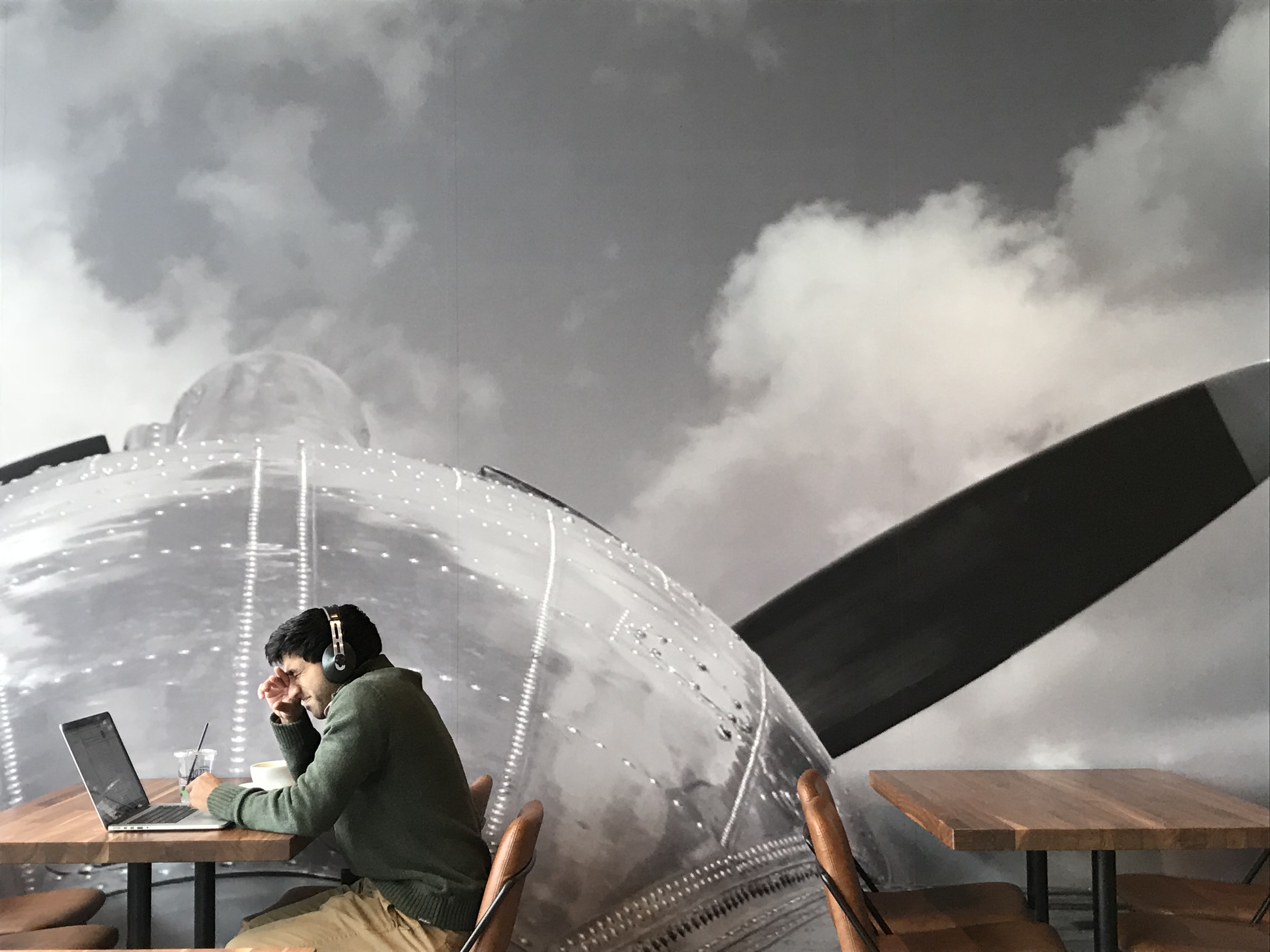 39th STREET
On 39th Street between State Line Road and Topping Avenue, here you will find d'Bronx Deli at 3905 Bell; a great deli that has been there for years. It also serves great pizza.
Mud Pie Vegan Bakery & Coffee, located in an old house at 1615 W. 39th, is a fun, local's spot for coffee and vegan or gluten free treats that are excellent and very popular.
RM 39:  Was so glad I heard about RM 39 at 1719 W. 39th. They feature a more casual breakfast and lunch and a more formal dinner menu. I opted for brunch and loved the frittata made with butternut squash, feta, mushrooms and greens. They feature local farmers and producers.
CRESTWOOD SHOPS AND BROOKSIDE
I always enjoy the Crestwood Shops, just south of the Plaza at 55th St. between Brookside Blvd. and Oak St. I like Aixois, a French restaurant and coffee bar and have been several times over the years. It is perfect for lunch or for a cup of coffee after a full day of exploring. Cafe Europa is also good. I was back recently and enjoyed a lovely meal with a local friend. The atmosphere is warm and inviting.
Heirloom Bakery & Hearth: Located at 401 E. 63rd at Oak just east of Brookside, this is a great bakery that also serves breakfast and lunch featuring soups, salads and sandwiches. They feature coffee and tea drinks, so it is a fun spot to grab a cookie or piece of pie with a coffee or pot of tea. They also feature locally sourced ingredients whenever possible.
Bella Napoli: I enjoyed dinner with family and friends at this casual spot in Brookside at 6229 Brookside Blvd. They have a deli, restaurant and coffee shop. They feature excellent pastas, pizzas and Italian entrees. It can be very crowded, so best to make a reservation in advance.
The Roasterie: This specialty coffee  roaster provides coffee for espresso bars, coffeehouses, fine restaurants and grocery stores in Kansas City and beyond. The coffees are imported from 31 countries and are air-roasted for great flavor. I always enjoy the Brookside location, at 6223 Brookside.
Red Door Woodfired Grill:  Opened in 2016 at 6324 Brookside Plaza, this is one of three locations in the KC area that of this casual bar and restaurant or as they say "an upscale neighborhood joint."  I really enjoyed my salmon entree and a great old fashioned. They offer some great Happy Hour, drink and food specials. 
Just a little south is McLain's Bakery. Since 1945, this is a wonderful bakery and coffee shop at 201 E. Gregory Blvd. They have a large selection and you can watch them bake in the kitchen in the rear.  They feature  of pastries, cookies, cakes and breads as well as breakfast and lunch items.
RIVER MARKET
This area along the Missouri River, just north of Downtown, is now a growing residential neighborhood with new condos and lofts, new restaurants like Farm House, specializing in farm-to-table, homestyle cuisine and the recently opened Quay Coffee at 412 Delaware, Suite B.
There are many food options in the market from Kansas City Barbecue, Chinese (Bo Lings) and Vietnamese. There is an Italian grocery, a great bakery and vendors selling local produce. I had no idea that this even existed and was really excited to find it. I really enjoyed my brunch with family at the City Diner at 301 Grand. It was casual and fun.
Other options include Cascone's Grill, a local's diner featuring breakfast or lunch with American and Italian specialties. It is  at 15 E. 5th, across from City Market. A few doors over is Opera House Coffee & Food Emporium, where you will find multiple options or contemporary food court in one location featuring a restaurant, coffee house, bar, bakery and music venue. 500 Walnut. I enjoyed brunch there on my last visit.
WALDO AND MARTIN CITY
Jess & Jim's Steak House:  Since 1938 this is a well-know steak house at 517 E. 135th St. in the Martin City neighborhood.  You can enjoy a large choice of filets, top sirloin, t-bones, KC strips, ribeyes and porterhouse. It was recently featured in Travel + Leisure Magazine as one of the best steakhouses in the U.S.. 
Down the street is RC's Restaurant & Lounge which features its famous fried chicken. They also have a Back Door Bar and Grill open in the evenings. 330 E. 135th St.
After your meal stop in at Fezziwigs at 510 E. 135th. St.  They employ local artists to create functional art for the home.  They feature a wide range of unique décor options to decorate any room. Items include handcrafted classic board games, rustic clocks and colorful wine racks.
Located in the Waldo neighborhood is Second Best Coffee, Midwestern Modesty. It is fun coffee spot with a bicycle theme. They feature a number of their own roasts along with a selection of roasts from around the country. 328 W. 85th.
WEST BOTTOMS
EJ's Urban Eatery:  Located in the West Bottoms at 1414 W 9th, this  new spot from August, 2017, is open for lunch, Happy Hour and brunch on Saturday and Sunday. Thanks to the Eater Heatmap for KC, I found it on my last trip to KC . What a great experience! The E is for Erik J. Gaucher, a leader in the wealth management industry, who is a newcomer to the restaurant business. The J is for John Smith, a Chicagoan, who has worked in a number of the best restaurants in Chicago and NYC. Located in a 100-year-old brick building, the focus is on a modern version of the traditional Southern comfort food concept known as a Meat and Three.  I had a really great lunch with a platter of smoked brisket along with green beans and the squash casserole. I had a great conversation with John Smith. I will definitely go back.
COLUMBUS PARK AND EAST BOTTOMS
Having read in a recent article that The Columbus Park Neigborhood was a "Foodies Ideal Melting Pot", I checked out this neighborhood just east of the River Market. It was formerly an Italian neighborhood that has become primarily Vietnamese. It has a number of restaurants. I enjoyed the bustling Vietnam Cafe at 522 Campbell. There were constant lines out the door at this restaurant, with a large menu and very reasonable prices. They are known for their pho and other specialties like basil chicken. The chicken and spring rolls made for a great lunch. Other recommendations include Happy Gillis, known for its soups.
A little further east is the East Bottoms along the river. Make sure to visit the Local Pig. This is a butcher shop featuring  a large selection of local steaks, roasts, chops, sausages, burgers and charcuterie. They have a food truck in the rear, Pigwich, which features a number of sandwiches and daily specials. You can order there and eat on the outside patio or inside the store. I loved the pulled pork sandwich with coleslaw. It was formed into a patty with bacon and then grilled. You can eat there, shop next door at Urban Provisions General Store, do a tour and tasting at the J. Rieger Distillery across the street or attend a concert a block away at Knuckleheads at 2715 Rochester. This is a fun, neighborhood.
CROWN CENTER
For fine dining, the American Restaurant at Crown Center is still at the top. 200 E. 25th St., Suite 400.
Just east of Crown Center is the Filling Station, at 2980 McGee Tfwy, which is a really fun spot that I recently discovered. A great place for lunch or a break for tea or coffee.
OTHERS TO TRY INLCUDE:
Strouds is fun for great fried chicken. There are three locations in town.
Louie's Wine Dive, 7100 Wornall Rd.: For food, wine and music.
Justus Drugstore, 106 W. Main in Smithville MO.