Tucson is experiencing a boom in great restaurants and getting excellent reviews. In 2016 it was the first city in the country to be named a UNESCO City of Gastronomy. This according to local sources was based on its agriculture heritage, its thriving food traditions and culinary distinctiveness. The Sonoran hot dog and using the fruit of the prickly pear cactus in locally produced beer are good examples.  I am always glad to try new spots on my annual trips to the area and have a list that I am checking off each time I visit. My top recommendations include:
Maynards: I highly recommend this  attractive restaurant which now has an emphasis on a  seasonally-inspired monthly menu with a focus on regional ingredients and purveyor partnerships.  The restaurant is open for dinner from Wednesday through Sunday. It is located in an historic railroad depot on the East side of Downtown.
On a recent trip I found two new spots that I loved, Tito & Pep and BATTA.
I read about Tito & Pep in Midtown, 4122 E. Speedway Blvd., when Chef John Martinez was a semifinalist for a 2022 James Beard Award for Best Chef Southwest. It is a contemporary, hip restaurant featuring Southwestern bistro fare, original cocktails and local beers. I enjoyed the atmosphere and the creative menu with local friends. I liked my grilled baja striped bass with mayacoba beans, zucchini, hoja santa and lemon. I recommend making a reservation as it is very popular and a small space.
BATTA came recommended as an upscale downtown restaurant at 35 E. Toole Ave. that opened in March, 2022.  It is located in an attractive and historic 1930s warehouse space where many of the original features have been kept. It has a very upscale and creative menu centered around small plates and regional ingredients cooked over a live oak fire. I enjoyed the smoked tomato tartlet, the malawach flat bread with yogurt, a rich polenta, the butter poached halibut and a yummy smoked peach glette with fennel ice cream for dessert. I highly recommend it. Bon Appétit named it one of the Best New Restaurants of 2022.
In 2023, Tucson Chef  Wendy Garcia of Tumerico restaurant in Tucson was named a James Beard Semifinalist for Best Chef: Southwest. She opened Tumerico in 2014 where she features  Latin inspired vegan and vegetarian food using  fresh, organic, local and pure ingredients. I went with a local friend and really enjoyed this casual restaurant. I enjoyed the vegan Cuban tacos made with jackfruit and plaintains along with beans, rice and a salad. The menu changes daily. 2526 E. 6th St. 
And, in 2019, she expanded with another restaurant called La Chaiteria which is not exclusively vegan. I also went here for dinner on my first night in town. It is located west of downtown at 1002 W. Congress St. Like Tumerico, it is a casual restaurant with a menu that changes daily. Here I tried and liked the Cuba Chicken platter with tortillas beans, rice, guacamole and salad. I recommend that you visit both when you are in town.
Playground: After dinner checkout the rooftop bar at Playground at 278 East Congress, across from the Historic Hotel Congress. They feature DJs, live music, films and other events. They do offer a food menu and a Sunday brunch.
LaCo now JoJo's, is located at Old Town Artisans downtown in the historic Presidio District. It is a fun spot for Mexican and Southwestern specialties. They have a great outdoor terrace with live music most nights!
Near JoJo's on the grounds of the Tucson Museum of Art is Café à La C'Art at 150 N. Main Ave. This is a charming, colorful cafe with a great patio. Located in the historic Stevens House from 1865, it gets great reviews. I stopped in for coffee as I was exploring the Presidio District in downtown. It is open for breakfast, lunch and dinner from Wednesday through Saturday.
El Charro: At 311 N. Court Ave., this is America's oldest Mexican restaurant, operated by the same family since 1922. It was recently a 2019  Semifinalist for the James Beard Award for Best Restaurant. I went for lunch with a local friend and loved the atmosphere. I thought the shrimp tacos were very good.
El Charro has expanded into other concepts including Charro Steak at 188 E. Broadway Blvd. and Charro del Rey for seafood and cocktails at 178 E. Broadway Blvd.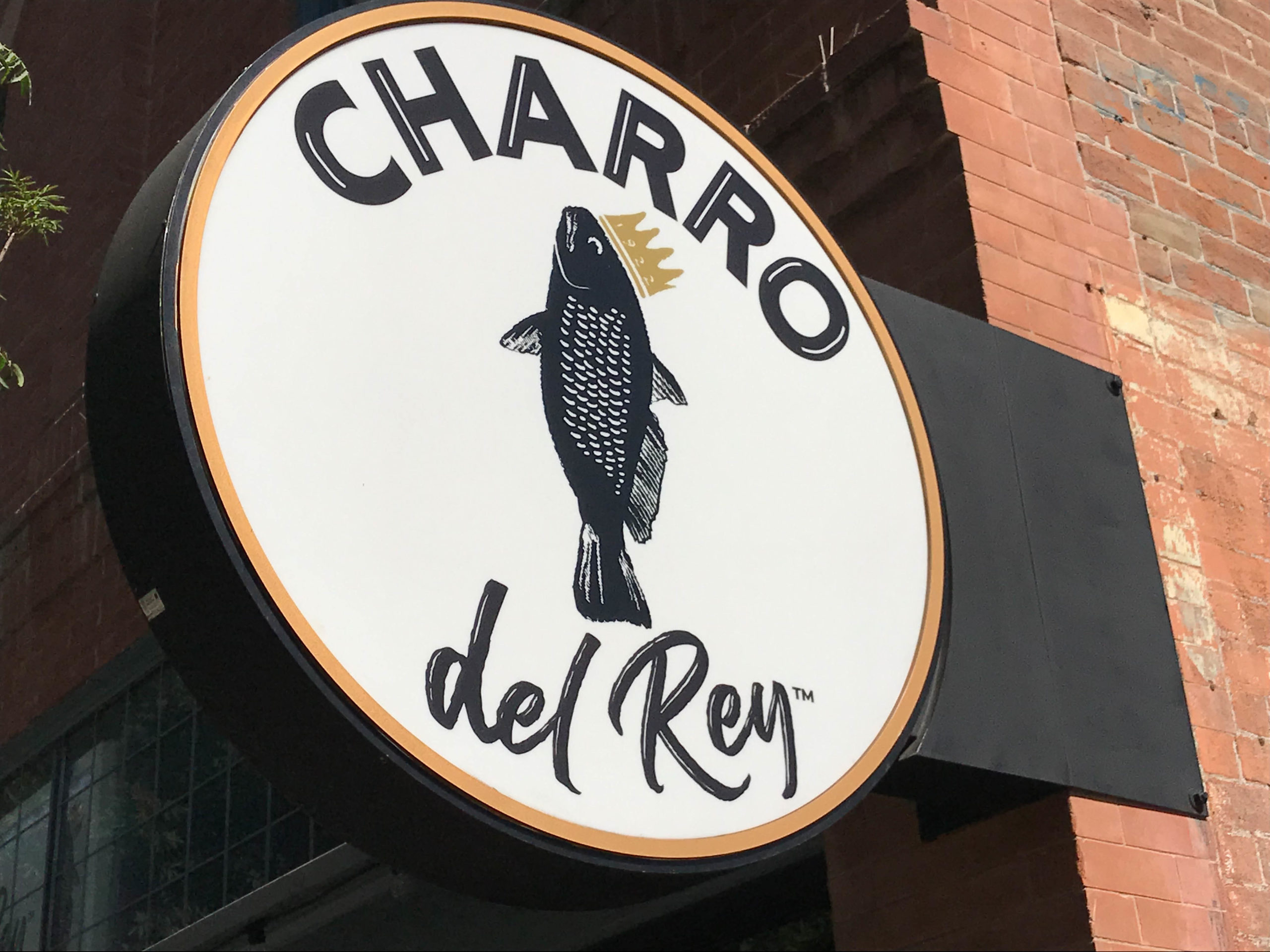 On my recent trip I went  Charro Vida, 7109 N. Oracle Rd. They feature healthy Mediterranean and Sonora specialties made with local produce and proteins. My salmon tacos were very good!!
Charro Vida
Mercado San Agustin:  One of my new favorite spots in Tucson is the popular public market at 100. S. Avenida del Convento, at the corner of W. Congress west of the interstate and downtown. Here you will find 10 locally owned shops and restaurants. There is a Thursday Farmer's Market, a weekend brunch and other special events and concerts. There is La Estrella Bakery for traditional Mexican pastries and pan dulce, San Agustin Trading Company featuring Native American crafts and jewelry, Dolce Pastello featuring Mexican home-made cakes and tamales. Sonoran Sno-Cones, Presta Coffee Roasters for coffee drinks, La Cabaña for furniture and home decor, Mast a local boutique specializing in accessories, jewelry and home goods and Seis Kitchen for Mexican street food. The line was out of the door Seis Kitchen when I was there last.
The highlight is Agustín Kitchen at 100 S Avenida Del Convento Suite 200, where I had dinner with a local friend. It has a warm, contemporary design and has very good food.
A block away is their recently opened MSA Annex at 267 S. Avenida del Convento. Here you will find 13 shops and eateries  housed  inside beautifully modified shipping containers. It is a great new complex. Here you you will the new home of Transit Cycles, a local bike shop and Why I Love Where I Live, a great boutique featuring local products, gifts, accessories and more. I really enjoyed it. You will also find Westbound a bar and bottle shop, Kukai Fresh Japanese Kitchen and Decibel Coffee Works which recently started serving food in its cafe in addition to coffee drinks.
Feast: Recommended by a chef in Silver City, NM, this is great find at 3719 E. Speedway. Feast and Feast's chef/owner, Doug Levy, have been positively featured in The New York Times, Food & Wine Magazine, The Chicago Tribune, The Arizona Daily Star, Phoenix Magazine, Arizona Highways, The Tucson Citizen, The Tucson Weekly, and The Desert Leaf.
I had a really excellent meal at this popular Tucson restaurant and wine store. My scallop entree with lobster served over a shrimp and cauliflower hash with a coconut milk reduction, tat soi and vadouvan, was perfectly prepared. My friends enjoyed their entrees as well. Chef/Owner Doug Levy was delightful and spent time talking to every table and describing the creative menu.
Penca Restaurante, 50 E. Broadway Blvd.:  This fun spot in downtown Tucson, perfect for Mexican City street food and cuisine, has received good press and reviews. I loved the decor and food.
5 Points Market & Restaurant: Located just south of downtown, this is a casual market and restaurant serving coffee, excellent baked goods, a great selection of breakfast items from huevos rancheros to a smoked salmon benedict and a good selection of salads and sandwiches for lunch. 756 S. Stone Ave. 
Next door, at 758 S. Stone Ave., is Café Desta for Ethopian Cuisine and Coffee and Bon which is a really lovely boutique featuring clothing, accessories plus home furnishings and accessories, owned by a Mother and Daughter team. 760 S. Stone. 
Johnny Gibson's Downtown Market: This is a fun spot to visit in downtown Tucson. In addition to grocery, deli and take out items, you can select from coffee drinks, sandwiches, salads and breakfast items. 11. St. 6th Ave.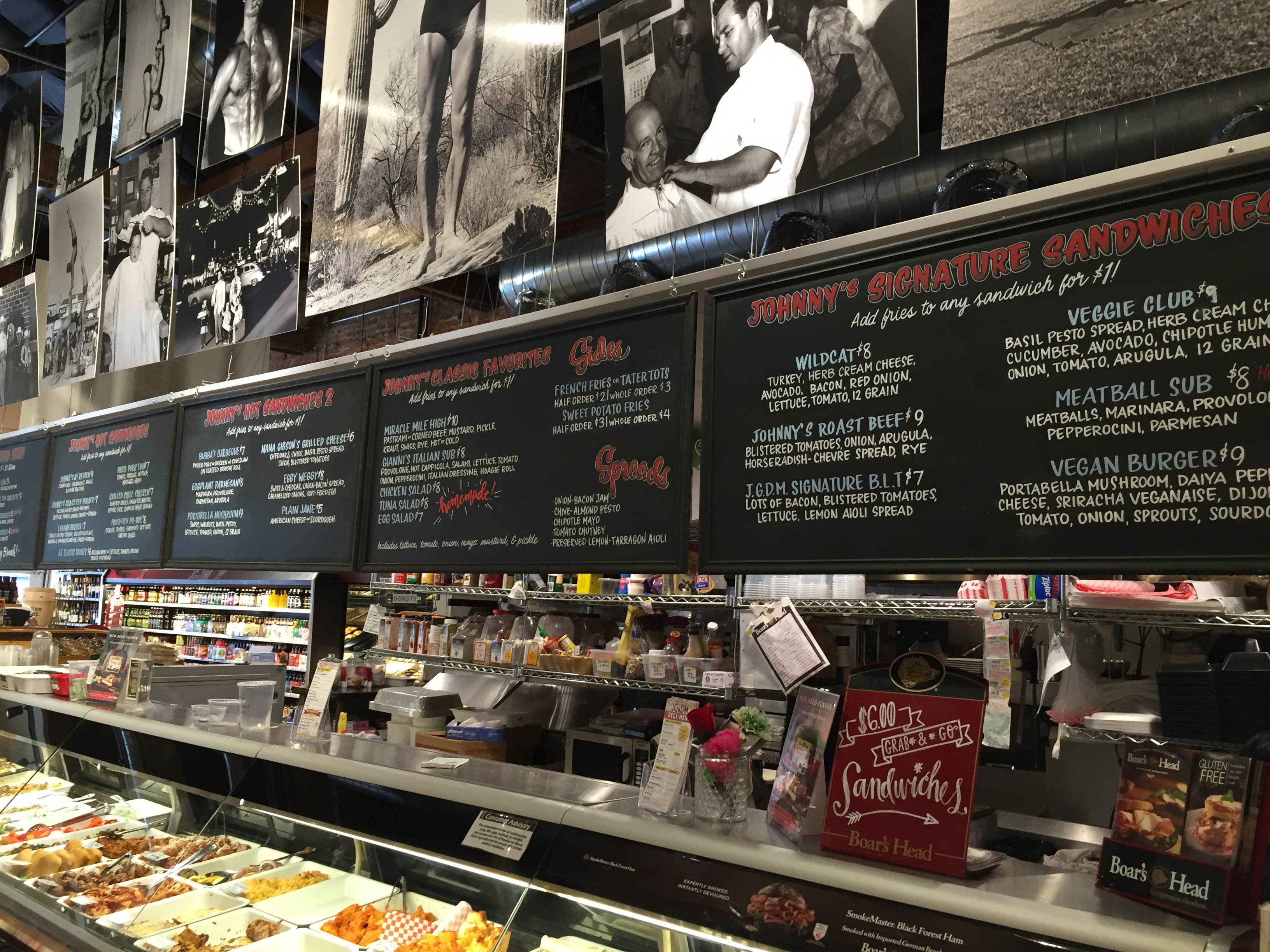 47 Scott, has been a popular spot downtown since 2010. I enjoyed dinner there with a local friend. I thought the kale salad and the pan seared salmon with rice and asparagus were excellent along with a great rose on a hot summer night. 47 N. Scott.
After dinner I really enjoyed BATCH at 118 E. Congress. This is a brick-walled spot known for whiskey, craft beer, snacks, gourmet grilled cheese and decadent donuts. I loved trying the Classic Unsmoked Aged Single Malt whiskey, from Whiskey del Bac, a local distiller that I had toured that afternoon.
Across the street is Nook at 1 E. Congress. This is a cafe/restaurant open for breakfast, brunch, lunch and dinner. I enjoyed going with a local friend and sitting outside on their attractive patio on a beautiful June night.
On a recent trip, I tried Wildflower which is part of Fox Restaurant Concepts which has over 50 restaurants.  Sam Fox was a James Beard Foundation Semifinalist in 2017 for Best Restaurateur.  For over 15 years, Wildflower, with its creative American cuisine, is frequently on the top restaurant lists in town. It has a lively vibe and contemporary design along with an attractive patio for outdoor dining. I enjoyed a lovely fish entree and great service. 7037 N. Oracle Rd. It is in the same shopping center as Charro Vida.
Another great new find is Boca Tacos y Tequila at 533 N. 4th Ave. in the heart of this bustling strip of local bars, restaurant and shops. I went with a local friend and loved my choice of shrimp and octopus tacos. It is a fun casual spot with both patio and indoor seating. Chef Maria Mazon was in 2020 was named a James Beard Award Semifinalist for Best Chef Southwest and was a contestant on Top Chef Portland in 2021.
Just down the street is a new addition to 4th Ave., the Boxyard. Created from old shipping containers it is a collection of four food concepts including Vietnamese, Mexican and Indian food along with pizza, coffee and cocktails. It is dog friendly. I loved the mural by local artist Joe Pagac.
Located east of downtown near the Lost Barrio, is the Welcome Diner at 902 E. Broadway. With one in Phoenix as well, this is a farm-t0-table restaurant located in a renovated, mid-century modern diner from 1964. The classic design is really outstanding. It is open for breakfast, lunch and dinner and an extensive menu.
East of the Welcome Diner in the Broadway Village, is Barrio Bread.  With an emphasis on bread, owner, Don Guerra was a James Beard Semifinalist in 2019 for Outstanding Baker and in June 2022 he won the award for Outstanding Baker. 18 S. Eastbourne Ave.
While there you might stop in at the Bisbee Breakfast Club next to Ombre Coffee in the same center. I loved the original location in Bisbee when I was there a few years ago. It is open for breakfast and lunch. It has has great menu including a number of pies.2936 E. Broadway Blvd.
Further south at 234 E. 22nd St. is Monsoon Chocolate Factory & Cafe. Here you can buy chocolate, enjoy a pastry  or dessert and have a cup of hot chocolate. I had read great things about the cafe, but was disappointed that it had already closed before I got there due to a long flight delay. I am excited to try it on my trip.
I was excited to finally try El Guero Canelo which in 2018 won the James Beard Foundation American Classic Award. It is known for its Senoran hot dog which involves wrapping hot dogs in bacon, stuffing them into Mexican bolillo rolls, and dousing them in beans, onions, mustard, jalapeño sauce and mayonnaise. I did it without the sauce and thought it was by far the best hot dog I have eaten!!  It is located on the southside at 5201 S. 12th Ave. They have two other locations in town, along with a meat market. I chose the original one from 1993 as it has the best atmosphere.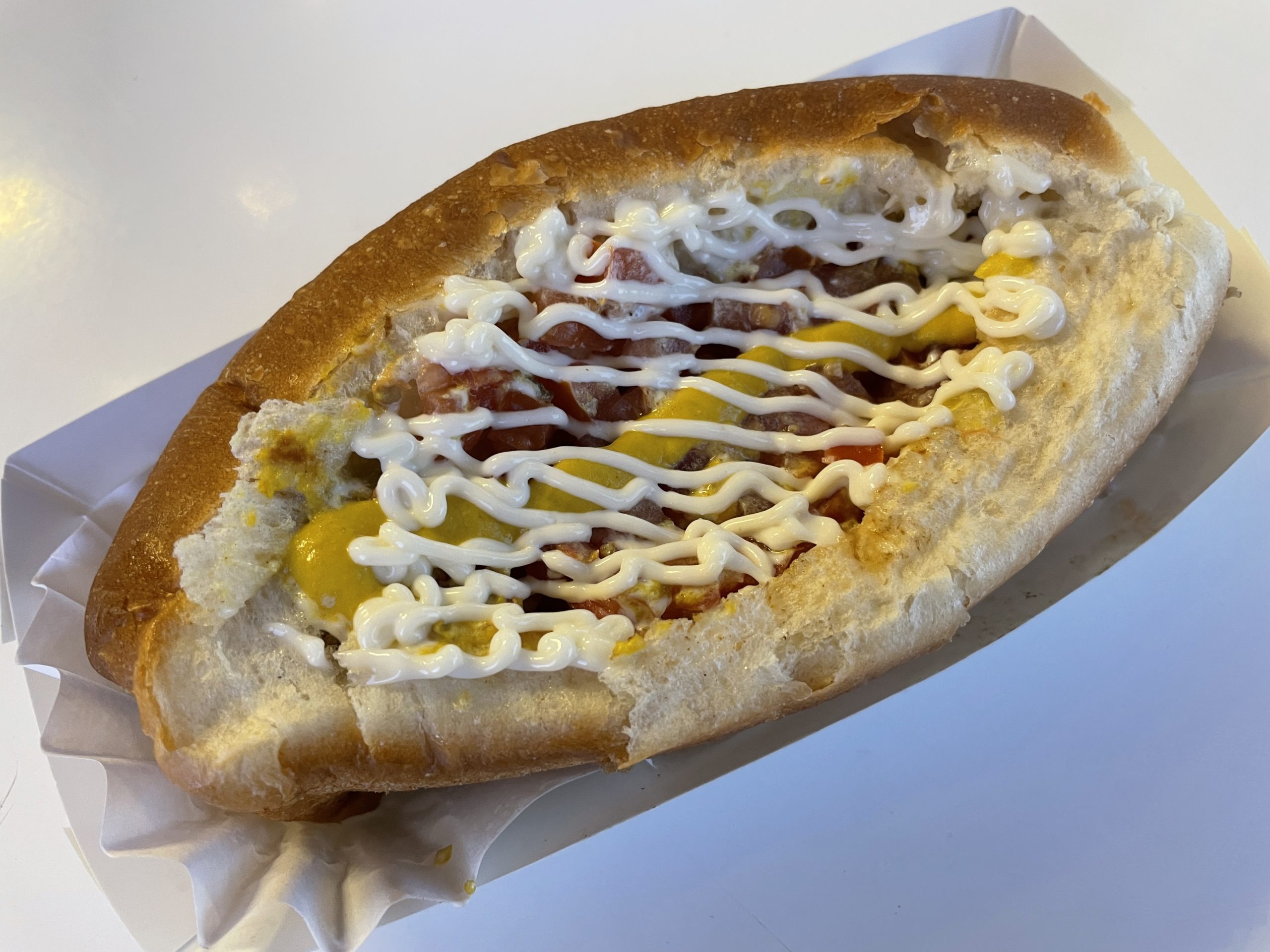 I like the southside which has some very authentic Mexican restaurants, stores and bakeries. I highly recommend La Estrella Bakery at 5266 S 12th Ave.  It is an iconic Mexican bakery for over 30 years and makes all of its authentic pastries from scratch, using time-honored methods and ingredients that help keep the culture alive. I loved my cookies that I bought! They also have another location in the Mercado San Agustin at 120 South Avenida del Convento #100 that I have enjoyed on past trips.
Also recommended is Mi Nidito at 1813 S. 4th.  This colorful, popular Mexican restaurant, since 1952, features uthentic sonoran cooking with popular dishes including chile relleno, flautas, birria (shredded beef), chimichangas (deep fried burros) and enchiladas. 
American Eat Co. is located at 1439 S 4th Ave. This is a food hall featuring numerous comfort foods plus a beer and wine bar and  coffee and  ice cream.  Currently there are seven local vendors. I loved my ice cream from Café con Leche.
Thanks to a local friend's recommendation, I went to St. Philips Plaza at 4280 N Campbell Ave. Here you can shop and enjoy some excellent cafes and restaurants. I enjoyed my latte and pastry on the terrace at Ren Coffeehouse. There is also Union Public House, a local gastropub, and Reforma Modern Mexican for Mexican specialties, cocktails, mezcal and tequila. Wine lovers will enjoy the Arizona Wine Collective, a tasting room, wine bar and bottle shop dedicated to serving wines from multiple Arizona wineries.
Nearby is a second location of the popular Seis Kitchen, Zinburger and El Corral.  El Corral is a classic steakhouse from 1939 with cowboy memorabilia throughout. It is definitely on my list for next year.
A fun growing area is located near the University of Arizona is Main Gate Square, a new urban hub. Here in addition to several shops, coffee shops, a brewput and cafes you will find The Blind Pig, Bacio Italiano and Frog & Firkin. I really enjoyed Whoops! Bakeshop for excellent pastries and macarons. 845 E. University and Scented Leaf Tea House featuring iced and hot  white, green, black and herbal tea drinks at 943 E. University. I would check the website for music and other events.