Lake Forest, IL
Lake Forest is a Chicago suburb, located in Lake County, 30 miles north of downtown Chicago. The 2010 census shows it with a population of 19,375. The affluent city is along the shore of Lake Michigan and is known for its beautiful homes. If you have time, you might visit and enjoy the small downtown area. You get the feel that you are in the English countryside with  its many Tudor-style buildings, restaurants and hotel. You can drive or take the Metra train which stops in the heart of downtown. I recently went back to meet a friend for brunch, for afternoon tea and to explore it on a sunny winter day.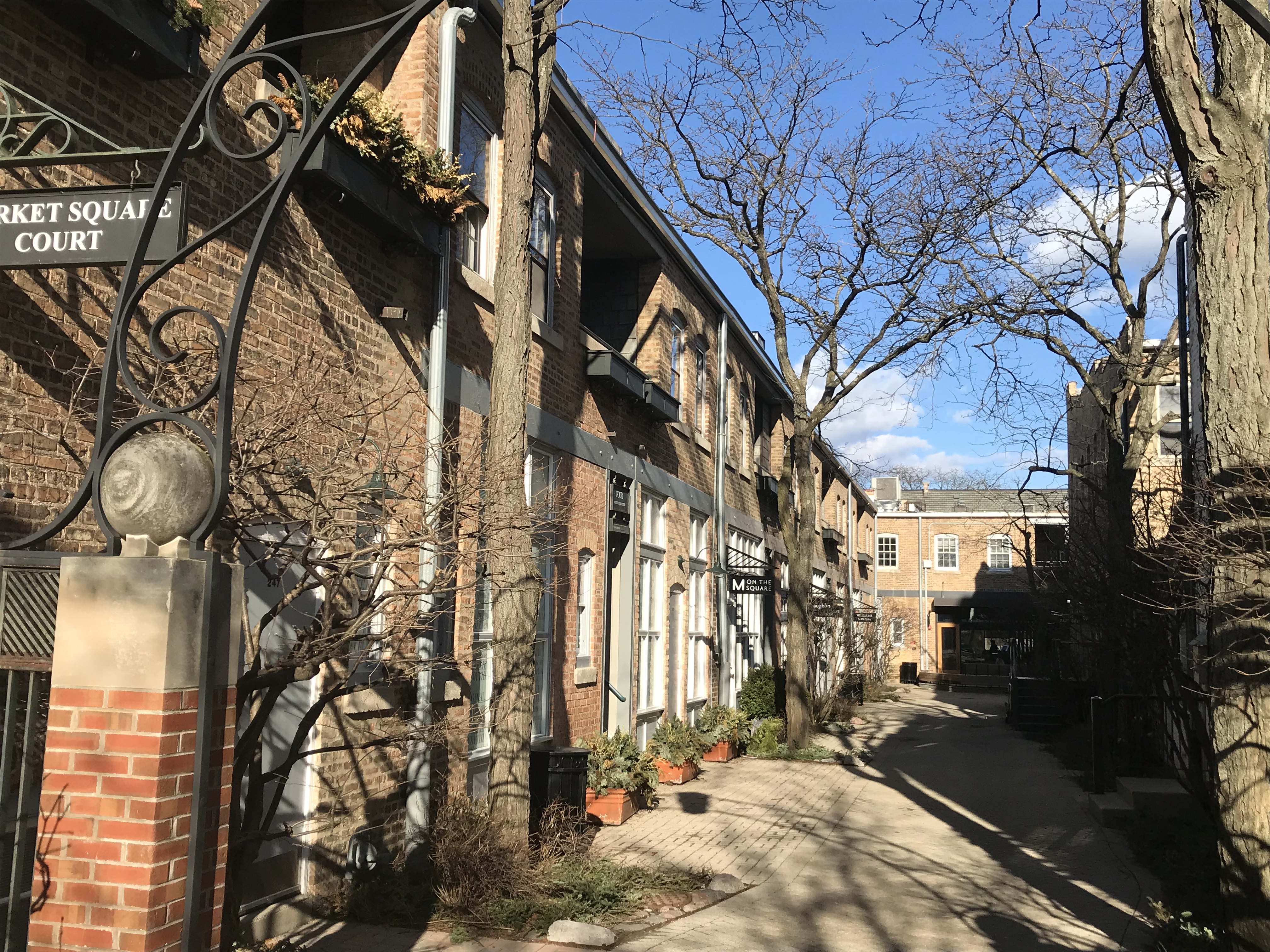 As a result, my recent finds include:
Don't miss Sweet's for chocolates or ice cream at 260 E. Deerpath Rd. This is a local institution featuring excellent ice cream along with chocolates, truffles, caramels and toffee.
The Daily Grind is a small meat and fish market. They feature their homemade brats, sausages, hot dogs and burgers. They also have a menu of sandwiches which you can order and eat there. 1 Market Square Ct.  
If you love local, independent bookstores, you will love the Lake Forest Book Store located at 662 N. Western Ave. This is a local bookstore offering a large number of titles, plus some gift items. They offer book clubs, talks by authors and other programs. 
Starbucks: I normally don't feature Starbucks, but the downtown Lake Forest location has one of the best interior designs I have seen. Hang out in the attractive lounge area, accented by a world coffee map, or on the patio in the rear. 672 N. Western at Deerpath Rd.
The Deer Path Inn: Opened in 1929, this is an award winning Lake Forest Institution. It was styled after a 15th Century English Manor Home and was recently renovated. You can sit in one of the sitting rooms by the fire, enjoy a meal in the English Room, an elegant afternoon tea on Tuesdays through Saturdays or head downstairs to their White Hart Pub. This proper English pub is a fun, casual spot. I would definitely try The Bar, a very popular spot on the North Shore, with a fun dining room and a large menu including sushi. 255 E. Illinois. Rd.
I just went back up from Chicago to have afternoon tea with a local friend. I loved being in the Garden Room of the English Room enjoying a great selection of teas along with scones, small sandwiches, tiny quiches, pastries and cookies. It was a really fun experience.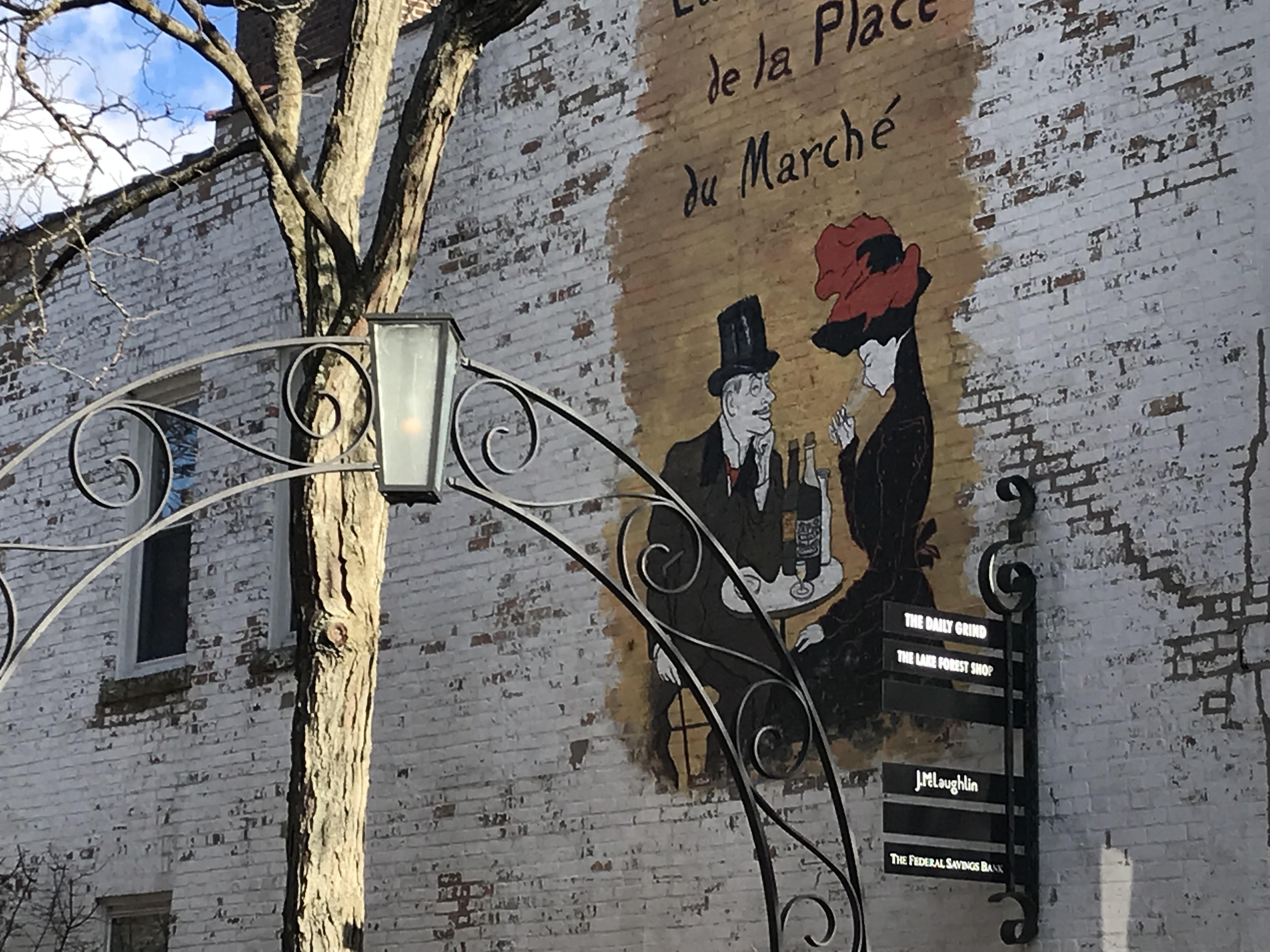 Also in downtown Lake Forest you can also find a number of design shops and clothing boutiques.
Lake Bluff, IL
On my last trip north from the city, I also spent time in Lake Bluff which is the suburb just north of Lake Forest. Here you will find a growing number of shops, restaurants, coffee shops and even a microbrewery.  You can easily combine the two on your visit.
My top recommendations to explore include:
Inovasi: Inovasi is a contemporary bistro and bar in the heart of downtown. I have enjoyed it in the past with local friends. 28 E. Center Ave. Next door at 30 E. Center Ave, under the same ownership, is The Other Door. This is a very casual taqueria serving burritos, tacos, bowls and nachos. My friends say that the portions are huge! Inovasi is not open for lunch but The Other Door is. I also love the orange and blue walls!
Bluffington's Cafe: This is a casual deli/bistro at 113 E. Scranton Ave. that perfect for a casual breakfast, lunch or coffee. I stopped in for coffee and loved the fun atmosphere.
Nearby is Prairie Espresso + Wine Bar at 91 E. Scranton, Ave. It is a small spot down Scranton Alley.  It is tiny! It is a great spot on a warm day when you can enjoy its great outdoor patio seating.
Hansa Coffee: Also fun spot for coffee is Hansa Coffee Roasters at 600 Walnut Ave. Their roastery is in Libertyville.
BeMarket at 24 E Scranton, Ave. is a casual health food store and cafe. The owner, changed his lifestyle and health, and opened a store featuring food and products that promote wellness and a healthy lifestyle along with beer and wine.
Lake Bluff Brewing Co.: Founded in 2010, this is a small, local craft brewery and taproom featuring a rotating beer menu, bar bites and live music and events. They make all of their beer on site. They feature a number of stouts, ales, IPAs, witbiers, saisons, porters and ciders. I enjoyed tasting the  smooth Black Squirrel stout that was aged in a bourbon barrel. Their pub menu of sandwiches, snacks and salads is from the Mavery Public House next door. 16 E. Scranton Ave.
Mavery Public House: This is an upscale tavern serving American comfort food, wines and cocktails.  Open for lunch, dinner and Sunday brunch, they have soups, salads, sandwiches and entrees for lunch and dinner and a good brunch menu. According to a recent review in the Chicago Tribune, "it's well worth the trek for the hash and eggs, a fortifying pile of stubby french fries studded with cubes of smoked brisket, bits of charred peppers, and topped with two poached eggs and a splash of pickled-jalapeno remoulade. It's meaty like a poutine, but better balanced — smoky, spicy yet grounded by an earthy sweetness." 20 E. Scranton.