Boulder has some really wonderful restaurants along with a growing list of local distilleries and microbreweries. Several have received nominations and won awards from the James Beard Foundation.
My top recommendations include:
Frasca Food and Wine, 173 Pearl: I had a great meal at Frasca, which is a neighborhood restaurant that they say is inspired by the cuisine and culture of Friuli Italy. It has been featured in many publications. The chef, Lachlan Mackinnon-Patterson, having worked at the famous French Laundry in Yountville CA, moved to Boulder in 2003. In July 2005, he was named one of Food and Wine Magazine's Best New Chefs and in 2008, Lachlan was again nominated and named by the James Beard Foundation as the Best Chef in the Southwest Region of the United States. Frasca received the James Beard Foundation award in 2013 for Best Wine Program.
The Kitchen: Had a great brunch at The Kitchen, a community bistro, located at 1039 Pearl Street, just west of the pedestrian mall. It has a great farm-to-table menu and an attractive décor! My smoked salmon was excellent. Next to The Kitchen is the  Next Door American Eatery, a community pub with a farm-to-table inspired menu featuring pub food served in a casual atmosphere. 
Cafe Aion: At 1235 Pennsylvania Ave. in The Hill neighborhood near the University of Colorado, this a fun tapas restaurant serving some great dishes. I really enjoyed the gazpacho and a tasty vegetarian tagine. They had a good wine list including some great summer rosé wines.
Oak at Fourteenth: Always near the top of Boulder's contemporary restaurants, this was a great dinner choice with friends. It was very busy on a Saturday night. I loved the shaved apple and kale salad and the pan seared scallops.
Under the same ownership as Oak at Fourteenth and Acorn in Denver is Corrida, a Spanish restaurant inspired by Northern Spain's Basque country with a focus on wood-fired steak and seafood. I was so pleased that I went on my  recent visit to town. It is located on the fourth floor of 1023 Walnut Street. The views of the Flatirons are totally amazing and it has one of the best restaurant views I have seen anywhere!! I thought the food and service were excellent. It also has a large outdoor terrace. I loved my entree of octopus, scallops, mussels and shrimp! I highly recommend the experience.
Jax Fish House, At 928 Pearl Street Jax Fish House is an award winning seafood restaurant. Since 1994, it was ranked as one of the Top 25 Seafood Restaurants in America by Travel + Leisure Magazine in 2016.
The Boulder Dushanbe Teahouse, 1770 13th St.: One of my favorite finds, next to the Museum of Contemporary Art, was this authentic Asian teahouse. The Teahouse was given to Boulder by its sister city, Dushanbe, the capital of Tajikistan. It was taken down, crated, and shipped to Boulder where it was reassembled. It has a beautifully carved and painted ceiling, colorful ceramic tiles on the exterior and a central pool and fountain. The restaurant serves great teas and has an innovative menu often with tea as an ingredient. They are open for brunch. I was back again on my last trip and loved the iced chai latte. They also have outdoor patio seating as well, but I love being inside with the beautiful interior.
Trident Booksellers & Café: At 940 Pearl St., this is Boulder's oldest coffee house. It opened first as a Buddhist bookstore in 1979. The coffee shop was added in 1982.  It is a great spot for coffee. They also have the outdoor Trident SandBox  Patio Theater with music, comedy and other events.
Fior di Latte is now Gelato Boy and has excellent gelato at 1433 Pearl St. and Ozo Coffee Co. is a great  spot for coffee at 1015 Pearl St. They also have a location on East Pearl at 1521 Pearl St. and a Roastery Cafe at 1898 S. Flatiron Ct. #110. I went to that location as I was exploring nearby breweries and liked it as well.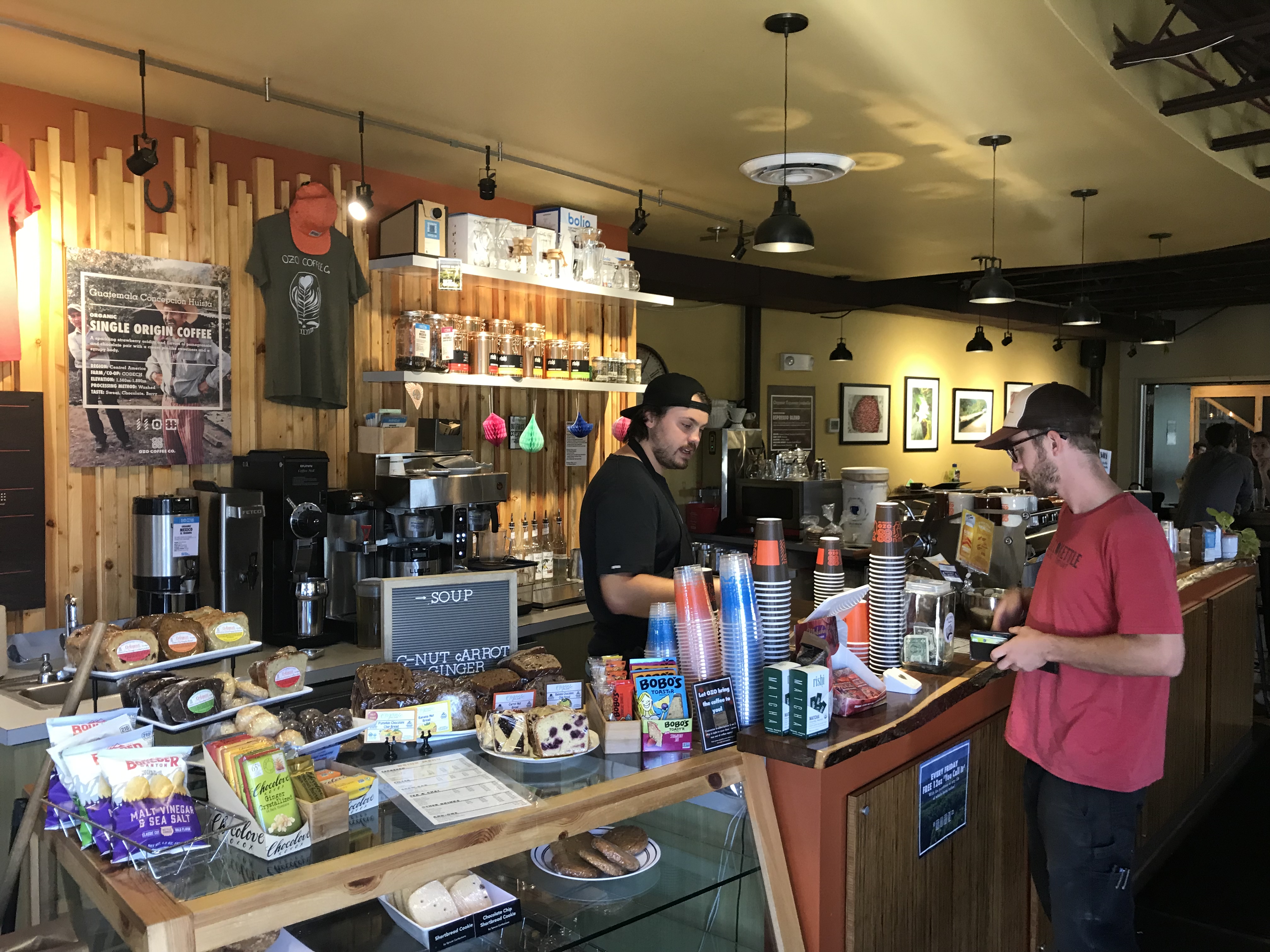 Also good for coffee is is Box Car Coffee at 1825 Pearl St. It is known for its great coffee and fresh pastries and baked goods. In the same location is Cured, a gourmet grocery store and cafe.  A local friends thinks they have the best sandwiches in town. Another casual sandwich spot that locals recommend is Dish Gourmet at 1918 Pearl St.  Leaf Vegetarian Restaurant is a creative vegetarian restaurant with ingredients provided by their Three Leaf Farm.
Other options that have recently received good press include Pizzeria Locale (now Pizzeria Alberico) which was a Bon Appetit Best new Restaurant Nominee in 2012 and SALT Bistro. In the same block as SALT, is Tahona Tequila Bistro, a casual Mexican spot at 1035 Pearl St. Flagstaff House has been recommended by several local friends for its excellent wine selection and stunning views from 6,000 feet atop Flagstaff Mountain.
Black Cat Farm Table Bistro, at 1964 13th St, comes highly recommended and is an elegant bistro featuring New American dishes, sourced from local farms, including the chef's where he raises many of the vegetables plus ducks, pigs and beef cattle for his meats on his 130 acres of  organic fields and pastures. A local friend also likes their sister restaurant, Bramble & Hare at 1970 13th St., downtown.
My same "foodie" friend also loves Basta.  He says that "Kelly Whitaker is doing special things with kind of Nordic/Japanese/Italian simplicity (wood-fired).  His new place Dry Storage is special and his Wolf's Tailor in Denver may be the most original spot in town."  Dry Storage is Boulder's newest restaurant featuring fresh milled bulk flour, breads, specialty coffee, natural wines, and all day food.
For lunch I enjoyed River and Woods, on East Pearl, in rustic cottage with outdoor patio area. I enjoyed a delicious organic farmer's market salad along with excellent servers and staff. They have a fun outdoor patio as well. It is open for lunch, dinner and weekend brunch. 2328 Pearl St.
I read that Top Chef Season 5 winner Hosea Rosenberg had opened Blackbelly at 1606 Conestoga St. #3. It is in East Boulder and features a farm to table restaurant plus a Butcher Shop and Grab and Go Market. They feature seasonal, local Colorado- grown ingredients, and pasture raised, sustainable animals. 
Blackbelly, opened in 2014,  is only open for dinner, so for lunch on my recent trip, I went to the Butcher Shop, which was opened next door in 2016 and serves breakfast and lunch.  They feature baked goods, pastries and breakfast burritos and for lunch, salads and sandwiches I had the perfect grilled cheese sandwich with tomato soup, a favorite from my childhood. I am excited to try Blackbelly next time.
For dinner I went to Chef Rosenberg's other restaurant in town, Santo at 1265 Alpine Ave. Featuring New Mexican cuisine from his home state, it is a fun casual spot north of Pearl Street. I enjoyed a very good salmon entree.
Dot's Diner is known for its great breakfasts, so I had to try it on my way to Estes Park. I really enjoyed my lunch in this casual diner setting. The omelette was great. I also loved the atmosphere with its old aprons and Betty Boop dolls! 2716 28th St.
The Walnut Cafe is highly recommended for it excellent breakfasts at 3073 Walnut St.; there is another location at 673 S. Broadway. On my next trip, I also want to visit Lucile's Creole Cafe, which is known for its breakfasts since 1980. 2124 14th St.
Steakouse No. 316 opened in early 2019 at. This is the same group as their location in Aspen, CO which I have enjoyed there in the past. It is at 1922 13th St. and has a classic steakhouse interior. They do feature fish and chicken entrees along with a raw bar in addition to its meat options.
There are a number of local microbreweries and distilleries to visit when you are in town. Many are in the Eastern Boulder Industrial Area where you will find theaters and restaurants in addition to the breweries and distilleries. On my recent trip I visited several.
Boulder Beer Co.: Boulder Beer Co. was Colorado's first craft brewery. It is located in a large complex at 2880 Wilderness Place on the east side of town. They offer tours or you can visit The Pub on Wilderness for food and tastings. They also have special events and live music. They brew a number of ales, IPAs along with seasonal and limited-release beers. I really enjoyed tasting the Shake chocolate porter.
Upslope Brewing Company, founded in 2008. They operate two breweries in Boulder and make a number lagers, ales, an oatmeal stout, IPAs, pilsners, blondes and seasonal offerings. I  enjoyed the Flatiron Park location on the east side of Boulder at 1898 S. Flatiron Court. In addition to tastings they also offer music and special events throughout the year.
Twisted Pine Brewing Company is located at 3201 Walnut St Ste A. This is a brewpub that features its own beers along with a food menu of pizzas and sandwiches. They have been brewing in Boulder since 1995 and feature over 30 beers including ales, IPAs, stouts, lagers and saisons. I particularly enjoyed the Recreational Wheat Ale.
Vapor Distillery at 5311 Western Ave #180 is a local distillery that makes spirits and flavored liqueurs using pure Colorado Rocky Mountain water. I visited the tasting room where you can taste their bourbons, whiskeys, gins and vodka. My favorite was the Boulder Bourbon while the Boulder American Single Malt Whiskey aged in American oak was quite good also. I highly recommend that you visit Vapor when you are in town.
Redstone Meadery at 4700 Pearl St. #2A is a producer of local, all-natural meads or honey wine. They offer a number of tours and tastings. They make a number of Nectar sparkling meads, Mountain Honey Wine and Redstone Reserve which are aged for at least five years. I enjoyed the tart cherry Mountain Honey Wine.
Also on  my list to try is Avery Brewing Co. Their taproom and restaurant is located at 4910 Nautilus Ct. Chicago friends really enjoyed it.