The food is really amazing in New Orleans. Our top recommendations include:
French Quarter
Cafe du Monde, 1039 Decatur: Located in the French Market, this is the place for beignets and chicory coffee au lait. Just don't wear dark clothing as the powdered sugar from the beignets can be lethal! Trust me on this.
Galatoire's, 209 Bourbon Street: One of my favorite restaurants in the US. For over 105 years, this is the grand dame of New Orleans' old-line restaurants. I love the atmosphere of the first floor. Jackets are required for gentlemen so be prepared. My favorites are the Oysters Rockefeller and the redfish with lump crab meat. My server was Wayne so ask for him; he was really good. As a tradition, people normally request their favorite waiters.
Gumbo Shop, 630 St. Peter: This was recommended. I really enjoyed my lunch. The combination platter of Shrimp Creole, Jambalaya and Crawfish Etouffee is the way to go. The Etouffee was really wonderful!
Baru, 3700 Magazine Street: Good Caribbean food recommended by the New York Times. It was a great place to eat lunch amongst the galleries and antiques stores. I thought the food and service was very good and liked the colorful interior.
Bayona, 430 Dauphine St.: This is the restaurant of well-known chef Susan Spicer that opened  in 1990. The restaurant is very attractive and the food really excellent. The menu offers specials each day along with the most popular dishes. I thought the freshness of the ingredients was wonderful.
Antoine's, 1730 Rue St. Louis: Since 1840, Antoine's is the oldest continuously family-run restaurant in America! It has amazing food and ambience and is not to be missed! I have been going since my first trip to the area in 1980. They did have a Spring and Summer lunch menu with 3 courses for $20.16. A great value. Make sure to visit the rooms in the back which are like visiting a museum as they have displays of crowns, dresses and photographs of the kings and queens of the Krewe Rex from past Mardis Gras.
Broussard's, 819 Rue Conti:  I very much enjoyed Easter brunch there a few years ago. Good food and service in a lovely room. They also have a nice patio.
NOLA, 534 St. Louis: I enjoyed a wonderful meal at one of three of Emeril's New Orleans spots. I really loved the salmon and the barbecued shrimp.
Brennan's: Recently closed for 17 months for an extensive remodel, this legendary restaurant is now back open. The decor is really outstanding and the service exceptional. I had to try the Eggs Hussard which is an eggs benedict with the addition of a red wine and mushroom sauce added to the dish. Make sure to ask to see the wine cellar and the elegant Rex rooms upstairs used by the Kings and Queens during Mardi Gras. 417 Royal.
Muriel's Jackson Square: Located at 801 Chartres, this is a popular restaurant serving classic Creole cuisine for lunch and dinner. It is located in a large, historical house that was originally built between 1743 and 1762 by the Royal Treasurer of French Louisiana Colonies. In the late 1800's and early 1900's it was converted to a series of commercial businesses. Muriel's Jackson Square opened in 2001, after an extensive restoration of the building. Make sure to go upstairs to see the lovely private dining rooms and lounges, all elegantly furnished and decorated.
Also in the Quarter is Arnaud's at 713 St. Louis, from 1918, which I have enjoyed in the past. It has featured Creole cuisine, cocktails and Dixieland jazz since 1918.
Stanley Restaurant on Jackson Square is a great spot for breakfast. 547 St. Ann.
Getting great press and reviews is Justine in the French Quarter at 225 Chartres St. It was opened in early 2019 by Chef Justin Devillier who also owns La Petite Grocery and Balise Tavern. In 2016, Justin won the James Beard Award for Best Chef: South after being named a finalist in 2012, 2013, 2014 and 2015. I am excited to try it on my next trip.
Garden District
Walk or drive through the Garden District with its wonderful homes. Commander's Palace in the Garden District, at 1403 Washington Ave., is one of the best restaurants in the city and is known for its Jazz Brunch on Saturday and Sunday. It has been an institution since 1893. It has it first female Executive Chef, Meg Bickford who has continued the wonderful food traditions of the past from past chefs which have included Emeril Lagasse, Paul Prudhomme, Jamie Shannon and Tory McPhail.

Tremé and Mid-City
Willie Mae's Scotch House: This favorite New Orleans restaurant was a James Beard Award Winner in 2005 as an American Classic. At 2401 St. Ann, it is known for its fried chicken. I enjoyed the fried chicken, red beans and rice, cornbread and a tasty bread pudding. I called the restaurant from the airport and found there was no wait so I had the cab driver drop me off on the way into town. It it a great experience. They are only open for lunch, so I suggest going early to avoid the lines. I also loved the casual atmosphere and the decor featuring family photos. They also have a second location in Uptown, Willie Mae's Grocery & Deli, that is open for dinner at 7457 St. Charles Ave.  
Dooky Chase, 2301 Orleans Ave.: Opened in 1941, this is a classic New Orleans restaurant made famous by legendary Creole chef Leah Chase. After she married Dooky Chase in 1946, she transformed it from a bar and sandwich shop to a sit-down restaurant. It "soon became the meeting place for music and entertainment, civil rights and culture in New Orleans."

The dining rooms are more formal and highlight colorful African-American art. For lunch you can order off the menu or eat from the buffet. I ordered the Shrimp Creole from the menu which was excellent along with a warm peach cobbler with vanilla ice cream! Lunch is served Tuesday thru Friday and dinner is served on Fridays only. I would suggest calling two weeks in advance to make a reservation. 504 821 0600. 
Unfortunately the legendary chef and owner Leah Chase died in June, 2019 at the age of 96.  But her traditions will continue. In a 2015 interview to the Associated Press she stated, "I love people and I love serving people. It's fun for me to serve people. Because sometimes people will come in and they're tired. And just a little plate of food will make people happy."
Two Mid-city restaurants that are well-worth the visit include Toup's Meatery which is a semifinalist for a 2019 James Beard Award for Best Chef: South. 845 N. Carrollton Ave. I am excited to try it on my next trip.  Also nearby is Ralph's on the Park at 900 City Park Avenue. Owned by Brennan's New Orleans and set in an 1860's house, this is an elegant farm-t0-table restaurant and bar. It is open for lunch, dinner and weekend brunch. They have outdoor seating during the warmer months as well as music in the bar during brunch and on certain nights of the week. 
CBD/Warehouse Arts District
John Besh's Restaurant August at 301 Tchoupitoulas St., on the edge of the Warehouse Arts District, is known for fine dining and is set in a 19th century French-Creole building.
St. James Cheese: Their newest location in the Warehouse District, at 641 Tchoupitoulas St., has a wonderful selection of artisan cheeses, gourmet food items and cured meats. They also offer casual dining and feature an excellent selection of sandwiches, salads, mac and cheese plus cheese and charcuterie boards for eating in or take out. They have a second location in Uptown at 5004 Prytania St.
Revelator Coffee: Next door to St. James Cheese is this sleek coffee shop serving great coffee. 637 Tchoupitoulas St.
Pêche: This casual spot in the Warehouse Arts District, at Magazine St., received the James Beard Award in the past for Best Chef: South and Best New Restaurant. It features coastal seafood prepared on an open hearth over hardwood coals. I enjoyed a very good mahi mahi entree, a special for the day.
Emeril's New Orleans: This is Emeril Lagasse's flagship restaurant, located at 800 Tchoupitoulas St. I loved having a cocktail at the bar. Open for lunch and dinner it is known for its upscale New Orleans cuisine since 1990.
Willa Jean, 611 O'Keefe St.: A contemporary southern bakery cafe with exposed brick walls, it is a great spot for breakfast. They have coffee and wonderful pastries, plus a full eat-in menu. I loved my biscuit with blue crab and hollandaise sauce. The chocolate chip/sea salt cookies were a perfect snack later in the day! This is part of the Besh Restaurant Group. They are also open for lunch and dinner. Pastry Chef Kelly Fields, won the James Beard Award in 2019 for Outstanding Pastry Chef.
For a casual breakfast spot with an old diner feel, check out Marjoria's Commerce Restaurant at 300 Camp Street. They also serve lunch.
Cochon Butcher: This is a popular spot featuring sandwiches, bbq, small plates and sides plus house meats, sausages and house cured salami. Cochon, the well-known restaurant for Cajun and Southern cooking, is located around the corner. Both have the address of 930 Tchoupitoulas St.  
Under the same ownership is Herbsaint Bar & Restaurant. Located at 701 St. Charles Ave, it is a very popular restaurant.
Maypop, is a contemporary spot serving Southern-Asian fusion including handmade pasta an house-cured meats. Chef Michael Gulotta is a James Beard Semifinalist in 2019 for Best Chef: South. 611 O'Keefe Ave.
The Ace Hotel has several dining options including Josephine Estelle with its James Beard Nominated chefs is recommended for Italian cuisine while Seaworthy is known for oysters and cocktails. 600 Carondelet St. It is located next to the hotel  in a classic Creole cottage built in 1832.
Other fun spots include Ugly Dog Saloon & BBQ at 401 Andrew Higgins Dr. and Bittersweet Confections at 725 Magazine St. for very good chocolates!
Magazine Street
Recent restaurant finds and recommendations include:
La Petite Grocery: Located at 4238  Magazine St. From 2004, this is a popular restaurant located in a quaint building that housed a neighborhood grocery store in the 1800's. It won the James Beard Award in 2016 for Best Chef South.
Coquette: An excellent restaurant at 2800 Magazine St. Chef Michael Stoltzfus received a James Beard Nomination in 2019 for Best Chef: South. Ana Castro is a Semifinalist in 2019 for Rising Star Chef of the Year. Their menu changes daily. I enjoyed a lovely dinner on my last night in town on a recent trip. I chose the vegetarian option. 
CC's Coffee House at 900 Jefferson is a good spot for coffee. 900 Jefferson Ave.
Atchafalaya: Due to weather issues, I had to cut my trip a few hours short, so I missed my brunch at Atchafalaya at 901 Louisiana Ave. It comes highly recommended as a local's favorite for Louisiana specialties including shrimp and grits, seafood gumbo and duck hash. I will add it to my list for my next trip.
Other restaurants to try include: Bouligny Tavern at 3641 Magazine St. with its sleek decor and small plates, Lilette at 3637 Magazine St. in a late 1800's corner drugstore and The Rum House Caribbean Tacqueria at 3128 Magazine. St.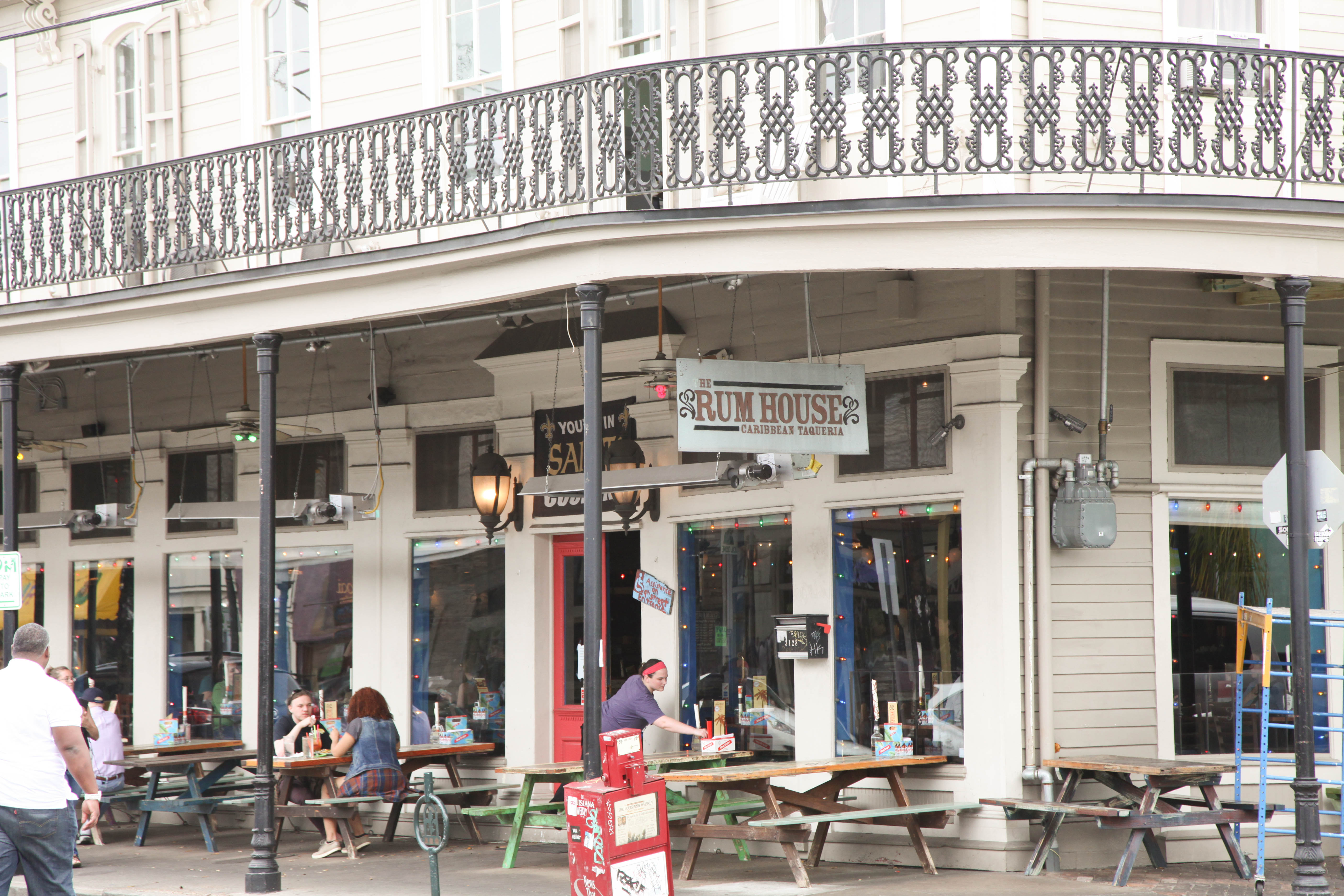 Marigny and Bywater
Just east of Marigny in Bywater you can find Elizabeth's at 601 Gallier St. It was just featured as a top breakfast spot though they do serve lunch, dinner and brunch on the weekend. It is on my list for my next trip as I missed it last time.
Bywater American Bistro is Chef Nina Compton's new concept. It is a casual, neighborhood restaurant. It was named a 2019 Semifinalist for the James Beard Award for Best New Restaurant.
I also just read about N7 in Bywater. It is a neighborhood French restaurant and wine bar located in a former tire shop that is covered in old gallery posters and French Maps. It was named for the N7 or the Nationale 7, the highway that once ran from Paris to the border of Italy. The Michelin Guide started by directing people to restaurants along the way. Dishes are often infused with a Japanese touch. Bon Appetit Magazine named it one of America's Best New Restaurants 2016. It has a lush garden for outdoor dining.
The Elysian Bar at the Hotel Peter & Paul in Marigny was recently named a Semifinalist for the 2019 James Beard Award for Best New Restaurant. It serves coffee, food and drinks. I am excited to try it on my next trip. The hotel looks wonderful as well.  The hotel is located in a former  historic church, rectory, school house and convent. It gets great reviews including the NY Times. 2317 Burgundy St.
Just across the street from Marigny, in the St. Roch neighborhood, is the St. Roch Market. The original St. Roch Market first opened in 1875, as one of the city's many public markets. The building was destroyed in 2005 by Hurricane Katrina. Reopened in 2015, it now has 10 food vendors featuring coffee, oysters, cocktails, seafood and Creole food to others featuring Asian, barbecue, sandwiches and salads, pizza and pasta and Mexican. It has a clean, contemporary design and attracts more locals than tourists. I enjoyed my latte from Coast Roast. 2381 St. Claude Ave.