Riverside
Riverside is a suburban village west of downtown Chicago and south of Oak Park. A significant portion of the village is in the Riverside Landscape Architecture District, designated a National Historic Landmark in 1970. It was the first planned community in the US, designed in 1869 by Calvert Vaux and Frederick Law Olmsted. It was laid out in a curvilinear plan to follow the Des Plaines River and the topography of the land. It was designed with a central square and train station. They used several large parks as a foundation and 41 smaller triangular parks and plazas located at intersections throughout town to provide for additional green space. Be aware that it is a little confusing as you try to drive and explore.
The small downtown area has a number of stores, restaurants, coffee shops and a distillery. You can easily have lunch, explore downtown and  then have ample time to see some of the great architecture in town. In addition to homes and buildings designed by Olmsted and William Lebaron Jenney including the downtown water tower, there are three Frank Lloyd Wright designed homes or buildings that you should drive by and see. I am on a mission to see as many of his properties as I can. I recommend:
Ferdinand F. Tomek House: At 150 Nuttail, this is a lovely Prairie Style house designed by Wright in 1904 that is located just north of downtown in a quiet residential area. It has National Historic Landmark status.
Avery Coonley Residence: Designed in 1908 by Frank Lloyd Wright, this landmark Prairie Style house is the centerpiece of a whole estate, including the servants' quarters, the stables and garage. The complex is located at 290 and 300 Scottswood as well as around the corner at 219 Bloomingbank Rd. It also has National Historic Landmark status.
Coonley Playhouse: Designed in 1913 by Wright, it was originally a school for educating the Coonley children. It is located a short walk away at 350 Fairbanks Rd.
When downtown, make sure to visit:
La Barra: I enjoyed lunch with a local friend at the casual La Barra Ristorante downtown at 2 E. Burlington. For lunch they feature a large number of small plates, salads, pizzas, burgers, sandwiches and pastas. They also serve a brunch menu on Sundays.
Also for dining there is Empanadus, at 7 E. Burlington St., with a large number of empanadas to try and  the casual Sawmilly Sandwich Shoppe, with a large menu of sandwiches. Next door is The Chew Chew restaurant, owned by the same team. 35 E. Burlington.  
At 33 E. Quincy is Higgins Glass Studio where you can find fused, enameled, and molded glass plates, bowls, trays, dishes, pendants, tabletops and more.
I just read about the Riverside Arts Center at 32 E. Quincy St. This center offers exhibitions, classes, art talks and events. I will definitely go on my next visit.
Not to be missed is Quincy Street Distillery, downtown at 39 E. Quincy St. Here they have the distillery, a shop and bar that features their products. I recommend booking a tour along with a tasting. You can taste a number of their spirits which includes two gins, a vodka, a white whiskey, a bourbon, a rye whiskey, a cinnamon whiskey, a corn whiskey and an Asian pear brandy. I love brown spirits and they were all excellent. If you don't have the time for a 90 minute tour, at least stop in for a cocktail.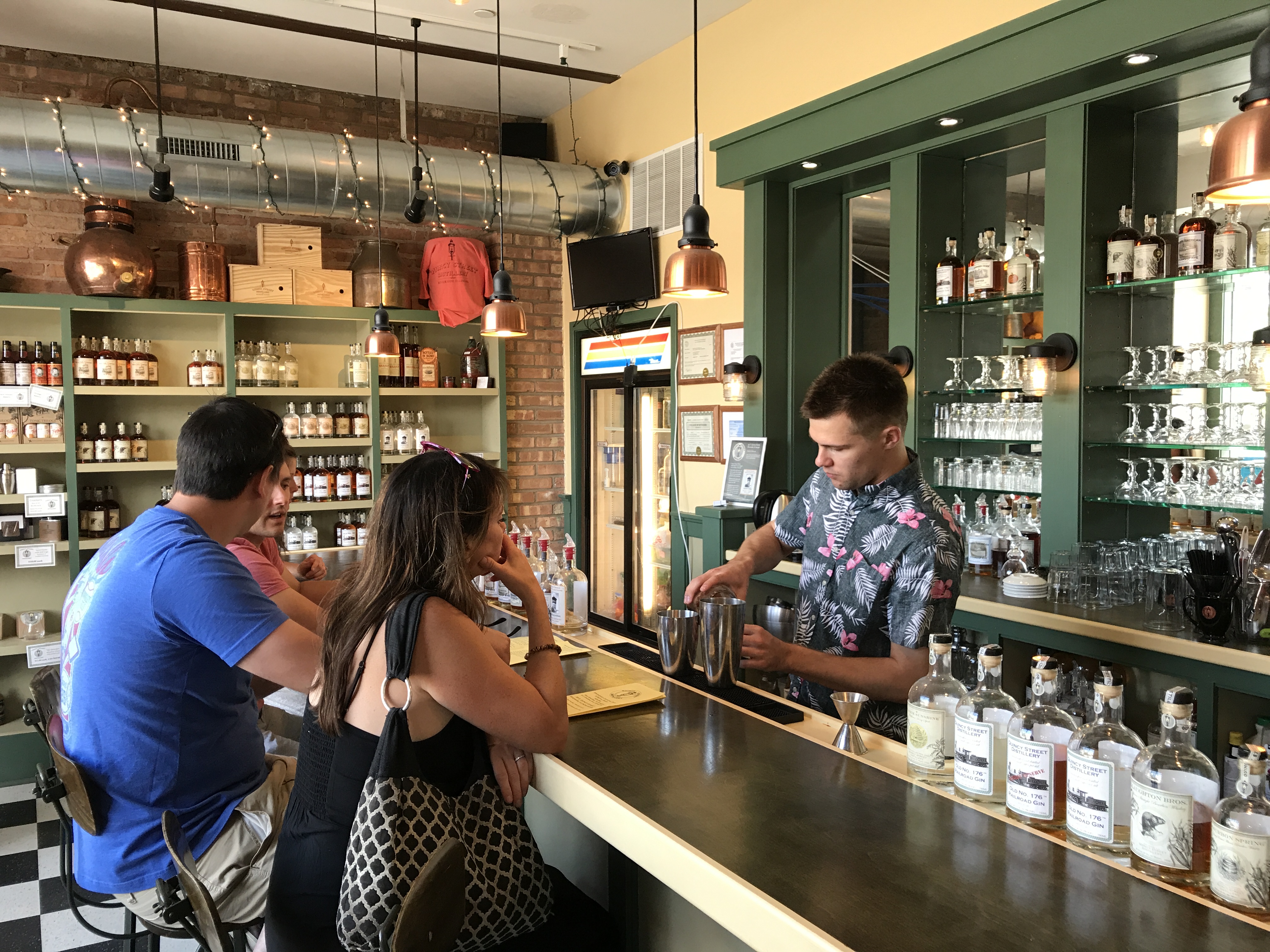 Berwyn
Formed in 1908, Berwyn is a suburb just to the east of Riverside. I recently went for the first time to explore some Frank Lloyd architecture and to check out some restaurants, cafes and a microbrewery that had been recommended.
It has a small walkable downtown near the Metra train station known as the Depot District. It has a number of coffee shops and restaurants including the casual Lavergne's Tavern at 6546 Windsor Ave. and the new La Borra del Cafe, a coffee shop with locations in Mexico and the US, at 6801 Stanley Ave. There is also the traditional James Joyce Irish Pub at 7138 Windsor Ave.
I particularly enjoyed Flapjack Brewery at 6833 Stanley Ave. This is a casual brewpub where they brew a number of lagers, stouts and IPAs onsite. I really enjoyed the Elotes Supremo Mexican Lager which was light and refreshing with a touch of lime! 
On the northside of town, along Roosevelt Rd., you can find a number of popular bars, restaurants and cafes. Known as The Veltway, it is being compared to Beale Street in Memphis or Music Row in Nashville, for being the live music, food and entertainment corridor for Berwyn and Oak Park.
My favorite was Fitzgerald's Nightclub – Live Music + Good Drinks at 6615 Roosevelt Rd. They have a large outdoor patio where you can listen to live music plus two indoor music venues. They offer music, from local and touring acts, almost nightly with many afternoon sessions on weekends. I enjoyed listening to a band on a Saturday afternoon. Onsite is Baby Gold Barbecue where you can order plates, sandwiches, sides and desserts. I will definitely go back for more music and BBQ.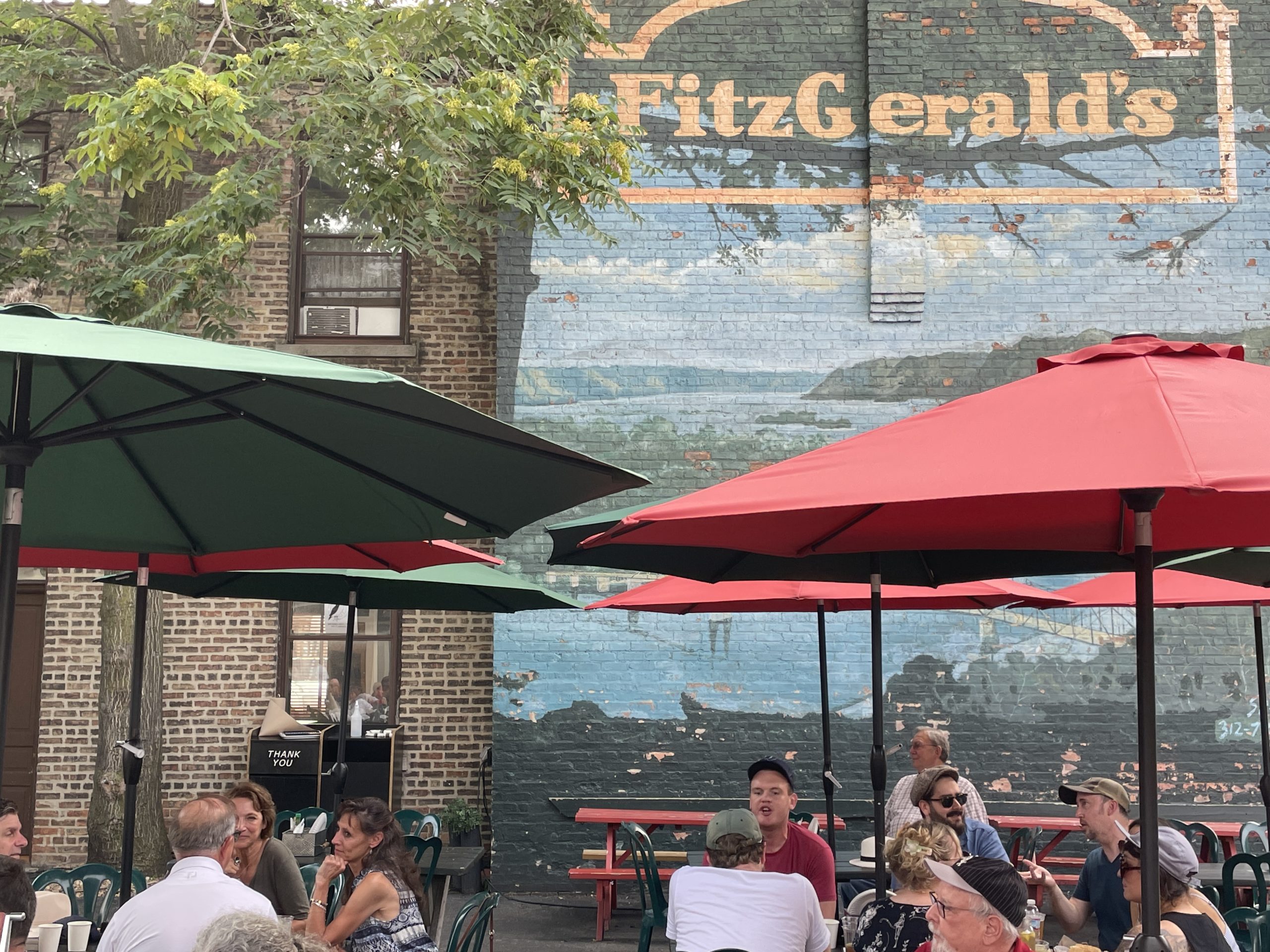 Nearby is the high-end Autre Monde Cafe & Spirits. I had seen it recommended on several local TV programs. It features a Mediterranean menu with influences from France, Spain, Portugal, Italy and Greece. They also have a lovely outdoor patio. 6727 Roosevelt Rd.
Also in the area is the casual Friendly Music Community where they have a Coffee Lounge, Tap with live music and Music School with group and private lessons. 6731 Roosevelt Rd.
For Frank Lloyd Wright aficionados, Berwyn has one of his houses to drive by and see. The Chester Bragg Residence at 6644 34th St., is an American System Home, designed by Wright and built by Bragg in 1915. Wright planned a nation of prefabricated homes to be sold through a network of licensed builders.