Located just 45 minutes from downtown Indianapolis, Columbus, IN is a showplace of modern architecture. According to the NY Times, it "just happens to have the most incredible collection of modern architecture in the Midwest, outside of Chicago." Architecture buffs can see over 70 schools, office buildings, churches, banks, fire stations and other public buildings designed by such architects as Eliel Saarinen and son Eero Saarinen, Harry Weese, Cesar Pelli and I.M. Pei and other important names of the mid-20th century. The American Institute of Architects currently ranks it sixth among U.S. cities for architectural design right behind Boston and Washington D.C.
It started when J. Irwin Miller, head of the Cummins Engine Company for 30 years, helped persuade Eliel Saarinen to build a modern church, the First Christian Church, which was dedicated in 1942. Next after WWII,  Saarinen's famous son Eero designed the Irwin Union Bank in 1954. Miller then offered for the Cummins Engine Foundation to pay the architectural and design fees for all new schools and public buildings if distinguished architects were chosen from the foundation's list. The trend started then and continues today, with results that have put Columbus on the map.
I recommend stopping in at the Visitors Center at 506 5th St. to buy a map showing the location of the best examples to visit. I recommend the self-guided walking around the downtown area at your own pace. I would then sign up for the two-hour city tour by bus as well. It allows you to get into two churches that are otherwise unavailable to see. The other tour I highly recommend is the Miller House and Garden Tour which gives you access to the amazing mid-century residence designed by Eero Saarinen, interiors by Alexander Girard and landscape by Dan Kiley. It is a National Historic Landmark. I suggest booking your tours in advance as they can book up during certain times of the year.
My top recommendations to visit include:
Cleo Rogers Memorial Library – 1969 I.M. Pei and the Large Arch from 1971 by Henry Moore on the Library Plaza 536 5th St.
In addition to the Henry Moore sculpture, I enjoyed the EOS sculpture created by Dessa Kirk named after the Greek goddess of Dawn. It is located at 5th and Brown St. There are a number of other public art pieces that are found throughout the city.
First Christian Church – 1942  Eliel Saarinen, 531 5th St. You can visit the interior on one of the guided tours offered by the city.
AT&T Switching Station – 1978 Paul Kennon Caudill Rowlett Scott, 700 Franklin St. Make sure to visit the alley to the west  to see the large yellow, orange, red, and blue "organ pipes" on the side of the building!
Cummins Corporate Office Building – 1984 Kevin Roche of Rock Dinkeloo and Associates, 500 Jackson St. Inside the lobby is the Cummins Engine Corporate Museum which has some interesting displays featuring race cars, engines and more. I particularly enjoyed the sculpture called Exploded Engine by Rudolph de Harak, which features a deconstructed engine to its smallest detail that hangs in midair.
Irwin Conference Center – 1954 Eero Saarinen, 500 Washington St. This is an exceptional building that should not be missed. It is a low, glass-walled building set in a grove of trees.
Irwin Office Building Arcade and Addition – 1973 Kevin Roche/John Dinkeloo and Associates. 520 Washington St.
Columbus Post Office – 1970 Kevin Roche/John Dinkeloo and Associates. 450 Jackson St.
The Commons – 2011 Koetter Kim and Associates, 300 Washington St. Make sure to stop inside, this community space including restaurants and a playground, to see the sculpture titled Chaos 1 from 1974 by Jean Tinguely.
Robert N. Stewart Bridge – 1999 by J. Muller International. State Road 46.
North Christian Church – 1964 by Eero Saarinen, 850 Tipton Lane. This is a wonderful church to visit. You can visit the interior on one of the guided tours offered by the city. It features a 19-story spire topped with a gold-leaf cross.
Lillian Schmitt Elementary School – 1957 Harry Weese.
Cummins Inc. Tech Center – 1968 Harry Weese.
Columbus Learning Center – 2005 Kohn Pederson Fox. 4555 Central Ave. Make sure to see the ceiling installation of Sun Garden Panels in Suspended Circles by Dale Chihuly from 2007. The people at the front desk will direct you to the room.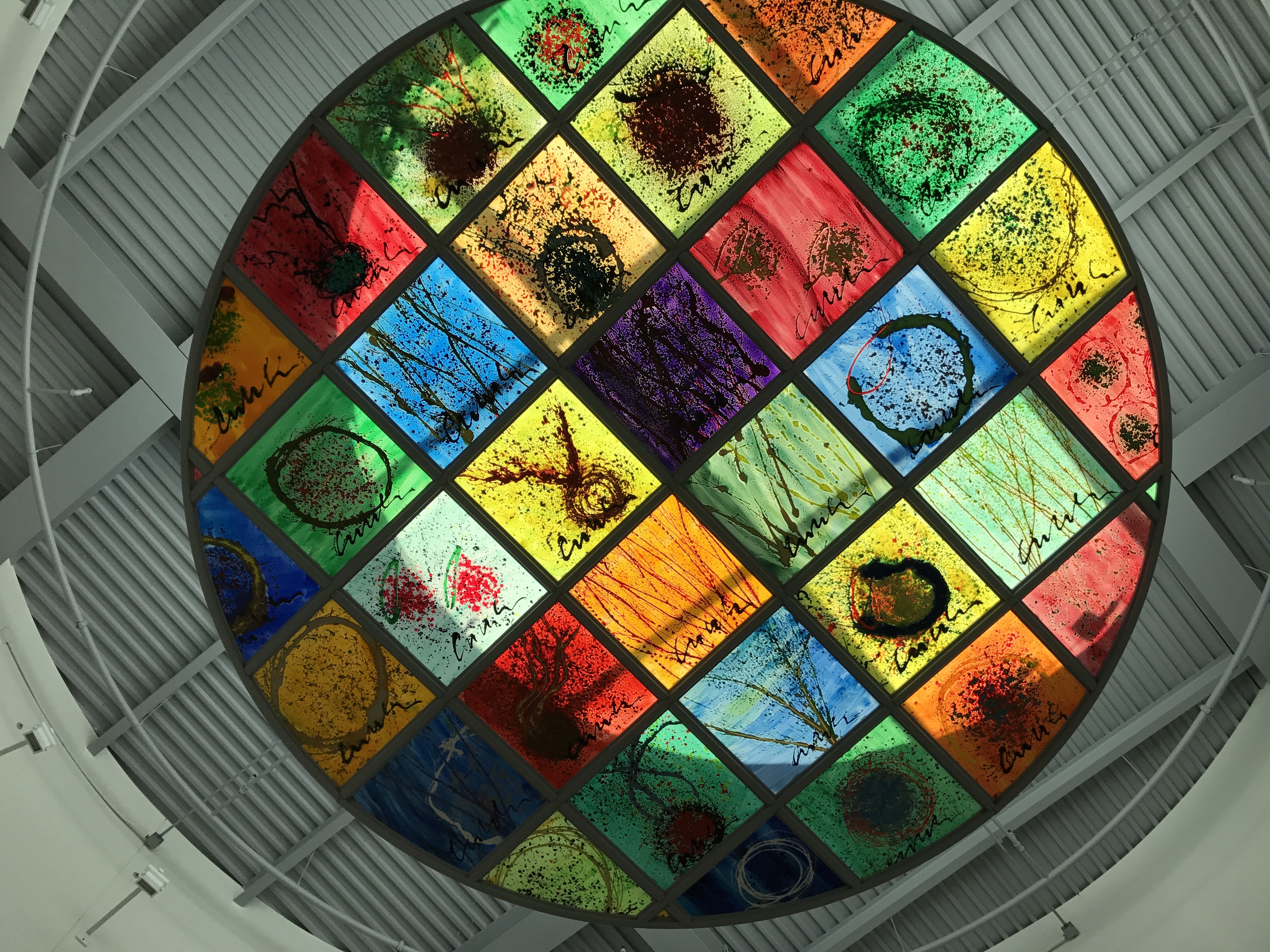 Indiana University – Purdue University Columbus – Make sure to see Howard Meehan's Transformation sculpture from 2010. 4601 Central Ave.
Hamilton Center Ice Arena – 1958 Harry Weese.
Republic Newspaper – 1971 Myron Goldsmith of Skidmore, Owens & Merrill. 333 2nd St.