Art and architecture buffs will love Racine. It is an easy day trip from Chicago, Milwaukee or Madison. Make sure to visit:
Wingspread: This is the residence of the Herbert Fisk Johnson family designed and built in 1938-39 by Frank Lloyd Wright. The 12,000 sq. ft. house is shaped like a four-winged pinwheel and built of limestone, brick, stucco and wood. It's 30 foot-high chimney, with five fireplaces on three levels is the centerpiece of the house. Free, self-guided tours are available so book online before you go to get the date and time you want. I liked the fact that you could walk through at your own pace. It was the home of the Johnson family for 20 years, but today is operated as a conference center by the Johnson Foundation and is a National Historic Landmark. 33 E. 4 Mile Rd.
SC Johnson: SC Johnson is the maker of many of the household products we use daily from Pledge, Raid, Ziploc bags, Glade and more. Taking a tour of their corporate headquarters is a must when you are in Racine. Here you can visit the Research Tower designed by Frank Lloyd Wright in 1939 and opened for tours in 2014 and the Wright designed Administration Building, also from 1939, with its large Great Workroom with Wright designed furniture. Next is the newer contemporary Fortaleza Hall with a museum on the history of the company plus gift shop. Tours start in the Golden Rondelle Theater which was the former SC Johnson Pavilion at the 1964 New York World's Fair which was moved to the site and rebuilt. The free guided tours last an hour and a half and can be booked online before you go. 1525 Howe St.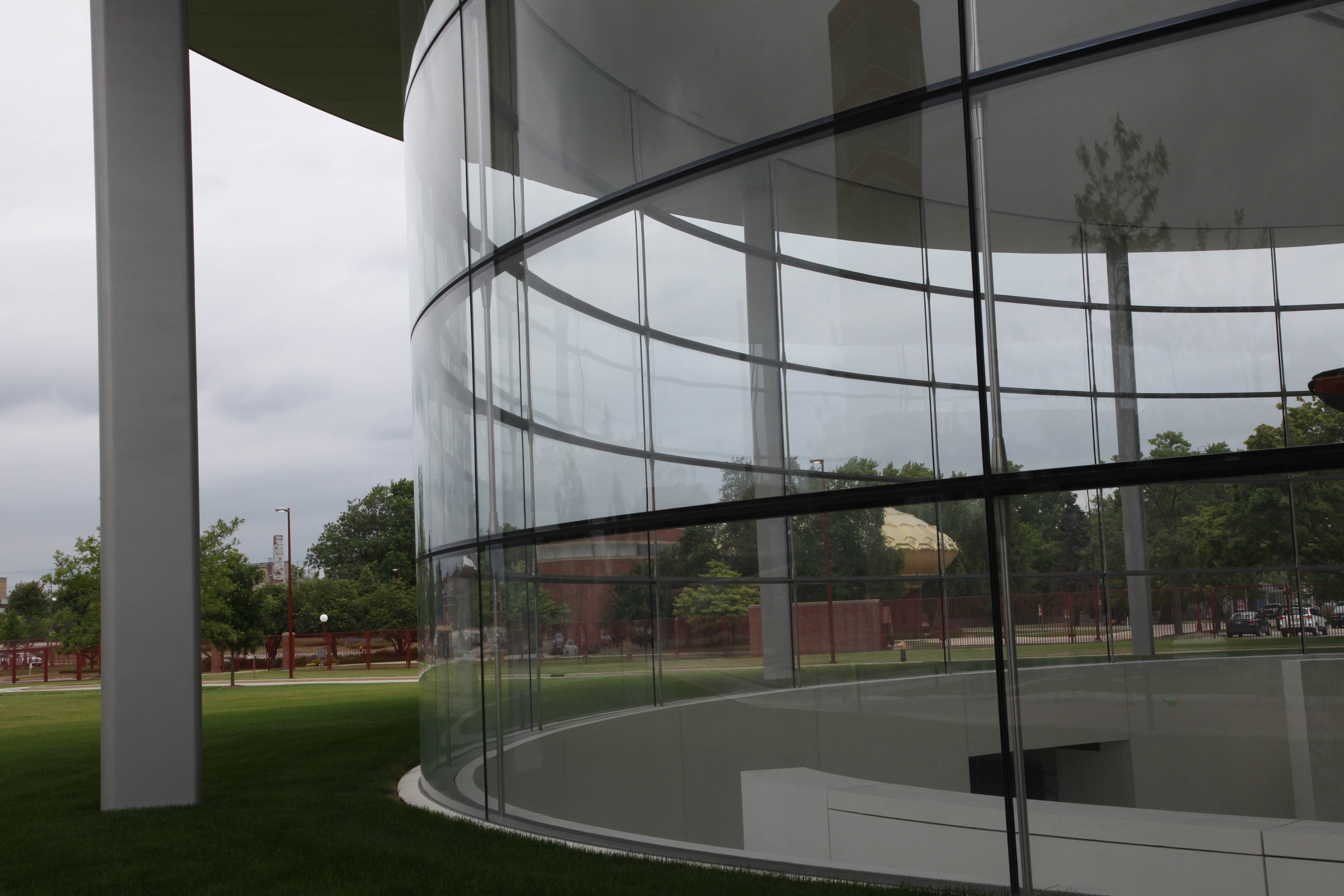 RAM/Racine Art Museum: After hearing about the museum for several years, I was glad to be able to see if firsthand. Located in the heart of downtown at 441 Main St., the museum holds the largest contemporary craft collection in North America with more than 8,000 objects. They feature ceramic, fiber, glass, metal, polymer and wood pieces alongside paintings and sculptures. Make sure to check out their website for exhibitions, events and workshops.
The museum also has a branch, the Charles A. Wustum Museum of Fine Arts, at 2519 Northwestern Ave. in Racine. This museum features exhibitions of fine art and craft organized around specific themes. They also hold an annual exhibition in Wisconsin Photography, Wisconsin Watercolor and works by local students and teachers.
Downtown Racine Art Walk: The downtown art walk featuring artist events and demonstrations, happens in April, July and November.
Artists will love the Hot Shop Glass Studio & Gallery at 239 Wisconsin Ave. The gallery is open on Saturdays, First Fridays and Gallery Night.