Santa Fe is one of the best cultural destinations in the US. You will find cultural institutions, festivals, museums, classical music, dance, opera and hundreds of galleries. Here are some of the many offerings that you might want to experience while there.
Santa Fe Opera: Located in a wonderful venue, north of Santa Fe near Tesuque, The Santa Fe Opera has grown to become recognized as one of the world's leading cultural festivals. They usually produce five operas in the summer months. I have seen Carmen and La Boheme and enjoyed both.
Chamber Music Festival: One of the highlights of the summer cultural calendar.
Santa Fe Desert Chorale: This organization hosts a summer festival in July and August.
Other great institutions include the Santa Fe Symphony, Santa Fe Pro Musica and The New Mexico Jazz Festival, The Santa Fe Film Festival, and the Santa Fe Playhouse founded in 1922. One of the biggest festivals is the annual Santa Fe Wine & Chile Festival. I have also been to Art Santa Fe, the Contemporary Art fair.
Indian Market: This is one of the summer highlights in August of each year. There is a week of festivities culminating with the market in and around the Plaza. There are more than 1100 artists from 100 tribes and it is the largest cultural event in New Mexico. There is also a winter market in November. In addition to art there is film, music, lectures, museum events and a benefit auction.
Spanish Market: Occurring in July, this is one of the highlights of the summer in Santa Fe. It celebrates the rich Hispanic culture of Northern New Mexico. While this market has focused on the traditional arts for 60 years, the Contemporary Hispanic Market during the same week features contemporary works by Hispanic artists.
International Folk Art Market: One of my favorite Summer events. There are normally 132 artists from 50 different countries around the world selling their handicrafts or folk art. I like buying a patron ticket which allows you to preview the pieces on Friday evening and gives you early admission on Saturday morning. You must also take a shuttle from a lot downtown as no parking is permitted at the Museum Hill.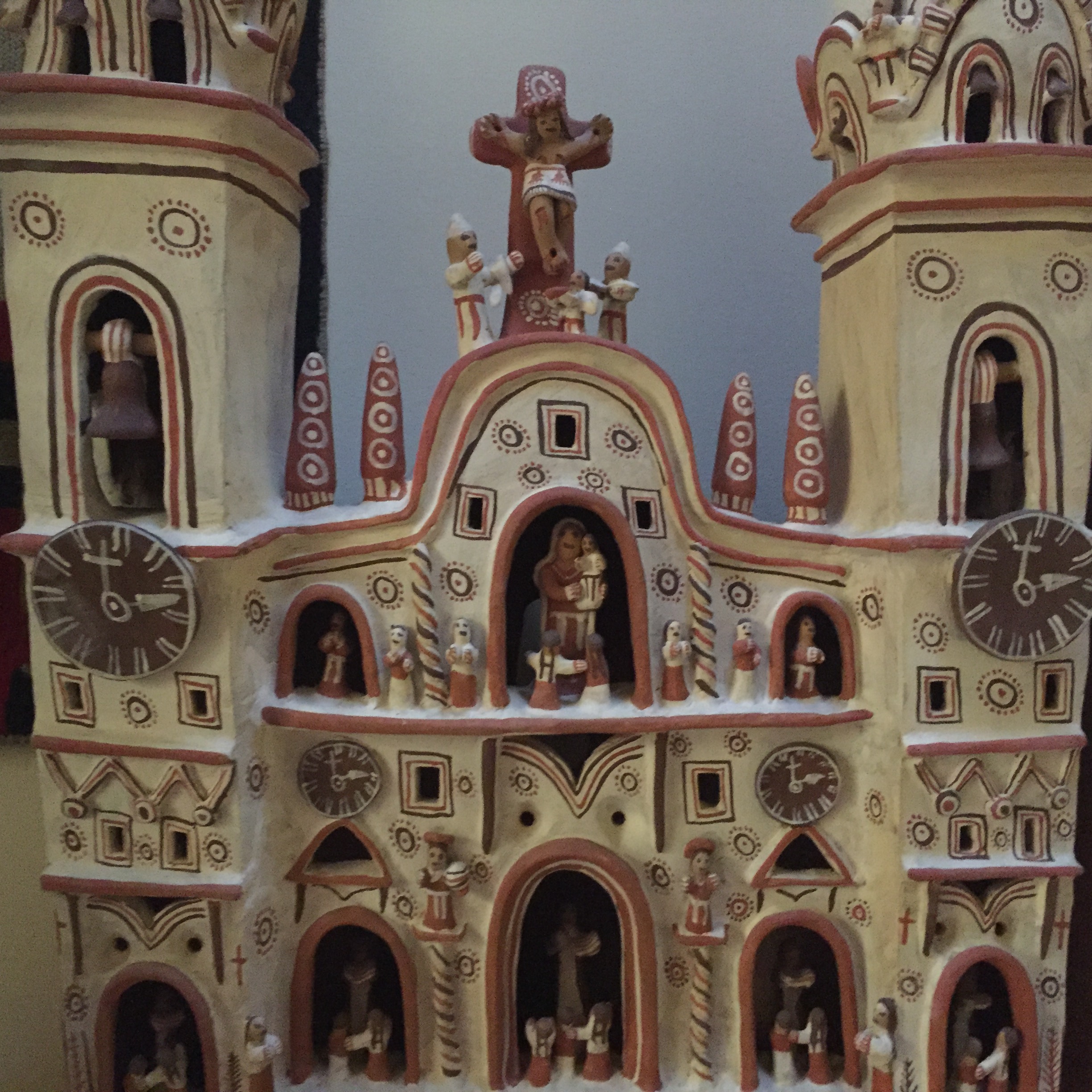 Native Treasures Indian Arts Festival: Held during Memorial Day Weekend, this is Santa Fe's only museum-quality Indian art show featuring works by more than 150 artists invited by the Museum of Indian Arts and Culture. I found some great works at this show!
Museum Hill: Off of Old Santa Fe Trail, this museum campus has four great museums. There is a nice café on the plaza outside the museums which is quite good. The list includes:
Museum of International Folk Art, 706 Camino Lejo: This is one of my favorite museums anywhere as I collect Mexican folk art. There is folk art from around the world. You have to see the huge room housing the Girard Foundation Collection which is wonderful and overwhelming at the same time!
Wheelwright Museum of the American Indian, 704 Camino Lejo.
Museum of Indian Arts & Culture, 710 Camino Lejo.
Museum of Spanish Colonial Art, 750 Camino Lejo.
Aspen Santa Fe Ballet: A great contemporary dance troupe that splits its time between Aspen and Santa Fe and other venues around the United States and the world. They are a world class company, with great reviews, so if they are in town at the Lensic Performing Art Center, don't miss them. I have seen them in both Aspen and Santa Fe.
New Mexico Museum of Art, 107 W. Palace Avenue.
Georgia O'Keefe Museum, 217 Johnson St.: A wonderful small museum that is a must see. You can also make a reservation through the museum to tour her home in Abiquiu, north of Santa Fe.
Museum of Contemporary Native Arts at The Institute of American Indian Arts, 108 Cathedral Place: Well worth a visit. They have a nice museum shop also.
Railyard Arts District: This was a large tract of land along Guadalupe Street that has been redeveloped into nine galleries and Site Santa Fe. There is also the Santa Fe Farmer's Market on Saturdays and Tuesdays, and a monthly art walk on the last Friday.
As someone who has taken  several encaustic painting classes in hot wax, I was excited to visit the Museum of Encaustic Art in the Santa Fe Railyard Arts District at 632 Agua Fria St. They have a permanent collection of encaustic art, a members gallery of art for sale and temporary exhibitions. They also feature demonstrations and workshops. I highly recommend that you stop in when you are in that part of town.
Friends and family really like Meow Wolf which is a interactive art experience. Here you will find art installations along with video and music. It located at 1352 Rufina Circle.
I also have heard that the New Mexico State Capitol building has an extensive art collection that you can visit with a self-guided tour.  415 Don Gaspar Ave.