For those wanting to get out of the casinos, Las Vegas has many opportunities to explore great art and design. My recent finds include:
Gallery of Fine Art: This small museum/gallery at the Bellagio features works by some of the world's best artists in conjunction with major museums around the country. Town and Country: From Degas to Picasso. Organized in partnership with the Museum of Fine Arts, Boston, the exhibition features images of European urban and rural life by van Gogh, Renoir, Toulouse-Lautrec and others.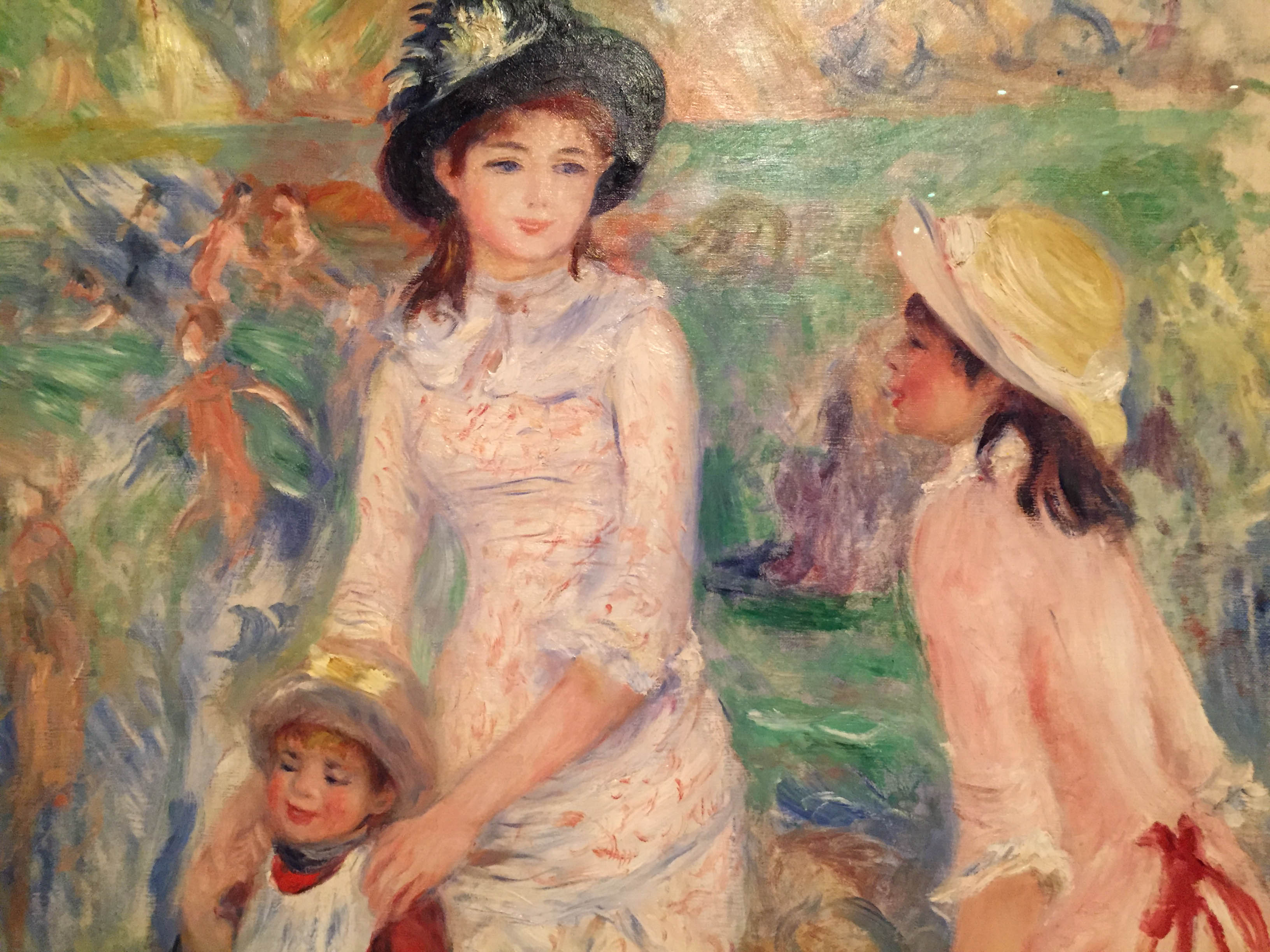 One of my favorite installations is Dale Chihuly's 2,000 hand-blown glass blossoms in the main lobby of the Bellagio. It was commissioned by Steve Wynn for the hotel in 1998.
At the ARIA Resort & Casino, make sure to ask for a map and visit the works in the ARIA Fine Art Collection. I enjoyed Maya Lin's Silver River above the Registration Desk. Outside the Main Hotel Lobby you will find Henry Moore's reclining connected forms sculpture. Between the Aria and the Vdara don't miss Nancy Rubins' Big Edge made with hundreds of boats sculpted together. The Vdara has a large Frank Stella painting, Damascus Gate Variation 1, behind the reservation desk.
Don't miss Crystals, the stainless steel-clad shopping center at CityCenter designed by internationally known architect Daniel Libeskind. The 500,000 sq. ft. building with its jagged, crystalline shapes is one of the highlights of The Strip.
In the Shops at Crystals, in the ARIA Tram station you should see James Turrell Shards of Color featuring changing planes of color from colored lights. There is also Tatsuo Miyajima's LED sculpture titled Hoto on the first floor.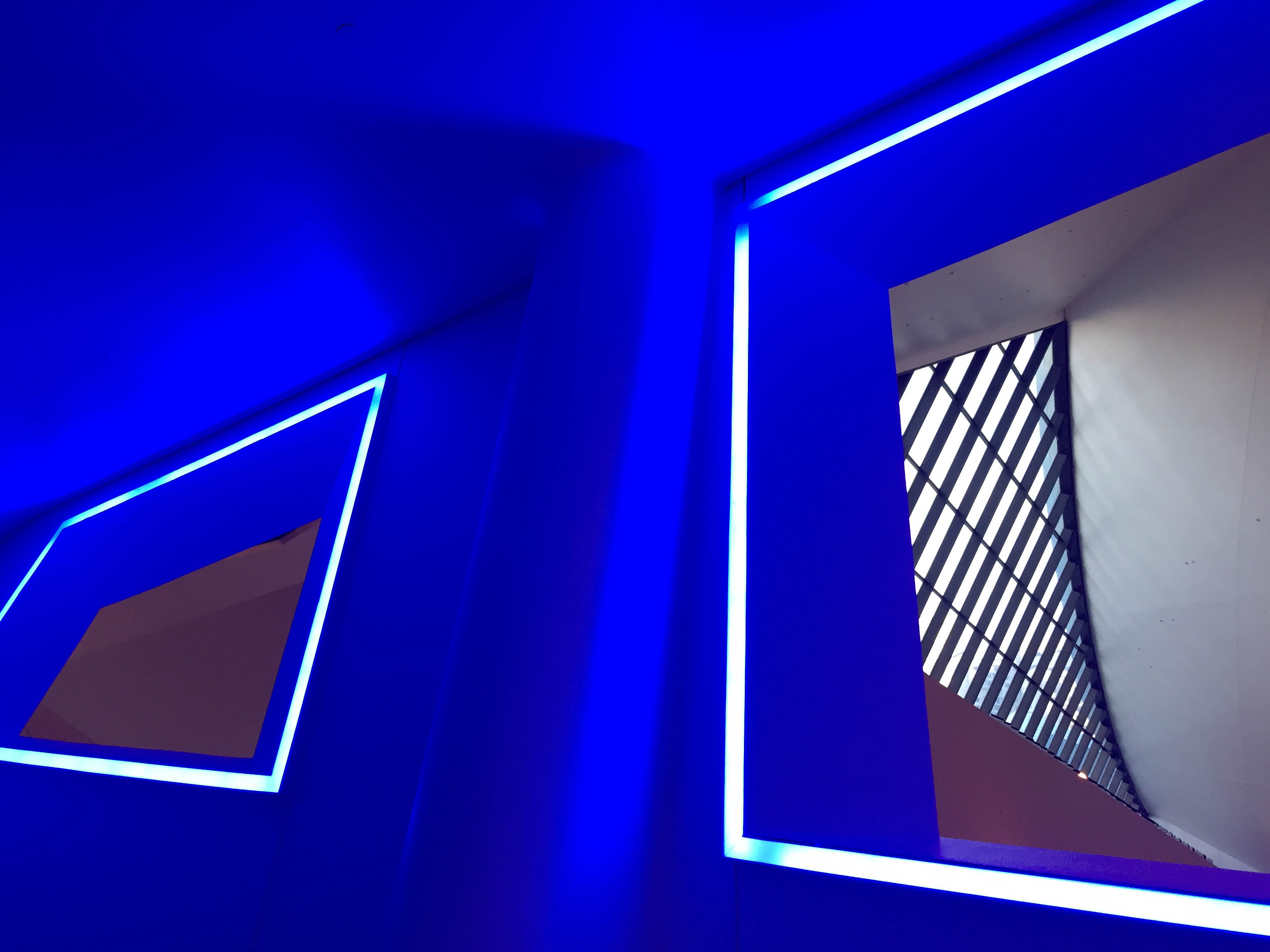 Akhob: This is the title of the James Turrell total color immersion art located on the 4th floor of the Louis Vuitton store at Crystals. I always love seeing Turrell's works. It is well-worth visit. The tour is free but reservations are required. I would book before you go to Las Vegas. You also get to see three other works in the store's private collection. 702-730-3150
Checkout the new location for the gallery, The Art of Richard MacDonald, at 3600 S. Las Vegas Blvd. It features works by figurative sculptor Richard MacDonald.
Nearby is the gallery of international artist, Elena Bulatova Fine Art, in 3720 S. Las Vegas Blvd. #275 Here you will find contemporary art with a focus on mixed-media paintings and sculpture. She has another gallery in Palm Springs, CA. 
Not to be missed is Claes Oldenburg's Typewriter Eraser Sculpture just outside the Gallery Row near the Mandarin Oriental.
I also loved the colorful digital art installation in the lobby of The Cosmopolitan featuring eight 15 ft. columns featuring a continuous display of digital images.
Just south of downtown is the Las Vegas Arts District, centered north and south of Charleston Blvd. There are a number of galleries, artists studios, boutiques as well as bars and restaurants. They offer an artwalk on the First Fridays of each month.  There is also DTLV Arts which has several buildings with studios and galleries including The Arts Factory,