Augusta is located along the hills and bluffs overlooking the Missouri River Valley. It is 37 miles west of St. Louis and is an easy drive from the airport. Founded in 1836, it became a wine producing region that was all but shut down by prohibition. In the 1960's, the vineyards were revived and in 1980 was recognized as the first U.S. Wine District or Viticultural Area #1.
Local varietals include Chambourcin, a hybrid American-French grape and Norton, first cultivated in Virginia and now the official grape of the State of Missouri. It is considered the cornerstone of the Missouri wine industry. Vignoles or semi-sweet is yet another. Norton grapes produce a full-bodied dry red wine similar to a Cab or Zinfandel. Chambourcin is a medium-bodied red wine similar to a Pinot Noir with cherry tones. Vignoles produces dry to sweet late harvest dessert wines similar to a German Riesling.
While in town, make sure to visit:
Kate's Coffee: At 5525 Walnut St., this is a totally charming coffee house that offers breakfast and lunch along with ice cream. They also have a small guest cottage, The Conservatory.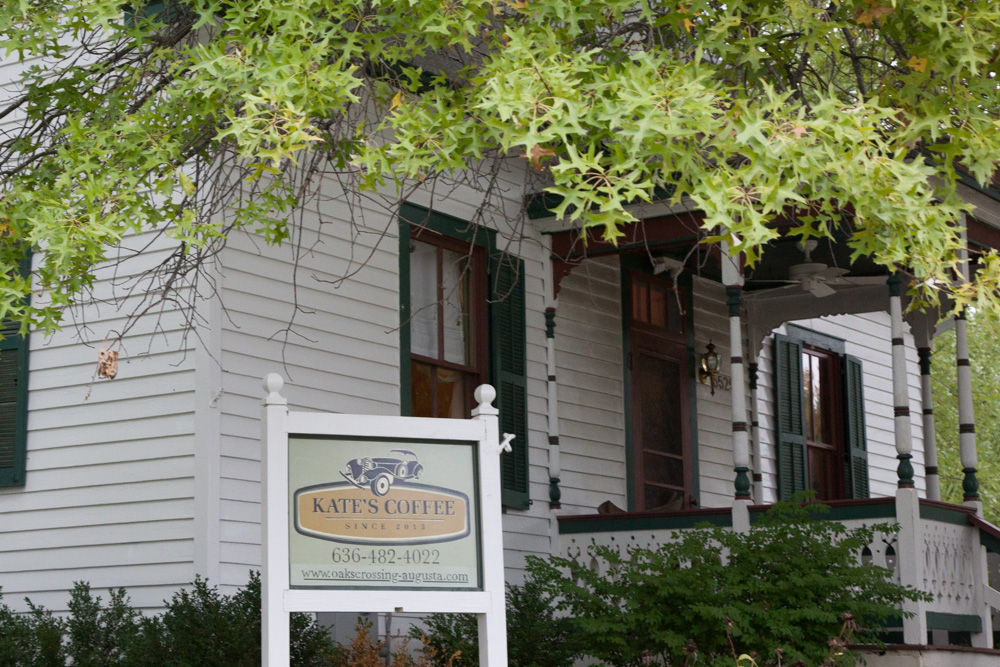 Centennial Farms & Orchard, where in the summer you can find blackberries, peaches and plums, melons and tomatoes and in the fall you can buy or pick your own apples. With its historic red barns, it has been owned and operated since 1854. 199 Jackson St.
Katy Trail State Park: The park is the longest developed rail-trail in the country.  It was built on the former corridor of the Missouri-Kansas-Texas Railroad  is 240 miles long and runs between Clinton and Machens with 26 trailheads and four fully restored railroad depots along the way.
Several artists studios and galleries including Augusta Gallery at 5558 Walnut, for furniture and gifts, and the Augusta Glass Studio at 5508 Locust for lovely blown glass pieces.
Locals recommend the H.S Clay House B&B and Guest Cottage at 219 Public St. and the Apple Gate Inn B&B at 5549 Main if you want to stay in the area. I would also try the small guest cottage, The Conservatory, owned by the people who own Kate's Coffee House.
Mount Pleasant Estates: With a stunning location, this winery was established in 1859 by two brothers from Germany, George and Frederick Muench. The wine cellars, made of local limestone and wood, from 1881 are now are used to age their wines and port. After Prohibition in 1920, the winery was forced to close and the vineyards set on fire. It was re-opened in 1966 by the Dressel family. Chuck Dressel runs it today. Having known his Mother for several years, I was pleased to meet him and have him show me the wine cellars. I tasted their Cabernet Sauvignon, and the Norton, rich with fruits and spice. This was my first time trying the Norton and I enjoyed it. 5634 High Street. The Appellation Cafe is a great spot for lunch overlooking the rolling hills above the river.
Other wineries in the area include, Balducci Vineyards, Noboleis Vineyards, Augusta Winery and Blumenhof Winery. In nearby Defiance, there is the Sugar Creek Winery, Montelle Winery  which also has the Klondike Cafe restaurant and Chandler Hill Vineyards.