Back Bay, with its historic architecture and brownstones is a great neighborhood. Here you will find Copley Square, Newbury Street, Trinity Church, The Prudential Center and The Mary Baker Eddy Library and Mapparium. The Back Bay Train Station is served by Amtrak from New York and points south.
Newbury Street: I always have to walk Newbury Street when I go to Boston. It is a charming eight blocks of boutiques, stores, galleries, bars and restaurants. The historic buildings were built in the late 1800's. Add it to your list of to-dos!
For good coffee make sure to stop in to Caffe Nero at 205-207 Newbury St.
Saltie Girl a fun raw bar located just north of Newbury St. at 281 Dartmouth St. I had one of my best meals there. They feature a large raw bar, chowders and bisques, lobster rolls, smoked fish plus tinned seafood items. I loved the smoked salmon platter with a great bagel and cream cheese. Travel + Leisure Magazine featured it in an article at one of Yelp's Top 100 Places to Treat Yourself for 2019. I highly recommend it and will definitely go back!
Make sure to stop in to the Restoration Hardware Boston store at 234 Berkeley St. As in Chicago and New York City where they have taken over and renovated historic properties for their stores, here they took over the three story historic Museum of National History from 1862 and have created a really stunning showroom.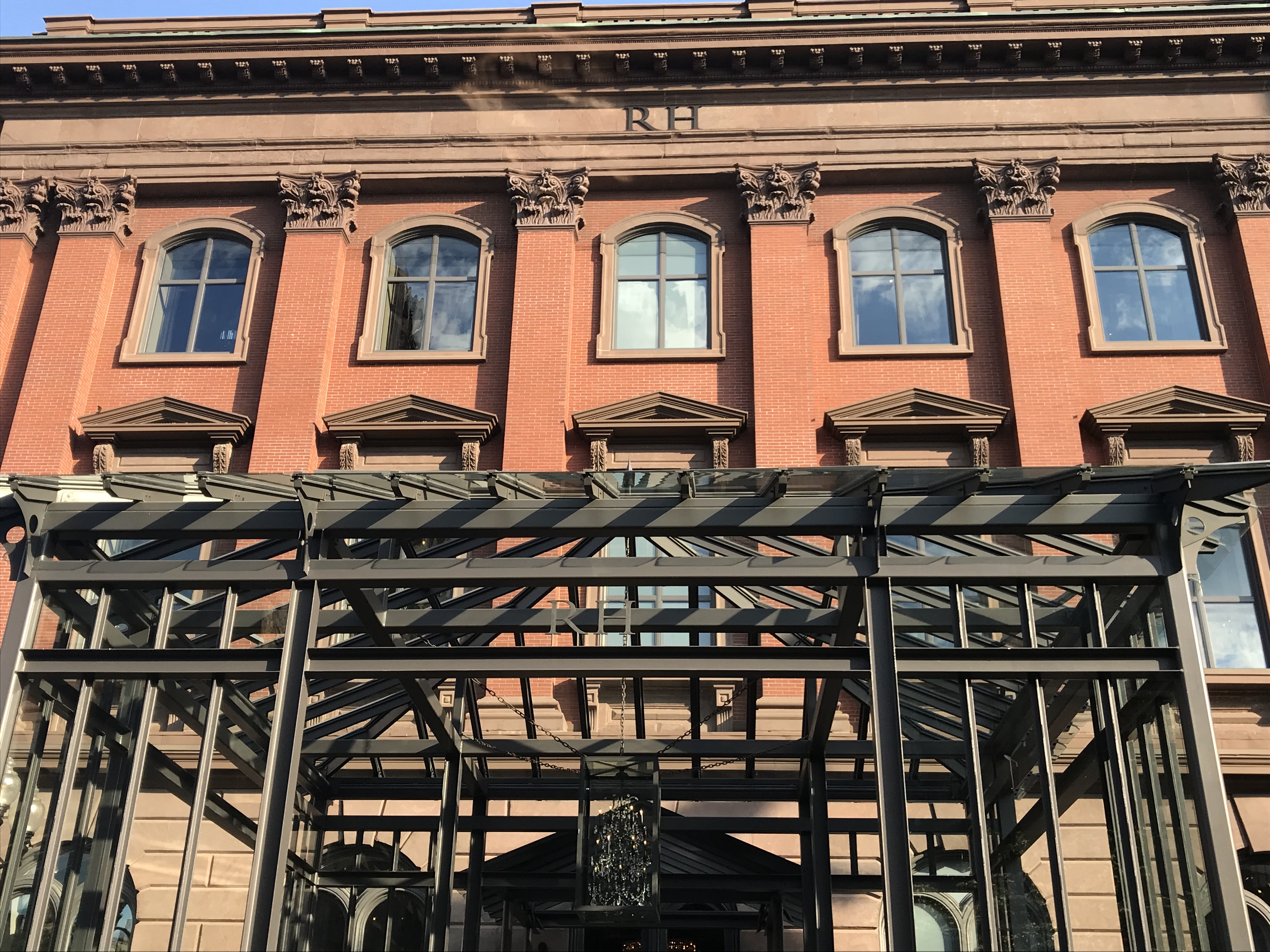 L.A. Burdick Chocolates: Chocolate lovers will enjoy this chocolate shop at 220 Clarendon St. They feature artisanal chocolate and confections, including bonbons, drinking chocolate, and chocolate bars.
Not from the Back Bay Station is The Friendly Toast at 35 Stanhope St. This is a popular breakfast spot where lines can be long. Check Yelp for wait times and add your name to the wait-list. It is a hip retro-kitsch diner and bar serving breakfasts, comfort classics and soda-fountain treats.
In the same block as The Friendly Toast is The Brahmin Restaurant and Lounge. It is a a restaurant featuring small plates and cocktails. It is known for its live music and DJs. 33 Stanhope St.
At the end of the same block near the Back Bay Train Station at 131 Clarendon St. is one of the Boston locations of Flour Bakery + Cafe known for it great pastries and sandwiches.  I stopped in for coffee and a cookie on the way to my train. According to a recent article founder " Joanne Chang, has long been a shining star in Boston's food world. The Harvard graduate left management consulting to become a pastry chef, working at some of the best restaurants in the Northeast before opening Flour. In a hypothetical showdown, Flour would beat any national coffee chain, so make multiple stops your vacation ritual for an afternoon sticky-bun break, a late lunch, a cup of coffee."
Change has been a frequent winner and nominee for the James Beard Foundation Awards. These include: Semifinalist, Outstanding Chef 2018, Nominee, Best Chefs in America 2013, Nominee, Best Chefs in America 2014, Nominee, Outstanding Baker 2015, Winner, Outstanding Baker 2016, Nominee, Outstanding Pastry Chef 2011 and Nominee, Outstanding Pastry Chef 2012.
The Mary Baker Eddy Library, 200 Massachusetts Ave.: Friends suggested that I visit the library which explores the life of Mary Baker Eddy, the religious leader, teacher and businesswoman. She founded Christian Science and started the Christian Science Monitor. I loved the Mapparium which is a three-story painted glass globe, from 1935, which showed the world map as it was when it was completed. I was so glad I added it to my itinerary. I enjoyed seeing the exhibits on Mary Baker Eddy's life.
Make sure to visit in at the well-known and historic Boston Central Library in Copley Square at 700 Boylston St. Here you can also enjoy afternoon tea in its Courtyard Tea Room or  Maproom Tea Lounge.
Two blocks north of Newbury St. is Commonwealth Ave. If you have time make sure to walk the avenue and see some of the beautiful, historic mansions.