One of the most unique places I have ever visited in my travels was The Benesse Art Site on Naoshima Island in Japan's Inland Sea. The Art Site is a hybrid art museum and boutique hotel that was the inspiration of Soichiro Fukutake, the president of Benesse Corp, which is the publisher of books for children and the parent company of Berlitz Language Schools.
In addition to collecting art works, Benesse Art Site Naoshima provides artists and architects with opportunities to create and exhibit original works at various locations throughout the islands, thus enabling visitors to experience the very finest modern art. "Our fundamental aim is to create special places by situating modern art and architecture within the nature and the unique culture of the Seto Inland Sea, a landscape with a powerful cultural and historical resonance."
"Through contact with artworks and with the nature, scenery and people of the Seto Inland Sea region, we seek to inspire visitors to consider the meaning of Benesse – Living well. In continuing our activities, we are attempting to build a relationship of mutual growth between art and the region that provides it with a setting, in order to make a positive contribution to the local community."
The hotel and museums were designed by the acclaimed Japanese architect Tadao Ando and is a wonderful place to experience art. The design is minimalist with the materials primarily of concrete, steel, glass and wood.
I took a ferry boat to the port town of Miyaura. I was met by a shuttle from the Benesse House. I had a room overlooking the Inland Sea and the sculptures on the grounds below. It is a very attractive property. There are several types of rooms to choose from. The food was really quite good. The main restaurant was the Terrace Restaurant with the Terrace Cafe outside. There is also a Park Lounge for drinks looking out over the water. There was also a nice store and spa.
As part of a new permanent gallery show at the hotel, there is Glass Tea House Mondrian, a mirrored cube floating above a pond, with a tatami mat for tea ceremonies.
Now, in addition to Benesse House,  as of April, 2022 you have the lodging option of Naoshima Ryokan ROKA, a traditinal inn with 11 minimilatist guest rooms, contemporary art, a modern teahouse-style pavilion, a contemporary restaurant, cafe and bar plus a  walled garden with abstract sculptures.
Located a short walk from the Hotel is the Benesse House Museum which opened in 1992. It  was really wonderful in its design and contents. There were wonderful works but not an overwhelming number which gave you the opportunity to really study the works and enjoy the building design. There was a restaurant where you could eat at night and an attractive small cafe as well.
There were works by Alberto Giacometti, Jasper Johns, Sam Francis, Robert Rauschenberg, David Hockney, Andy Warhol, Donald Judd, Bruce Nauman and Cy Twombly.
Nearby is the Chichu Art Museum which was constructed in 2004 as a site rethinking the relationship between nature and people. Artworks by Claude Monet (several of his water lilies), James Turrell, and Walter De Maria are on permanent display in a building designed by Tadao Ando. Most of the building is underground with natural light coming in from above.
There were also many sculptures throughout the large park-like site. My favorites were Shinro Ohtake's fiber-glass boat fragments that looked like they had washed up on the shore and Yaoi Kusama's gigantic orange Pumpkin on an old pier extending into the water as you enter the property. Unfortunately in in 2021 it was swept away by a typhoon.
I spent the afternoon of my first day at Benesse House Museum and the afternoon of my second day at the Chichu Museum. I spent the morning at the Art House Project in town.
The Art House Project  is found in  Naoshima's Honmura district, where seven old houses in the small port town have been turned into modern art installations. My favorites were Kadoya, Minamidera with an amazing installation by James Turrell, Gokaishu and Kaisho. I had lunch in a small restaurant in town before heading back to the Benesse House.
I was really blown away by the experience and would definitely go back. Since I was there, a new Lee Ufan Museum has opened which was designed by Ando for the works of Korean artist Lee Ufan. A new museum on the work of Tadao Ando and his work on Naoshima has also opened, plus Miyanoura Gallery 6 is a former amusement arcade that was converted to an art space featuring photography and video art. There are also museums now on two other islands, Teshima and Inujima, which are also quite new. These include the new Teshima Art Museum, the Inujima Seirensho Art Museum and the Inujima Art House Project.
Recently opened according to Condè Nast Traveler Magazine, is Valley Gallery, an abstract concrete structure desgined by Tado Ando, his ninth building on the island. It merges nature, art and architecture.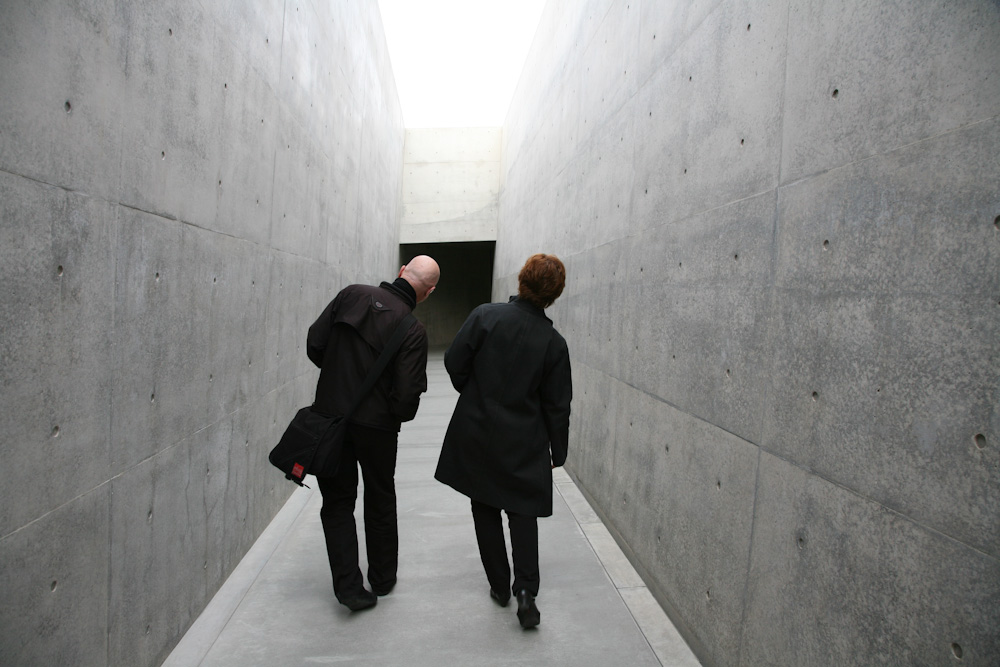 I read in the NY Times that there is also Art Setouchi, an art triennale, held on several other islands in the area.
After spending most of the trip in larger cities, it was a wonderful place to relax before the long trip home to Chicago.