On the opposite side of the Manasquan inlet is Point Pleasant Beach. I love Point Pleasant for its restaurants. I make a point to visit every July when I am in the area and have trouble keeping up with the new openings. In my mind it is one of my favorite "foodie" destinations anywhere in the US.  There are some amazing casual dining spots as well as upscale fine dining.
My favorite place on the entire shore is Red's Lobster Pot at 57 Inlet Drive. They have a large outdoor patio for casual dining and a very small 12 table indoor dining room that is really charming. The food is really wonderful and you are literally right on the docks so the fish and lobster is really fresh. I first heard about it in a New York Times review in 1997 and I can't miss it every time I am there. I love their lobster roll, hot with butter, and the amazing coconut cream pie!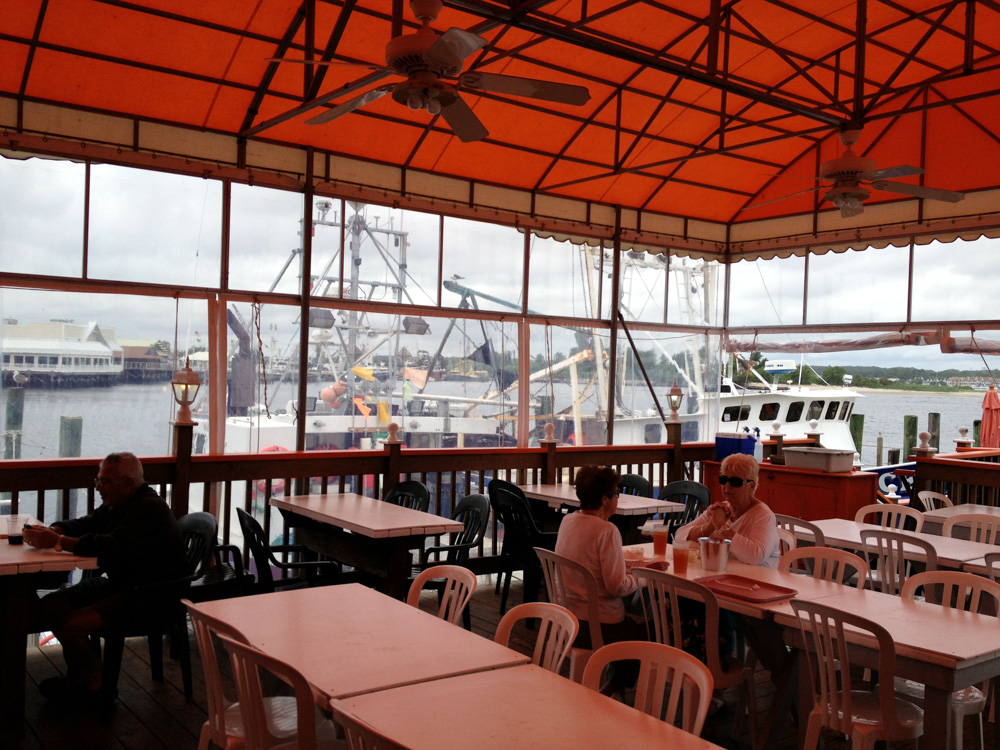 Jack Baker's Wharfside is well-known for its seafood and a large outdoor deck. I have been going for many years. It opened in 1963. It is great for watching the boats come in. Just be aware of the large crowds. I recommend going for lunch during the week. Next door there is a more casual Patio Bar for food and music. 101 Channel Dr.
One of my favorite spots is Spike's Fish Market & Restaurant at 415 Broadway. It  has been a local's favorite since 1926. It has a great fish market, plus a great eat in menu for their casual dining room. I love the lobster roll!!! It is also my go-to fish market for my fresh fish and scallops, lobster bisque, Manhattan clam chowder and crab cakes when I want to eat at home.
The Shrimp Box, overlooking the Inlet in Point Pleasant, is a longtime favorite seafood restaurant with a large menu featuring a raw bar plus seafood, pasta and chicken dishes. I just went back and loved the Manhattan clam chowder and mussels in a white wine sauce with garlic and basil. It has great outdoor dining as well on the patio. 75 Inlet Dr.
A great new find is Point Lobster Co. that has been in business over 30 years. They have a full fish market with fish, scallops, lobster, shrimp and crabs plus you can have one of their famous lobster rolls and a cup of lobster bisque or crab soup. The hot lobster roll was perfect and the crab soup really excellent. Covered seating is available outside on picnic tables. Make sure to try it for a great Shore experience. 1 St. Louis Ave., at Channel Drive.
On my last trip, I went to their downtown Point Lobster Bar & Grill offering lunch and dinner, specials on certain nights and a Sunday brunch. I loved the brunch menu and went to try it out. I thought the Point Lobster Omelette with lobster, fresh corn, white cheese, scallions, red peppers and a green goddess drizzle on top along with a spinach and potato side was really excellent. I loved my server and the atmosphere as well. 521 Arnold Ave.
Across from Point Lobster is a spot that opened in July, 2018, Atlantic Offshore Fishery at 212 Channel Dr.  This is a restaurant and seafood market.  Their menu is extensive with a number of seafood platters, appetizers, soups including chowders and lobster bisque, salads, fish sandwiches, lobster roll, po' boys and fish tacos. I really like the design and the atmosphere. I had a tasty lobster roll for my lunch!! They also have a fish market and a wholesale operation where they have their own fleet of three fishing boats. They provide seafood for a number of the top restaurants in the area. I just went back and enjoyed the grilled swordfish sandwich. They have a new enclosed patio area plus outdoor seating under a tent.
I also recommend Poached Pear Bistro for the first time after reading some great reviews. This  BYOB, fine dining restaurant is a great new addition to the area and probably the best in town. I had a really wonderful meal with friends and family.
The garlic shrimp appetizer served on a reggiano parmigiano crostini with oven dried tomatoes and micro basil was really excellent as was the swordfish entree with a light mango salsa. We also shared the pear pizzetta which was nicely made with pear, gorgonzola, walnut, radicchio and a port wine reduction. The pan seared diver scallops, the potato crusted halibut, the apple cider brined pork chop and the veal vol au vent all got great reviews. The chocolate cake was also great. 816 Arnold Ave. It also attracted a more affluent Shore crowd in its sleek, modern dining room.
Nearby Poached Pear is Jersey Shore BBQ at 710 Arnold Ave. I normally don't think of NJ when I think of barbecue, but I was tempted when I saw this casual spot in Belmar.  Since I first went, Jersey Shore BBQ moved to Point Pleasant in late 2021. Their Texas-style barbecue is pit-cooked on local hardwoods.  They have an extensive menu of ribs, platters or sandwiches with pulled pork, pulled chicken, brisket and grilled shrimp. There are some great sides, starters, and salads. They do offer quesadillas, nachos plus some seafood po-boys. There are several BBQ sauces to choose from. I liked the Point Pleasant location better and enjoyed a great pulled pork sandwich with Texas bbq sauce and cole slaw. 
Around the corner in the former River Market space at 522 Bay Ave. is Bam Bam Burger Co. This is a small colorful burger spot that looks fun. with a large menu of burgers, sides and shakes.  I will definitely try it on my next trip.
A new find thanks to New Jersey Monthly Magazine is Shore Fresh Seafood Market. I tried the one at 703 Bridge Ave. which has great salads, soups and sandwiches including lobster rolls. Their second location is in the former Fisherman's Coop space at 57 Channel Drive.
Speaking of markets, I just heard about and visited Joe Leone's Italian Specialties. At 510 Rt. 35 South, they feature an extension selection of cheeses, baked goods and breads, deli items, prepared foods and grocery items. They also feature daily food specials.  If you are staying at the shore, it is the perfect spot to grab lunch or dinner and not have to cook!!  By the way, the cookies and biscotti are really good. They have locations in Sea Girt at 527 Washington Blvd. and a new one in Manasquan at 113 Main St.
A great new find for me is The Ark Pub & Eatery. Recommended by a local friend, I met other friends there for dinner on a Sunday evening. What a great experience! I loved the atmosphere, food and service. My friends had the flounder which was nicely done. I totally enjoyed the Ark Sampler which included two clams casino, two stuffed clams, two large shrimp and two scallops! Our server, Lisa, had a perfect personality for the restaurant! 401 Sea Ave., NJ 35.
Recently,  I also found Daniel's Bistro at the suggestion of local friends. What a wonderful new find!  It is an elegant, fine dining restaurant just west of the boardwalk at 115 Broadway. They have two nightly seatings and have a large menu of starters and entrees. They also feature an number of nightly specials and it is BYOB, so you can bring your own wine. My server was extremely knowledgeable about the menu and the specials. I really enjoyed the scallops in a champagne sauce with  a crab risotto.  My friends loved the fish special and the Hudson Valley duck breast.  It is a very special place and I will definitely go back.