Tucson has some great hotel and resort options.  Except for Canyon Ranch which is one of my "Happy Places", I prefer staying a little closer in town, so that I can explore the great downtown sites, restaurants, museums and galleries. If you stay at one of the larger resorts, you more than likely will not venture far from the property. In my opinion, you will be missing a lot it you don't explore the city. I did stay at a resort a few years ago in the Catalina Foothills and found it to be in need of a major renovation and was not convenient. My favorites include the following:
Canyon Ranch: I have made my annual trek to Canyon Ranch for the last 34 years. It is a very special, nurturing and amazing place to come and recharge the battery. I always find exactly what I need for that time in my life each time I go. The rooms have been totally renovated and are lovely and the food always wonderful. They have the best spa treatments, exercise classes, hikes and instruction. Services include  mind, health, nutrition, spirituality and more. I highly recommend the experience. It is a perfect spot to go solo, as a couple or with a group of friends.
Hacienda del Sol Guest Ranch Resort: Since 1929 this Historic property has been known for its Spanish Colonial architecture. The views of the mountains are excellent. You can dine in the more formal The Grill or on the Terraza Garden Patio & Lounge. I opted for the more casual Terraza where you can sit on the lovely patio and listen to music three nights a week. The rooms are large and comfortable. There are also spa treatments available and horseback riding. I highly recommend this charming hotel. 5501 N Hacienda Del Sol Rd.
In June, 2023 I spent three nights at The Armory Park Inn south of downtown at 438 S. 3rd Ave. It was one of the best small bed and breakfasts that I have ever stayed in. It is located in a pre-railroad era, Sonoran-style house  from 1875 that was "said to have been a stagecoach stop for travelers en route to the Presidio." Today is has been re-imagined into a seven-room inn. It was beautifully furnished and the rooms were lovely with plush bedding. The staff was so helpful and friendly. They provided wine and cheese for a late afternoon happy hour and cooked a gourmet breakfast each morning using local ingredients. I enjoyed eating on the outdoor patio.
Every detail was perfect including the Los Polanos lavender bath products from Albuquerque, NM, where I had visited in the past. There is a small gym in the basement and an outdoor patio with firepit. I noticed immediately that the coffee mugs and etched glassware were handmade from San Miguel de Allende, Mexico where I spend three to four months a year. There is also an upstairs outdoor sun porch. they even sent me a card from the staff, thanking of me for staying there!
Aloft Hotel: The Aloft Tucson University is a contemporary property that has some great rooms and spaces including the Re:Mix Lounge complete with a pool table, the WXYZ Bar, and Re:fuel by Aloft which is a 24/7 grab and go food/snack bar and a pool and health club. 1900 E Speedway Blvd. I stayed there on my most recent trip and enjoyed the service and the room.
Not far from the Aloft is the recently opened Graduate Tucson. I really enjoy this chain of  beautifully decorated, boutique hotels that are primarily located in in university towns. The Tucson location is at Main Gate Square near the University of Arizona at 930 E. Second St. It is a an easy walk to the many shops, cafes, bars and restaurants on E. University Blvd. They also have a fun rooftop bar, The Moonstone, with beautiful views, and Poindexter Coffee in the lobby for coffee drinks and grab and go breakfast and lunch items. I had an excellent experience on my two night stay! The staff was very friendly and helpful.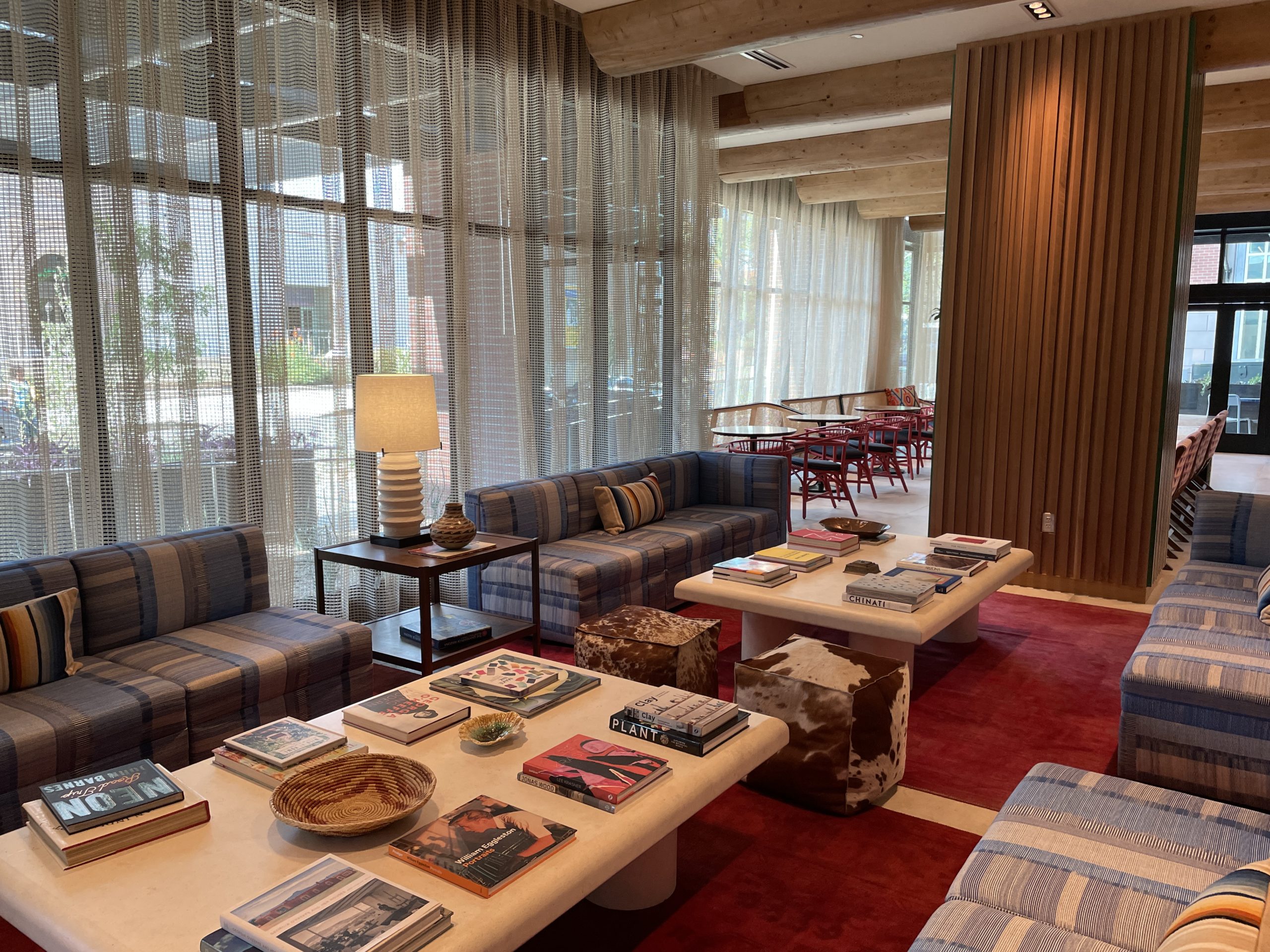 Hotel Congress: Located across from Maynards is the historic Hotel Congress that has been open since 1919. It is a fun, historic landmark hotel that has small but comfortable rooms. I would recommend staying during the week and avoiding the weekends, when there can be crowds outside, in the lobby and famous Tap Room and listing to music in the Century Room. If you decide not to stay, at least have a drink and enjoy one of the music offerings. I would recommend it for those who love music and who are not light sleepers. If you stay on a weekend bring your earplugs.
The Cup Café is the hotel restaurant. There is also the Century Room which is a night club featuring jazz, craft cocktails and Mezcal.
Another great downtown hotel option is the recently opened AC Hotel by Marriott at 151 E. Broadway.  It is a contemporary property with lobby bar and restaurant.  They feature locally inspired artwork in the lobby and craft beers and unique spirits sourced from Southern Arizona in the AC Lounge. They also have valet as well as self parking onsite. It is right in the middle of all of the downtown restaurants, bars and entertainment.
Arizona Inn: At 2200 E. Elm in Tucson, this is an historic property from December 1930, created by Isabella Greenway, Arizona's first Congresswoman and a lifelong friend of Eleanor Roosevelt. Four generations of her family have run the hotel. The Inn was added to the National Register of Historic Places n 1988. It has 14 acres of beautiful grounds and gardens, plus. lovely, traditional rooms and suites. There are tennis courts, a pool and  an exercise facility. There is also a large library, the Audubon Bar and main dining room with lovely outdoor terrace. They also have casual poolside dining. I enjoyed my stay!!!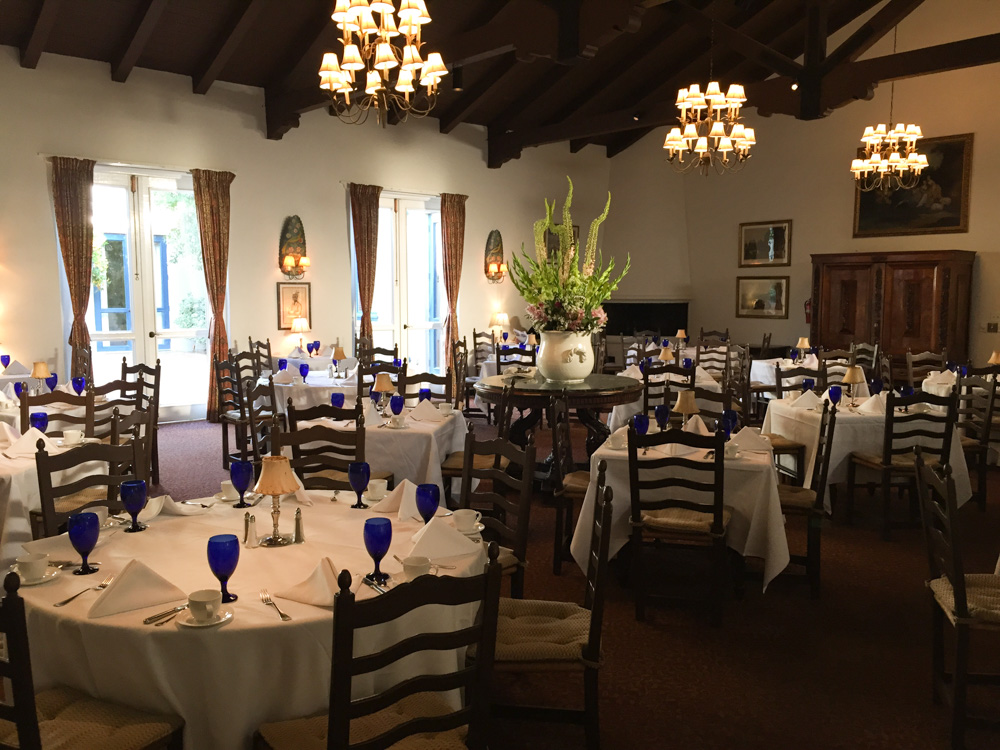 The Lodge on the Desert is another historic hotel from 1936. Located at 306 N. Alvernon Way, it has 103 comfortable rooms, a restaurant and nice pool area. I recently went back for the second time and enjoyed my stay. The rooms are large and quiet and the restaurant is nice for breakfast with its outdoor patio.
Adobe Rose Inn:  On a recent trip, I stayed at the Adobe Rose, a small B&B near the University at 940 N. Olson. Located in a quiet residential neighborhood, it is a charming property with nice common areas and a pool.  I enjoyed having breakfast outside on a beautiful morning and being able to park right outside my room. It is under new ownership and has been recently renovated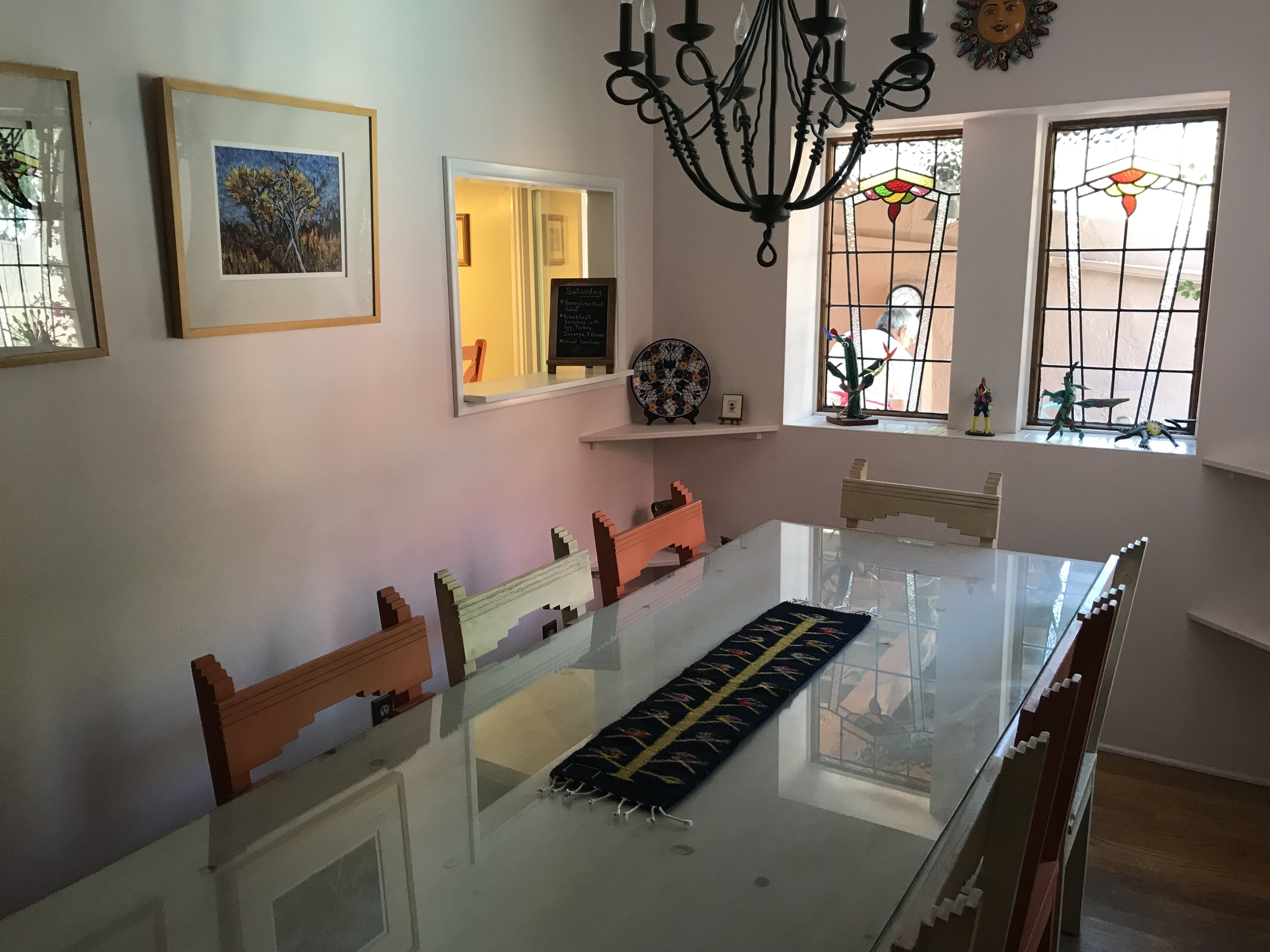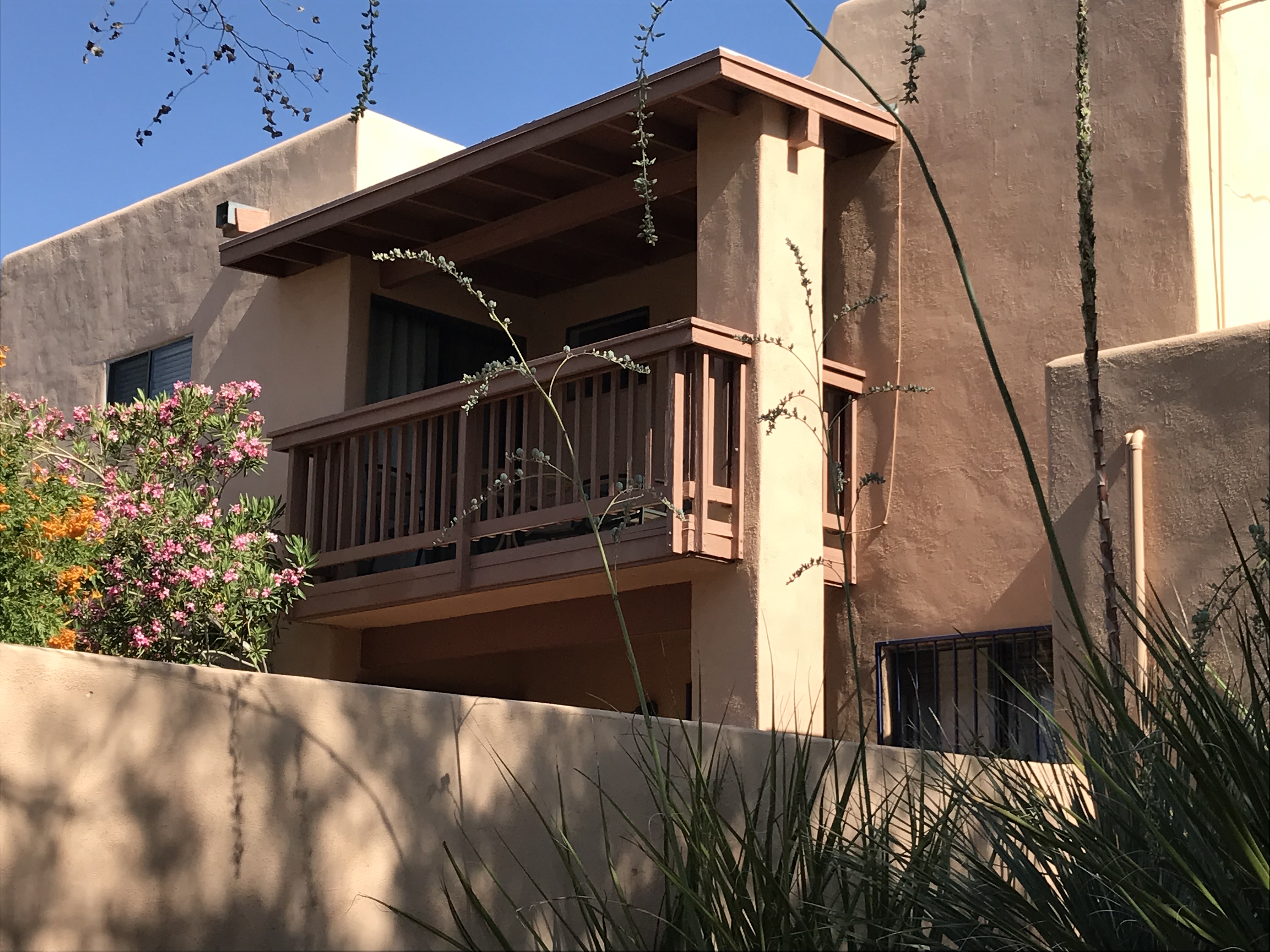 I had read several great reviews of the Downtown Clifton Hotel and stopped in on my last trip. It is located in a former adobe motel built in 1948 south of downtown on Stone Ave., formerly US route 80, which linked Douglas to the south and Phoenix to the north. It was totally restored in 2014 with a hip vibe. It has both mid-century and western touches with art collected from and created by Tucson artists and artisans. In 2019 they completed a new building with 22 new rooms along with the The Red Light Lounge, featuring local and regional beer, wine and spirits and contemporary Tucson cuisine. It is a great location from which to explore downtown. 485 S. Stone Ave.
If you want to experience a dude ranch or guest ranch near Tucson where you can ride horses, ride bikes, hike, take tours, enjoy cowboy cookouts and other activities. Getting great reviews are the White Stallion Ranch or Tanque Verde Ranch.
On my recent trip I enjoyed visiting and having lunch at Tanque Verde Ranch. It has been rated one of the best all-inclusive family resorts. It is an old-time cattle and guest ranch that was established in 1868. In addition to dining and spa services, they provide many activities including horseback riding, mountain biking, fishing and hiking. I enjoyed  having a burger for lunch in their dining room which has an á la carte menu in addition to a buffet. They also have the Dog House Saloon, a Cowboy Cookout in the evenings for a BBQ experience and Breakfast Ride for bikers and horseback riders where breakfast is served outside on the trails.  14301 E. Speedway