After seeing an exhibition on the architecture of Charles Rennie Mackintosh at the Art Institute of Chicago, several years ago in 1997, I have wanted to come and see his work in Glasgow. My focus was therefore on his architecture. It was exceptional and well-worth the visit to this Scottish city.
Macintosh predates Frank Lloyd Wright, the famous US architect by 10 years. Supposedly Mackintosh's work was featured in some publications which Wright may have seen as there are some definite Mackintosh themes in Wright's work. Both men designed not only public buildings but homes also and some of the furniture pieces as well. As far as Mackintosh's work, check out:
The Glasgow School of Art: Located at 11 Dalhousie Street, this is one of his great masterpieces. It was built over 100 years ago to house the famous art school which is still functioning today.  I loved seeing his incredible architectural details in the tiles, windows, ironwork outside, light fixtures and stained glass. The library was magnificent. Due to a fire in May, 2014, tours were suspended until restoration is completed. However there was another fire on June 15 2018 that devastated the famous building for the second time. I just hope that it was can it be saved! You can still take tours of the School of Art and learn about Macintosh.
"GSA's Archives and Collections, including the School's recognised collection of original Mackintosh Furniture, were moved out of the Mackintosh Building after the 2014 fire and are therefore unaffected by the 2018 fire.
All the works made in response to the 2014 fire (including reconstructed Library lights, reproduction furniture and clocks) were also located elsewhere, and are unaffected by the 2018 fire. Some plaster casts were housed in the Mackintosh Building, however until access is restored and a forensic investigation has taken place, it cannot be confirmed what has been lost.
GSA's Archives and Collections centre at the Whisky Bond can accommodate visitors and answer any enquiries regarding holdings. To make an appointment or enquiry, please email archives@gsa.ac.uk or telephone 0141 566 1418."
Scotland Street School Museum: At 225 Scotland Street, this is a school Mackintosh designed which is interesting to visit. You can see some of the re-created classrooms on a self-guided tour. You can see his tile work, carved stonework and wonderful glass towers and light fixtures.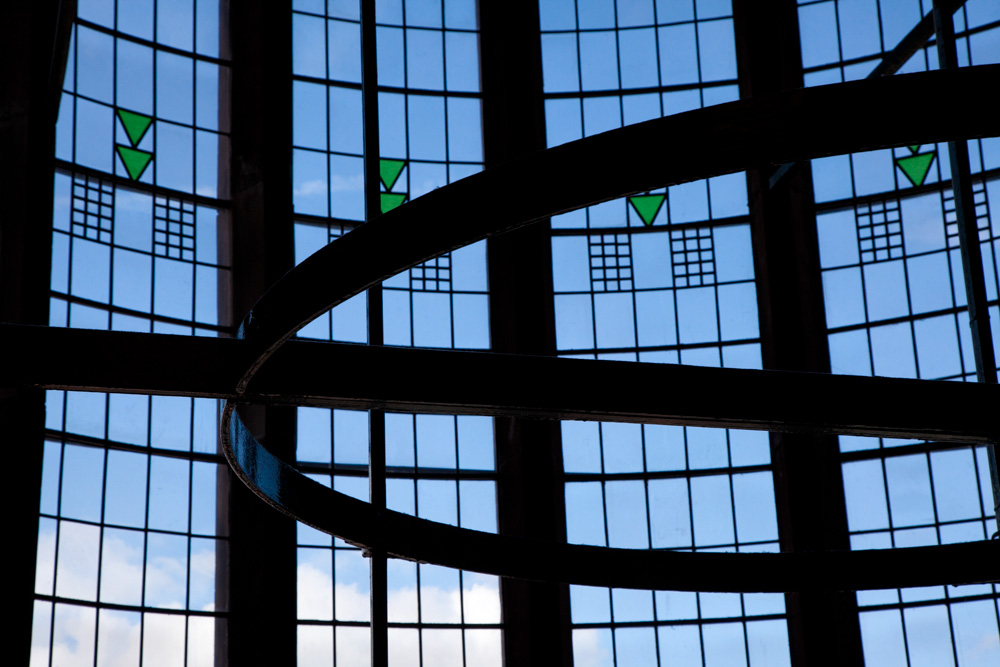 The Mackintosh Church: Queen's Cross, 870 Garscube Rd. A short cab ride from downtown this is the only church he built. It was closed on Tuesday when I was there (only open Monday, Wednesday and Friday), but it was good to view the exterior.

Kelvingrove Art Gallery and Museum: At this famous museum on Argyle Street, you can see displays about Mackintosh and other key names in the Glasgow style. Some of his painted frescoes were amazing.

The Lighthouse: Located in his former Glasgow Herald building, at 11 Mitchell Lane, this is now a building with a great contemporary interior housing Scotland's Centre for Design and Architecture. There is a Mackintosh Centre where you can see drawings, models and some of his great chair designs. Make sure to see the exterior of the building which was Mackintosh's first public commission.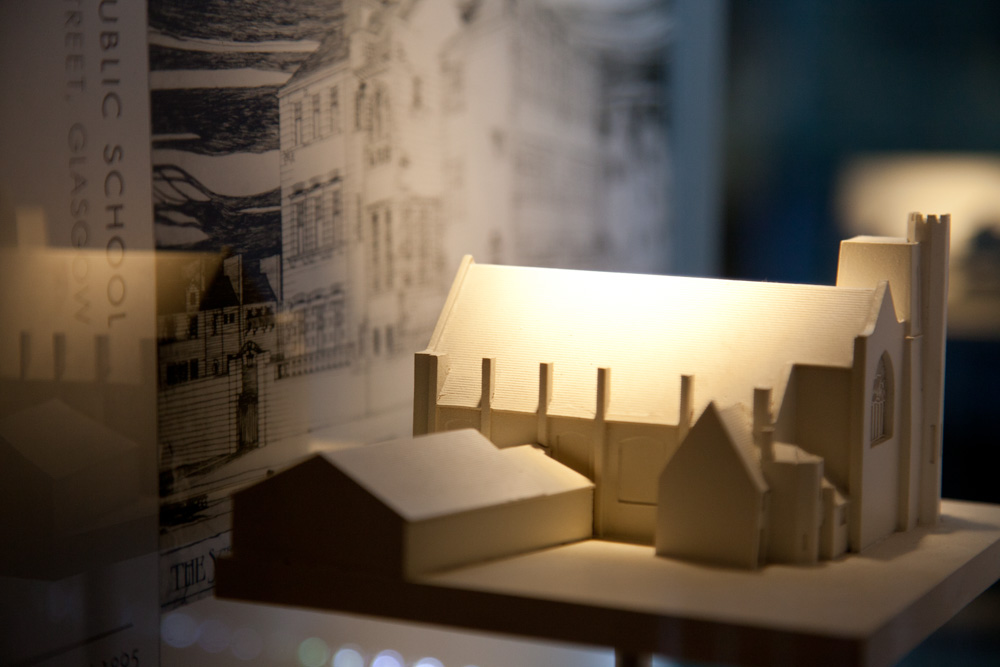 Daily Record Building: Make sure to walk by Macintosh's building, at 10-25 Renfield Lane, a short distance from the main train station. He used sculpted sandstone and white glazed bricks to maximize light.
Mackintosh at the Willow:  Formerly the Willow Tea Rooms, having tea at Mackintosh at the Willow is one of the highlights of my trip.  I booked my reservation for afternoon tea months in advance to make sure I had a chance to see this famous Mackintosh building. I was fortunate to be in the deluxe room or Salon de Luxe upstairs with many of his original details, including stained glass. He is known for his tea rooms where he designed the furniture as well. Ask to go upstairs to the room where you can see more of his architectural details and a great fireplace. 217 Sauchiehall St. It recently underwent a major renovation.
Other great examples which I did not see as they were out of town, include the Hill House in Helenburgh, which is part of the National Trust for Scotland.