One neighborhood on which to focus is Chelsea which is the old meat packing district. According to Travel + Leisure this is a hot area that "continues its remarkable ascendancy-from derelict wasteland to thriving nexus of art and architecture".
Currently the talk of New York is the High Line which recently opened its third section. This is a wonderfully designed and landscaped strip of public space, atop an abandoned elevated freight railway, which opened in 2009. With the second phase opened, you can walk from 30th and 10th all the way down to 12th. A new bridge,  the High Line – Moynihan Train Hall Connector, opened in June, 2023 and connects Penn Station to the High Line.
It is like an elevated park, nicely landscaped, with great views of old buildings and new contemporary high rise apartments. It is attracting 2 million visitors a year. At the southern end will be a new Renzo Piano designed branch of the Whitney Museum which is to open in 2015. You pass by buildings by architects Frank Gehry, Jean Nouvel and Shigeru Ban.
I highly suggest walking through the Chelsea Market, which is in a renovated abandoned factory that was converted to house a large number of specialty food retailers, bakeries, butchers, a fish market, wine store and restaurants. It is at 75 9th Ave., between 15th and 16th. The High Line runs above it, so stop by on your visit. I was recently back in July, 2023 and was again impressed with the variety of the food and restaurant options.
There is also a great Gallery District in Chelsea with most from 19th street north to 29th street and between 10th and 11th Avenues. Check out the map of galleries and what is currently on.
Just south of Chelsea in the historic Meatpacking District is the recently opened Whitney Museum of American Art at 99 Gansevoort St. at the southern end of the Highline. This is a major museum that is now located in its new building designed by famed Italian architect Renzo Piano. The building is known for its views, terraces featuring contemporary sculptures, large glass windows overlooking the Hudson river and surrounding neighborhood and high ceilings. Make sure to book your tickets online before you arrive. As most people start on the eight or top floor and work down, I found that the crowds were quite large. I opted for going down to the fifth floor and working my way back to the eighth. They offer tours and gallery talks, programs, music and dance performances as well as films.
They also have the Studio Cafe on the 8th floor of the museum. "This sit-down, indoor/outdoor dining experience on Floor 8 extends onto the Thomas H. Lee Family Terrace, where visitors can enjoy spectacular views of the New York City skyline. Stop by for a coffee and pastry, quick snack, glass of wine, or lunch."
Fig & Olive: Check out the well-known Fig & Olive Meatpacking District at 420 W. 13th St. It is open for lunch, dinner and weekend brunch with a menu of Mediterranean and French Riviera cuisine.
On my recent trip, I also enjoyed Variety Coffee Roasters at 261 7th Ave.with several other locations in Manhattan, Brooklyn and Queens.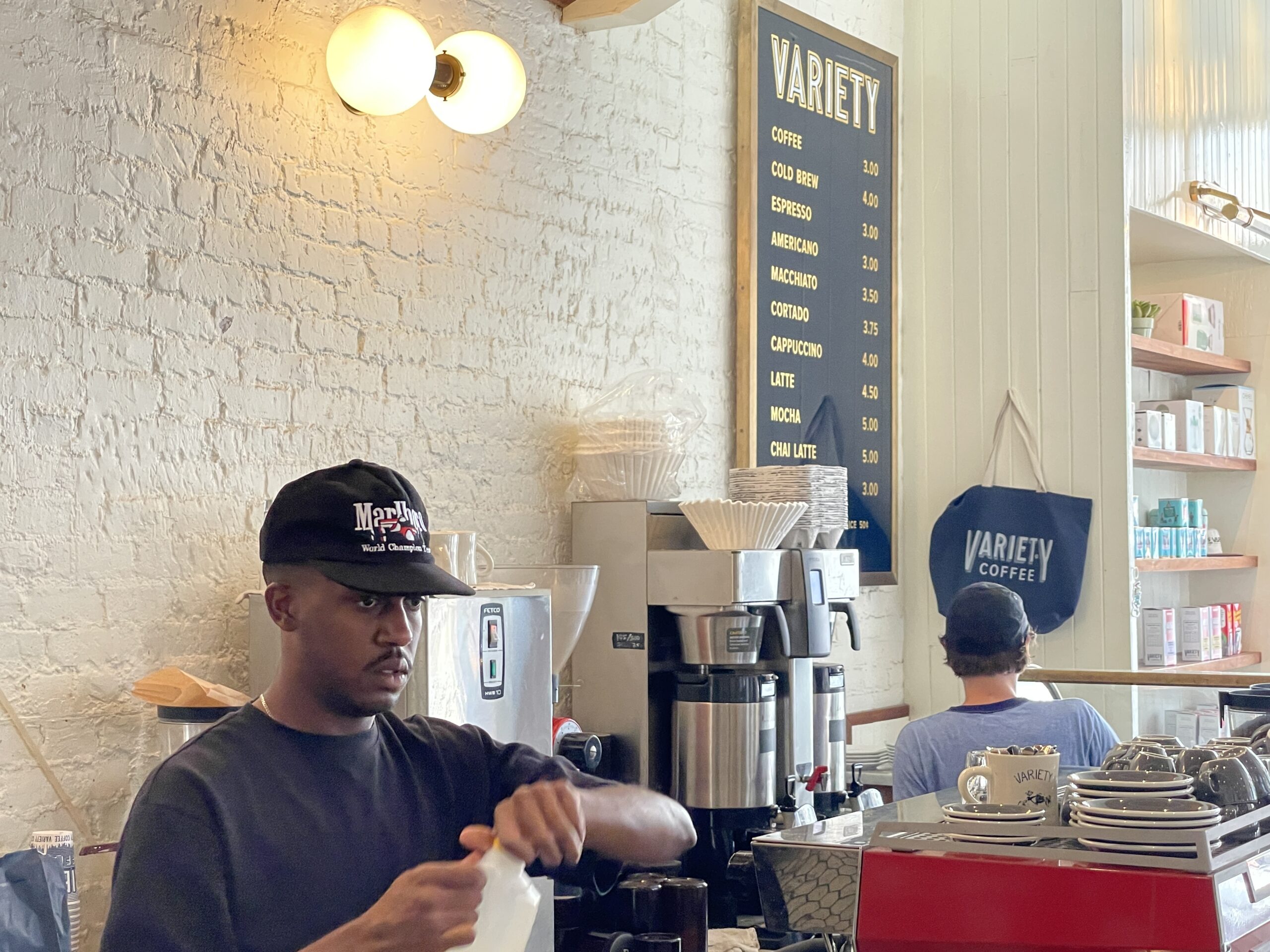 There are some excellent hotels in the neighborhood:
The Standard Hotel High Line is located near the southern end of the High Line at 848 Washington Street. Its restaurant and bar are at street level. Don't miss the Top of the Standard for a drink with amazing views of Lower Manhattan.
I also checked out the Dream Hotel Downtown, at 355 W. 16th, which is an upscale boutique hotel. It is sleek with a silver porthole façade that resembles a cheesegrater. The pool is on the second floor and you can walk below the pool in the bar and look up through openings in the ceiling.
Gansevoort Hotel: With 186 guest rooms and 23 suites, this contemporary boutique hotel, is in a great location from which to explore the shops, restaurants and galleries in the area. The Whitney Museum is a block away.
Nearby is the Soho House  29-35 Ninth Avenue. This is the NYC branch of the London based membership hotel that now has multiple locations around the world.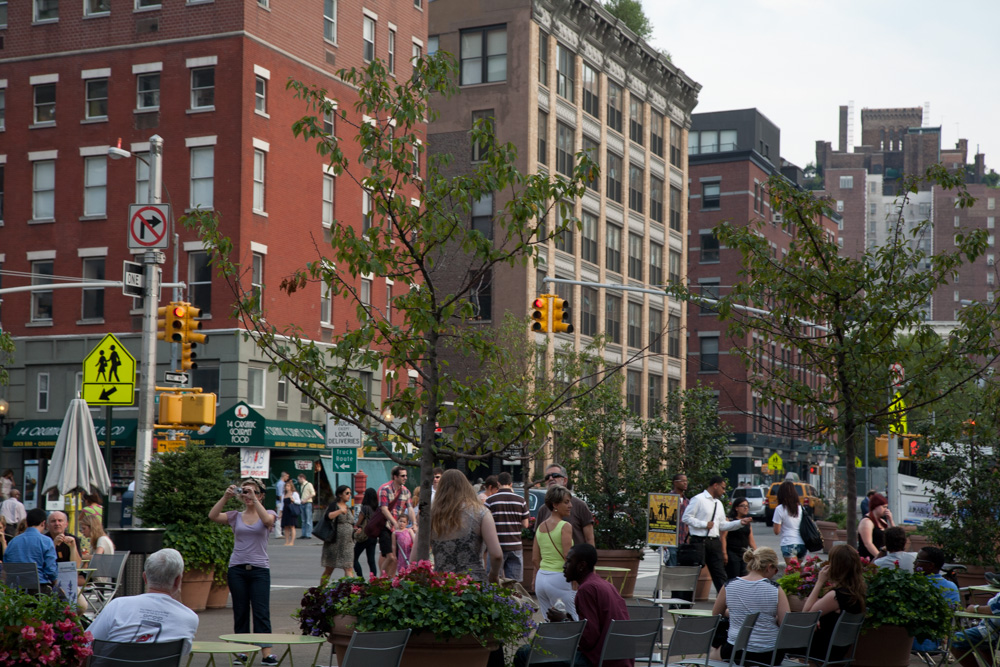 Near the south end of The High Line is Little Island. Little Island, a new, free public Park pier within the larger Hudson River Park, opened to the public on May 21, 2021, providing New Yorkers and visitors from around the world with a unique green space unlike any other in New York City. I was very impressed when I visited it for the first time in July, 2023.
"In 2013, Barry Diller of the Diller-von Furstenberg Family Foundation, in partnership with Hudson River Park Trust leadership, embarked on the unique opportunity to envision a solution for the repair and reactivation of Pier 54, which had been recently damaged by Hurricane Sandy. Diller chose to reimagine an entirely new type of public space for New York, one that would create an immersive experience with nature and art."
The park was designed by the two design firms of Heatherwick Studio and MNLA. There are a number of food trucks and kiosks to purchase food in The Play Ground. There are free event programs in The Glade from music, comedy and dance. There are also art and yoga classes along with bingo and dancing.
Next to Little Island in Pier 57 is the recently opened food hall, Market 57, with a 16 food vendors curated by the James Beard Foundation. I was very impressed with the selection. I had a tasty lobster roll from The Gallery by Lobster Place, which is based in Chelsea market nearby, a great ice cream from the Brooklyn-based ice cream company Malai.  They also have a dining room, open for dinner, that features rotating chefs. Book early as they tend to sell out. 25 11th Avenue.