Logan Square is becoming one of the hottest restaurant/food neighborhoods in the city.
Longman & Eagle: Check out this excellent gastropub. It has a fun atmosphere, with outdoor seating and a hotel above the restaurant with six rooms. This is the place to go if you want a non-traditional location with great food downstairs.  2657 N. Kedzie.
Lula Cafe: A leading Chicago farm-to-table restaurant, for over 15 years,  that is perfect for brunch after wondering through the Sunday Farmer's Market during the summer months. Ingredients include fresh farm eggs and porridges made from cornmeal ground at a local mill. . There are also daily offerings of meats and fish from sustainable sources plus vegetarian options. It has been featured on NPR and in The New York Times, Food & Wine Magazine and Bon Appetit. I was back for a tasting event and loved every dish. So fresh and wonderful!  In 2022 Chef Jason Hammel was named a James Beard Award Finalist for Best Chef Great Lakes. 2537 N. Kedzie.
A short distance from Lula Cafe is Daisies. Since I went for the first time, they moved in 2023 to a larger location at 2375 N. Milwaukee.
The new space is really excellent and is a much better experience. Their pastas are excellent and easily shareable.  I highly recommend the cannelloni made with ricotta cheese, spinach and a rich porcini cream and the stracci lamb sugo with soft herbs and pecorino cheese. Equally good was the strawberry panna cotta with strawberries, shortbread, toasted pepitas and strawberry-basil sorbet. It is very popular so make sure to book your reservation before. Also they are open for coffee and pastries in the morning.
Located at 2043 N. Milwaukee is Stay Cafe. This is a breakfast, brunch and lunch restaurant that opened in November 2022. I went for brunch on a Saturday after reading great reviews. They also have a coffee bar and bar featuring cocktails.  I was very impressed with their large menu of breakfast sandwiches, benedicts, omelets, pancakes, burgers, sandwiches, salads and wraps. They also have a kid's menu. I loved my smoked salmon eggs benedict and a side of roasted Yukon potatoes made with  pecorino aioli and scallions.
90 Miles Cuban Cafe: A fun, casual spot for good Cuban food just south of Logan Square at 2540 W. Armitage. Perfect in the summer as there is a large patio for outdoor seating in front and a porch in the rear. The food is very good and the portions large so it is easy to share and try different Cuban specialties. I was just back for lunch and had another great experience!
Margie's Candies: After Cuban food, walk to 1960 N. Western at Armitage for wonderful home-made ice cream and candy. They have been there since 1921. The perfect décor looks like nothing has changed since it opened!! Expect long lines in the summer months.
Just down the street is a new location of Wormhole Coffee at 1462 N. Milwaukee Ave.
Don't miss a wonderful Italian restaurant, Osteria Langhe at 2824 W. Armitage. I enjoyed a prix fixe menu with a great pasta appetizer, pork entree and lovely panna cotta for dessert. I highly recommend it and will definitely go back. They feature a very creative menu of appetizers, pastas and entrees. In in the past it was named one of the top 50 restaurants in Chicago.
Still further west on Armitage are three popular spots. Scofflaw is known for its gin-centric cocktails, craft beers and pub food at  3201 W. Armitage. At 3209, Giant is one of the hot new restaurants in town. They feature Midwestern fare and craft cocktails.
At 2770 N. Milwaukee is Chiya Chai Cafe. I have seen several reviews including it being featured on local television. By day it is a casual Casual Nepalese cafe serving many types of house brewed chai tea plus coffee and dumplings, curries and savory pies. By night the action heads to their colorful  Back Room dining room, where you can find larger entrees and cocktails along with table service. I went before a bookstore event nearby and thought the chai tea latte was really good as was the pear cake. I want to go  back for dinner! They also have location in downtown Chicago  at 79 E Madison and on the River Walk at the Community Marketplace.
Miko's Italian Ice: Miko's was featured in Food & Wine Magazine as one of the spots to be added to your Summer Bucket List. This is a fun neighborhood spot for great Italian ice. The peach and mango flavors are perfect for a hot Summer day in the city. 2234 N. Sacramento. Next to Miko's is Tropicuba, Restaurant & Grocery. Since 1995, it has a small restaurant in back of the store featuring Cuban sandwiches, Cuban entrees and specialties and Cuban cafe con leche. I enjoyed their traditional ropa vieja with rice, black beans and plantains. 3000 W. Lyndale at Sacramento.
Bang Bang Pie & Biscuits: At 2051 N. California, this is a great spot for pie, biscuits and coffee. Enjoy hanging out with the locals inside or outside on their large patio.
Another new find is Cellar Door Provisions at 3025 W. Diversey Ave. The small restaurant with outdoor patio was closed during the pandemic. It reopened in August, 2022 with a small dinner menu an a focus on natural wine.  It has a focus on "Spanish, Italian, and French dishes that incorporate just three or four main ingredients and are meant to pair well with wine." I am excited to go back again. 
One of my  top restaurant finds in the neighborhood is Table, Donkey and Stick at 2728 W. Armitage in the former Bon Soiree space. They have a creative menu featuring cheeses and meat boards, small plates and entrees. I enjoyed a wonderful duck liver mousse and smoked whitefish, a wonderful braised rabbit and roasted beats and carrots plus a roasted sea trout.
On Sundays in the Summer months, don't miss the Logan Square Farmers Market at Milwaukee and Logan Blvd.
A fun newer part of Logan Square in the emerging strip near Milwaukee and Fullerton. Here you will find Gaslight Coffee Roasters on the corner at 2385 N. Milwaukee for good coffee, tea and pastries and Chicago Distilling Company which produces white whiskey, gin and vodka at 2359 N. Milwaukee.  The tasting room is open, while, tours and classes will be available again in the future. Down the street at 2323 N. Milwaukee is Revolution Brewing, a local microbrewery and brewpub. You can sample their ales, IPAs, porters and saisons while having one of their salads, pizzas, sandwiches or entrees. They serve brunch on Saturday and Sunday.
One of my favorite Lincoln Park spots, Webster's Wine Bar has relocated to Logan Square. At 2601 N. Milwaukee, they offer a great selection of wines and food. They also offer tastings and special wine events.
One of my favorite restaurants is Mi Tocaya Antojeria, located at 2800 W. Logan Blvd. is a neighborhood Mexican restaurant by Chef Diana Davila. It features a menu of small plates,  desserts and cocktails.  It has a colorful, casual atmosphere. It was a finalist for the 2018 James Beard Foundation Best New Restaurant and a finalist for Best Chef: Great Lakes for 2023!  On first visit, I loved the fish con mole amarillo and the tres leches cake. On my second, I enjoyed the guacamole, the Albondigas or seafood meatballs, the fried oyster tacos and the flan for dessert. Don't miss the Oaxacan Old Fashioned cocktail made with mezcal, agave and bitters. It was wonderful and got me hooked on mezcal!! It continues to get excellent press and reviews.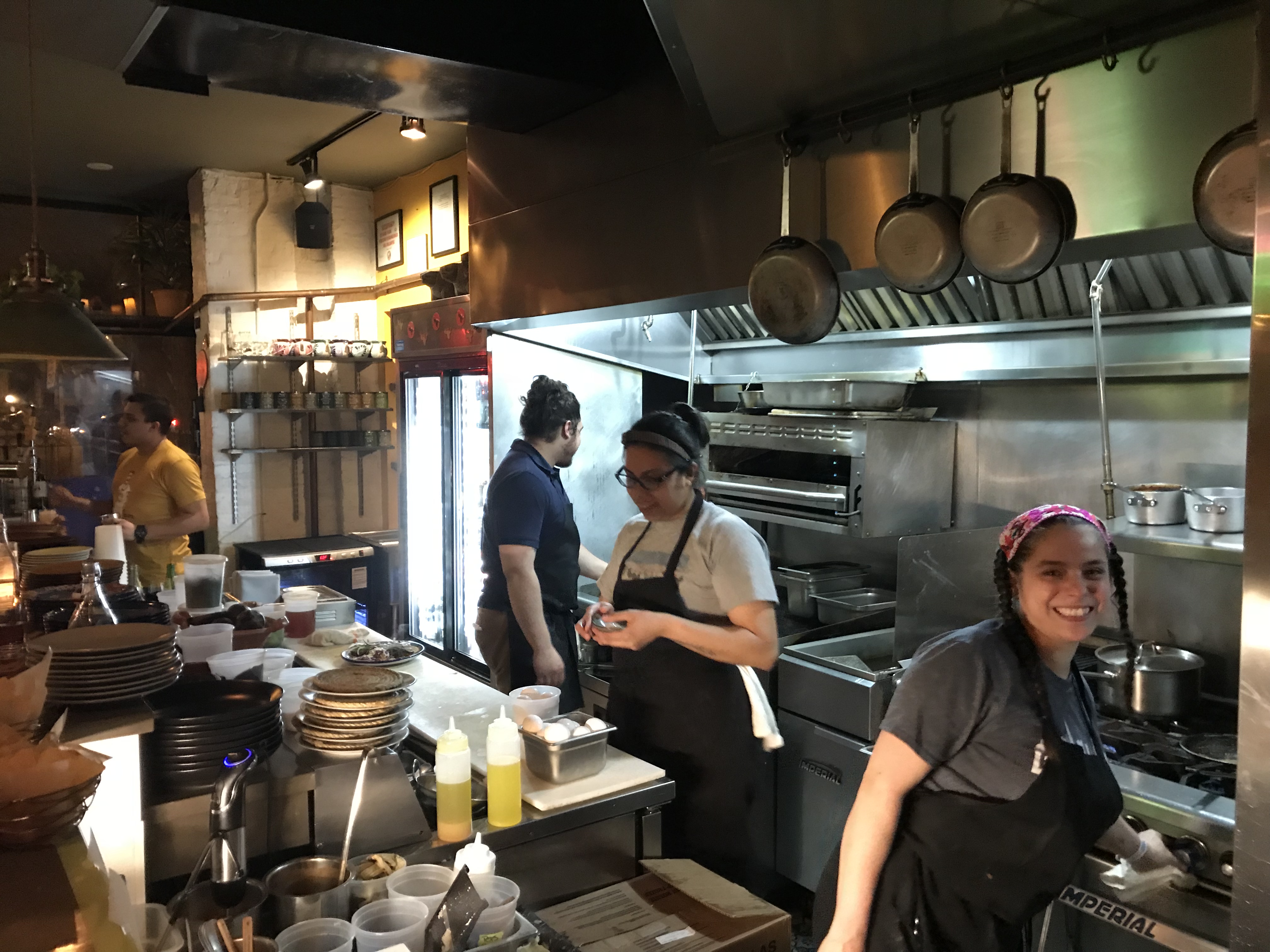 For cocktails, Billy Sunday is a fun neighborhood spot for upscale cocktails with vintage spirits and gastropub food. It appropriately named after Billy Sunday, the outspoken Chicago preacher. According to WBEZ, "there was one cause he championed more than the rest: Prohibition. He spoke about the "degrading" influence of alcohol and the saloon as an "appalling source of misery and crime"  and a place that "promises happiness and sends misery." 3143 W. Logan Blvd.
A fun new find is Taqueria Chingón at 2234 N. Western Ave. It is a casual Mexican restaurant with a focus on tacos.  It was one of the best new restaurants in 2022 named by Chicago Magazine. They have a rotating menu of 12 tacos, sides and desserts. It is primarily for takeout or dining on their outdoor covered side patio. I really enjoyed the crispy duck carnitas tacos topped with a date puree and slices of sweet Cara Cara orange, habanero-sunchoke salsa, herbs, and radish. I also recommend the rich flan for dessert. It is currently BYOB.