These two neighborhoods on the northside of the city are by far some of the most popular for hotels, shopping, restaurants, bars, theater, music and comedy along with historic architecture.
Gold Coast
This is a wonderful residential area to explore on the north side of Chicago which also has great restaurants and hotels.
Ambassador Chicago: Ian Schrager's Public Hotel which was the former Ambassador East Hotel is now the Ambassador Chicago. It is an attractive, contemporary hotel with a great vibe. The Library for coffee or cocktails is becoming a local's hot spot. The former Pump Room from the 1930s is now called the Ambassador Room and is open nightly for dinner. 1301 N. State Parkway.
The Original Pancake House: At 22 E. Bellevue Place, this is a local's hangout that is great for breakfast.
Nearby is the classic Gibsons Bar & Steakhouse at 1028 N. Rush. It sits on the site of the famed Mister Kelly's nightclub which existed from 1953 to 1975. From around 1956 until its demise, it was a springboard to fame for many entertainers, especially jazz singers and comedians. These included Barbra Streisand, Dick Gregory, the Smothers Brothers, Sarah Vaughan, Joan Rivers, Eartha Kitt, Lena Horne, Dinah Washington, Redd Foxx, Oscar Brown, Mort Sahl, Chick Corea, Bette Midler, Dick Cavett, Herbie Hancock and Lily Tomlin.
Across from the Thompson at 1118 N. State is the new Viceroy Hotel Chicago.  I had a really excellent brunch at their sleek, new restaurant, Somerset, by the  Boka Restaurant Group. It is open for breakfast, lunch, dinner and brunch on weekends. I thought the breakfast sandwich was excellent with roasted tomatoes, chicken sausage, cheddar cheese and a fried egg on a house made English muffin. It is a great new addition to the neighborhood. They also have an amazing rooftop bar, Devereaux, which features food and craft cocktails overlooking the Chicago skyline and small pool.
Butch McGuire's: A long-time staple on the Chicago bar and restaurant scene since 1961. They have a good brunch with excellent sandwiches and burgers. Their reuben was really great. The decorations at Christmas are not to be missed. 20 W. Division.
Opened in October, 2015 is Restoration Hardware or RH Chicago. It is located in the former Three Arts Club building at 1300 N. Dearborn. This 70,000 sq. ft. store on six floors includes retail, but has a coffee and pastry shop, rooftop park, performance stage, wine-bar and enclosed garden courtyard café the 3 Arts Club Café. They are now taking reservations which makes it much better to get in since it is a very popular spot!  The food is excellent. It is a stunning renovation!
The building was designed by Holabird and Roche in 1914 for women studying art in Chicago. It included shared bedrooms, a dining room,  painting studios, pianos and practice spaces.
In the next block south is the 3rd Coast Cafe and Wine Bar.  At 1260 N. Dearborn, I went back after several years. It is a fun, casual spot for breakfast or lunch.
Another hot spot is Maple and  Ash. This is an upscale steak house at 8 W. Maple with a contemporary,  warm, clubby atmosphere. You enter through a bar downstairs and then go to the second floor for a larger bar and large dining room. The somewhat pricey menu, features steaks, chops, a seafood tower, raw bar appetizers and other entrees. My friend enjoyed a great steak while I had a lovely fish entree. Make sure to make a reservation before you go as it can be crowded.
Celebrity Chef Art Smith's Table 52 is now Blue Door Kitchen and Garden.  Formerly more of a southern restaurant, it now focuses on a sustainable, seasonal farm-to-table menu. I enjoyed the repurposed restaurant and had a great beet salad and salmon entree.  They have a beautiful patio for outdoor dining where I just visited again for a great meal on a beautiful summer night.  52 W. Elm
In the summer and fall months make sure to hit the beach along Lake Michigan. I was just there on a beautiful August day.  There are restaurants starting at Grand Ave., at Oak Street Beach and  further north at North Avenue Beach. I went for lunch at Whispers Oak Street Beach at 1001 N. Lake Shore Dr. I enjoyed watching the boats and the people on the beach while listening to classic Frank Sinatra. They have a bar as well as the restaurant. You won't believe that you are in Chicago!
The Gold Coast has some beautiful and historic architecture to see. I suggest taking some time to walk north and explore the streets along N. Astor St., N. State Pkwy and N. Dearborn St. Astor St. had homes by some of the most famous families in Chicago. Unfortunately. several have been replaced by apartment buildings. Highlights include:
The Charnley Persky House at 1365 N. Astor is now  the headquarters of the the Society of Architectural Historians. This is a mansion that is a National Historic Landmark. It was designed by Louis Sullivan with assistance from his junior draftsman, Frank Lloyd Wright in 1891-1892. It is recognized as a major work of modern American architecture. I went on a tour in July 2022 and it was explained that you can see Wright's influence in some of the arthitectural details.
Patterson-McCormick Mansion:  At 1500 N. Astor this is a historic home designed in 1891 by architect Sanford White. It was later purchased by Cyrus H. McCormick. It is now occupied by individual condominiums.
Russell House: At 1444 N. Astor St., this is an art deco building designed by Holabird & Root in 1928-29.
David Adler designed the legendary home at 1406 Astor St. for the Ryerson family. The home, completed in 1921, was designed with a distinct French style.
James L Houghteling Houses: Located at 1308-12 N. Astor, these three townhouses were a designed by Burnham & Root in 1887-88 with style elements of Queen Anne, Tudor, Richardsonian and Romanesque.
Famed architect Bertrand Goldberg who designed Marina City Towers, also designed Astor Tower at 1300 N. Astor St. It is a 25 story high rise built in 1963. After I first moved to Chicago, I have fond memories of  visiting Maxim's in the building, a restaurant, bar and disco with an elegant interior.  It was designed by Goldberg and operated by his wife.
At 1555 N. State Pkwy. is the three story red brick Archbishop's Residence built in 1885. It is a grand mansion that is well-worth the visit. When Pope John Paul II visited Chicago in 1979, he became the first Pontiff to stay at the Residence. I lived nearby and walked up while he was there and was so fortunate to see him arrive and then walk out and bless the crowd!!
Behind the mansion and listed on the National Register of Historic Places, is the Wooden Alley built in 1909 and restored in 2011. It is constructed of cedar wood blocks. The original ones are located on the west side of the alley.
Two other recommended buildings include the Houghton Apartments at 1510 N. Dearborn, a Romanesque style home from 1888 and the Calvin R. Corbin House at 1523 N. Dearborn from 1886 that is also a Romanesque style row house.
One other famous neighborhood property is the original Playboy Mansion at 1340 N. State. It was the residence of Playboy Magazine founder and editor-in-chief Hugh Hefner. It was known for the wild parties that he hosted. I toured it many years ago and remember the pool in the basement, a games room, a bowling alley and a theater room with projector. Today it has been converted to seven luxury condos.
Two last recommendation include the Albert F. Madlener House from 1902 by architect Richard E. Schmidt. It is a Chicago Landmark and a great example of Chicago and Prairie schools of architecture. The other is the Florsheim Mansion designed by Andrew Rebori and Bertrand Goldberg in 1938 that is now a Bed & Breakfast.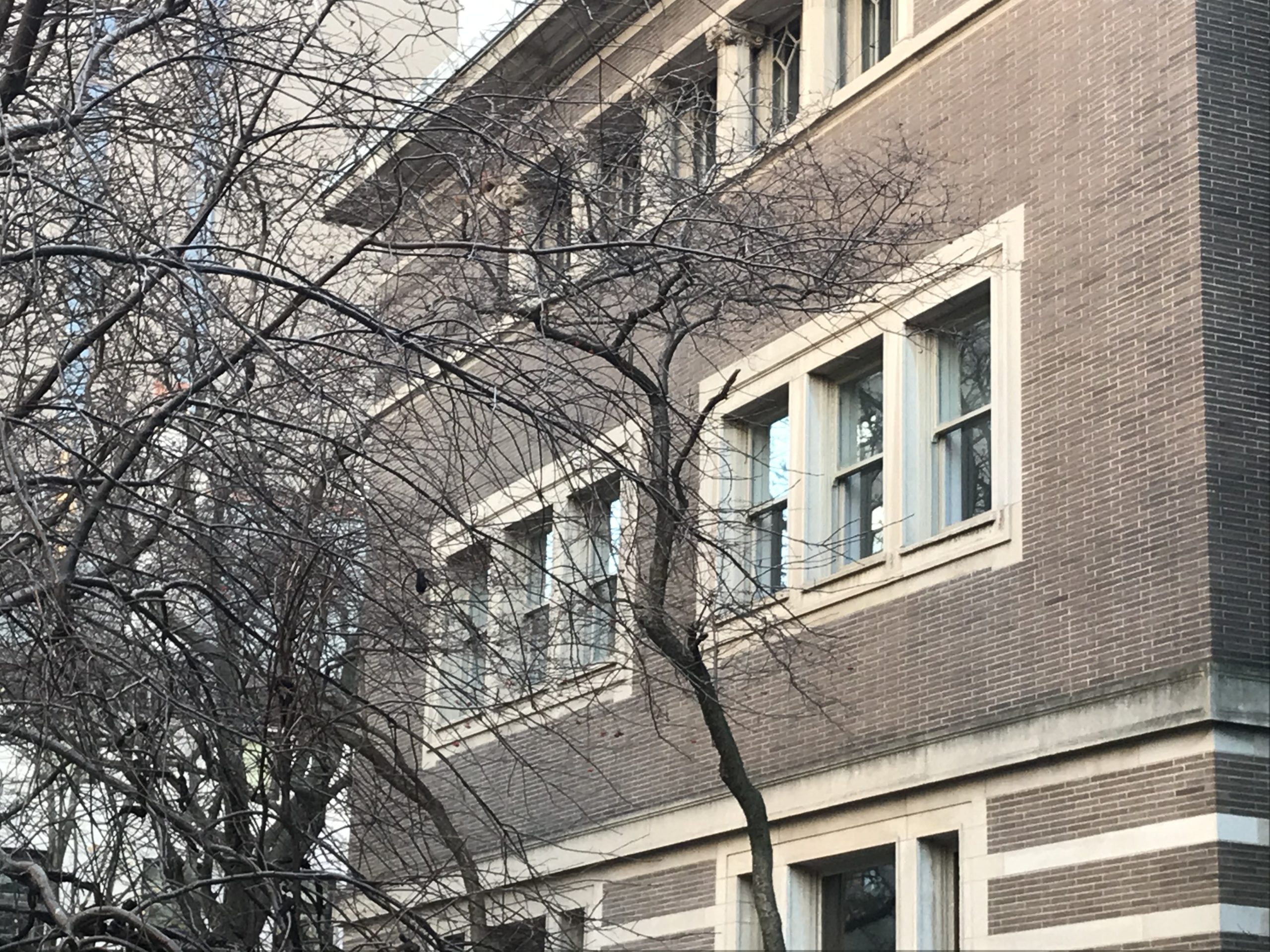 On your way to Old Town, make sure to look up and see the historic Germania Club Building, located at 108 W. Germania Place. Built in 1889, it was the historic headquarters of the Germania Club, the oldest German-American organization in the city. Today it is used for special events like the popular Interactive Van Gogh Exhibit. The building was added to the National Register of Historic Places on October 22, 1976 and designated as a Chicago Landmark on January 13, 2011.
Old Town
Chicago's Old Town neighborhood is an historic neighborhood with an rich history of music, improv, comedy and theater along with many bars, shops and restaurants. Here started the Old Town School of Folk Music, Second City as Chicago's first ongoing improvisational theater troupe and the Old Town Art Fair. It was the first home of the retail store Crate & Barrel. I still have a beautiful ceramic bowl that my father bought there in the 1960s.
In Old Town near Division and Wells, is Glunz Tavern, next to the House of Glunz, one of Chicago's oldest wine merchants. Originally opened in 1888 by Louis Glunz, the popular neighborhood gathering spot sat vacant for more than 90 years following its closure just prior to Prohibition. It was reopened in 2012 by his family members. It is known for its selection of beer, wine and European influenced cuisine. It has a casual, old-world atmosphere. I was just back and enjoyed an excellent meat loaf dish on their outside terrace. The House of Glunz has a large selection of wine and spirits for sale. The Old World Tasting Room is a treasure trove of hand-carved furniture and drinkware from the neighborhood's German past.1202 N. Wells.
Next door to Glunz Tavern is The Rabbit Hole. This is casual bar featuring craft beer, signature cocktails and bar food.  I went for a travel group gathering and enjoyed it! 1208 N. Wells.
Across the street is the second location in town of Dom's Kitchen & Market  N. 1233 N. Wells.  This is a combination market and restaurant where you can visit The Brew for coffee drinks plus beer, wine and cocktails in the evening. There is The Kitchen for pizza, salads, soups, sandwiches, sushi and bowls. In addition, there is The Market for fresh produce, bakery items, wine and spirits, meat and seafood, cheese and charcuterie plus grab and go meals.  There is both indoor and outdoor seating. I was very impressed with the selection.
Further north is Orso's Italian Restaurant, that has been popular in Old Town for over 40 years. I went for the first time recently and loved the atmosphere and the great food. I had pasta with pesto topped off with shrimp and mussels. I thought it was particularly fun during the Christmas season where there was great music and decorations. I am now going to make it an annual visit in December.  I was back on a beautiful July evening with friends and loved the large outside patio in the rear that is covered with grape vines. 1401 N. Wells.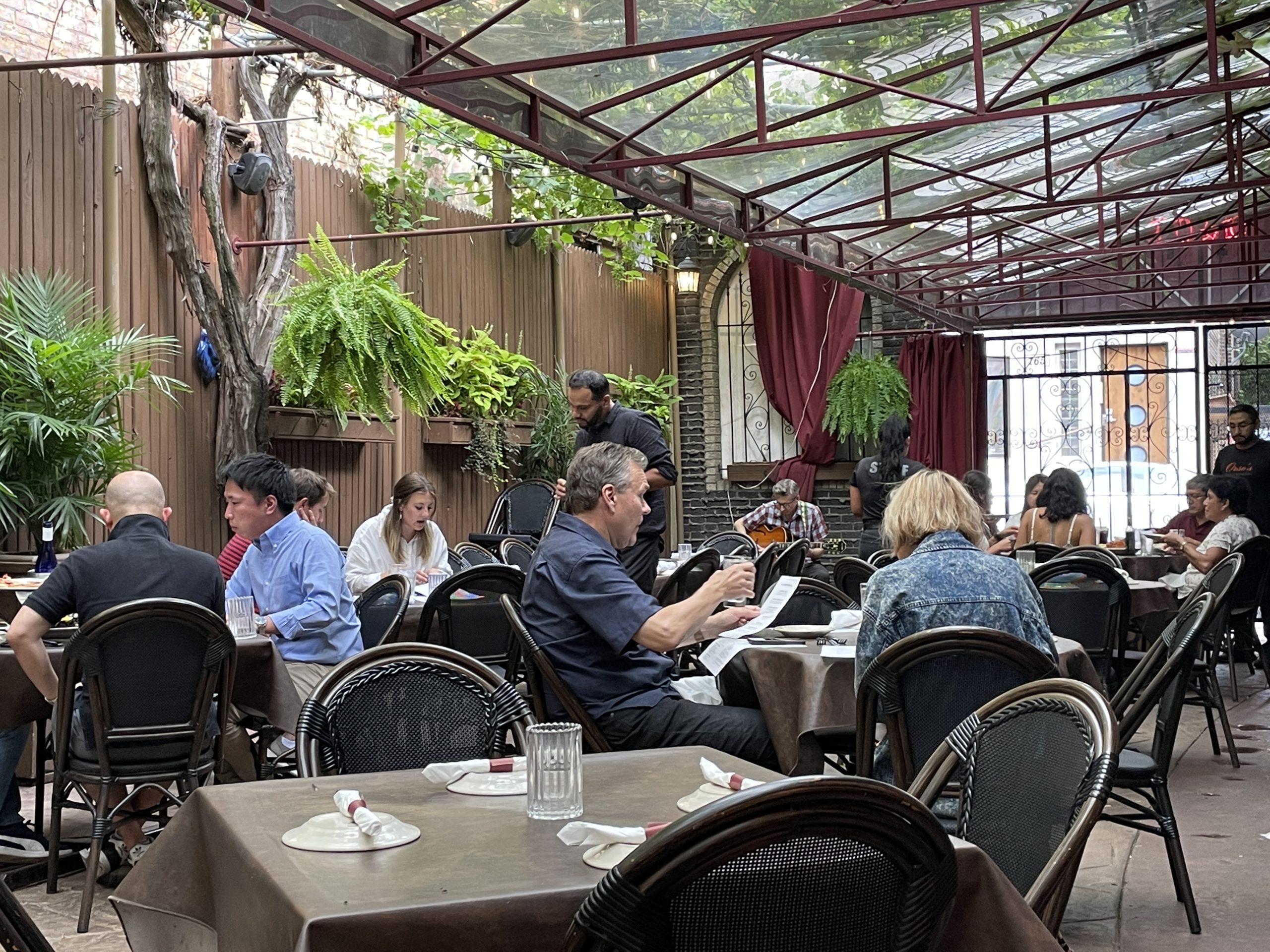 Across the street at 1400 N. Wells is another new find, Broken English Taco Pub. This is a hip neighborhood bar/restaurant with a colorful décor. They feature Mexican specialties and a mezcal cocktails. I enjoyed the fish tacos and an old fashioned made with a smoky mezcal. They have two other locations in Chicago, one in the Loop and the other in Lincoln Park.
At 1516 N. Wells is Topo Gigio Ristorante, for great Italian food for over 25 years. I always enjoy the food! I was just back with friends and thought the food was excellent. They have some wonderful pastas!
Across the street is La Fournette at 1547 N. Wells. This is a traditional French bakery and café, with a rustic wood decor, selling fresh-baked breads, sandwiches, coffee, macarons and pastries. It has a long history. According to their website, "La Fournette traces its origins to Alsace, to the Zimmermann family bakery in Schnersheim, France. It is there that the Zimmermann family developed over four generations (110 years!) the expertise and craftsmanship for which they are reputed. On coming to Chicago in 2010, World Baking Champion Pierre Zimmermann and his wife, Michele, began to conceive of a bakery both distinctly Alsatian and uniquely Chicagoan, with quality, affordable, and accessible products." They originally had two locations with one across from my office. It was always one of my g0-to spots for lunch. Currently it just has the N. Wells St. location. I was so glad to go back and enjoyed my favorite ham sandwich on a baguette, their quinoa taboulé salad and a yummy coconut cookie.
On the east side of Old Town is Tiparos Thai Cuisine & Sushi Bar. I have always liked this restaurant for excellent Thai food, but had not been back in several years. I recently went back for lunch with friends. It has a colorful and casual atmosphere and an extensive menu of noodle and rice dishes, teriyaki dishes, salads, soups and sushi. I really enjoyed the Vietnamese spring rolls and the chicken pad Thai. There are dessert offerings as well. I look forward to going back again soon. 1540 N. Clark St.
Just north of North and Wells is the classic Corcoran's Grill & Pub. Located across the street from Second City, they feature a large menu of pub food and drinks including burgers, sandwiches, salads. They have a large outdoor terrace in the back along with a large Back Room Bar.  I really loved the brisket grilled cheese sandwich! The brunch menu looks great, so I definitely want to go back.
Cocoa + Co. is at 1651 N. Wells; for great chocolates, coffee and drinking chocolate. They also have pastries, croissants, quiche and other items. They carry a number of imported chocolates along with a number of gourmet chocolates. I love the dark chocolate bark with cherries and nuts! On my last visit I met the delightful owner, Kim Hack. Turns out we have a number of mutual friends.
North of Cocoa + Co. is Nookies Old Town which is a fun diner, since 1973, for all-day breakfast at 1746 N. Wells. I have always enjoyed it. I just went back again and loved my yummy frittata on the outdoor patio. The portions are huge!! They also have a full lunch menu with sandwiches, salads and entrees. I also liked the newly remodeled interior.
Au Cheval  opened a small Old Town Location under the name of Small Cheval for burgers, shakes, beer and cocktails. Their outdoor patio is perfect for great summer weather in Chicago. I loved my cheeseburger, fries and a thick chocolate milkshake.  1345 N. Wells.
Adobo Grill recently relocated into a new location across the street at 215 w. North Ave. They have very good Mexican food. I enjoyed sitting on the outdoor patio on a beautiful summer night.
Across the street is The Second City, Chicago's famed comedy club located in Piper's Alley. It is known for its famous alums which include Alan Arkin, Dan Aykroyd, John Belushi, Steve Carell, John Candy, Stephen Colbert, Chris Farley, Tina Fey, Keegan-Michael Key, Tim Meadows, Bill Murray, Mike Myers, Catherine O'Hara, Gilda Radner, Joan Rivers, Martin Short, and Fred Willard. They feature nightly comedy and comedy theater performances in one of their seven theaters and performance venues. They also feature a number of improv classes for children and adults. I just went back after a several year absence and thoroughly enjoyed an afternoon matinee of a Christmas program. Also in the building is the 1959 Kitchen & Bar and a new, colorful rooftop bar called Utopian Tailgate. 1616 N. Wells. On the first floor of Piper's Alley is Roots Handmade Pizza where you an build a salad or build a pizza with the ingredients you prefer.
Twin Anchors is located at 1655 N. Sedgwick. Since 1932, it is known for its great burgers and ribs. A favorite spot of Frank Sinatra's, his music is still played. It is a perfect place to go on a cold Chicago night. Drinking a single malt Scotch while listening to Frank Sinatra, is the best.
Down the street a block at 1756 N. Sedgwick is Marge's Still, which is the oldest continually running pub in Chicago. I recently went back for lunch and enjoyed the food and atmosphere. They have a large menu of burgers, salads and entrees.
Old Town Ale House: This Classic Chicago neighborhood bar from 1958 is the perfect spot for a Manhattan or other cocktail. The music on the juke box is great.  The art throughout the bar is painted by the owner and features such people as Donald Trump, Sarah Palin, Newt Gingrich and Vladimir Putin in a pink tutu. It was featured on Anthony Bourdain's television show Parts Unknown in 2016. 219 w. North Ave.
On the north side of the neighborhood is the Old Town Triangle District which was settled in the 1850's by German Immigrants whose life cenered atourn St. Michael's Church, founded in 1852. Today it is still home to small cottages and other wood or brick homes. Make sure to walk around while you are there.
Clybourn Corridor
This an emerging neighborhood and shopping district west of Old Town and South of Lincoln Park. It includes  NEWCITY, a modern and stylish mall with a mix of 20+ stores, restaurants and local services, plus a movie theater. 1457 N. Halsted.
Recent finds in the area include:
Veruca Chocolates: Located at 1332 N. Halsted, this is a boutique chocolatier which makes a number of  gourmet bonbons, caramels, gold-flecked chocolates and other high-end treats onsite. I recently went and enjoyed the salted dark chocolate and a chocolate bar made of chocolate, roasted quinoa, cherries and coconut.
Off Color Brewing is a brewery and the Mousetrap taproom located 1460 N. Kingsbury. They have both indoor and outdoor patio seating. They make a number of really interesting brews from lagers, weiss, saisons, stouts, kolsch beer and more with fun names including Beer for Burgers, Beer for Movies, Beer for Beach, Beer for Brunch, Beer for Ball Games, Beer for Golf, Beer for Tacos and others.
I tried "the wild fermented doppelbock brewed in collaboration with Metropolitan. We brewed a batch of Generator – Metro's traditional German doppelbock then blended in a Flemish wild ale from our Calvados foedre and an American Wild ale aged in puncheon wine barrels with Cab Franc grapes. This blend was then refermented with Balaton cherries and double barrel aged in a mix of second use bourbon barrels and Pomegranate Fox barrels." 'I thought it was really fresh and excellent.
West of Off Color Brewing is the recently opened The Salt Shed, Chicago's new indoor/outdoor music  venue located in the former Morton Salt plant. Across the street is the recently opened restaurant, 1308 Chicago. This is a small, colorful restaurant with a creative menu featuring fresh food and items made in-house. I went for lunch and enjoyed the food, service and experience. They have a lovely patio for the warmer months. It is perfect location for a meal prior to a concert across the street.
A few blocks north  of Off Color Brewing. is the popular Goose Island Brewhouse where you can sample their beers, have lunch, dinner or Saturday brunch or book a tour. They make stouts, wheat beer, barleywine, saisons, IPAs, sours and ales.  They are known for the seasonal Bourbon County Brand Reserve beers that are aged in bourbon and other whiskey barrels. 1800 N. Clybourn.