BRIDGEPORT
Bridgeport is an historic, working class neighborhood on Chicago's South Side, that was settled by a large number if Irish, Lithuanian, Polish and more recently Mexican and Chinese immigrants who have all contributed immensely to the area from its churches to its food culture. It became a major industrial center in the city at the beginning of the twentieth century. It was also the birthplace or home of five Chicago mayors including Richard J. Daley and his son Richard M. Daley. Today it has become a mecca for artists to open studios in all mediums. In addition, it has seen large growth in a number of new restaurants, of which many reflect the cultural diversity of the community.
GREAT ART IN BRIDGEPORT
Zhou B Foundation: At 1029 W 35th St., is the Zhou B Foundation established by the well-known artists, the Zhou Brothers. First walk through the gallery space of the Zhou B Foundation which is tiled in white marble with museum quality lighting and filled with wonderful examples of the Zhou Brothers work. The garden, known as Life's Garden, was created in 1999 and opened to the public in 2008.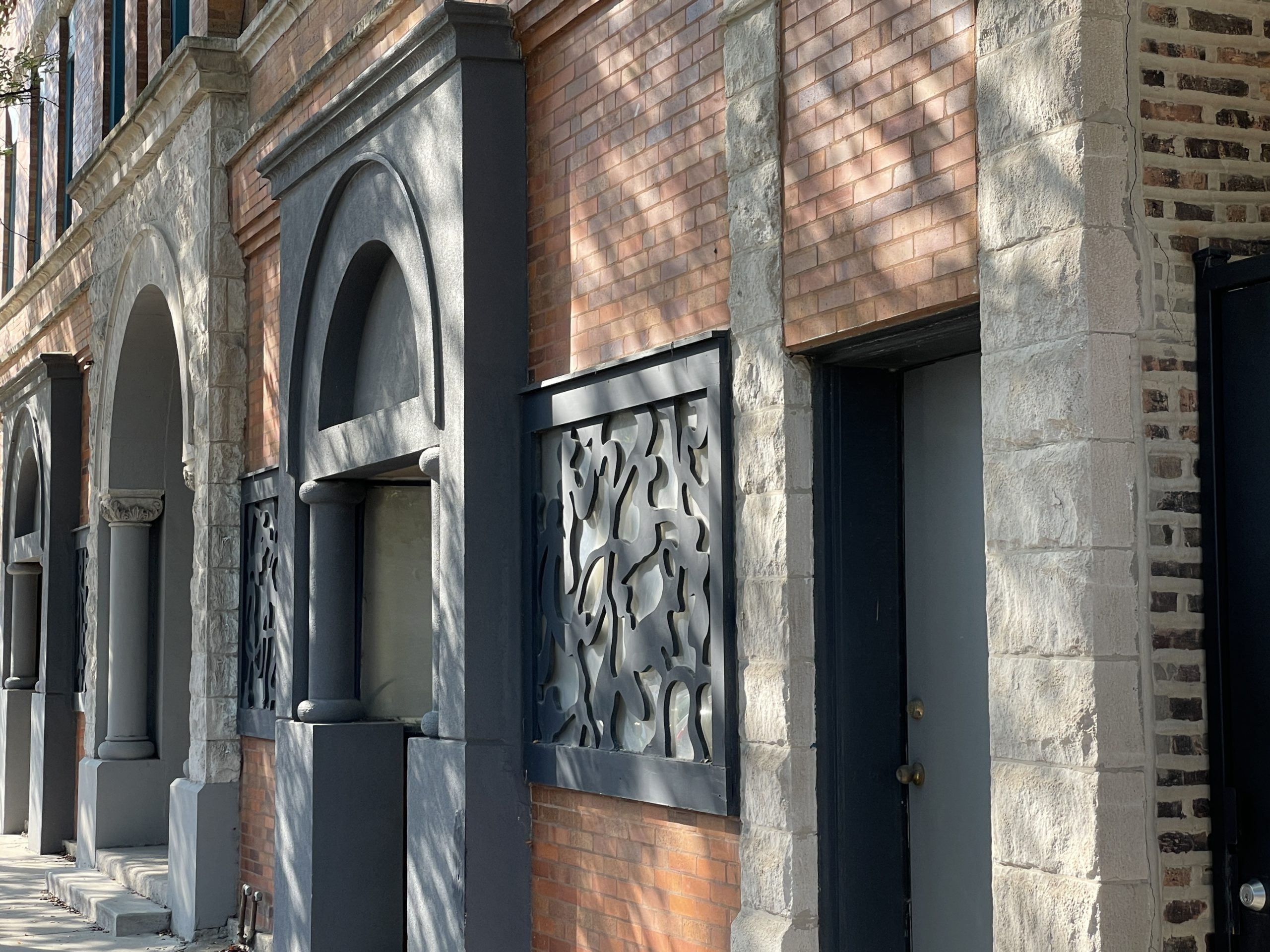 Zhou B Art Center: This is a great loft building housing artist's studios and galleries. They host regular monthly art walks on the 3rd Friday and special curated exhibitions showcasing works in various media from local and international artists. It is located at 1029 W. 35th St. and like the Bridgeport Arts Center is located in a former Spiegel building. It is also open for special events and weddings.
Bridgeport Art Center: At 35th and Racine, this is a building that has many artist's studios and galleries. The 3rd Friday features painters, sculptors, photographers, designers, and more. During October and Chicago Artist's Month, there are open studios as well. It is located in a former building of the Spiegel  Company famous for its Spiegel Catalog. 1200 W. 35th.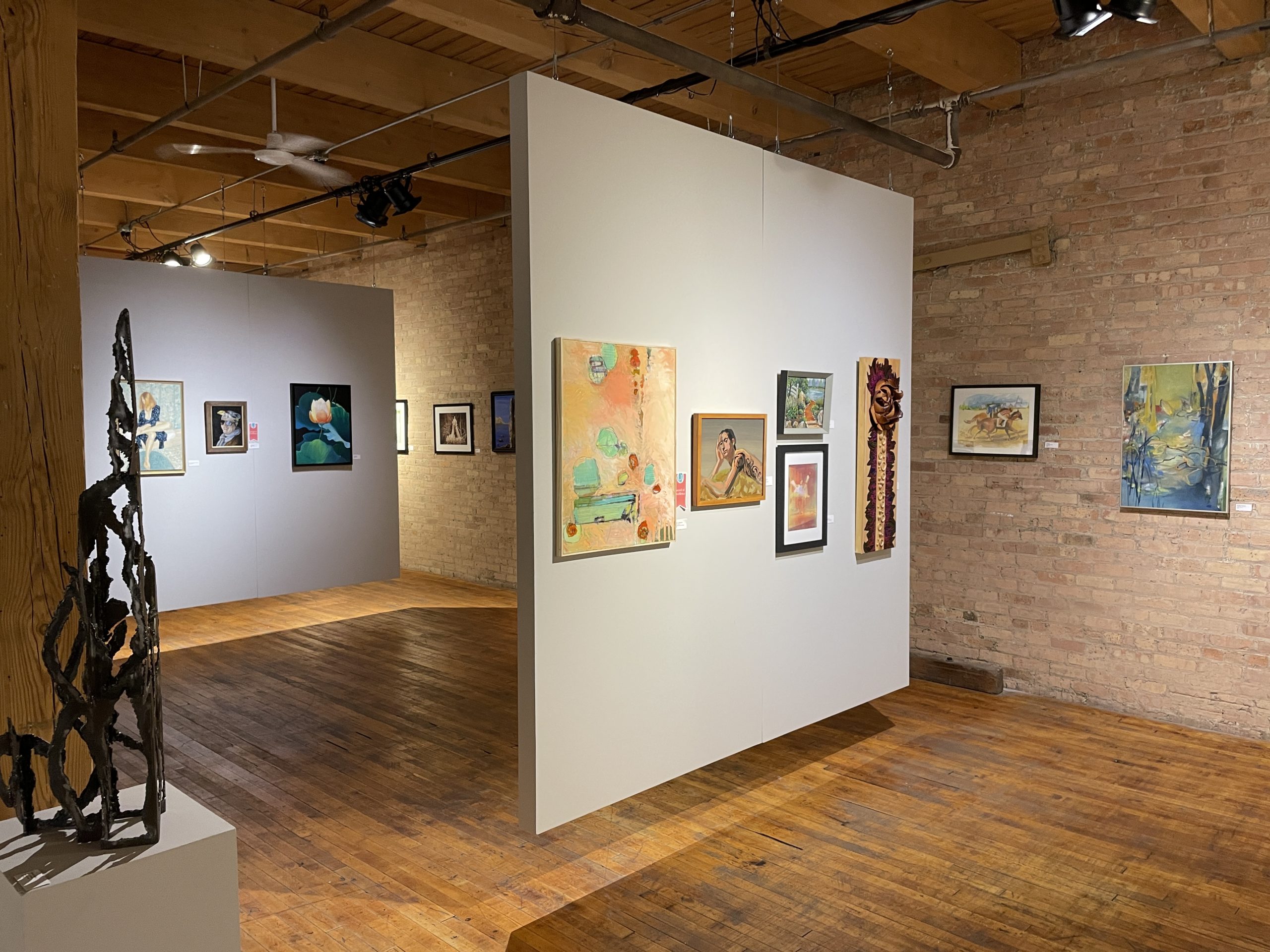 The Art Center is home to 8A5E Base Coffee & Tech which offers coffee along with breakfast items and sandwiches. They also feature computer or technical support onsite.
On the lower lever of the Art Center is the Chicago Maritime Museum.  This is a small museum dedicated to Chicago's maritime history and traditions.
WHERE TO EAT IN BRIDGEPORT
One of the top restaurants in the area is The Duck Inn at 2701 S. Eleanor. After getting great reviews, I had to go. Located just south of an industrial area, you can go south of Cermak on Loomis across the Chicago River. It has a warm, contemporary atmosphere in a building that looks like it was a local bar/restaurant for many years. They also have a large patio in back for dining in the warmer months. They are known for their Sunday brunch as well as their rotisserie duck entrée. You need to pre-order prior to your dinner. It serves two people, and comes with  a salad of roasted potatoes in duck drippings with fall greens, roasted pears and apples in a gooseberry vinaigrette. It was a really excellent dish and was perfectly paired with a cocktail called The Don made with Wild Turkey 101 Bourbon, Cocchi Barolo Chinato, Nux Alpina Walnut Liqueur and Scrappy's Chocolate Bitters.
I also recommend Bridgeport Coffee  for it's great coffee and atmosphere at its original location at 3101 S. Morgan. I was just back and enjoyed the experience.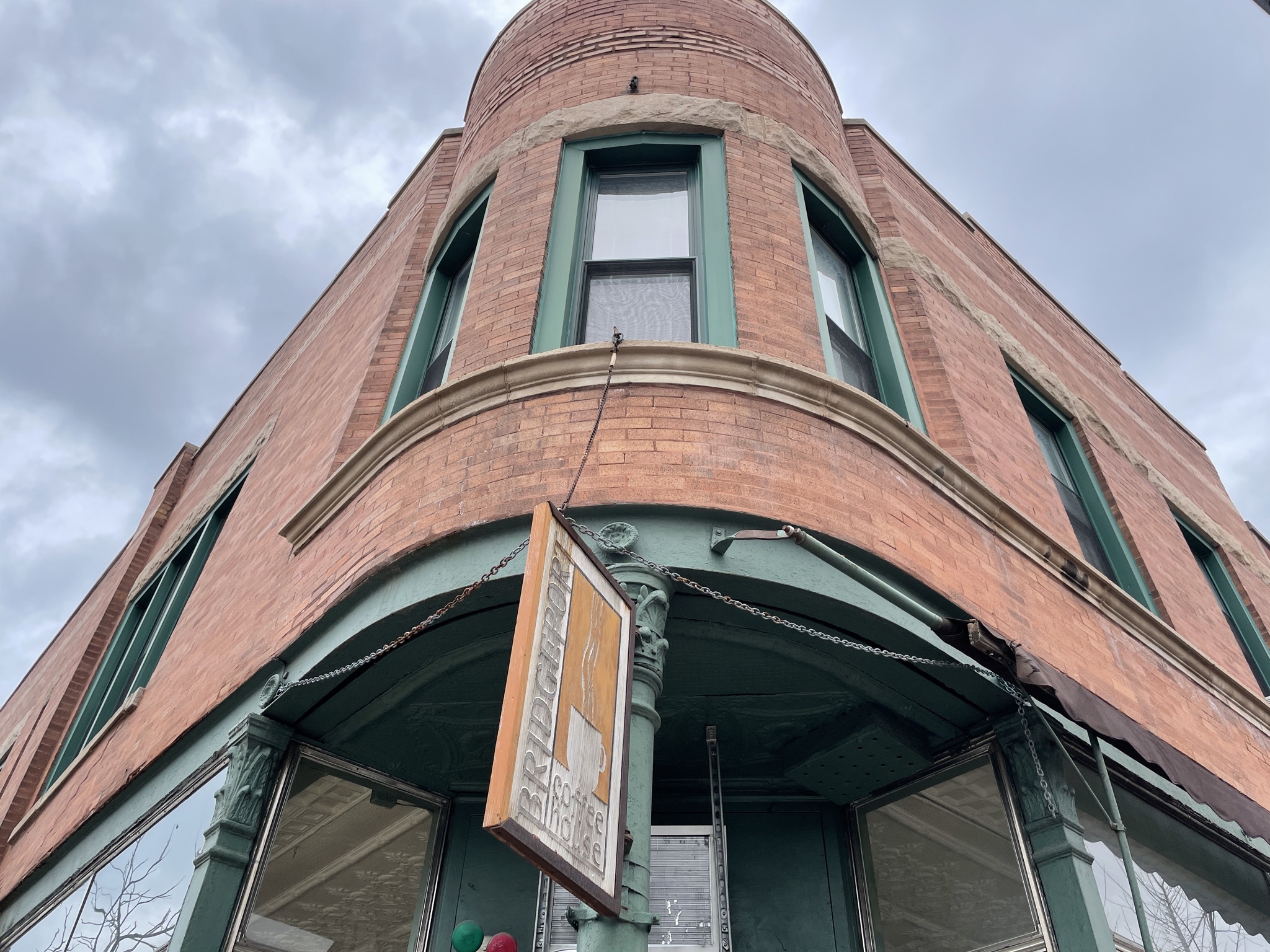 Also a must to visit is Kristoffer's Cakes at 1735 W. 35th. I always liked Kristoffer's Cafe & Bakery at 1733 S. Halsted.  I recently went to their location on W. 35th. They are known for their tres leches cakes in several flavors including mango, Oreo, caramel mocha, vanilla and coconut. I chose the coconut and it was really excellent!!! It is in McKinley Park just west of Bridgeport.
Recently opened in 2021, is Bad Owl Coffee Roasters at 3315 S. Morgan St. It serves coffee, tea and pastries. Its breakfast and lunch items include a large number of toasts and sandwiches. I enjoyed my first visit to this colorful café with a local friend. Based in Las Vegas, NV, this is their first Chicago location.
I really enjoyed my lunch choice, the Polo Inn at 3322 S. Morgan.  Since 1985, it is open for lunch and dinner including their Sunday Gospel Brunch. I had a great omelette! I really enjoyed the historic photos throughout the space.
I learned about the Bridgeport Bakery 2.0 in a virtual tour of the neighborhood. Located at 2907 S. Archer, this Polish Bakery has been taken over by new owners who have added some Chinese items to the menu. They feature a large number of cakes, cookies, croissants, pies, donuts, coffee cakes and breads. I loved the pumpkin slice on a lovely October day.
Other spots to try include Jackalope Coffee & Tea at 755 W. 32nd St. and Antique Taco at 1000 W. 35th St. for gourmet tacos.
Others on my list to try include Franco's Ristorante at 300 W. 31st for Italian classics since 1989. Gio's Cafe and Deli is a casual spot for homemade Italian foods at 2724 S. Lowe, Ricobene's at 252 W. 26th St. is known for its breaded Italian steak sandwiches and other Italian specialties since 1946 and Shinnicks Pub at 3758 S. Union is a popular neighborhood Irish pub since 1938. Another local Irish Pub or tavern is Cork & Kerry at The Park which can be found at 3258 S. Princeton Ave. Bernice's Tavern is a popular dive bar for pub food, games and live music at 3238 S. Halsted.
I also just read that Maria's Packaged Goods & Community Bar is a fun spot to go for a drink at 960 W 31st St. They feature artisanal cocktails and craft beers. Next door is Kimski, a counter service Korean Polish Street Food, restaurant. 954-960 W. 31st St.
BRIDGEPORT'S HISTORIC ARCHITECTURE
Make sure to drive the area and see some of its historic Chicago bungalows and other architecture.
The area has some really outstanding architecture to explore. Make sure to visit:
Eleanor Boathouse: Located at Park 571 along the South Branch of the Chicago River, this is a contemporary, public boathouse designed by architect Jeanne Gang of Studio Gang. 2828 S Eleanor St. It is similar to her design for the boathouse on the North Side at 3400 N. Rockwell.
On a recent visit, I enjoyed visiting the Ling Shen Ching Tze Buddhist Temple at 1035 W. 31st. According to the Chicago Architecture Center, "this triangular-shaped brick church, originally Emmanuel Presbyterian Church, was designed by John Wellborn Root. Upon Root's unexpected death in 1891, it was completed by his famous partner Daniel Burnham. The building's simple geometry represents the signature style of Root that developed near the end of his short life. The building has been home to the Ling Shen Ching Tze Temple of True Buddha School since 1992. The temple is devoted to the teaching of Taoism, Sutrayana and Tantric philosophies. The façade and interior of the prayer chambers both display Vajrayana Buddhist embellishments and statues."
Recommended on a virtual tour of the area, I made a point to visit St. Mary of Perpetual Help Catholic Church at 1039 W. 32nd St. The beautiful domed church was built in 1892 and in 1903 it became the first Polish Roman Catholic Church in the United States.
As part of Open House Chicago in 2021, I was pleased to be able to visit the Monastery of the Holy Cross at 3111 S. Aberdeen. It is a Benedictine monastery and the only urban monastery in the country. I particularly enjoyed seeing the beautiful altar. It was built in the German Gothic Revival Style and dedicated in 1910. The architect was Hermann J. Gaul, an apprentice of Louis Sullivan.
The historic Ramova Theater in Bridgeport, located at 3520 S. Halsted, opened in 1929 as a sister theater to the Music Box Theatre in Lakeview. Closed now for over 35 years, it is undergoing a $28 million renovation to convert it to an entertainment space, restaurant and brewery.
If you like Modernism architecture, stop by the campus of IIT, or Illinois Insitute of Technology, which has great architecture by Mies van der Rohe, Helmut Jahn and Dutch architect, Rem Koolhaas, who designed The McCormick Tribune Campus Center under the elevated tracks. Mies' Crown Hall has recently been totally refurbished and is really exceptional. A two hour tour offered by the Chicago Architecture Center is quite informative and highly recommended. It is just east of Bridgeport across the expressway. 3300 S. Federal.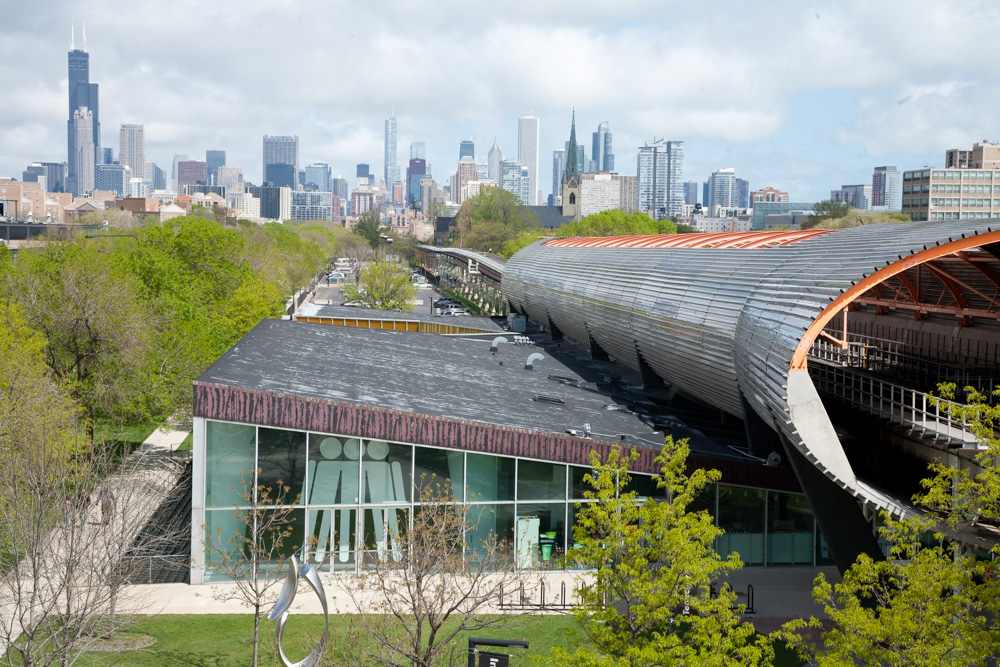 BACK OF THE YARDS
Back of the Yards is a residential and industrial neighborhood in Chicago southwest of Bridgeport. It was named for the fact that it was near the former Union Stock Yards which employed thousands of European immigrants in the early 20th century. Upton Sinclair's 1906 novel, The Jungle, featured the neighborhood. After the Stock Yards closed the neighborhood was impacted for many years. But today there are a number of new businesses along with an increase in Mexican-American immigrants.
I had read about a number of things to do and explore as well as there were three locations featured in the Chicago Architectural Center's Open House Chicago in October, 2021.
WHAT TO SEE AND DO
Start your visit to the neighorhood at the Union Stockyards Gate located at W. Exchange Ave. and S. Peoria St. This was the entrance to the famous Union Stock Yards. It was designed by John Wellborn Root of Burnham and Root around 1875, and is the only significant structural element of the stock yards to survive. The Union Stock Yards made Chicago famous as the "hog butcher to the world." It was named a National Historic Landmark in 1981.
Marz Community Brewing Company: This is a local microbrewery and large 4,000 sq. ft. taproom at 3960 Iron St. In addition to tasting their beers, you can have snacks, sides, sandwiches, bowls, coffee and tea. They make a number of ales, IPAs, weisse beer with many unique flavors. I asked for something light and fresh and was served A Lifestyle Beer, which is a Berliner Weiss with Yerba Mate, Pineapple Lemongrass and Marigold Teas. It was really excellent and refreshing! It is in McKinley Park on the edge of Back of the Yards and Bridgeport.
As part of the Chicago Architecture Center's 2021 Open House Chicago I was pleased to have toured The Plant and Plant Chicago.
Plant Chicago is located at 4459 S. Marshfield in a old firehouse on the Southwest side. It is a small community of food businesses. It is also home to an indoor market place in addition to a local farmers market. There are also activities and workshops throughout the year
A short drive is The Plant at 1400 W. 46th St. The Plant is a research and production facility for a number of small, local food businesses including cheese, Kombucha, beer, microgreens and herbs, coffee, bread and chocolate. Most are not open to the public, but tours and weekly markets are available and you can pick up direct orders. You can also enjoy the large taproom for Whiner Beer while tasting one of their beers and ordering a pizza.