---
---
Chicago's Lakeview neighborhood is a great destination for theater, restaurants and shopping. It is an area bounded by Diversey Pkwy. on the south, Irving Park Rd. on the north, N. Lakeshore Drive on the east and N. Ravenswood Ave. on the west. The Southport Corridor along Southport Ave. is one of my favorite neighborhoods in the city to visit.
Some of my favorite neighborhood spots include:
Tango Sur, 3763 N. Southport Ave: This is a great spot for Argentinian specialties. I recently went back with a group of local friends and enjoyed the food and service. The portions are large and it is a BYOB  restaurant which makes it a great value. It is very popular, so make sure to book your reservations in advance. They recently opened a more casual Bodega Sur next door at 3755 N. Southport. They serve Argentinian specialties including a daily brunch menu.
El Mercado Food Mart: At 3767 N. Southport, this Argentinian grocery store, a part of Tango Sur, is known for its quality meats.
Bombastic Café is a coffee house where they serve single origin specialty coffee beans that are roasted in-house. They also feature specialty teas, infused sparkling sodas, color-changing lemonades and seasonal craft cocktails. I really enjoyed the staff and the experience. 3732 N. Southport Ave.
Also, fun is the colorful Cafe Tola Loncheria y Tacos for coffee, tacos and empanadas. 3612 N. Southport Ave.
Corridor Brewery & Provisions. This is a casual local craft brewery and gastropub at 3446 N. Southport. I went with neighborhood friends and enjoyed my experience.
Music Box Theatre: Since 2007, this is the place to see foreign and independent films in Chicago. Their sing-along White Christmas and It's a Wonderful Life is a must during the Holidays!!
I was sad to learn that during the pandemic in 2020/21 that the Mercury Theater at 3745 N. Southport Ave. was permanently closing. But in late 2021, I was thrilled to learn that it was reopening and would continue to play a prominent role in musical theater in Chicago. It has been a popular for its homegrown productions such as Avenue Q and Spamalot which I saw there in its larger Mainstage Theater. I was recently back for a Mainstage production of the musical Priscilla, Queen of the Desert.
In addition, they have a smaller and more intimate Venus Cabaret Theater, where I have really enjoyed recent productions of Company, a Nat King Cole Christmas show and Lady Day at Emerson's Bar & Grill, a one-woman musical about Billie Holiday. I hope you will go and support this important local venue!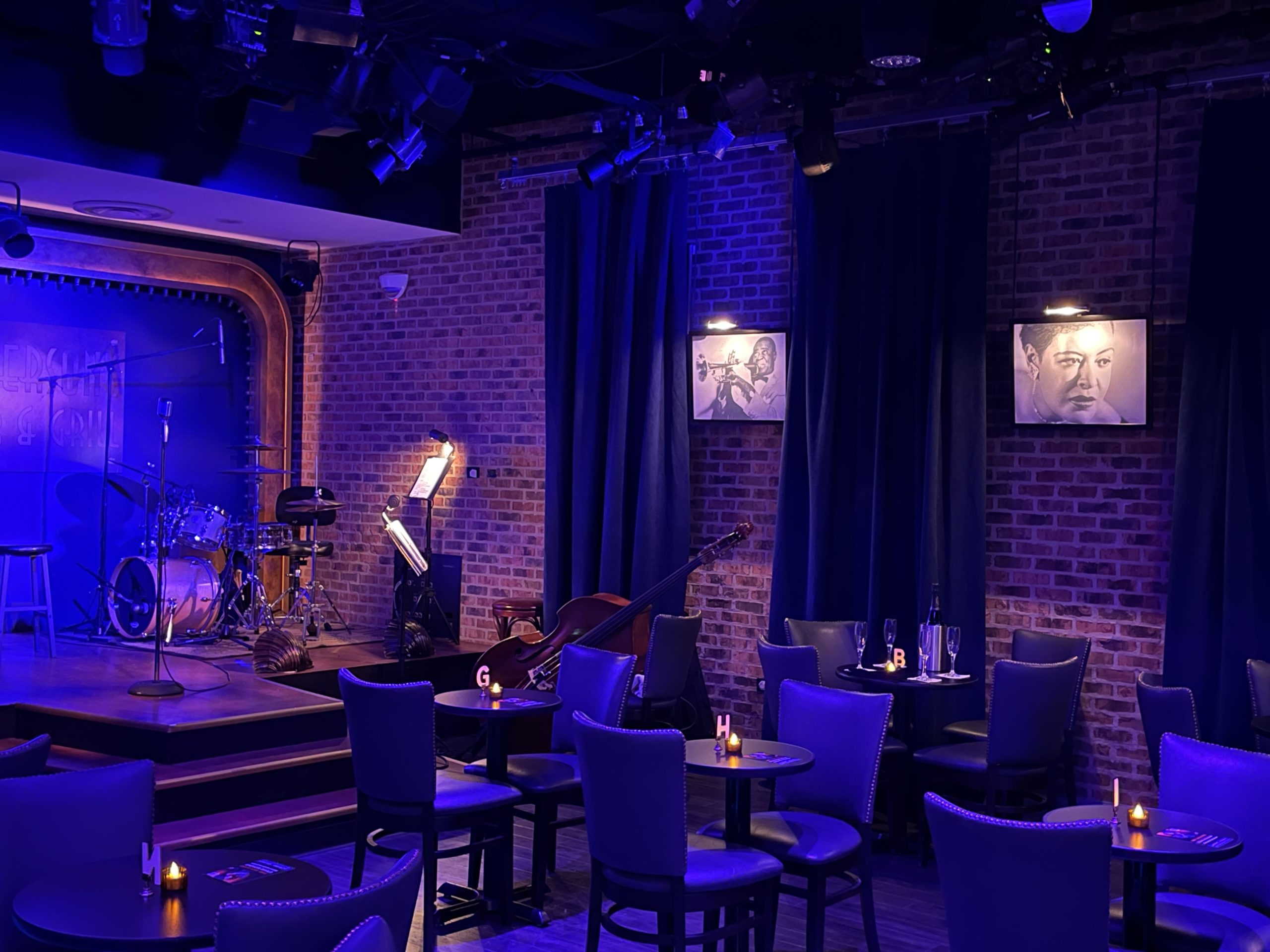 Close to the Mercury Theater is the casual Doña Tola at 3751 N. Southport Ave. for Mexican cuisine and cocktails. I went after my last performance for cocktails and guacamole with friends. I loved my old fashioned with a smoky mezcal. The staff was very friendly.
Before or after a performance you can enjoy a meal at Ela Elli  at 1349 W Cornelia Ave. which features an upscale, international menu. I was there and enjoyed the experience and the service. It is popular and has limited seating, so make sure you book it online in advance. We were lucky and found a great spot near the fireplace in the bar area without a reservation, after going to the Mercury Theater. I loved the roasted tomato, burrata and basil pizza and a great glass of red wine. They have a several charcuterie and toasts, pizzas and pastas and vegetables plus seafood and meats.  I look forward to going back.
Next door at 3455 N. Southport Ave. is Crosby's Kitchen for American comfort food and a weekend brunch in a family-friendly setting.
Other recent finds include Brou'nē Dessert's fourth Chicago location at 3721 N. Southport. This is a bakery and coffee shop featuring decadent brownies, cookies and blondies. The Bobby chocolate chip cookie with milk and dark Belgian chocolate was well-worth the calories!! On my second visit, I enjoyed the dark chocolate cookie with Nutella.
Next door is the guild, a colorful boutique featuring clothing and accessories, art, jewelry, home accessories and more. Their mission is to source products made sustainably by artists, artisans, and indigenous tribes using fair trade and charitable practices, offering something for everyone. 3717 N. Southport Ave.
Steingold's of Chicago: Originally opened in 2017, this popular Jewish Deli opened their Lakeview location in 2021 at 3737 N. Southport Ave. They are known for their New York bagels, bagel sandwiches, breakfast sandwiches, soups, salads and coffee drinks. Be prepared to wait in line, during the popular weekend times. I loved their classic lox sandwich on a sesame bagel with Nova lox, cream cheese, tomatoes, red onions, lightly pickled cucumbers, capers and a side of potato salad.
5411 Empanadas has opened another Chicago location at 3715 N. Southport. They carry a large menu of Argentinian empanadas, desserts and coffee drinks.
At the north end of the corridor is Port & Park Bistro & Bar at 4000 N. Southport. This is a casual bar and restaurant in a vintage tavern setting with a lounge and patio. I was pleased to have found it and went for brunch with a friend who was visiting from Michigan. I loved being on the outside patio on a beautiful fall day. They have a large brunch, lunch and dinner menu along with cocktails. I recommend the California frittata with cheese, tomatoes, spinach and avocado plus breakfast potatoes.
Athenaeum Theatre:  Located south of the Music Box and Mercury Theatre, the Athenaeum is an historic theater, and for  over 100 years and is Chicago's oldest continually running off-loop theater. With a large main stage and three smaller studio theaters, it is home to a number of theater companies, dance companies, comedians and concerts. Make sure to check out their website for the current schedule. On my last visit, I saw an excellent contemporary opera presented by the Lyric Opera. Street parking is available, but they also have two nearby lots they share with a neighborhood church. 2936 N. Southport.
Before a performance at the Athenaeum, I recommend having dinner at Sal's Trattoria two blocks south at 2834 N. Southport. This is a neighborhood Italian restaurant open for dinner and Sunday brunch. I enjoyed the warm atmosphere along with the service. I recommend the beet salad and the mussels steamed in white wine. They also make all pastas in-house. It is owned by the same group as The Butcher & Burger, one of my favorite spots in Lincoln Park.
Just west of Southport at 3856 N. Ashland Ave. is Tribu Caffe. Opened in June, 2023, this is a casual breakfast and lunch spot with a large menu of eggs benedicts, omelets, breakfast sandwiches, pancakes, waffles, soups, salads, sandwiches, burgers and panini.  I really enjoyed the experience!  I loved the smoked salmon benedict and talking to the lovely staff who were from Mexico and Ecuador. I can't wait to go back.
Angelina Ristorante: At 3561 N. Broadway, Angelina has been a neighborhood favorite since 1988. They serve excellent Italian food for dinner and for brunch on weekends.
Wood: At 3335 N. Halsted, Wood is one of the best restaurants in Chicago since it opened in 2012 and has received the Michelin Bib Gourmand designation several times.
At 3307 N. Clark is the French café, Maison Parisienne. Opened by three friends from France, they offer not only coffee and tea but several varieties of quiche, sandwiches, soups and salads, plus wonderful macaron, croissants and pastries. I enjoyed the Quiche Lorraine with a salad plus a wonderful almond tart made from a 200 year-old French recipe. It is a casual spot, BYOB along with a small patio in the rear. I loved the sign on the wall that states 100% homemade by real French people. The chocolate, flour and butter are all imported from France, so the quality is outstanding!
Maison Marcel. Having read about Maison Marcel as a great breakfast/brunch spot in Lakeview, I had to try it.  This is a casual French bakery what offers a large number of drinks and pastries along with a menu featuring quiche, egg dishes, soups, salads and tartines. I really enjoyed the salmon tartine which included smoked salmon served on toasted rustic French country bread, herbed cream cheese, sprinkled with chives and capers and  served with a mixed greens salad. I will definitely go back. 3114 N. Broadway.
Opened in 2007 is Wilde Bar & Restaurant at 3130 N. Broadway. I had not heard or read about it until a local friend suggested we go for lunch. This is a literary-themed upscale Irish pub in a warm, comfortable setting. They have a large menu of American and Irish dishes including soups, salads, burgers, sandwiches and entrees including fish & chips and shepherds's pie. They also have weekend brunch menu and a gluten free menu. I had a great reuben sandwich and really enjoyed the experience.
At 3415 N. Broadway is one of the three locations for Ann Sather Restaurant. This is a local breakfast and lunch spot that has been in business for over 70 years. Ann Sather bought a former Swedish restaurant in 1945. I have enjoyed the 909 W. Belmont location several times in the past. I recently met a friend for brunch/lunch at the N. Broadway location. It has a colorful, casual decor and an extensive menu of breakfast and lunch items. I highly recommend it.
One of my favorite neighborhood spots is Coda de Volpe at 3335 N. Southport. It is a sleek restaurant featuring Italian pastas, pizzas and specialties. I went back a second time and loved the pasta, pizzas and salads. I went back for the third time and loved sharing a margherita pizza, an arugula salad, the wood-grilled octopus and the oven roasted butternut squash with apples, dried cranberries and pumpkin seeds for a lite bite with friends.
Across the street is Little Goat Diner. This is Top Chef winner Stephanie Izard's casual spot for breakfast, lunch and dinner. It relocated to this new Southport Corridor location from the West Loop on Randolph in April, 2023. I had to check it out for lunch. It has a fun menu. Since the shrimp and grits was sold out I opted for a tasty reuben sandwich. I sat at the counter as there was a huge wait for table both inside and outside. I suggest going early and possibly avoiding weekends.  It is located at 3325 N. Southport Ave. in the former Southport Lanes building. In the same building is  GG's Chicken Shop by chef Lee Wolen of BOKA restaurant, and Japanese restaurant Itoko by chef Gene Kato of Momotaro.
I made a point to try GG's Chicken Shop on my last visit to the neighborhood to attend a musical at the Mercury Theater. I really enjoyed the chicken burger with caramelized onions, gouda cheese, dill pickles, lettuce and roasted garlic aioli on a brioche bun along with the broccoli slaw made with brocolli,  almonds, raisins, dill and lemon poppy seed dressing. They have nice outdoor seating.
South of Coda de Volpe is the Tied House at 3157 N. Southport. It is next and attached to Schubas Tavern, a popular bar and music venue for over 30 years. Tied House is open for brunch on the weekend and dinner nightly. It has a bright, contemporary design and a very fresh and interesting menu. Chef Debbie Gold  earned the James Beard Foundation's Best Chef Midwest award in 1999 for her work at The American in Kansas City.
I also love the Left Coast Food + Juice at 2878 N. Lincoln. This is a health food spot featuring creative salads, grain bowls, wraps & juices in a great casual atmosphere. They have a large terrace for warm weather dining.
For  Scotch drinkers, The Duke of Perth offers a fun experience.  Opened in 1989, they feature a large number of single malty whiskeys, beer and a traditional food menu including fish and chips. I have always had a great time there over the years. I went back after several years and really enjoyed the experience. They have a nice patio in the summer months. 29 13 N. Clark.
Next door at 2909-11 N. Clark is a great new addition to the Neighborhood. The Gundis Kurdish Kitchen opened in early 2017.  I really loved the decor, the food and the service. The homemade Kurdish bread with a vegetable topping was excellent as were the lamb shank entree and the sea bass entree in a tomato sauce with capers. The chocolate mousse topped with pomegranates was very tasty as well. The wine list was quite extensive. It has a fun international vibe from the food to the servers who were from Romania, Turkey and Guatemala. They are open for dinner and brunch daily.
Having enjoyed Farm House Tavern in Chicago and in Evanston, I was excited to find their latest project, Farm Bar, in Lake View at 1300 W. Wellington. It is a smaller, gastropub featuring a local, seasonal menu that features a number of burgers, sandwiches and salads. They also offer ciders, craft beers and cocktails.  For dinner, they also offer a supper club menu or special that changes nightly.  I enjoyed it for brunch on a beautiful Saturday in July with the windows open and a lovely breeze. The eggs benedict was very good. They are open for dinner and for brunch on weekends.
Thanks to the suggestion of a local friend, we tried Andy's Thai Kitchen at 946 W. Wellington. It is a casual BYOB spot with an extensive menu of Thai favorites. I thought the food was very good. I had been wanting chicken pad Thai for a while. It is conveniently located across from the CTA Wellington Brown Line Station. It is popular and does not take reservations, so I suggest that you go early to make sure you get a table. They have a second location further north at 6230 N. Broadway in Edgewater.
When visiting the neighborhood, make sure to check out some of its great architecture. Famed architect Ludwig Mies van der Rohe designed the Commonwealth Promenade Apartments built in 1957 at 330-340 W. Diversey Pkwy. 
To the west is Surf-Pine Grove District which is predominantly centered around the 400- and 500-blocks of W. Surf St. and 2800-block of N. Pine Grove Ave.  Designated a Chicago Landmark, "within the district can be found rugged-looking, Richardsonian Romanesque-style row houses, small-scale corner and courtyard apartment buildings from the years just before and after World War I, and a variety of tall apartment buildings and apartment hotels." Here you can find some beautiful apartment buildings, homes and row houses.
Another beautiful area is the Meekerville Historic District east of Sheridan Rd along Wellington and E. Lakeshore Dr. A highlight is the mansion of  capitalist Arthur Meeker Sr. located at 3030 N. Lakeshore Dr.
Another new find for me was visiting the Alta Vista Terrace Historic District. This is a US Historic District and  listed on the US Registry of Historic Places. Built in 1904 to imitate the rowhouses of London, this residential development was the work of Samuel Gross. The street is one block long and contains 40 small, single-family rowhouses that were built with 20 different architectural styles. You can see Gothic arches, Palladian windows, stained and leaded glass, bay and box windows, Doric and Ionic wood pilasters and beautiful decorative woodwork. It is located between Grace and Byron and Kenmore and Seminary.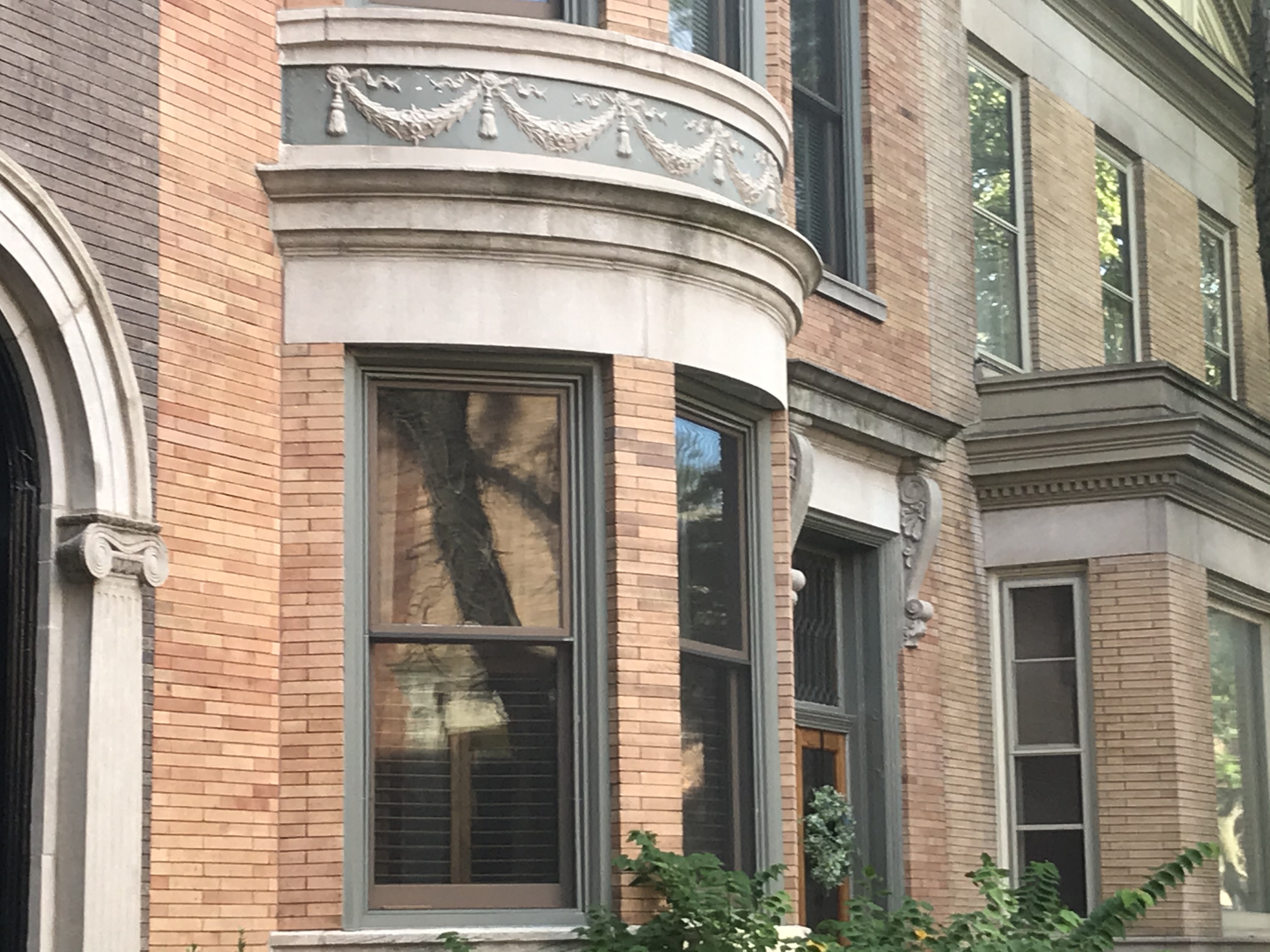 I just visited the Hawthorne Place Historic District after many years to see its historic homes. The district was built, featuring homes on large lots, in the 1890s by various architects including the McConnell brothers, Burnham & Root, and Pond & Pond. It was designated a Chicago Landmark on March 26, 1996. It is located east of N. Broadway and north of W. Roscoe.