There are more and more independent coffee cafes and roasters popping up in Chicago and the suburbs. My goal is to try and report on some of the best for you. A few years ago I  bought the Indie Coffee Passport which allowed me a coffee drink at 22 participating cafes. This allowed me to find some excellent new spots in the area.  Though no longer available, I still look to find the new ones as I explore the neighborhoods of Chicago!
One of my favorite new finds is 2d Restaurant in Lakeview at 3155 N. Halsted. Opened in February, 2022, it has one of the most creative interiors of any cafe or restaurant in the city.  Painted by local Chicago artist Mia Larson, the entire space is painted with black-and-white hand-drawn, comic-like illustrations or illusions. They serve coffee, donuts and fried chicken. It transports you to another world! I was so glad to have seen it featured on TV and in several articles. I had a great latte and the triple chocolate donut.
Another new find is the Map Room at 1949 N Hoyne Ave. at W. Armitage Ave. I just went after reading that this popular bar is open during the day for coffee drinks and pastries. It has a warm atomosphere filled with globes, maps and travel books for reading. It was packed with people working remotely on their computers. At night is is open for beer and cocktails. It has a large menu of over 200 craft beers to try. I recently went back for a travel group function. I loved the old fashioned. They also have nice outdoor patio.
After reading about Sip of Hope Coffee, I had to go and support it. This is a neighborhood/community coffee shop that sells coffee drinks and pastries. 100% of the proceeds from the sales go towards mental health education and suicide prevention.  All of their baristas are trained in mental health first aid. What a wonderful concept! 3039 W. Fullerton Ave. in Logan Square.
Bourgeois Pig Cafe is a local staple for over 26 years. They feature coffee and tea drinks plus sandwiches, salads, paninis, muffins, cookies, bagels, croissants, scones and ice cream. The old-world atmosphere is perfect for cold Chicago winters. 738 W. Fullerton in Lincoln Park.
To the east of Bourgeois Pig is a new find, Ludlow Charlingtons Coffee Shop at 2425 N. Clark. Featuring quality coffee drinks and tea, their interior has several portraits of dogs dressed in Victorian era fashion. The dogs featured in these portraits are inspired by actual sheltered dogs from Chicago Animal Care and Control (CACC).
A block north is Firecakes Donuts featuring coffee drinks and small batch, craft donuts. I really liked my Churro donut on my first visit which is one of their seasonal offerings. They also have ice cream. 2453 N. Clark.
To the west of Bourgeois Pig at 1013 W. Webster is Olor Coffee Bar which opened in December, 2021. I am glad to have a coffee shop so close to my house. They have a full coffee menu using Inteligentsia coffee as well as donuts from Do Rite Donuts and quality French pastries from Maison Parisienne. The owner, Luis, is an immigrant from Venezuela who came here and worked many jobs to be able to save money to open the shop. He wants to be successful, so I recommend helping support his business.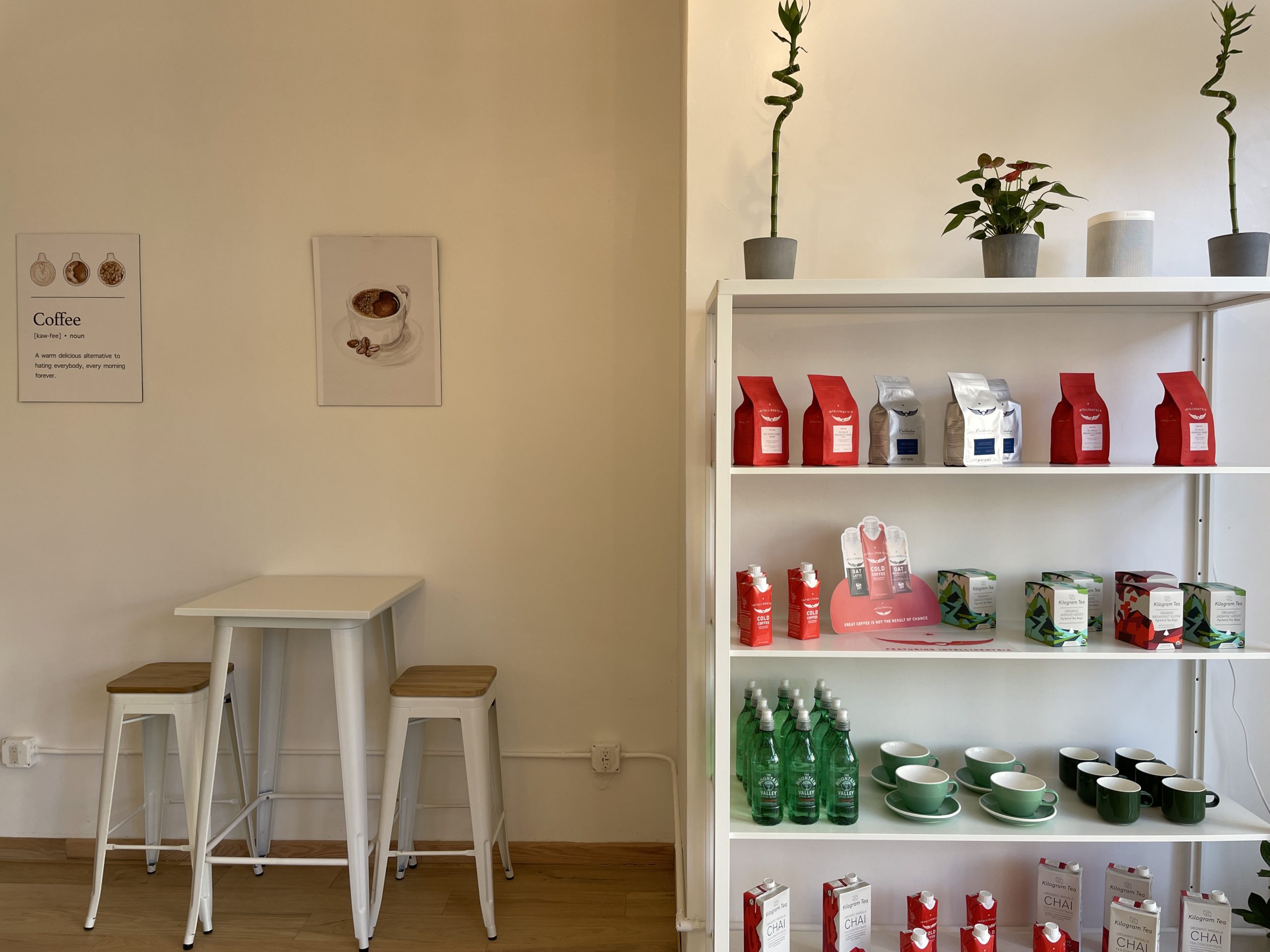 Luis recently opened a small, walk-up location at 2811 N. Broadway just north of W. Diversey Pkwy.
Opened in the summer of 2023, is Vigo Coffee at the corner of Lincoln, Racine and Diversey at 2800 N. Lincoln Ave.. This is an attractive, contemporary cafe featuring coffee and tea drinks along with pastries. sandwiches and some Mexican dishes. They also have a second location in downtown, suburban Oak Park at 1000 Lake St., Suite 100B .
Recently opened in early 2022 at 615 N. State St. is Café Crèmerie. This is a small cafe with lovely garden view in the back that serves coffee drinks, bakery goods like macarons, gelato and wine.
3 Arts Club Cafe at RH Chicago: If you are on the Gold Coast, stop in for a coffee at the coffee bar of this wonderful renovation and new retail concept. 1300 N. Dearborn.
North of RH Chicago is a great new find, PiniPico Brazilian Café.  Located at 1538 N. Clark St. between the Gold Coast and Old Town, this is a colorful attractive cafe featuring coffee drinks, pastries and  several choices of empanadas. I enjoyed my latte and the staff.
Cocoa + Co. is at 1651 N. Wells; for great chocolates, coffee and drinking chocolate. They also have pastries, croissants, quiche and other items. They carry a number of imported chocolates along with a number of gourmet chocolates. I love the dark chocolate bark with cherries and nuts!
A new find in the South Loop, is the Hero Coffee Bar at 439 S. Dearborn at Congress. In addition to their own roasted coffee, they serve breakfast and sandwiches. I enjoyed a great soup and sandwich before a performance of the Joffrey Ballet. I was recently back and liked the new decor with colorful murals. They have three other  locations in Chicago including in Lakeview at 2950 N. Sheridan, at 22 E. Jackson and  221 N. Wells.
Located at 190 S. LaSalle, is West Town Bakery. This is a great spot to grab a coffee before your meeting in the Loop.
Also in the Loop is a place that you will enjoy, Big Shoulders Coffee at 311 S. Wacker Drive. They have indoor seating as well as a lovely outside patio.
The once popular Indie Coffee Passport several years ago allowed me to find:
Spoken Cafe at 1812 W. Montrose near the Montrose Brown Line station, Groundswell Coffee Roasters at 4839 N. Damen, Sol Cafe at 1615 W. Howard St., and Metropolis Coffee Company at 1039 W. Granville.
Groundswell also has  a second location at 1168 W. Madison in the West Loop. I have been there twice and enjoyed it.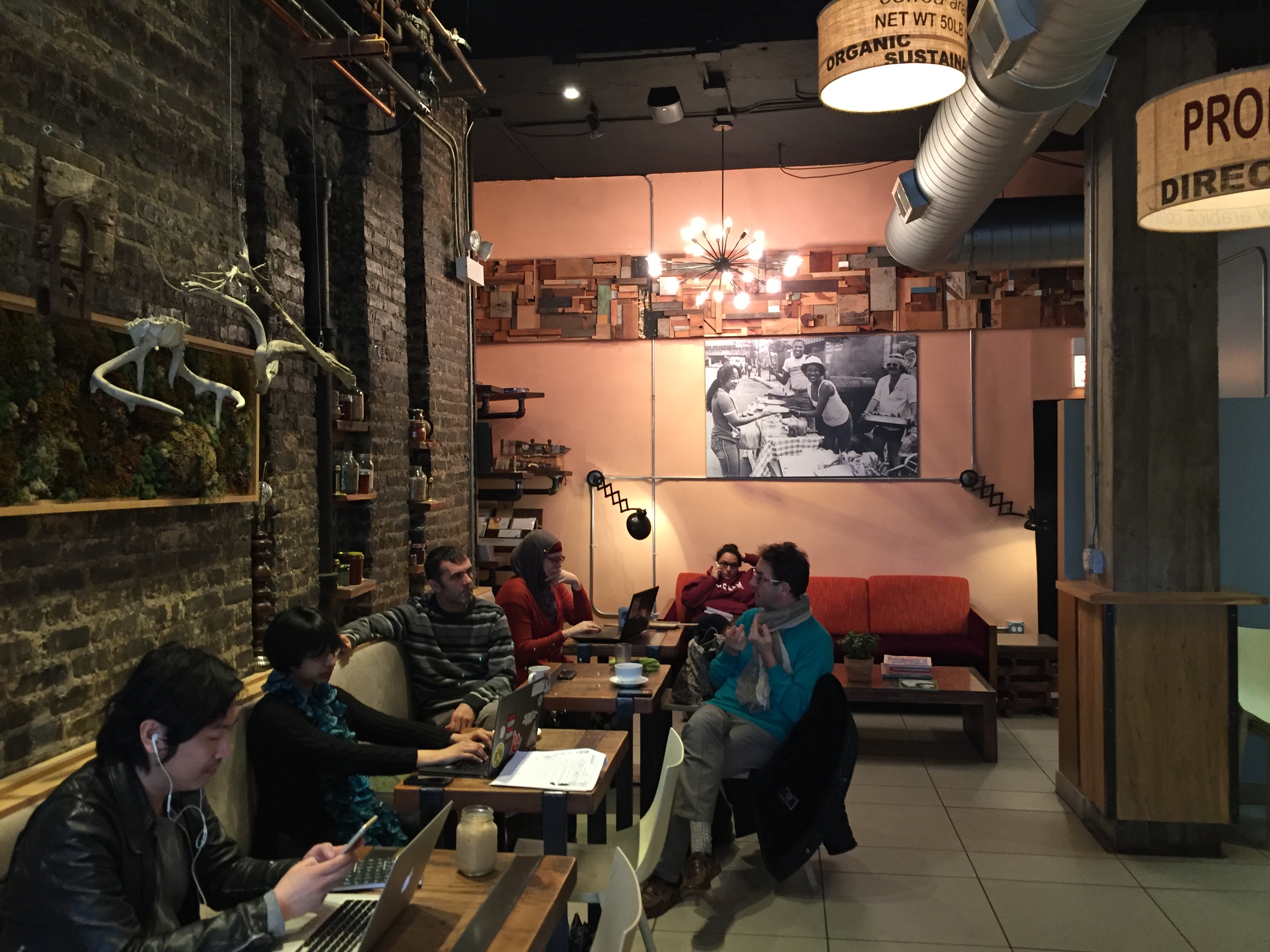 Another great recent find is Big Shoulders Coffee at 1105 W. Chicago Ave. They have excellent coffee, so don't miss it.
Heritage Bikes & Coffee is one of the fastest growing chains of shops to open in Chicago in the past nine years. There are now six locations My favorite is Heritage Bikes & Coffee, a coffee shop in Lakeview adjacent to a store selling bicycles, gear, apparel and repairs. It has a wonderful atmosphere and decor with great coffee and amazing doughnuts!!  2959 N. Lincoln.
I just went to Uptown to the historic building, known as the Lawrence House Flats, at 1020 W. Lawrence. This is a renovated apartment building with a large lounge and shared work space in the lobby. Near the lobby is the Heritage Outpost coffee shop, which has several locations in town that I have also enjoyed. I enjoyed a latte with a friend after my lunch in the lobby seating area. Heritage Outpost also has Larry's, a small cocktail lounge across the lobby from the coffee shop. The original curved stained glass skylight in the lounge/lobby is really beautiful.
There are now locations in River North, the Loop and Fulton Market.
Further north in Lincoln Square is Oromo Cafe, which  opened in August, 2016. It is is a hip coffee shop with great coffee and a beautifully designed space. 4703 N. Lincoln.
They also have a location in Bucktown at 1912 N Western Ave.
Caffe Streets is a fun independent coffee shop at 1750 W. Division in a growing restaurant neighborhood.
A perfect spot for coffee and pastry in Lincoln Park is Vanille Patisserie at 2108 N. Clark. They have a second location at the Chicago French Market downtown. Their macarons are excellent! The also offer afternoon tea, so make sure to call for a reservation ahead.
Another great coffee and pastry spot is Bittersweet Pastry Shop & Cafe at 1114 W. Belmont. It has been a neighborhood favorite since 1993 and has wonderful pastries, cookies and more including sandwiches, soups and quiche.
La Colombe Coffee Roasters now has five locations in Chicago. Besides, Chicago, they can currently be found in New York, Boston, Bryn Mawr, Washington, DC and Los Angeles. I recently stopped in at their Wicker Park location at 1552 N. Damen Ave. near the Blue Line stop. I am also glad they opened in my neighborhood at 858 W. Armitage. I was very impressed with the quality. Another good location is their Gold Coast cafe at 4 E. Elm.
Buzz Killer Espresso is now in Logan Square at 2779 N. Milwaukee Ave.
Two Loop/South Loop spots I just found include Cafe Press at 800 S. Clark which is part of the Good Eats Group and Fairgrounds Coffee & Tea, off of the lobby of the Chicago Athletic Association Hotel. Fairgrounds has a large selection of tea and coffee drinks. Fairgrounds has four locations in Chicago. This is a great location for those visiting downtown and Millennium Park
Another new addition is a branch of Dollop Coffee at 150 N. Michigan Ave.
Opened in March, 2017 is Werewolf Coffee Bar at 1765 N. Elston, near the intersection of Elston, Ashland and Courtland/Armitage. It is DMK Restaurant's first coffee bar. It is located in a warehouse district that has more and more restaurants and food offerings. Their Ada St. restaurant is around the corner. The fun part is that the barista station is made from a converted Wonder Bread truck. I enjoyed my first visit  and my second!
A great new addition to the Chicago coffee scene is Colectivo Coffee at 2530 N. Clark in Lincoln Park. Located in the former Einstein Bagel shop, it has a great outside patio for the warmer months. In addition to great coffee drinks, they feature a large number of breakfast items as well as a number of signature sandwiches. They now have five locations in Chicago in addition to their cafes in Milwaukee and Madison, WI.
I just tried their other new location in Logan Square at 2261 N. Milwaukee just south of Fullerton. It is a colorful café with both indoor and outdoor seating.
Colectivo Coffee in Wicker Park is newest Chicago location at 1211 N. Damen at the corner of Division.  It has a great outdoor patio for the warmer months.
I also like their Andersonville location at 5425 N. Clark.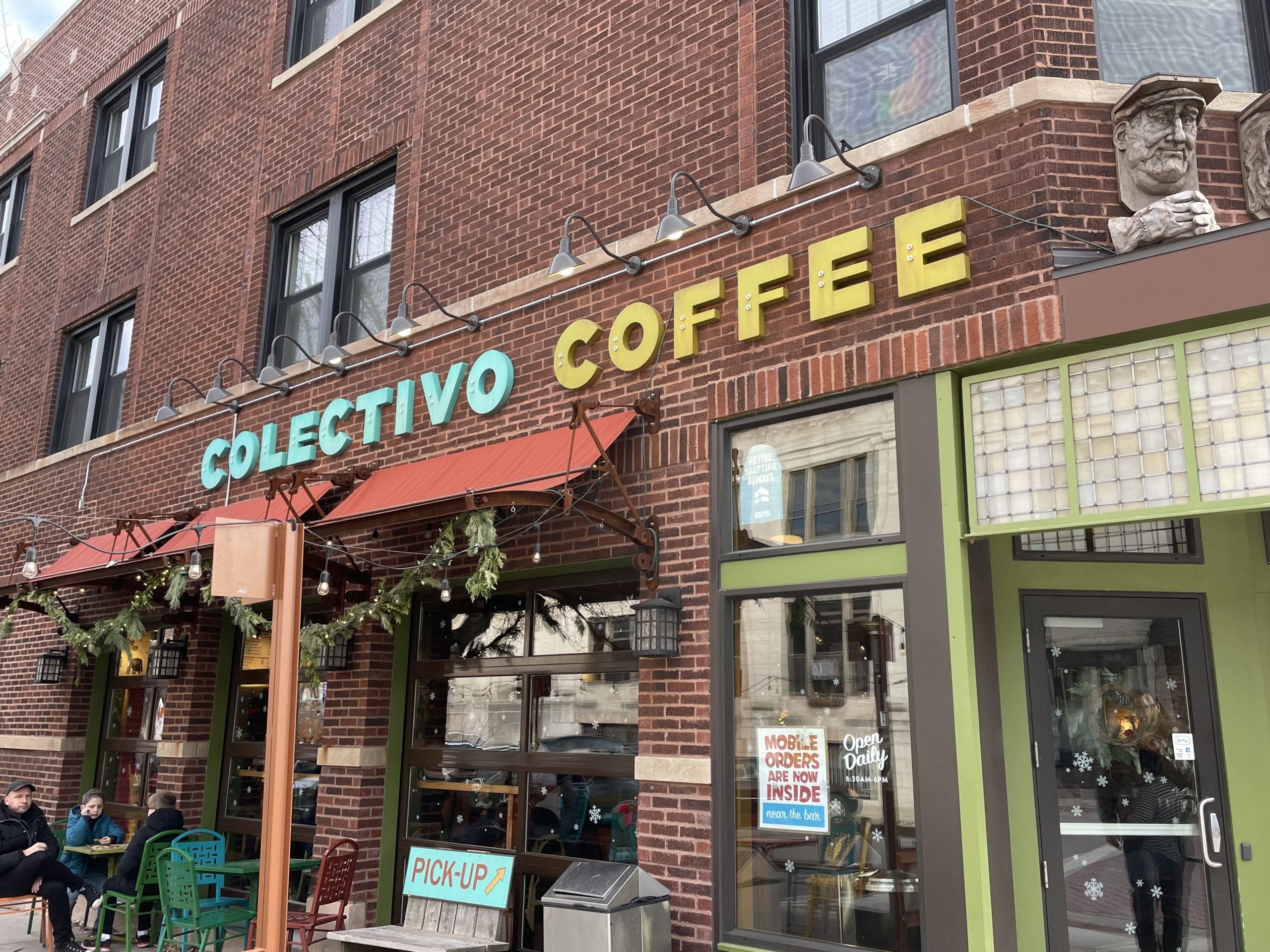 I recently found Dollop Coffee at 343 S. Dearborn in the South Loop. There are now thirteen located throughout the city and Evanston. It is a large, contemporary and bright cafe at the corner of Plymouth Court and Van Buren near the Harold Washington Library. They have a large menu including food items from sandwiches to pies and pastries. My latest shops to visit was the small cafe in the Gold Coast at 860 N. Dewitt Pl. just east of Michigan Ave.
I always like their original location in Uptown at 4181 N. Clarendon, just north of Irving Park and west of Marine Drive and N. Lake Shore Dr. It is a fun neighborhood hangout.
I recently went to Dollop Coffee Co. at 345 E. Ohio. It is a great spot to stop in while you are in the neighborhood.
Next door to Hai Yen at 1057 W. Argyle, is a new coffee shop, First Sip Cafe. This is a fun spot to grab and coffee or tea while you are exploring the area. They have a large selection of both hot and iced teas. They also carry some pastries and food items.  I particularly loved the decor with hundreds of tea cups hanging from the ceiling.
In the past I have enjoyed Cupitol Coffee & Eatery in downtown Evanston at812 Grove St. . Just recently, I went to their second location in Chicago, just north of the river at 455 E. Illinois and a short walk from Navy Pier.  They feature coffee drinks in addition to sandwiches, soups and salads. It is an attractive space.
Located in Lakeview, at 2000 W. Diversey, is the recently opened Hexe Coffee Co. I read about it in Ina Pinkney's former Breakfast With Ina column in the Chicago Tribune. I always follow her recommendations as I have know her for many years. It is a fun spot with great vibe and design. They roast their coffee onsite with a focus on specialty  and barrel aged coffee. They also have an on-staff baker and pastry chef with great results. I loved the blueberry scone. They have a number of pastries and breakfast sandwiches. I look foward to going back!
Starbuck's fans will enjoy the world's largest Starbucks. The Starbucks Reserve Roastery is a five story experience at 646 N. Michigan Ave. They have the Reserve Coffee Bar on the first floor; the Princi Bakery & Cafe on the second serving pastries, pizza, salads, pastas and deserts; the Experientia Coffee Bar on the third, the Arriviamo Cocktail Bar on the fourth serving classic cocktails and barrel-aged coffee beverages and the Roof Terrace on the fifth. It is very crowded on weekends so I suggest going during the. I thought the bread and pastries, baked on site, were excellent! You will also love the sleek, contemporary design that is so different that any other Starbucks that you have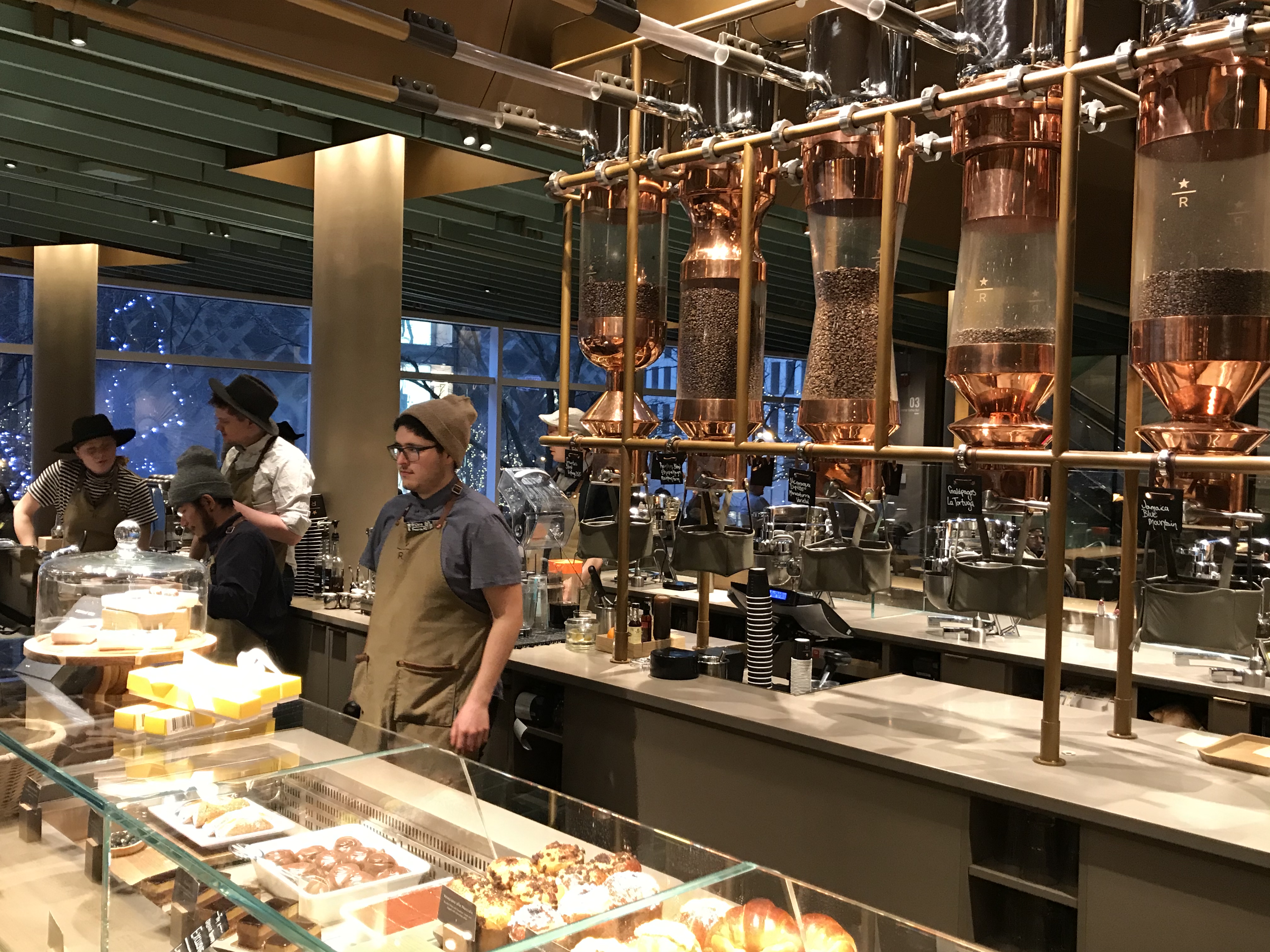 Up Michigan Ave at Chicago Ave. is Ralph's Coffee located at the Ralph Lauren store at 750 N. Michigan. The shop  serves Ralph's Coffee special blends, espresso and teas, along with pastries, overnight oats, yogurts, and sweet treats , including Ralph's Brownie and Ralph's Chocolate Chip Cookie. The small cafe is beautifully decorated and is a great hangout while you shop on Michigan Ave. I enjoyed my latte and the staff.
If you are ever in the West Rogers Park neighborhood near Evanston, make sure to stop in at the Bond Coffee Collective at 7555 N. California Ave. It is a contemporary spot, located in a former bank building,  with excellent coffee drinks plus pastries from a kosher bakery nearby. It is a fun place to work and hang out with friends.
With locations in Los Angeles, San Francisco, San Diego and Washington DC, Philz Coffee now has six locations in the Chicago area. I recently went to their newest location in Lincoln Park at 2323 N. Lincoln near DePaul University.  They feature pour over brewed coffee from over 20 customized blends made from high quality beans from around the world. You won't find any lattes, cappuccinos or espressos. They also features toasts, pastries, cookies and other food items.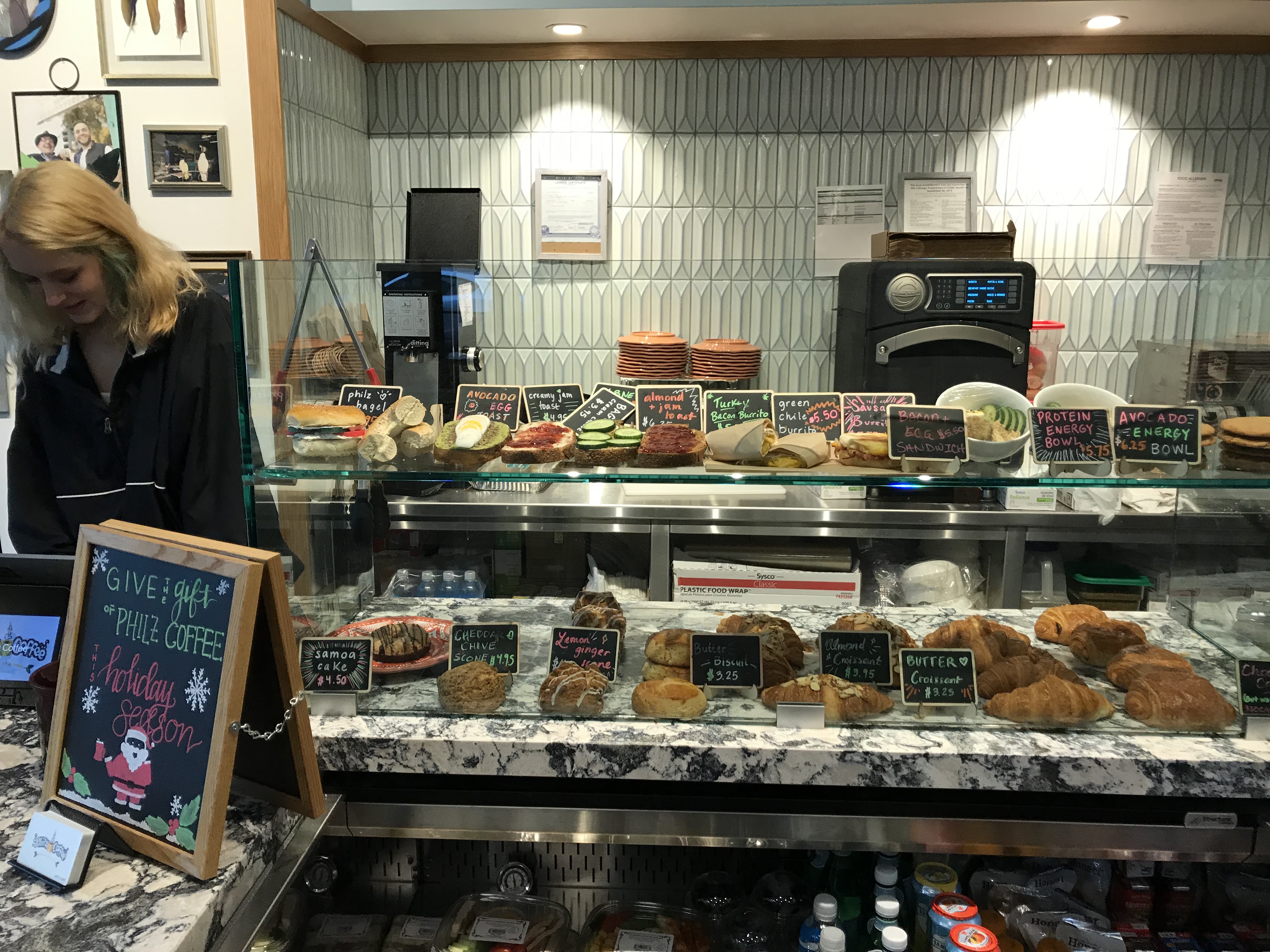 I just found Printer's Row Coffee Company located at 2842 N. Lincoln. It is located close to both the Apollo Theater and the Victory Gardens Theater. They roast their coffee onsite and also feature teas, pastries, donuts, chocolates and oatmeal.
I heard about and just went to Kapej Coffee at 1447 N. Sedgwick in Old Town, just south of the Brown Line Station.  It is a warmly decorated, casual spot with a delightful owner. They feature coffees from around the world along with bagels, croissants and sandwiches.
Shoppers on N. Michigan Ave. and Oak Street should check out the small, colorful café, Joe & the Juice at. I did not realize until after I went that they are a chain of juice bars and coffee shops around the world.  It has over 300 locations in North America, Europe, Asia, and Australia, with five in Chicago. The restaurants serve predominantly coffee, juice, and sandwiches. It is less crowded than the Starbucks in the area. 980 N. Michigan Ave.
I also recommend Bridgeport Coffee  for it's great coffee and atmosphere at its original location at 3101 S. Morgan. I was just back and enjoyed the experience.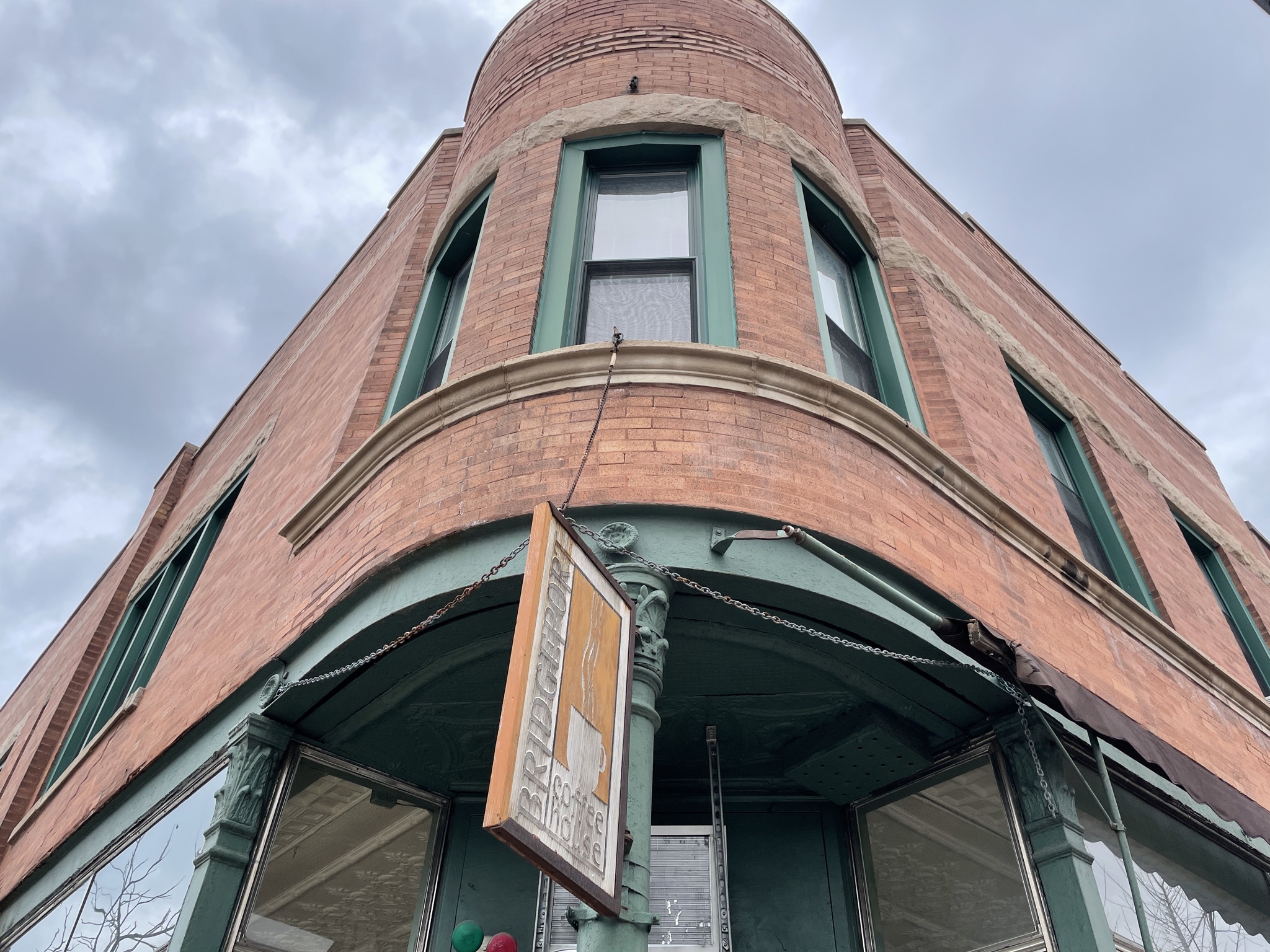 I just went to Cafe Deko at 800 W. Diversey Pkwy at the corner of Halsted in Lincoln Park.  Opened in 2020, it is known for its coffee and tea, It has a warm environment with an elegant Art Deco design that is popular for locals to hang out.
Another new find is Doppio Coffee House at 3054 N Greenview Ave. near the corner of Lincoln Ave. Opened in 2019, it features a number of espresso based drinks and  drip coffee drinks, along with pastries and baked goods. It was the 2021 winner of the Timeout Love Local Awards for most loved coffee shop in Chicago. I enjoyed the experience and the staff.