You can find some great casual spots for coffee, tea, ice cream and chocolates in San Miguel:
One of my favorite spots is  La Sacristia Terraza + Cafe, from the owners of Zenteno Cafe. Located at Canal 36, they feature a full coffee menu, pastries and more. On my first trip, I had a lovely salad and quiche for lunch on the colorful outdoor terrace in the back. I liked it so much and went back again with friends and loved the toast with brie, pear, serrano ham and a reduction of red wine vinaigrette. Now I go every time that I am back in town. It is a great addition to San Miguel.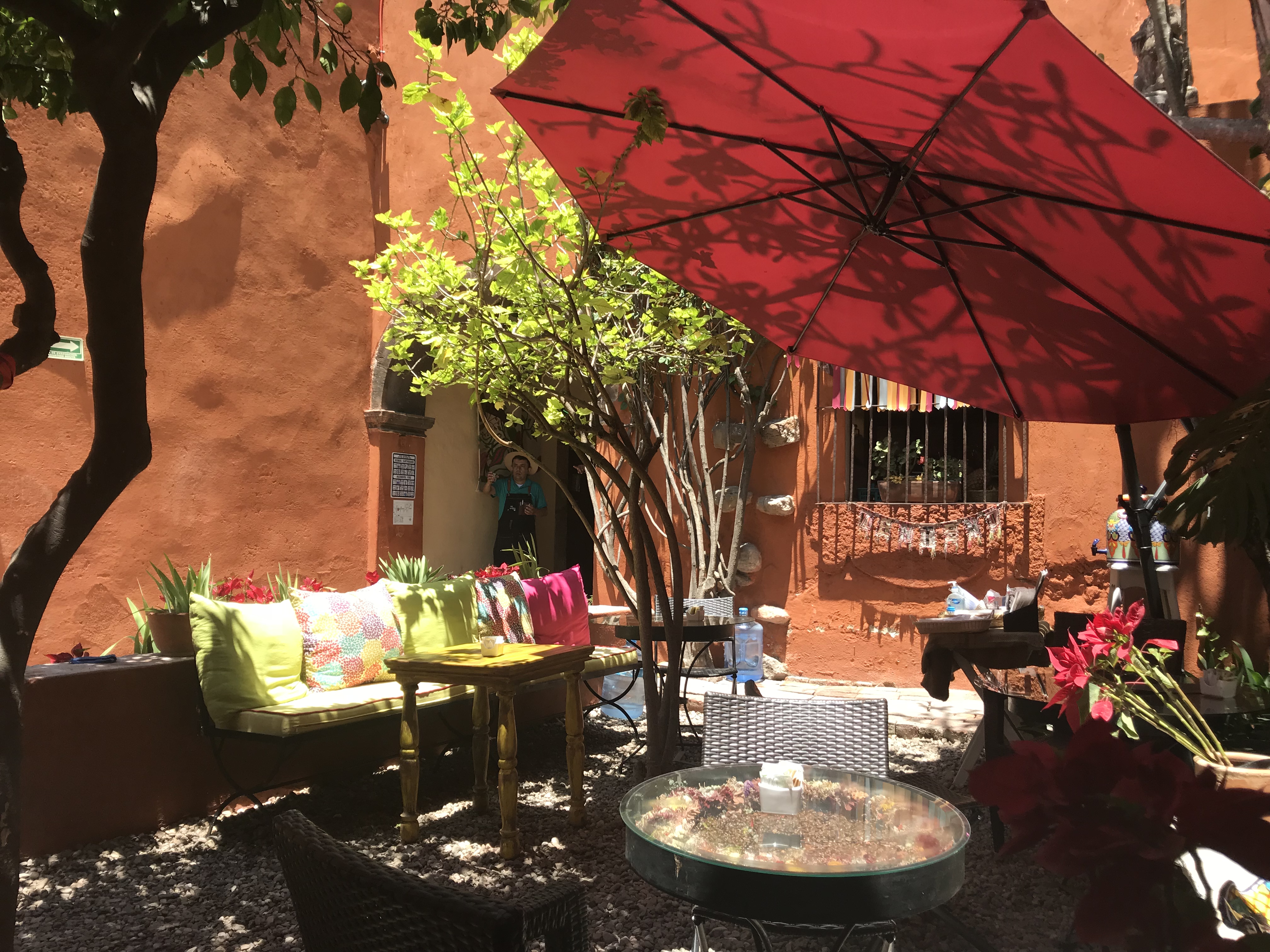 On my recent trip, I happened to find the recently opened Rue Desnouettes Pátisserie at Mesones #53. It is located within a new collection of small boutique shops at the corner of Relox and Mesones.  They have a menu of coffee drinks, cakes, cookies and pastries and sandwiches. I really enjoyed my latte and a really yummy hazelnut pastry. I can't wait to go back. I highly recommend that you try it!
Thanks to local friends, I found Garambullo Fonda Gourmet at Animas #46. This is a small neighborhood cafe with a lovely outdoor patio that serves breakfast and lunch. They feature coffee, smoothies cookies, pastries, breakfast items, sandwiches and bowls. I went for the avocado toast with smoked salmon along with a latte and tasty oatmeal raisin and chocolate chip cookie. I had a great experience and will definitely go back.
The Zenteno Cafe group  has several cafes in town.  Their original location, Zenteno Cafe, is a small local spot at Hernandez Macias 136 and the corner of Codo. Their newest location is a colorful cafe located at Salida de Celaya 10C. In addition to coffee, they feature breakfast and lunch items. I just went for breakfast and had a perfect omelette and a latte!
Zenteno Cafe Salida de Celaya
Cafe Oso Azul, or the Blue Bear, is one of my favorite spots and I have to go every time I am back in town. Owned by two Danes, this is a cafe serving breakfast, lunch, coffee, desserts and smoothies. It is a charming spot with a lovely courtyard with outdoor seating. They just expanded their interior dining space. The coffee is always excellent. I always try to order one of their quiches or omelettes for lunch. They also roast their own coffee. Zacateros 17.
Not far from Casa Oso Azul is a great new find, Amapola Café & Brunch at Hernandez Macias #117.  I went for brunch and had the perfect avocado toast with a quinoa salad and a latte. They have a lovely courtyard in back for outdoor dining.
Just up the street at Hernandez Macias #91 is a small, colorful cafe, Flor de Altura, for coffee and tea inside the Mama Mia restaurant. You can grab a drink and sit on the outside patio.
I enjoyed my recent visit with friends for lunch at Café de Cajon at Insurgentes 62. In addition to coffee drinks, they have menu of breakfast and lunch items. It is across from the Biblioteca and is set in an attractive courtyard surrounded by contemporary art.
Thanks to local friends I found Miga Panaderia Artesanal at Sterling Dickinson #21 . It sits along a number of new neighborhood cafes and restaurants. It is a perfect spot to go on a weekend when the center of town can be crowded. They have a number of coffee, tea and other  drinks and wonderful homemade pastries I loved the latte and the croissants that I purchased! I have been back two more times!!
Recently opened is Panalillo at Umaran 34. This  small cafe in the Hotel Naramu, features coffee drinks and great pastries. I suggest stopping in and sitting at one of the their tables in the small couryard of the hotel. I enjoyed the friendly staff! I just went back and enjoyed it again.
La Ventana Cafe Organico de Chiapas, at Sollano 11, is good for coffee or tea. You can order from the window and head to the Jardin or go into the cafe through the side entrance. I always stop in to buy the local paper, the  Antencion, on Fridays to see what is happening in town for the week.
If you are in Col. San Antonio, make sure to visit Cafe 1910 at San Felipe #19. Here you can enjoy coffee, tea or a great breakfast or lunch item. It is owned by a delightful Mexican couple, Anna and Mario. Mario's murals inside of famous people in US and Mexican history,  really make the spot. I had a lovely ham and cheese croissant sandwich. A local friend loves going often for the breakfast bagel sandwich.
I normally would not recommend a Starbucks, but the Starbucks at the corner of Canal and Hildago across from the Jardin in San Miguel is found in a wonderful old building with great architectural details and a lovely patio in the courtyard. I go often and love the atmosphere. They also take the Starbucks prepaid card from the US.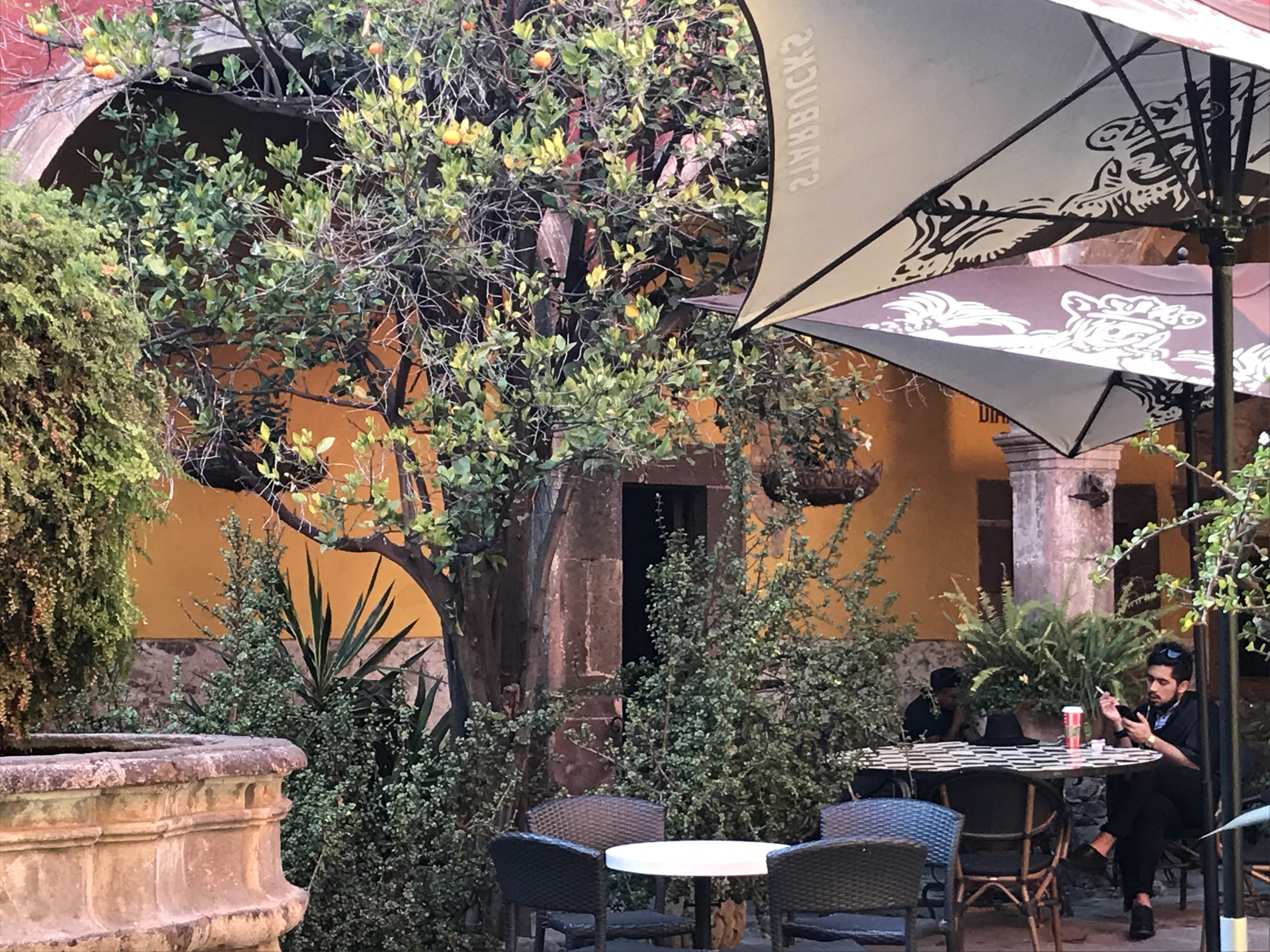 Speaking of Starbucks, the Cafe at the Rosewood Hotel serves Starbucks coffee and wonderful cookies and pastries. It  opened in early November, 2015 and is located in the gift shop off the lobby. They do have some outdoor tables. I was there several times on my recent trip! The staff is really delightful.
Just down the street is is A.15 or Animas Quince at Nemesio Diez 2. It is fun spot for a pastry and coffee.
Chocolates Johfrei: Now at Jesus 2A, this is a chocolate store that has been in San Miguel for over ten years and in Mexico City since 1920. They offer handmade chocolates, tasty ice cream and great coffee.
San Augustine: At San Francisco #21, a block east of the Jardin, this is the best place for hot chocolate and churros for an afternoon snack! The Mexican hot chocolate with a touch of cinnamon is perfect! Just be aware that the lines on weekends can be long, so go mid-week.
El Petit Four: This is a European-style baked goods, sandwiches and coffee that is well-worth a visit. The chef/owner, Paco Cardenas, teaches great cooking classes in town. They have recently moved to Jesus #2-B. It was the former location of Luna de Queso and is much better than the old location on Mesones. I loved the scone, crossants and cookies that I bought along with a latte. They also sell excellent chocolates.
I have always enjoyed El Cafe de la Mancha located at Recreo 21A.  I often stopped in for coffee on my way to my daily Spanish class.  It is a small cafe which  recently started serving food items for breakfast and lunch. I highly recommend it. I just saw that they moved to a new spot at Julian Carrillo 5B in Col. Guadalupe. I was just at their new location and enjoyed it.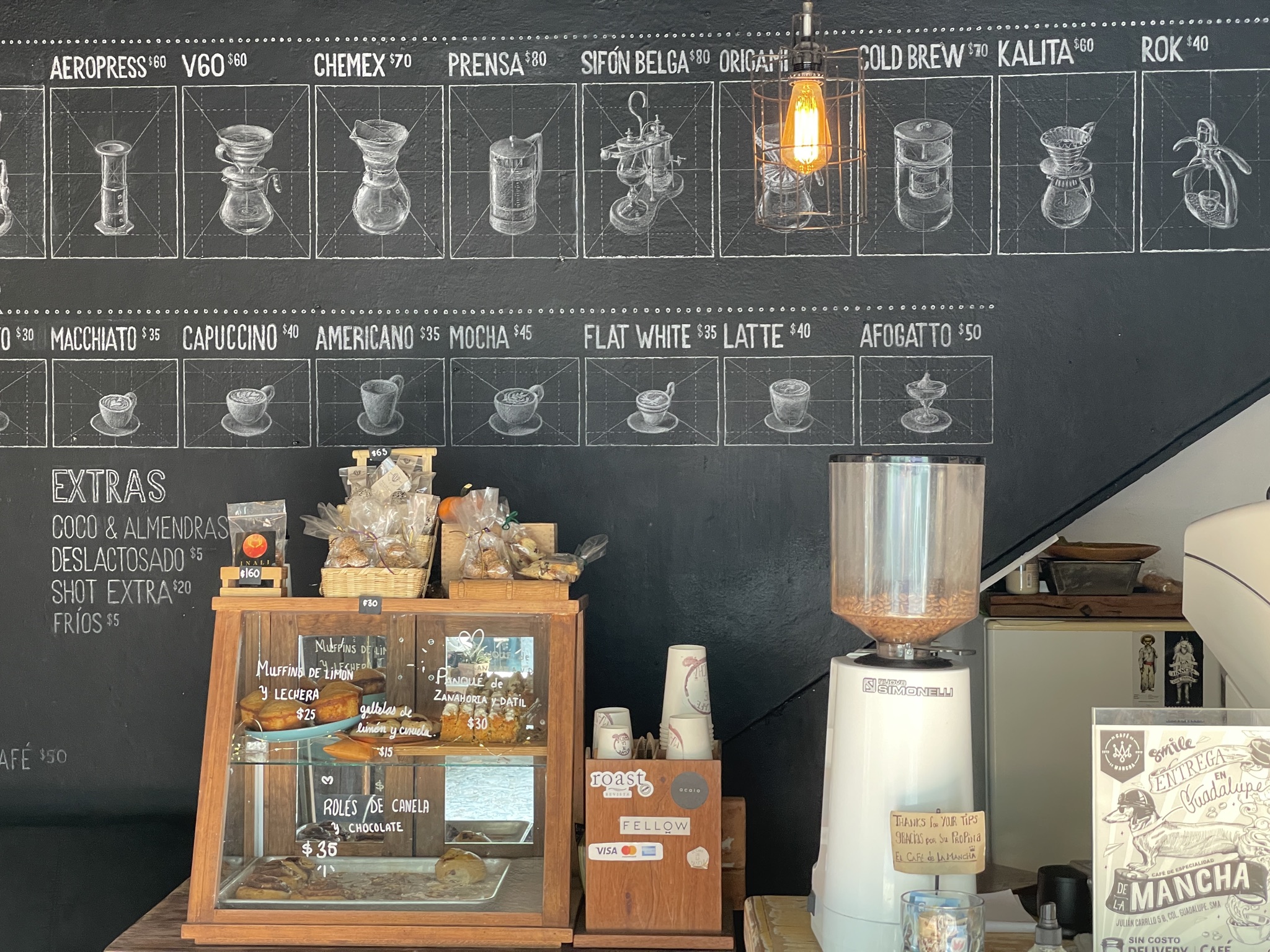 I read about and recently tried Ki'bok Coffee at Sollano 25. A block off of the Jardin, this is a fun spot for coffee that has a lovely rooftop patio with great views. This cafe is the second one after their original in Tulum.
I recently discovered the charming Casa de Cafe at Hospicio 31 at the corner of Recreo for a morning coffee break.
I have now been several times to the coffee shop, Geek & Coffee, at Fabrica La Aurora. It is located to the right of the entrance just outside the main complex. It has a great indoor space as well as lovely, colorful outdoor terrace and garden. In addition to coffee drinks, they serve breakfast and lunch items. It is a great spot to go when the town is crowded during festivals and holidays.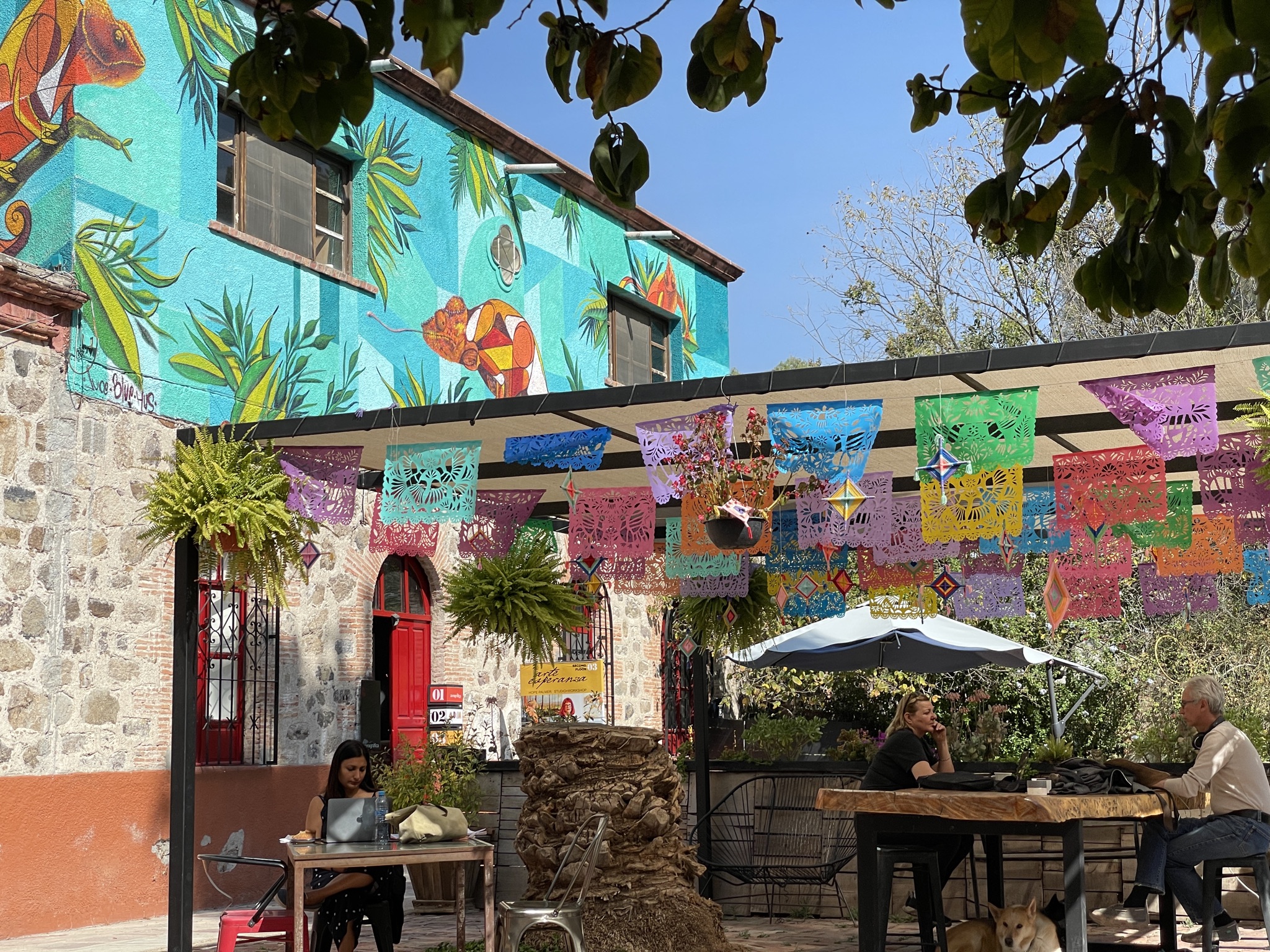 Thanks to a local friend, Café Buen Dia. Formerly at Callejon del Pueblito #3A it has recently moved to a larger space at Hidalgo #42. They have excellent coffee. You can also have breakfast and lunch.  I recently went to the new location and enjoyed a great brunch and coffee with a local friend on their large patio.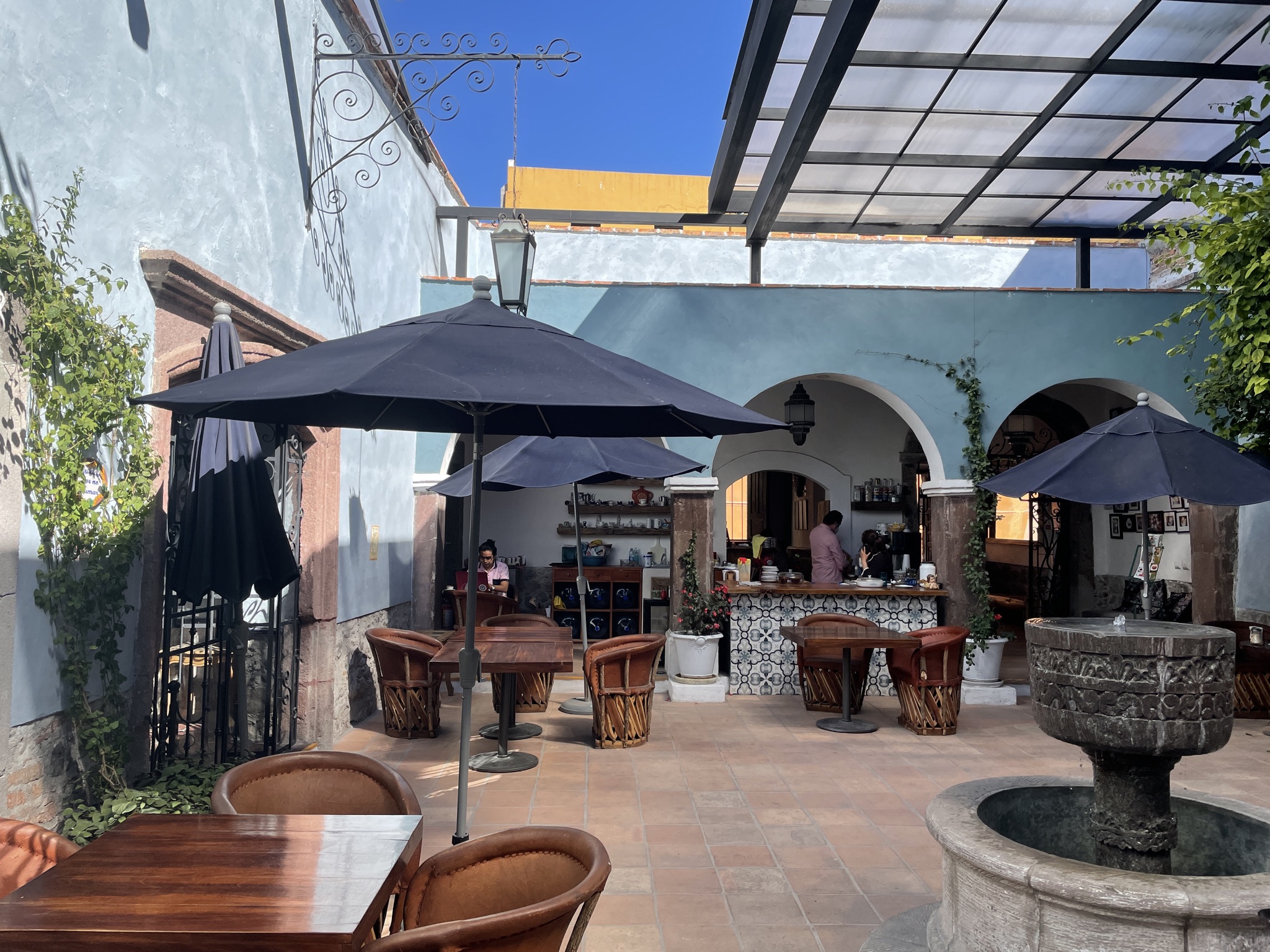 Lavanda Cafe: Located at Hernandez Macias 87 at the corner of Umaran, this is great spot for breakfast and lunch with a large number of egg dishes from omelets, eggs benedict and huevos rancheros. I also love the lavender latte! I have to go every time I am back in town. I now recommend going during the week as the waits to get in on weekends can be very long.  There is also a new takeout window in front. They recently opened a second location north of the Jardin at Loreto 48 A, which is right next to the Mercado de Artesanías. It is a small location featuring coffee drinks and baked goods.
Two new spots near the Jardin include Café Umarán at Umarán 8. It is a stylish café serving coffee, pastries, toasts, sandwiches and other food items. I enjoyed my first visit!! Nearby is MeXana – Coffee & Concept Store. Located at San Francisco #1, this is coffee shop located within cooperative store featuring food items apparel, clothing, arts and crafts. It overlooks the Jardin from its second floor location. You can grab a coffee, a pastry from Buonforno bakery and stay there or walk down to the square and enjoy people watching.
For wonderful tres leches cake, head off of Hernandez Macias a block to Pastelerie La Casita Feliz at Guadiana #15.
Formerly located in Mi Vida, Buonforno is now located in Colonia San Antonio. It is an excellent bakery for bread, pastries, cookies and pies. They also feature coffee drink.  It is well worth visit. Stirling Dickinson 33.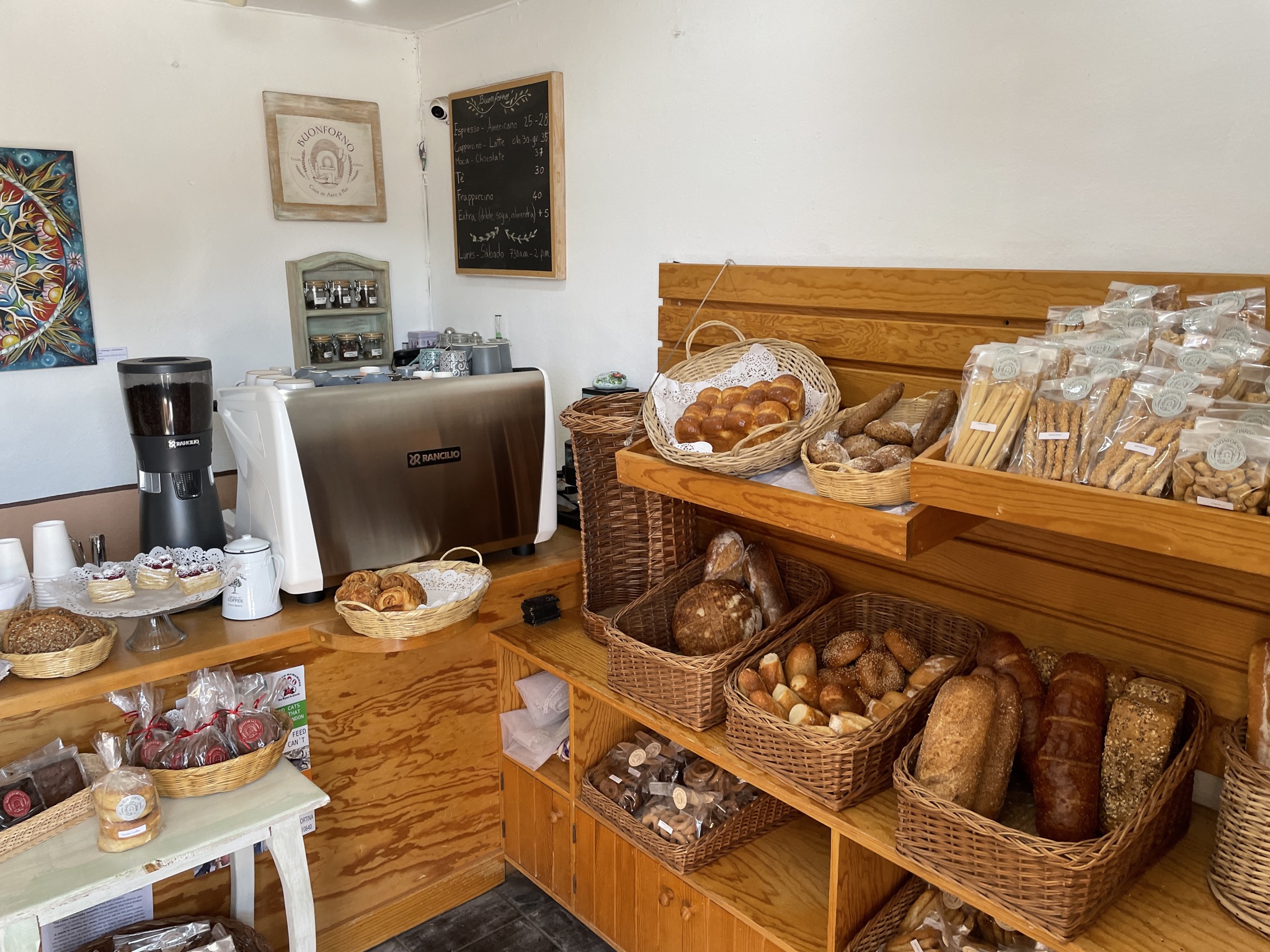 Don't miss the new Doce 18 Concept House at Relox 18. Here you will find a location of Cumpanio Bakery called Panio serving coffee and pastries and  Le Macaron Boutique. The macarons are wonderful and I keep stopping in for more!
Dulce Fresa: This is a local artisan candy store at Umaran 24-A. I recently found it on a San Miguel food tour. They have excellent cajeta, caramelized goats milk, candies and rompope, a Mexican eggnog drink.
For a fun Mexican experience, stop in at La Micoacana for  one of their yummy paletas. These popsicles come in many flavors. I love the coconut!! Mesones 44.
I love Mercado Sano for their food items offered by a number of small vendors and for their Saturday organic market. I try to go every weekend when I am in town.  One of my g0-to spots for coffee is the small  stand inside the entrance, Il Gallo Verde or The Green Rooster, operated by a lovely man named Tito. Make sure to stop by. There are a number of table in front where you can meet friends.  Ancha de San Antonio #23.
There has been a large growth in new casual restaurants on Sterling Dickinson west of Ancha de San Antonio. I found another new spot, a coffee shop, Cafe Catedral at the far west end on the corner of 28 de Abril Sur. I enjoyed my first visit. There is also a location at Mercado Sano, where I just went for the first time and had a great latte!
Down the street is another new cafe, Moshos Café where they serve coffee drinks, breakfast, salads and sandwiches. Near Sterling Dickinson #5.
Opened in 2021, is Panina at Sterling Dickinson #3. This is a new bakery and cafe where they are known for their bagels according to my local friends. I want to go on a Sunday where they have the smoked salmon bagel sandwich.
Also in San Antonio is El Café Tal at Orizaba #36.  I have gone several times in the past. But until my recent visit, I didn't realize that they had a lovely outside patio in the rear. They serve food in addition to coffee and pastries.
Kafé W, at Salida de Celaya 16, is a casual coffee shop and cafe that is known for its murals. It is also a fun spot for coffee, tea, breakfast and lunch. I just went to lunch and enjoyed a very good omelette, salad and a latte. The staff is very friendly!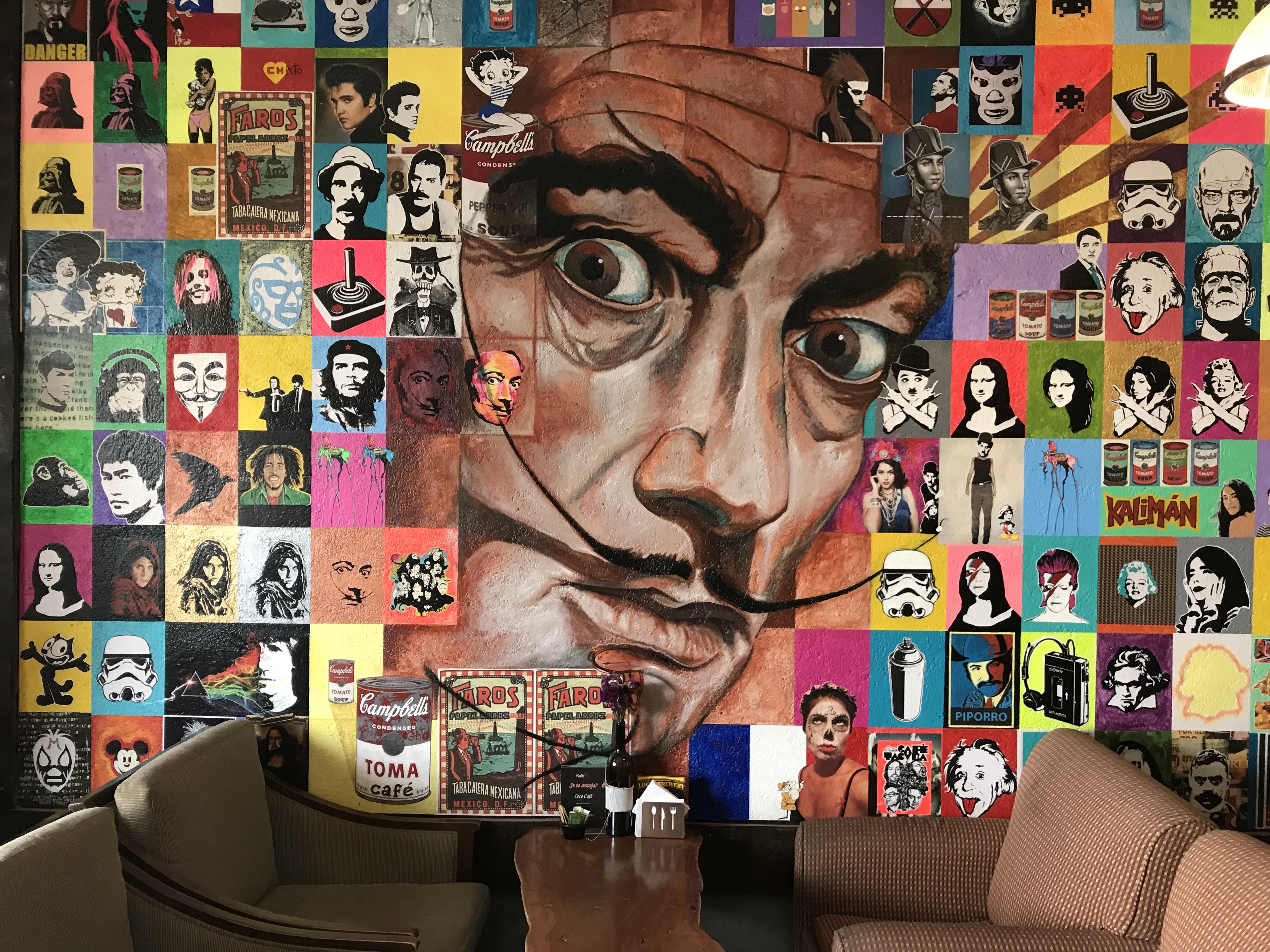 The have a second location, Kafé Wow, downtown at Mesones 57. It is a fun spot for coffee, breakfast and lunch if you are in the area.
I am a big fan of Panaderia El Maple, a Canadian bakery, located at Salida a Celaya #53. I always buy their multigrain bread  every time I am back in town.
Another new find is Arcadia Café.  Located at the corner of San Francisco and Nuñez, this is a colorful cafe featuring coffee, frappés plus sweet and savory crêpes.
Recently, I was searching out some of the new murals in Col. Guadalupe. It is one of my favorite neighborhoods in San Miguel to simply walk and explore. While you look at the street art, make sure to stop in for coffee La Tertulia Cafe & Garden at Cri-cri 11 or Cafe De La Esquina at Tatanacho #1.