I always enjoy going up to Taos from Santa Fe for the day. This is a northern New Mexican town in the high desert near the Sangre de Cristo Mountains and approximately 70 miles from Santa Fe. It is known for it historic adobe buildings along with of excellent restaurants, historic sites and fun shops to explore. As a longtime artist colony, there are many galleries and art museums to explore as well. My top recommendations as where to eat, what to do and where to stay in town include:
What to Do in Taos
In addition to the historic Taos Pueblo, which is the oldest continuously inhabited community in the nation — built roughly 1,000 years ago, make sure to visit:
San Francisco de Asis Mission Church: This church in Ranchos de Taos, about 4 miles south of Taos, was started between 1772 and 1816. It is one of the most frequently painted and visited churches. The most famous view made famous by the paintings of Georgia O'Keeffe and the photographs of Ansel Adams and Paul Strand is that from the west with its massive, windowless adobe walls.
On the way into town on US Highway 64 make sure to stop and see the vistas of the beautiful Rio Grande Gorge
Harwood Museum of Art, 238 Ledoux St.: This is a great, small museum in Taos near the Plaza with a mission to collect, preserve, exhibit and interpret the arts, especially those created in, inspired by, or relevant to northern New Mexico. I was impressed with the Southwestern Modernism show of paintings by New Mexico artist Cady Wells that was on exhibit when I was there.
Millicent Rogers Museum, 1504 Millicent Rogers Rd.:  On my recent trip I was excited to visit this museum northwest of downtown. Friends had recommend it as a small museum with a focus on Native American art and jewelry and Hispanic arts.  The collection is quite extensive. Millicent Rogers (1902-1953) grew up in New York within privilege and wealth and she was often referred to in the press as the "Standard Oil Heiress", since it was her grandfather, H.H. Rogers, who was the co-founder with John D. Rockefeller of the Standard Oil Trust. She amassed a substantial collection that is well-worth the visit to see.
Taos Art Museum at Fechin House: Make sure to visit and see their permanent collection as well as temporary exhibitions in an historic adobe home built by painter Nicolai Fechin. "The museum's primary aims are to improve awareness of the works and patronage of Taos artists and to nurture local artistic development." 227 Paseo de Pueblo Norte.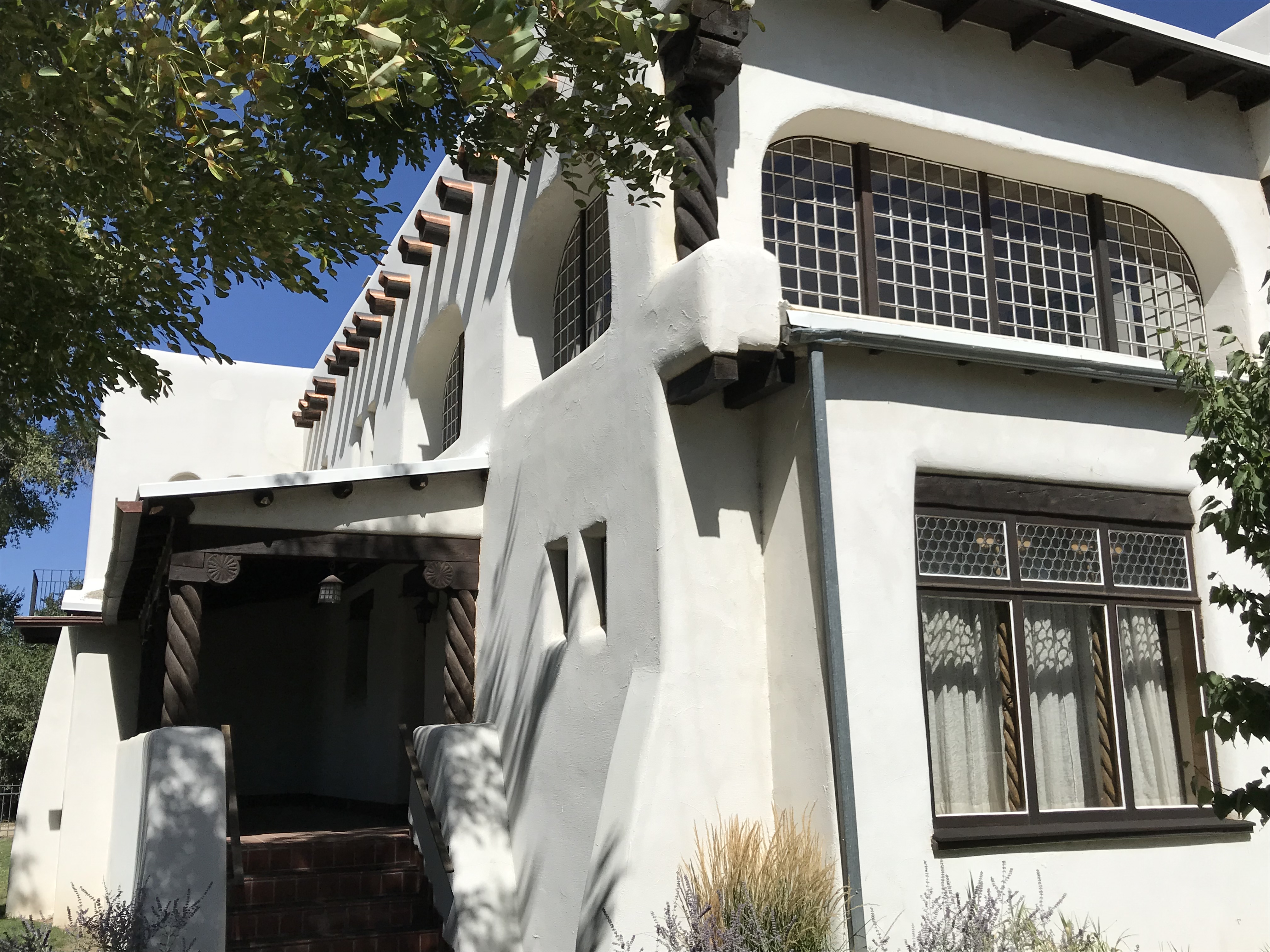 The Taos Plaza, the historic center of town, has some great galleries, restaurants and shops. Make sure to stroll and enjoy the sites.
The John Dunn House Shops line an attractive pedestrian walkway linking Bent Street and the historic Taos Plaza. Here you will find 20 galleries, shops, cafes and restaurants. Cici's Bean is a fun coffee shop to visit. I always enjoy walking through when I am there. 

At the north end of the John Dunn House Shops is Bent St. Here you will find a number of the better galleries and shops. My favorite spots include:
MoMo Taos: This is an attractive gallery featuring jewelry and accessories curated by Moriah Staton owner/designer. 133 Bent St.
Jones Walker of Taos: Max Jones and Tony Walker have created a lovely gallery and design store. They feature painting, ceramics, photography, sculptures, home accents and design services. 127 Bent St.
Earth and Spirit Gallery at 132 Bent St is a colorful gallery for art, jewelry and gifts.
Nearby is Chocolate + Cashmere, a fun boutique featuring cashmere, jewelry, accessories and clothing along with house made chocolates. 130 Bent St.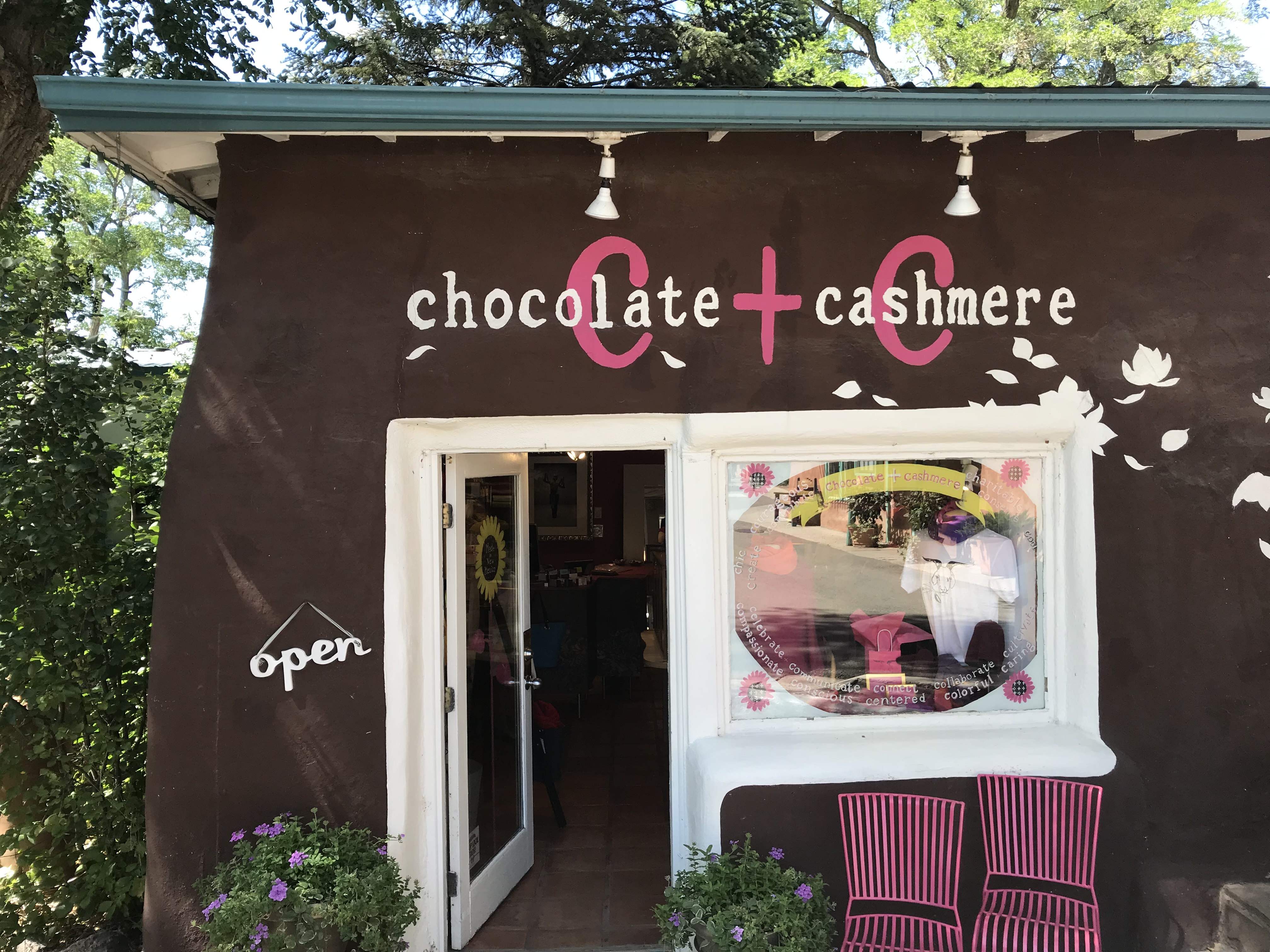 Robert L Parsons Fine Art: At 131 Bent St. this is a gallery featuring local artists as well as nineteenth century Navajo rugs and Pueblo pottery. 
 Where to Stay in Taos
Right on the historic Taos Plaza is the Hotel La Fonda de Taos which was built in the 1930's and is a great spot to stay in town. It has a coffee shops right off the lobby.
Other places to stay include The Taos Inn at with the onsite Doc Martin's Restaurant and the Adobe Bar. The restaurant gets great reviews for its New Mexican cuisine and comes highly recommended by close Chicago friends. It was in 1982 as a National Historic Landmark. 125 Paseo del Pueblo Norte.
Other recommended spots include the El Monte Sagrado Resort  and the Old Taos Guesthouse, an adobe B&B that was recommended by friends. The rooms look excellent. 
Where to Eat in Taos
Based on several recommendations I tried and really enjoyed Lambert's of Taos Restaurant & Bar at 123 Bent St. just north of the Plaza this is an excellent restaurant in historic house. They have a wonderful tree-shaded patio  I had the perfect lamb burger for lunch and a great beet salad. 
I recently read about a small restaurant, The Love Apple, which features local, organic home cooking at 803 Paseo del Norte Norte. I had hoped to try it, but it was not open for lunch.
So, the next best thing was to be able to visit their Manzanita Market at  103 N. Plaza. It is a health food minded, farm-to-table, market café with their  food is sourced from organic and biodynamic farmers and ranchers. They feature breakfast items along with soups, salads, sandwiches along with coffee, tea and  really great homemade ice cream. I really enjoyed the comfortable atmosphere.
The Alley Cantina is found down an alley just off the Taos Plaza. It is a fun local's bar and restaurant since 1997 with drinks, pub food,  games like pool and shuffleboard plus live music. 121 Teresina Ln.
Stop in at the downtown taproom of Taos Mesa Brewing for a taste of one of their beers along with wood-fired pizzas and artisan cuisine. The main brewery is located outside of town in El Prado, NM. 201 Paseo Del Pueblo Sur.
Chokola Bean to Bar: I was so glad that I found this fun spot for chocolate drinks, chocolates, chocolate bars,  pastries, gelato and ice cream. I loved the chocolates! 
Just north of the Plaza is Bearclaw Bakery & Cafe which locals love for coffee, breakfast and brunch at 228A Paseo Del Pueblo Norte.
Skiing in Taos
North of Taos Pueblo is the Taos Ski Valley. I have never skied there since I ski in Colorado, but if you are there in the winter months, you should definitely check it out. Santa Fe friends have a condo there and love it. However, I hear it is a somewhat of a difficult mountain. It is the largest ski resort in New Mexico with a 9,210-feet base elevation and is home to New Mexico's tallest mountain, Mount Wheeler. The town has a European village feel.
Located in the Ski Valley are a casual taproom for Taos Mesa Brewing and The Bavarian Lodge & Restaurant for German dishes and beer.
Classical Gas Museum
Just outside of town between Taos and Espanola is the Classical Gas Museum in Embudo, NM. This is  Free museum celebrating the gas station in America. Vintage gas pumps, oil cans, gas pump globes, gas station signs, and vintage photos. Several vintage neon signs on display Includes an eclectic collection of other artifacts and curiosities.