---
Over the past few years Snowmass Village has seen a transformation with over $600 million invested in new hotels, residences, restaurants, community areas and retail shops. It still is a quieter escape from Aspen, but there is much more to do and see.  Today more than ever, it offers some great dining options if you are staying in Base Village, near the Snowmass Mall or just there skiing for the day or taking advantage of one of its fun summer activities or events.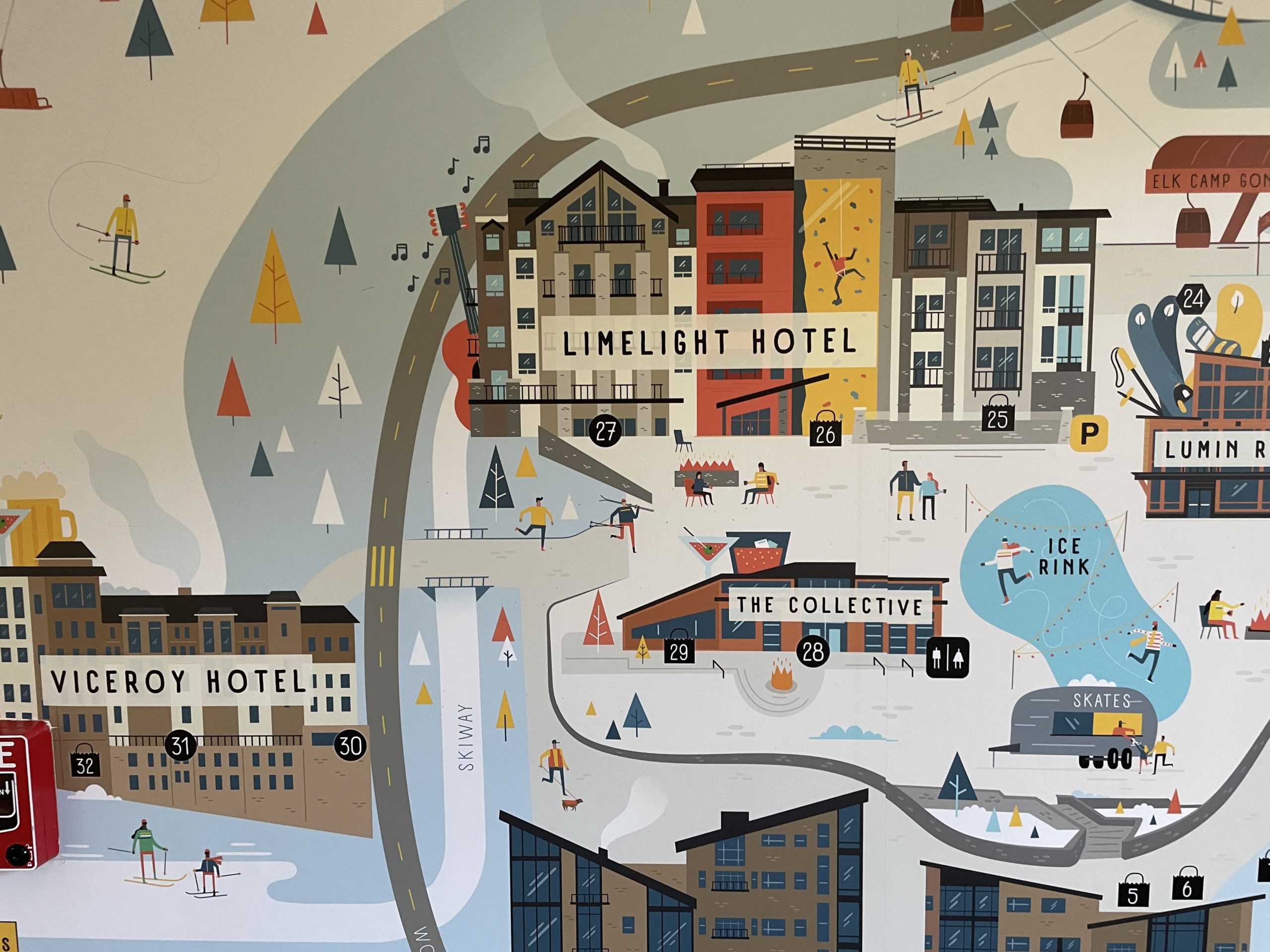 Here are my top recommendations:
Two new Snowmass spots I tried on a recent trip were TORO Kitchen & Lounge at the Viceroy Snowmass and State 38. TORO, replaced Eight K, is a sleek restaurant that features contemporary Latin American cuisine. I enjoyed my meal with a local friend. The Viceroy also has a sleek new coffee bar, Café V off of the lobby. They also recently opened the Nest Bar & Grill, a slope-side, al fresco bar open for Après Ski for food and drinks.
Sage at The Snowmass Club is now Three Peaks. It is located at 0239 Snowmass Club Circle. After the recent takeover, the restaurant has improved considerably with good food and service in a comfortable, warm setting.  It was recently renamed. They also host music in the bar next to the dining room. The outdoor seating in the summer has spectacular views.  For dining the club, their Black Saddle Bar & Grille at the golf clubhouse is also very good and open to the public. It features live music and specials different nights of the week.  Check to make sure when the two restaurants are open to outside guests.
Krabloonik: At 4250 Divide Road, Krabloonik has been there for over 40 years. The cozy log cabin, is a perfect spot for lunch. You can take a guided dog sled ride or just visit the dogs after you eat. I prefer lunch over dinner as you can see the views and the atmosphere in the restaurant is the best. But the dinners by candlelight can be very romantic.  It is now under new ownership with a great amount of attention paid to health of the sled dogs.  Also with a new chef, the gamecentric menu includes the popular wild mushroom soup, the elk tenderloin, pan-roasted rabbit loin, duck and pheasant, smoked rainbow trout filet and the cedar-plank-roasted salmon.  You can order  a la carte or pair the lunch or dinner with an hourlong dog sled ride.
Venga Venga: This Mexican Cantina and Tequila Bar, is a great spot for lunch while skiing. The taco combination was really excellent. Taco Tuesday in the summer is a fun evening with great tacos and live music on the patio. I went back and loved the grilled mahi mahi tacos for dinner.
In the Snowmass Mall, below Venga Venga, is the Snowmass Lanes & Lounge. It is a fun, trendy hangout featuring locally brewed beers, burgers and wood-fired oven pizzas.
Across from Venga, Venga, make sure to visit the New Belgium Ranger Station featuring New Belgium brews and casual food.  100 Elbert Lane, Retail Unit M-115.
The Edge at the Timberline Hotel was a recent find. It features Alpine cuisine from Germany, Switzerland and France. So you get a menu featuring fondue, schnitzels, fish and meat entrees. I really loved the venison dish with a lingenberry sauce, red cabbage and spatzle. They also offer live music on certain nights throughout the year.
Il Poggio  is a great spot casual Italian dining. They have a great menu of salads, pastas and main courses. I loved the roasted beet salad, the spinach salad with pears and the ravioli with a sweet potato and goat cheese filling tossed in brown butter and sage.  Many of my local friends love it as well. 57 Elbert Ln. 
Near Il Poggio is  Slow Groovin' Chophouse at 67 Elbert Lane. I have been to their original barbecue location in Marble, CO. It opened in Snowmass as their winter destination. Recently it has changed from a more casual barbecue spot to more of a steakhouse, though you can still get some items off the original menu.  To top it off  make sure to try the smokey Old Fashioned which was the perfect cocktail!
Snowmass has recently opened it expanded Base Village. This includes new Limelight Hotel and several other dining spots. The Limelight Hotel Snowmass opened in December, 2018. It has a five-story climbing wall 90 rooms and a 7,500 lobby and lounge area. There is live music during peak season. Here you will find the Limelight Lounge a casual bar and dining area serving breakfast and dinner. They feature wood-fired pizzas and other great menu items from small to large plates. I loved the kale salad and mussels in a white wine broth.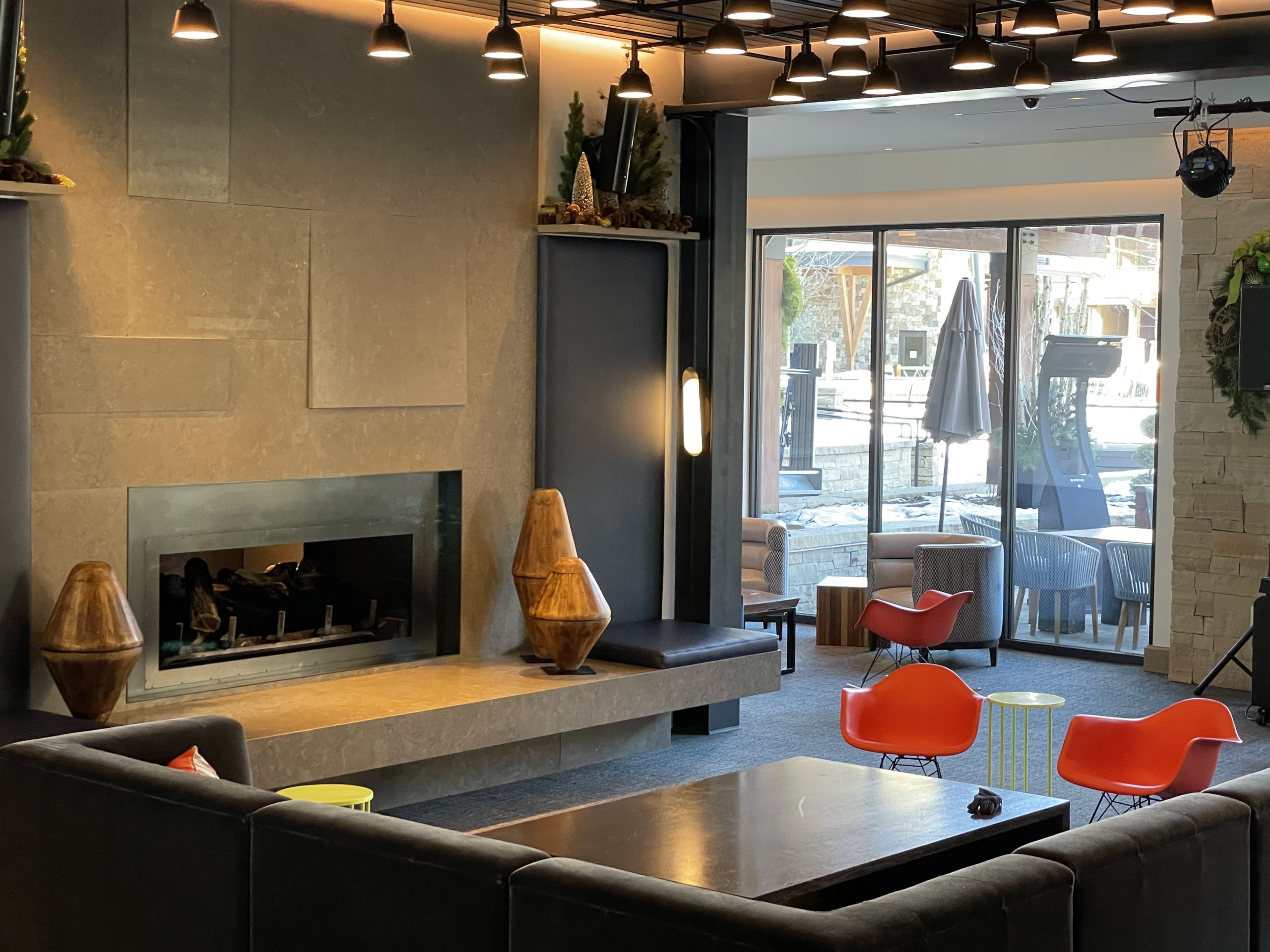 Also in the expanded base village is The Crêpe Shack by Mawa McQueen. I love her Aspen restaurant, Mawa's Kitchen.  This is her first foray into Snowmass with coffee, pastries and crepes. They are in the process of opening two other locations in downtown Aspen and in Denver.
Recently opened nearby in The Collective Snowmass is mix6. One of my favorite places for many years in Aspen is the Pyramid Bistro at the Explore Booksellers. Its chef,  Martin Oswald, known for his nutritarian  menu  there has opened his new restaurant in the expanded Base Village in Snowmass. It features fresh, healthy and fast food where you choose your own meal from a variety of vegetables, bases and proteins. I went for lunch and thought it was really excellent with all of its healthy options! You can also have a cocktail at moxiBar next to the restaurant.
Two other recent additions to Base Village include Sundae Ice Cream at 60 Carriage Way Unit 3120-B for small batch, artisan ice cream.  They have an excellent selection of flavors to choose from.  You can choose cakes, sundaes,  waffle cones, shakes and ice cream sandwiches. They will soon be opening in Basalt as well.  I took my ice cream and headed nearby to Jüs Snowmass where you can enjoy coffee drinks, juices, smoothies along with breakfast and lunch items. I had a matcha latte and enjoyed the view of the valley which is really spectacular. 45 Wood Rd.
Good for coffee in the Snowmass Mall is Fuel Cafe. They also feature breakfast items like bagels plus sandwiches, salads, burritos, wraps and smoothies.
My latest find is Little Mammoth Steak House located in the Snowmass Mall in the 315 Gateway Bldg.  It has a warm, cozy atmosphere and has a large cocktail, wine and food menu. They feature a large number of steak choices but also has chicken, pork, lamb and fish entrees. I enjoyed my experience with a local friend. It was perfect on a snowy January evening!
Owned by the same group as Basecamp Bar & Grill is Slice of Italy. This is a fun, casual Italian restaurant featuring classic Italian entrees and pizzas. They have a large menu of food, wine and cocktails. I enjoyed my first dinner where I had the basil pesto pasta dish and a very tasty tiramisu.
I had not tried Basecamp Bar & Grill until my 2020 trip. It is a casual gastropub in the center of Base Village.  "The restaurant spans two floors, with three fully stocked bars, an expansive downstairs patio complete with a 24ft fire pit, and a second story terrace that boasts the best views of Snowmass Mountain."  I went with a friend and enjoyed the service and food. Though the grilled cheese sandwich with tomato soup was tempting, I chose the Reuben with sweet potato fries. It was one of the best that I have had anywhere!
I have been attending classes at Anderson Ranch Arts Center in Snowmass for 20 years. I have always enjoyed the Anderson Ranch Café for my daily lunch and an occasional dinner.   You can always walk through the campus, attend an evening lecture,or one of the weekly auctionettes in the summer, visit their gallery and store and see what the students are working on in the various studios before or after a a meal. 5263 Owl Creek Rd.
Just in time for the 2021/22 ski season,  several new spots have recently opened. These include Keniche Snowmass for sushi, and Aurum a classic take on seasonal New American cuisine combined with desserts and a wide selection of craft beer, signature cocktails, wines, and spirits. Last Chair is a new casual spot at the Wildwood Snowmass which is near the recently opened Stark's Alpine Grill at the new Viewline Resort Snowmass. The hotel also has a lobby bar and a new coffee bar, First Chair, which took over a former Starbucks.
I just went to Aurum for the first time, and had a lovely lunch on the outside patio on a gorgeous sunny January day.  I enjoyed the mussels!  The service was excellent and I thought the interior design of the inside space was very beautifully done. Make sure you try it when you are in town.
When back in town in August, 2022, I made a point to go to Kenichi with friends. I enjoyed the outside terrace on a beautiful evening.  The menu is quite extensive and also features daily specials. The best value is the selection of classic and speciality rolls.
I also enjoyed my latte and a chocolate croissant at the First Chair cafe on the mall level below the Viewline Resort Snowmass. In addition to their house-baked pastries, they serve  sandwiches, soups, and salads.
I now have to try the others.