Tucson has a rapidly growing number of local distilleries and microbreweries that you can visit.  I make a point to check out several new ones on my annual trip to the area. Make sure to try:
Thunder Canyon Brewery & Distillery: This local microbrewery and distillery  has a tasting room that features their products at 220 E. Broadway. They feature ales, stouts and porters. They are no longer serving food.
Hamilton Distillers/Whiskey del Bac: This is a small local distillery, located at 2106 Forbes Blvd. #103, in an industrial area just west of I-10 off of Grant. They produce an excellent single malt aged whiskey called the Classic, a single malt mesquite smoked aged whiskey and a clear, mesquite smoked unaged whiskey similar to  mezcal. My favorite was the aged single malt. You can sign up in advance online for a tour and tasting.
Nearby is the Dragoon Brewing Company at 1859 W Grant Rd #111. Here you can visit their tasting room and try one of their year-round beers, specialty beers and seasonal beers. I enjoyed the Pony Express Pale Ale. I had to try it since I am from St. Joseph, MO, the start of the Pony Express. They feature food trucks on Thursday, Friday and Saturday.
HighWire Lounge: This is a small laid-back downtown bar serving original cocktails. 14 S. Arizona Ave.
Iron John's Brewing Company:  At 222 E. Congress downtown, this is a taproom and bottle shop featuring ten beers, four wines, cider, kombucha and cold brew on tap. Their brewery and tap room is located at 245 S. Plumer Ave. Ste. #27. They make a number of ales, stouts, porters, IPAs, saisons and wheat beer. They also have locations at 555 E 18th Street and 5350 E Broadway Blvd #128 at the Monkey Burger location.
Next to Batch Cafe & Bar downtown is the recently opened Ten 55 Brewing and Sausage House. Here you will find craft beer and homemade sausages. They have some creative beer from IPAs, stouts, lagers and ales. They have a Dark Chocolate Rye and a XOXO Coffee Stout. They also feature ciders and wine.
Barrio Brewing Co.: Southeast of downtown is Barrio Brewing Co., a rustic-chic brewpub with well-known happy-hour specials, shuffleboard and up to twelve house beers on tap. Their taproom features a number of soups, salads and burgers as well. Here you can taste one of their ales, stouts, IPAs and blondes. The brewpub is a fun place to spend an afternoon. 800 E, 16th St.
Borderlands Brewing Company: At 199 E. Toole Ave., their rustic downtown taproom is a great place to visit when in town. They are moving their brewery operations to another location and expanding the taproom. They currently make some very creative brews from ales, porters to IPAs, lagers and and sours. I enjoyed a tasting with a local friend. I really liked the Noche Dulce porter with notes of coffee and chocolate and the Winter Warmer lager with caramel malts, cinnamon, and nutmeg spices. The Prickly Pear Wheat was also excellent. It was a lighter beer, low in hops with local organic prickly pear cactus juice added for color and flavor. Make sure to stop outside in the back and view the colorful mural by local artist Joe Pagac.
Gentle Ben's Brewing Co.:  Located near the University at 865 E University, this is a local brewery and brewpub featuring their own beer and a casual menu of brunch, lunch and dinner items. They make a number of porters, stouts, ales and  IPAs in a different location. Their Barrio Blonde beer was quite good as was my great pulled pork sandwich. 
Pueblo Vida Brewing Co.:  At 115 E Broadway, this is a local brewery and taproom located in downtown Tucson. They make a number of IPAs, sours, wheat beers, lagers, sours and DIPAs or Double India Pale Ales.  I really enjoyed their new Claro Vida Lime Lager that was recommended by the staff.
Crooked Tooth Brewing Co.:  Located at 228 E 6th St., this is a local brewery featuring their lagers, stouts, IPAs, ales, porters and sours.  They have a casual, fun taproom.
I read about Bawker Bawker Cider House at 400 N. 4th Ave. and was glad to have visited their taproom which serves 20 of their craft ciders. The staff was very friendly and helpful and was glad to have tried their hibiscus, lemon slushie and white peach flavors! 
Dillinger Brewing Company opened a new taproom at 402 E. Ninth St. in May, 2021.  Located in the historic Coronet Cafe  in the Coronado Hotel building that originally was built as a bakery called the Royal Bakery in the early part of the 1900s. They feature their stouts, blondes, ales and IPAs long with coffee and wine. They have a second location at 3895 N Oracle Rd.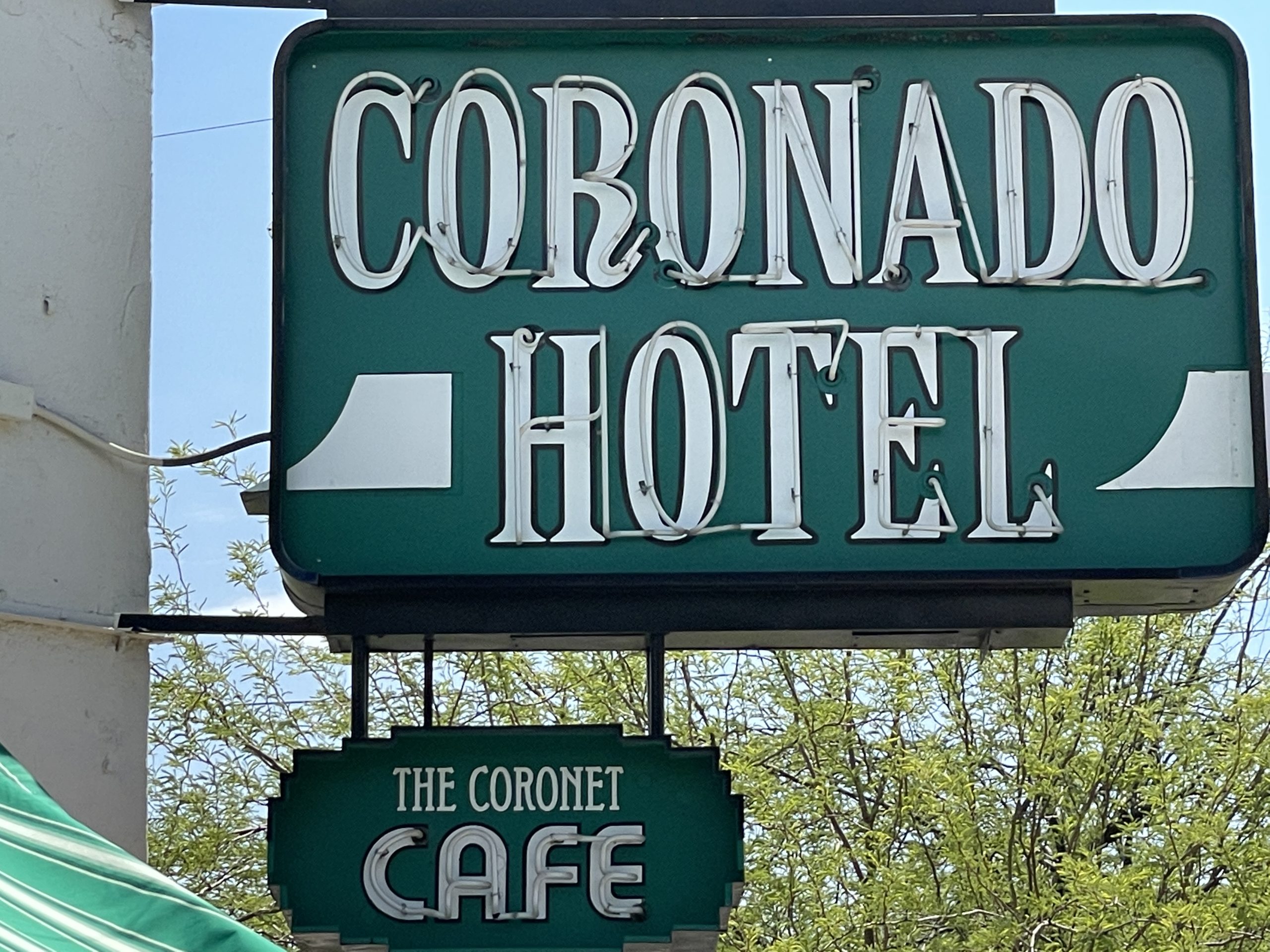 Next year I want to try the Owls Club at 236 S. Scott. It is a bar/cocktail lounge in a former funeral home. The original pews are used as seating throughout. I hear it is great fun according to local friends. Also located in a former funeral home is Reilly Craft Pizza & Drink. They have a downstairs bar known as the Tough Luck Club! 101 E. Pennington St.