There are some great options for Down Valley Dining in Basalt, El Jebel and Carbondale. I prefer driving down from Snowmass in the Summer or Fall when the weather is better. My top recommendations include:
Basalt
When in Basalt make sure to visit:
Tempranillo: At 165 Midland Ave in downtown Basalt, the restaurant features excellent Spanish tapas. I love the outdoor porch dining.
Across the street is Heather's Savory Pies and Tapas Bar. It is known for its savory pot pies and dessert pies The coconut cream is very good. Open for brunch, lunch and dinner, it is at 166 Midland Ave. It has great outdoor seating as well. I enjoyed a very good  Sunday brunch on the patio which featured live music. I recently went back again and enjoyed a great lunch.
Other Basalt recommendations include the Brick Pony Pub, a causal bar and grill at 202 Midland Ave and Café Bernard, which has been a local's favorite since 1990 at 200 Midland Ave. I have been for lunch and dinner, but it has excellent breakfasts according to local friends. I was just back for dinner with friends and loved the warm atmosphere, good wines and very good food.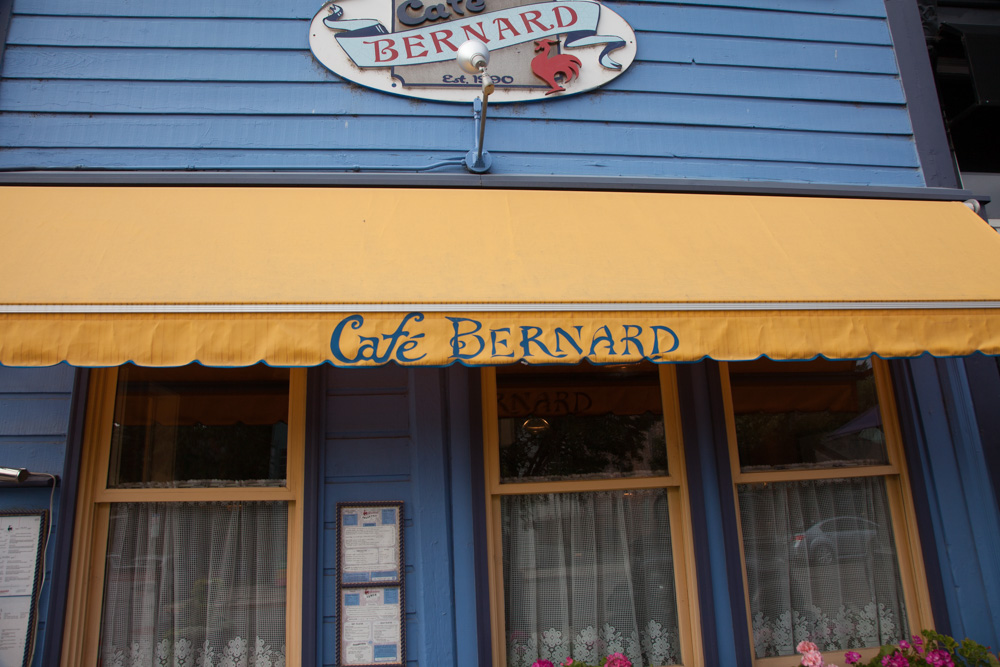 104 Midland Spur is now home to C.C.'s Cafe. Cecilia or C.C. is delightful, as are her son and daughter who both work there. It is a great spot with both indoor seating and a great outdoor patio. They also serve breakfast and lunch items. I was just back again, and loved being on the outdoor patio.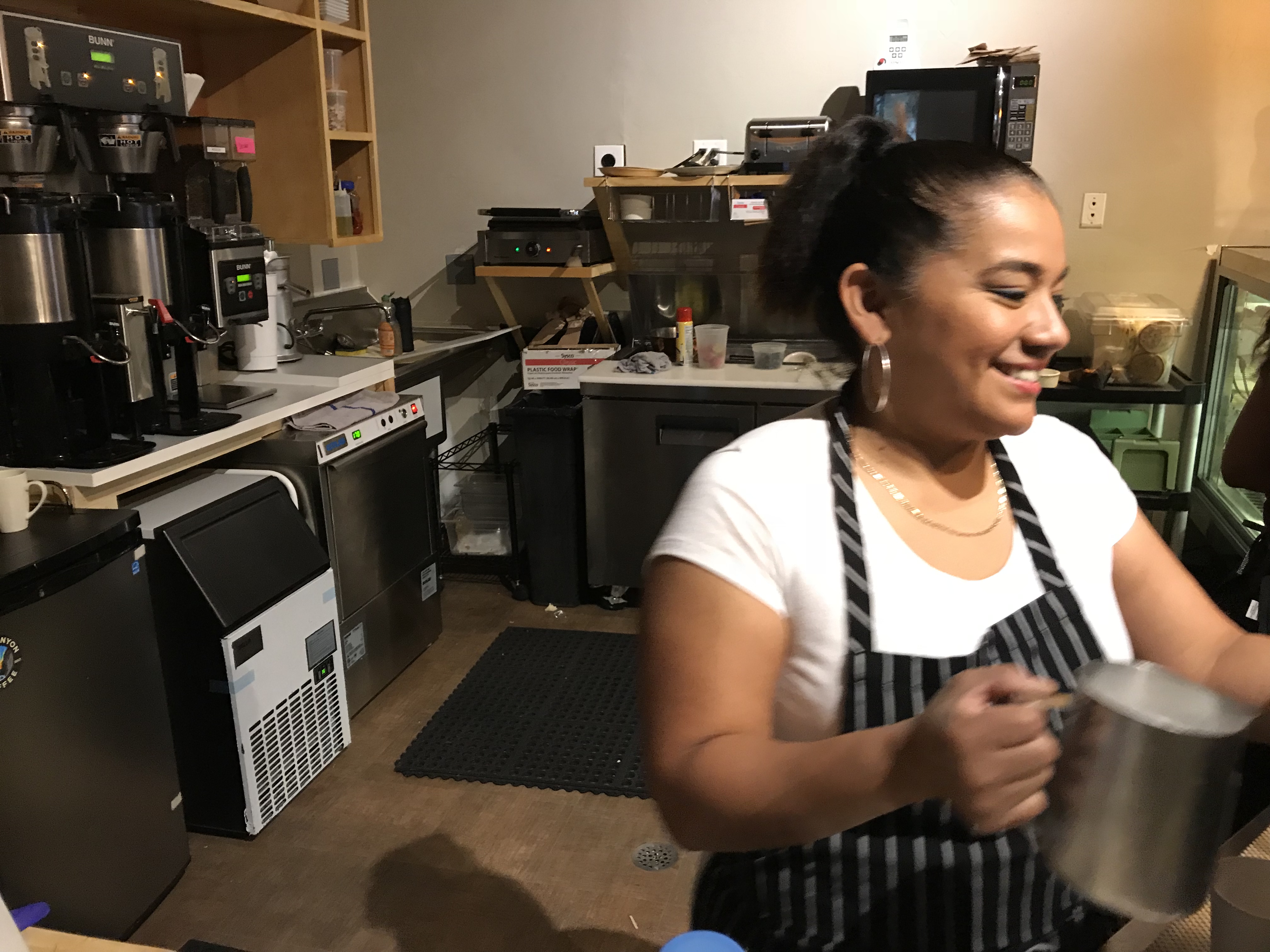 Another fun spot for coffee is Craft Coffee House, which  has recently moved to a larger store at 160 Midland Ave.  They feature coffee, tea, pastries and more along with local crafts.. Make sure to visit while you are in town. I was back again and really like the vibe of their new cafe.
My favorite new find in Basalt is the Tipsy Trout located along the Fryingpan River at 181 Basalt Center Circle. I went for lunch and got there early so I could get a seat on the rustic outside deck overlooking the river The sound of the water was magical and so relaxing! I really enjoyed their elk burger with goat cheese, lettuce and a bourbon, blueberry sauce. It had the perfect blend of sweetness and savoriness.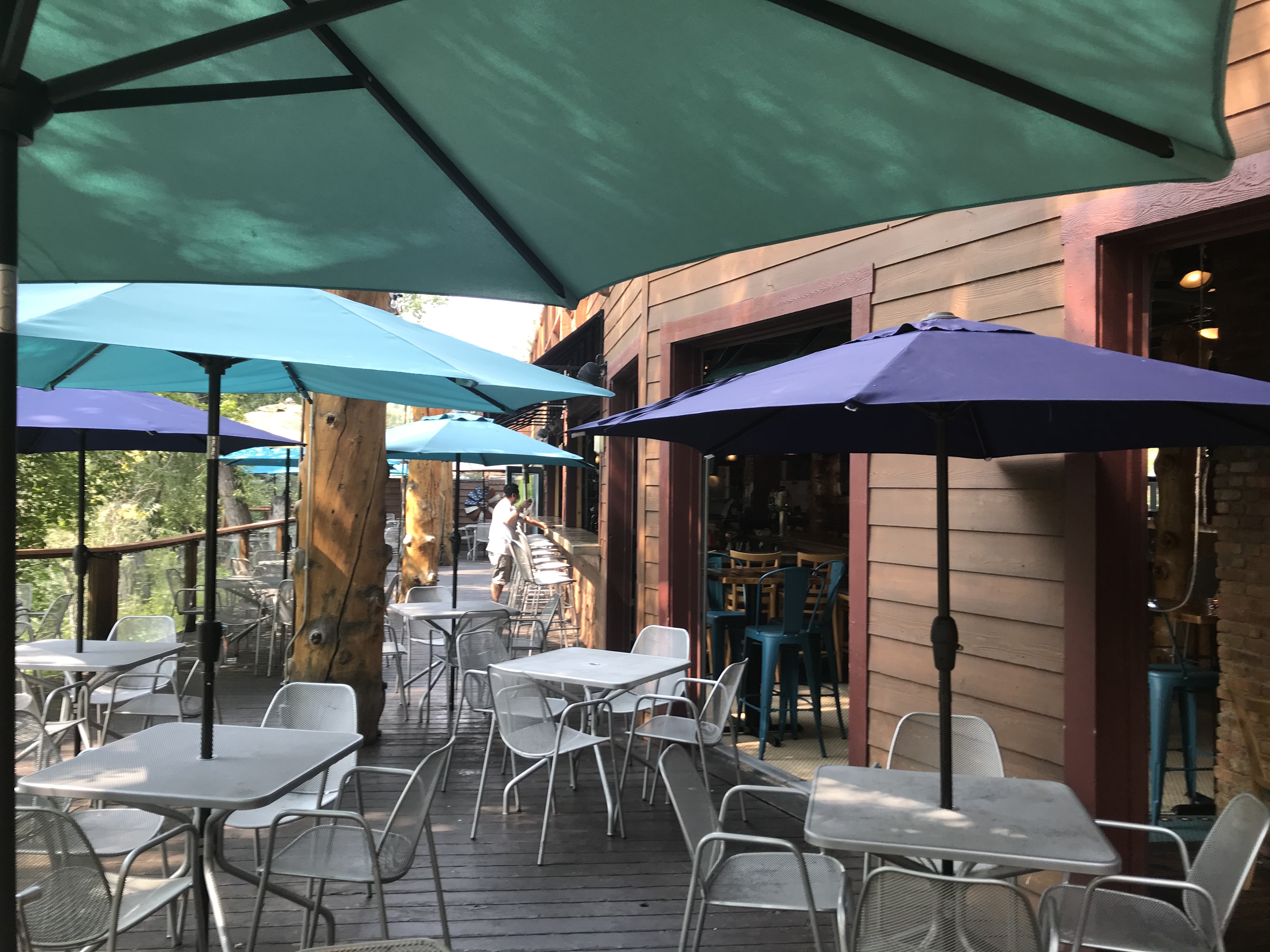 A local friend, who is  a food writer, highly recommended Free Range Kitchen in downtown Basalt. I booked a reservation and went with local friends and had a fun experience. The outside patio was perfect on a beautiful August night. They have an extensive menu and wine list. They recently moved to a new location a block away, with an even larger outdoor space, at 22864 Two Rivers Rd.
Other places on my list to try for future trips include Mod's Thai House at 132 Midland Ave. for authentic Thai cuisine and the seasonal Butch's Lobster Shack 122 Basalt Center Circle.  With outside seating only, their menu includes lobster rolls and other lobster dishes, plus others with shrimp, crab, fish, scallops, oysters and clams.
I also like the look of Two River Bar & Cafe at 156 Midland Ave. with it diner atmosphere. I will make to sure go for breakfast/brunch next summer.
Carbondale
My favorite restaurants in Carbondale include:
Probably the best new place in town is Tiny Pine Bistro at 968 Main St. with its creative, seasonal menu featuring local ingredients. In addition they have a large wine and cocktail menu. They have inside as well as outdoor porch seating. Not to be missed is their backyard bar, which a great spot for a happy hour drink. The staff was delightful. The space is classic and charming.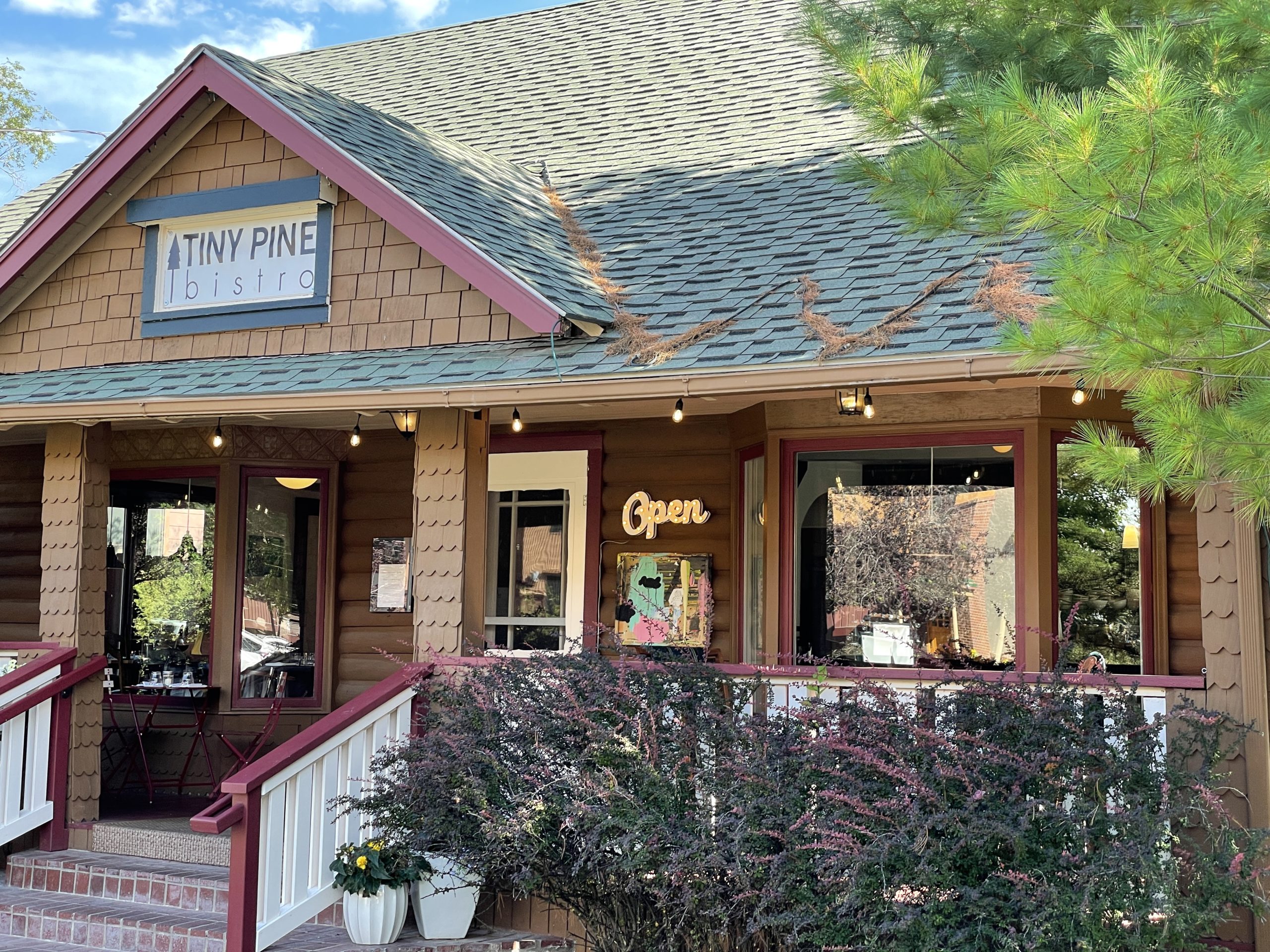 Silo, a casual farm-to-table cafe in town opened in 2014 by Chef Lacy Hughes. They feature breakfast items, sandwiches, flatbreads, salads and soups along with a coffee menu. I thought it was a fun local's spot with great coffee. I want to go back again for lunch. It is west of downtown in an industrial area at 1909 Dolores Way.
At 343 Main is Phat Thai, a local's favorite for cuisine from Thailand, Malaysia, Vietnam and beyond. I went back again and had a really great dinner with local friends.
Nearby is Bonfire Coffee, a great coffee roaster, at 433 Main St. I always stop in while in town. They have an excellent staff!
At 335 Main is Allegria Pasta Salad and Vino. With an eclectic decor, this is a fun spot for seafood and pasta prepared by well-known local chef, Andreas Fischbacher. There are daily specials.
The Goat Kitchen & Bar at 995 Cowen Drive is on of my recent finds after getting great reviews. It is a local's spot in a contemporary setting, northwest of downtown. It has a good selection of entrees, burgers, pastas and salads. I enjoyed an excellent tuna burger and equally enjoyed meeting and chatting with the owner.
Roosters in downtown Cardondale has closed and has been taken over by the recently opened Brass Anvil. The menu offers a large number of choices, however, their beef  which is locally produced from a farm a short distance away. They are open for lunch and dinner. They have a very attractive patio for outdoor dining. They have done a really nice job with the new, rustic design. On my most recent trip, I enjoyed an excellent salad for lunch on the patio. The staff was attentive and very helpful. I will definitely go back.
Local friends recommend Izakaya at 225 Main St. for Japanese sushi, entrees, rolls and rice bowls plus the casual Village Smithy for breakfast and lunch. It is located in a rustic building at 26 South Third at the corner of Main St.
A block east of Village Smith is True Nature Healing Arts. They have a full menu of massages, body scrubs, facials and spiritual readings. They also offer seminar, resreats, workshops, ceremonies, rituals and performing arts in their Kiva with a Peace Garden. In addition to these services, they have a lovely boutique and  small cafe, the True Nature Organic Café. There is a menu of coffee andtea drinks, desserts along with breakfast and lunch items. I was so happy to have found it, where I met a local friend for tea.
Just west of downtown is Ming Modern Asian Cuisine at 0934 Highway 133. Here you will find a large selection of Chinese and Thai dishes as well as a large selection of sushi and rolls. I enjoyed the evening with local friends who go often. They moved across the highway to a newer space since I was there.
Make sure to visit Honey Butter Fried Chicken & Milkshakes, a retro diner in Carbondale, that is operated by the popular Slow Groovin' BBQ in Marble, CO. They recently took over the former Red Rock Diner that had closed after 25 years.  Since I had lunch at their restaurant in Marble, I stopped in for a milkshake. I loved the chocolate flavor which was one of the best that I have had. 155 CO-133 at the intersection of Highway 82.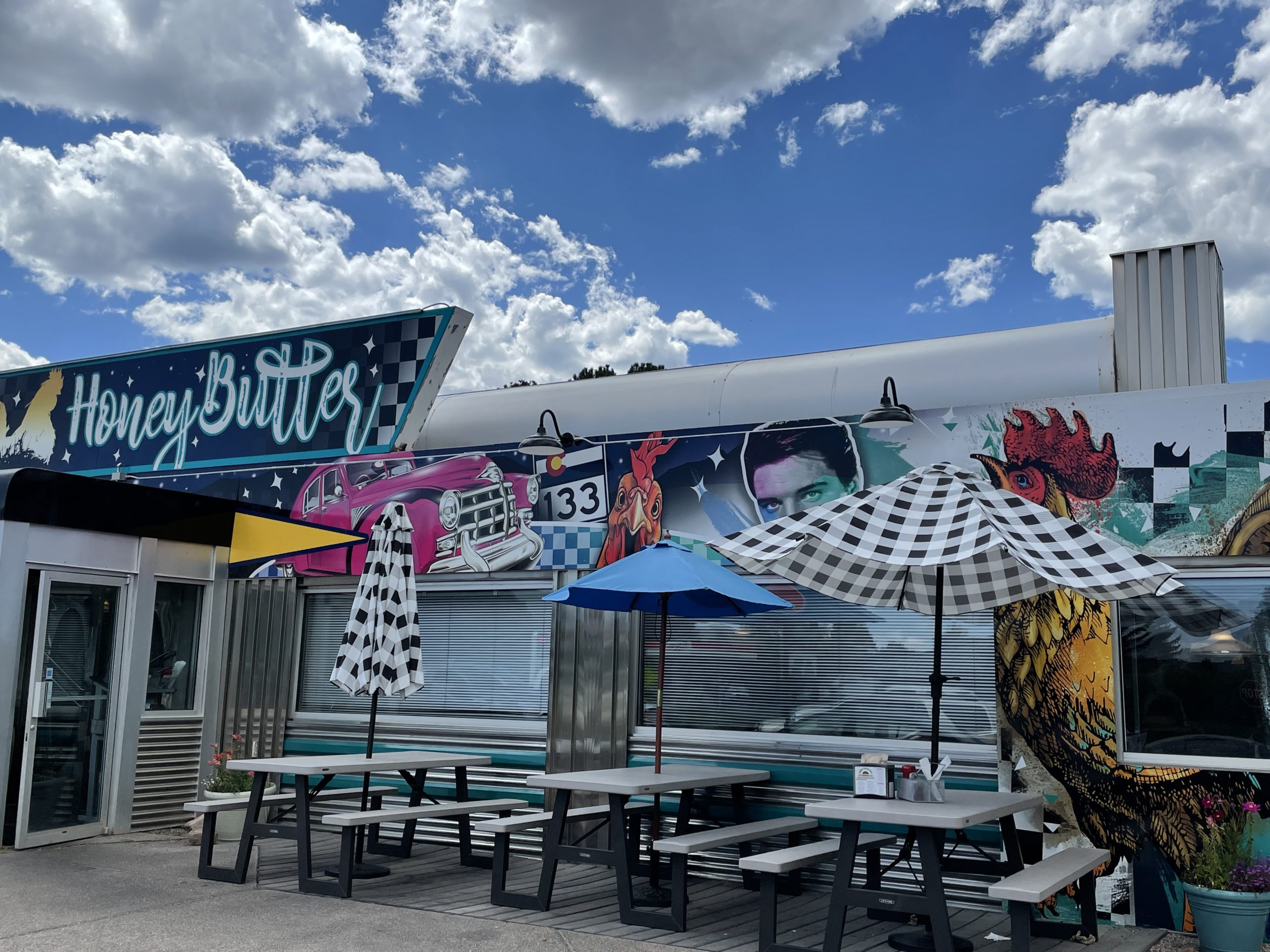 Nearby, across the highway is Tortilleria La Roca, a  colorful Mexican grocery store, serving the valley's growing Latino community. Here you can buy fresh made tortillas, tamales, tacos salsas, guacamole and other Mexican specialities. I bought some of my favorite Mexican hot chocolate in preparation for the upcoming winter season.  780 CO-133.
In the same complex is Pollinator Chocolate. Opened in January 2023, this is a small-batch, craft, bean-to-bar chocolate factory and tasting room,  called the Cocoa Club, featuring their bonbons, tuffles and chocolate bars. They also feature coffe, tea, local pastries, cocktails and wine. I really enjoyed the staff and my yummy dark chocolate truffles.
Just to the south is another new find recommended by Edible Aspen is Plosky's Delicatessen at 1201 Main St. This Jewish deli features bagel sandwiches, sandwiches, sides, salads, soups and coffee drinks.
Just out of town is a great new find, the The Kitchen at Ironbridge, located at the Ironbridge Golf Club. Both are open to the public. The restaurant is open for lunch and dinner and has both indoor and outdoor dining. The terrace has wonderful views of the mountains and golf course. I enjoyed my dinner with local friends who go often. The manager and server were really excellent and so was the food. I loved my seared duck breast special, the pear and arugula salad and perfect Italian rosé. The walleye entree was also excellent. 430 Ironbridge Drive. From Carbondale, go west on Rts. 106/109, just south of Hwy 82 on Rt. 133 near City Market.
El Jebel
In El Jebel, found between Basalt and Carbondale and across from Willits, good choices include:
Breakfast in America: This is a great breakfast spot that also serves lunch at 58 El Jebel Lane #2.
Nearby is Panaderia San Miguel at 60 El Jebel Road #102. It is a popular Salvadoran bakery and cafe. It was high on my list to try, so I made a point to try in on my last trip. I really enjoyed the coconut, pineapple cake which I shared with local friends.
On my recent summer trip, I was pleased that I found Hominy Southern Kitchen, located in the fomer Bella Mia space at 60 El Jebel Rd #108. It has a menu of southern specialties and is open for lunch, dinner and brunch on weekends. I enjoyed brunch on Saturday with a local friend. I really enjoyed their, corn bread, blue crab cake benedict and a tasty peach cobbler for dessert. They have indooor as well as outdoor patio seating. I enjoyed the service as well.