Albuquerque is getting more and more great dining options. My top restaurant recommendations from my last few trips include:
Golden Crown Panaderia: At 1103 Mountain Rd. NW, this is a great new find near Old Town. This funky bakery and coffee house has been a popular spot for 40 years. Here you can grab a latte and a Mexican cookie or empanada. The pumpkin was excellent!! During the day they also do pizzas.
Farm & Table: Located at 8917 4th St. NW, this a great spot for brunch when in the city. They have egg dishes and green chile cheese burgers. It has a Southwest decor and features seasonal foods including produce, dairy and meats from the area. In addition to supporting local farms, growers, ranchers and artisans from across New Mexico, they have an on-site farm behind the restaurant where many of the items are grown. There is a farm stand in season if you are in town. Next door is a great store, La Parada, owned by the same group, featuring gift items, tabletop and home accessories.
After reading about the James Beard Award-winning Mary & Tito's Cafe at 2711 4th St. NW, I had to try it on my last trip. Opened in 1963, it won the 2010 American Classics Award. It is a casual diner featuring New Mexican cuisine including their signature red chili.  I stopped for brunch on the way to the airport and enjoyed the authentic experience. 
My second choice, which I will try on my next trip, is El Modelo Mexican Foods at 1715 2nd St. SW. A classic since 1929, it is a casual, Mexican spot with a retro exterior serving tamales, sopapillas, huevos rancheros and more. Not far is the Rail Yards Market that is open Sundays from May to October and in December for one weekend. It is a local farmers market featuring local produce, food, art and local music.
Gruet Winery: At 8400 Pan American Freeway NW, in Albuquerque, is the winery and tasting room for this well-known producer of sparkling wines since 1987. I really enjoyed their dry sparkling wine and  Grand Reserve rose sparkling wine. Their vineyard is 100 miles south of Albuquerque but the winery and tasting room is in town. They also make a few still wines including a Chardonnay, a Pinot Noir and a Rhone style Syrah.
On my next trip, I want to visit Casa Rondena Winery at 733 Chavez Rd. NW. in Los Ranchos de Albuquerque. They are known for their Viogner white, their Cabernet Franc, their Syrah and a Meritage which is a blend of Merlot, Cabernet Franc and Cabernet Sauvignon.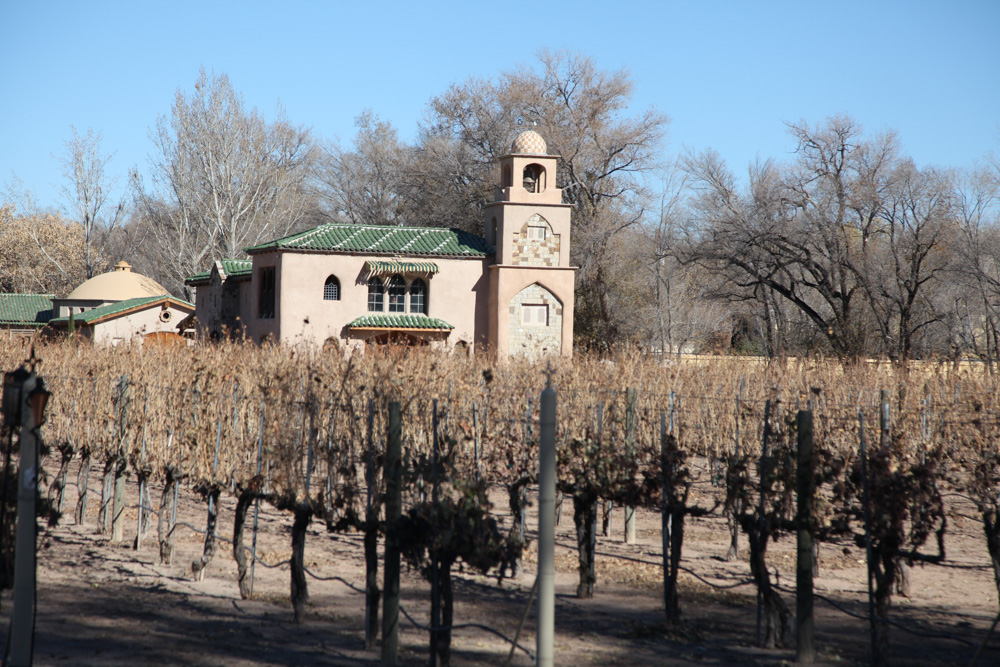 Los Poblanos Historic Inn & Organic Farm: This is a stunning property, set on 25 acres, north of downtown Albuquerque and Old Town at 4803 Rio Grande Blvd. NE., in an area known as Los Ranchos de Albuquerque. Their Campo restaurant is open for breakfast  and for dinner from Wednesday to Sunday. The ingredients come from their farm and other local purveyors. Reservations are open to non-guests based on availability. There are special events plus cooking classes.  Bon Appetit ranked it a Top 10 Hotel for Food Lover's in America and in 2020 Chef Jonathan Perno was named a James Beard Award Semifinalist for Best Chef Southwest.
The Grove Cafe & Market: Located at 600 Central Ave. SE just west of I-25, this is a popular local's spot. Opened in 2006, they serve breakfast, lunch and brunch featuring ingredients by local farmers and artisans. It has a fun, casual atmosphere with both indoor and outdoor seating. They have a number of soups, salads, sandwiches, egg dishes and other breakfast items. I enjoyed a lunch of a frittata with seasonal vegetables, toast and a tasty fruit salad.
Albuquerque is becoming a city with a fast growing number of local breweries with now over 40 according to the New Mexico Brewers Guild.  On my last two trips, I have visited several. My new finds include:
Marble Brewery: Don't miss the large micro-brewery, just north of downtown. They have a large bar and tasting room with a large outdoor patio. Founded in 2008, they were named the 2014 Small Brewery/Small Brewery Brewer of the year at the Great American Beer Festival. They feature a number of pilsners, stouts, ales, IPAs, porters and seasonal offerings. I was able to taste four and really enjoyed their Pilsner, their more delicate Double White wheat ale with added spices, their Stout Americano with an infusion of espresso bean and their Choco Mole Lager with chocolate and red chiles. 1111 Marble Ave. NW.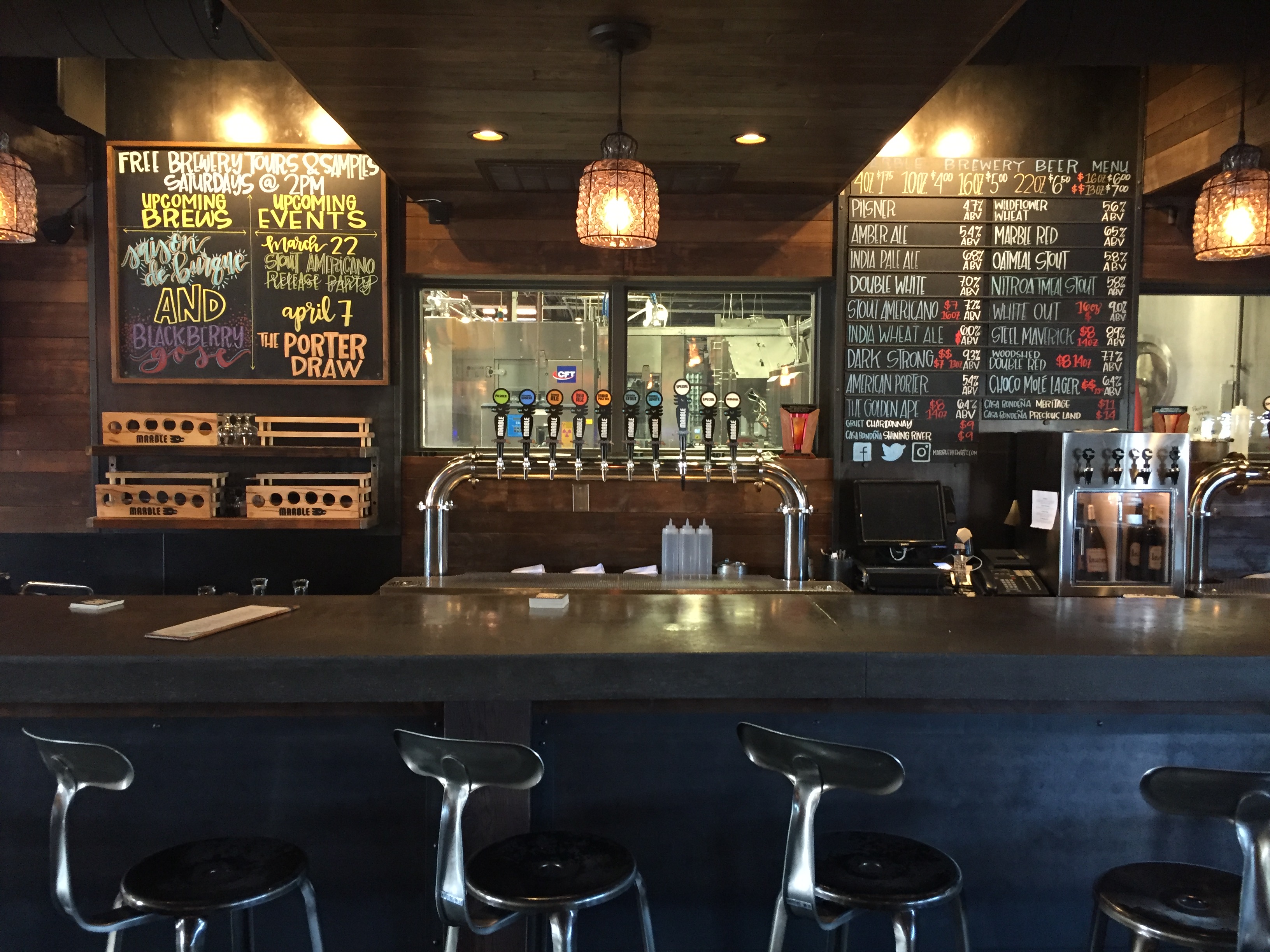 Tractor Brewing Co.: This is a local brewery that makes a number of ciders, ales, IPAs, wheats, stouts and lagers. They have four locations, three of which also serve food including the Wells Park location at 1800 4th. St. NW. They also have events and live music.
Rio Bravo Brewing Co.: This is a large local brewery that had received a number of local awards including Best Local Canned Beer and Best Local Taproom by Albuquerque Magazine in 2018. They make a number of IPAs, wheat, blondes, ambers and stouts. 1912 2nd St.
At 1501 1st St. NW, Juno Brewery+Cafe+Art (formerly Dialogue Brewing & Art), features their brews, local art, wood fired pizza and live music. They have a great outdoor space as well. They make a number of beers onsite.
The NY Times in a September, 2019 article, 36 Hours in Albuquerque, recommends three other breweries, Bow & Arrow Brewing Co., La Cumbre Brewing Co. with two local taprooms and Steel Bender Brewyard for fun experiences.
The Nob Hill neighborhood has some great options.
I enjoyed my lunch at Which Wich at 2300 Central. The sandwiches are great and I enjoyed talking to a young Iranian engineering student who sat at my table. Yanni's Modern Mediterranean Bar and Grill, at 3109 Central, was also recommended.
Also a fun spot is Kelly's Brewpub at 3222 Central Ave. SE. Located in the former Jones Motor Company building which was a former Ford dealership and gas station from 1939. Today you can still see the old gas pumps while enjoying their soups, sandwiches, wraps or salads and one of their almost 30 house brews.
Frontier Restaurant: An institution for over 40 years at 2400 Central SE. It is known for its art and John Wayne portraits. It is open for breakfast and lunch with burritos, burgers and other New Mexico dishes.
On the northside of Nob Hill at 4200 Lomas Blvd., NE is Humble Coffee, a small casual coffee shop. I stopped by on the way to the airport for breakfast and loved their homemade chai.
Highly recommended is El Pinto for New Mexican salsa, chile and food at 10500 4th St NW.
Eater.com recommends 
The Artichoke Cafe
at 424 Central Ave. SE,
Indian Pueblo Kitchen
(formerly
Pueblo Harvest)
for the indigenous cuisine of the Southwest at 2401 12th St. NW, and
Green Jeans Farmery
a shipping container compound with more than ten food and beverage options at 3600 Cutler Ave. NE.
I have also read about
Duran Central Pharmacy
at 1815 Central St. in the NY Times and edible New Mexico. The restaurant is located in a pharmacy, since 1942 that had a traditional soda fountain in the back. Today the casual restaurant features a menu of New Mexican specialties.