This is the old market area which now has great lofts, galleries and restaurants. Now Randolph, Lake St. and Fulton Market have some of the best new restaurants in the country. It seems like there are new opening every week! The West Loop has some great spots also as does the Fulton River District further to the north.
The neighborhood is full of history! West Randolph Street became popular as a produce market in the 1850s. Then in the 1950s Fulton Market became the center of the meat packing business in Chicago with operations of Armour and Swift on the street. Here goods were shipped all over the country
Many of the former buildings have been remodeled, while keeping their original decorations and details, or have had new construction built around the original facades or structures. Several new buildings, like the corporate headquarters of McDonald's Corporation, were designed to feature many of the original details, styles and brick colors of the historic neighborhood buildings. The area has been totally transformed in the last few years, so make sure to add it to your list to visit.
In the last few years there have been a large growth in the number of breweries and distilleries on the western and northern parts of the neighborhood.
Where to Eat
Piccolo Sogno: Just north of Fulton Market in the Fulton River District is Piccolo Sogno which, by far, has the best outdoor garden in the city for summer dining. The food is great also.  I was recently back for lunch and enjoyed it also. They have valet parking as well. 464 N. Halsted.
Across the street is The Dawson at 739 W. Grand. I had a wonderful meal of mussels, halibut with calamari and a stone fruit salad of fresh plums. The lively, energetic space draws a young crowd. They have a wonderful outdoor space with dining, bar and seating area around an outdoor fireplace.
I recently went back to La Scarola Restaurant after several years years. This is a classic Italian restaurant located at 721 W. Grand Ave., across from The Dawson,  that has been there for almost 20 years. The atmosphere is a classic that features many photos and murals. The menu is extensive with a large number of Italian specialties from starters, pastas and entrees. I really enjoyed the veal marsala, sauteed spinach and the friend calamari. It is a great spot for a family or group outing. Just make sure to make a reservation before you go.
The Girl and the Goat:  This is Top Chef winner, Stephanie Izard's popular restaurant with great food and wonderful rustic décor. She recently won the James Beard Award for Best Chef Great Lakes.  It is located at 809 W. Randolph. I was excited to have gone one of the first nights it opened.
I also enjoyed her newest venture, Cabra, a beautiful rooftop Peruvian-inspired cevicheria by Restaurant Group at the hotel, The Hoxton Chicago. It is open for lunch and dinner and have a menu of shared items as well as entrees. I went for lunch on a Friday and had a really excellent meal. While my friend had the fried seafood plate, I had a great seafood sandwich and excellent guacamole with sweet potato chips. The decor is contemporary and the views of the city exceptional.  I was glad to see Stephanie there working on the line in the kitchen.  200 N. Green.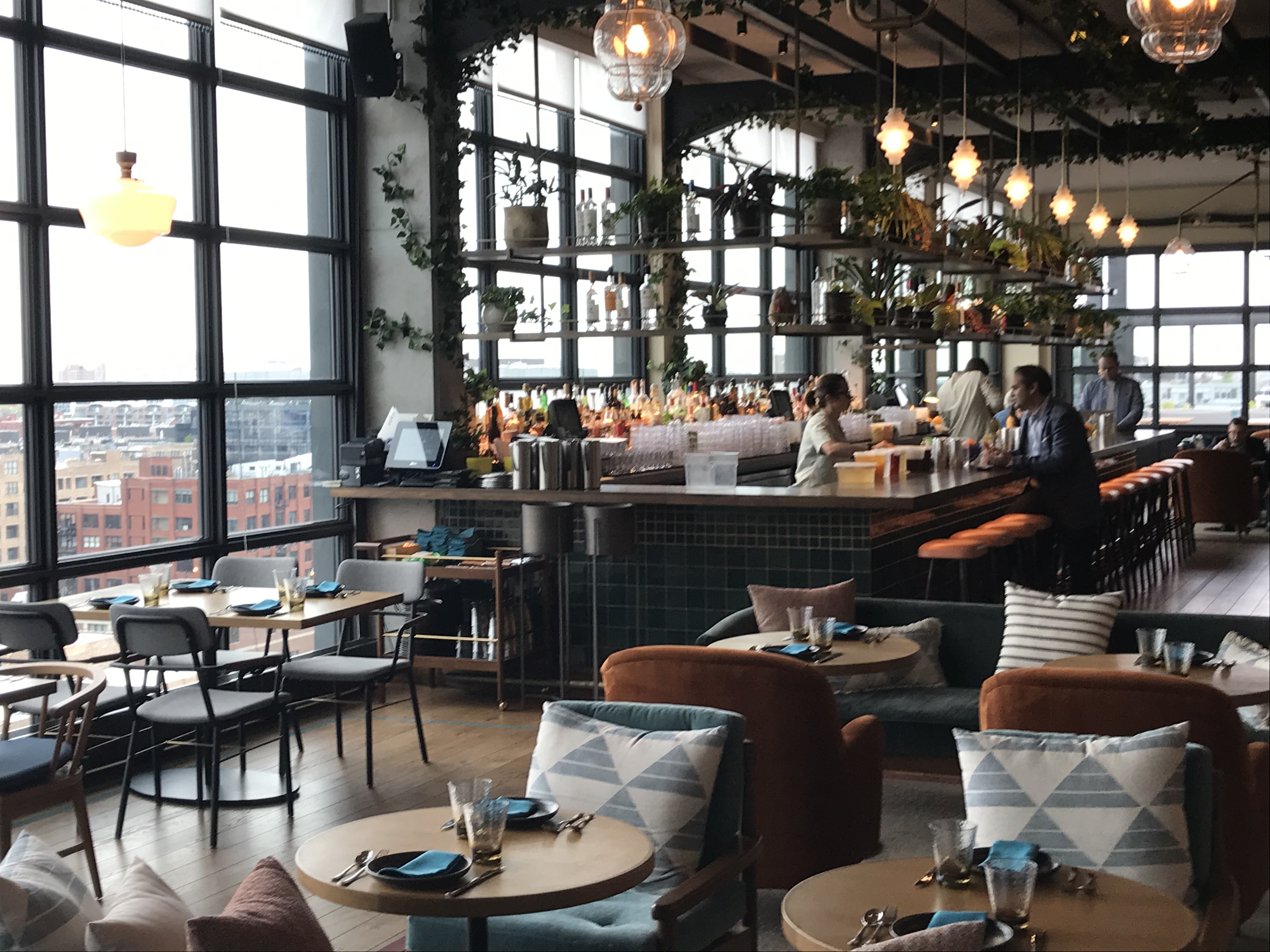 Just north of Cabra and The Hoxton Chicago is Aba at 302 N. Green St. 3rd Fl.  This is a hip, stylish rooftop bar and restaurant serving Meditarranean cuisine and cocktails. The interior is very attractive but the outside patio is the highlight. I recently went for Sunday brunch with friends and really enjoyed the experience and food.
Publican and Publican Quality Meats: Also in Fulton Market is Publican and Publican Meats for eating in or purchasing their quality products. Publican, at 837 W. Fulton, pays homage to beer, pork and oysters. Executive Chef Paul Kahan and Chef de Cuisine Brian Huston have crafted an eclectic menu inspired by simple farmhouse fare in a space evocative of a European beer hall. Publican Quality Meats features traditional items broken down by their in-house butchers and also sells house-made breads, artisan cheeses, and over 300 retail items. There is a full café menu.
At 161 N. Sangamon is Bionci Pizzeria. This is Rome-based Italian import selling scissor-cut slices featuring distinctive toppings.  They have a large selection to choose from.
For Mexican, high on your list should be two concepts. Cruz Blanca at 904 W. Randolph is a casual taqueria and brewery. I just did a brewery tour which featured a great description of their process and a tasting of their beers. The feature a number of lagers, porters, ales, and stouts. I particularly liked the Rubia, a pale malt made with local honey and the Marigold, an ale, blended with blackberries and rich coffee. I highly recommend the tour. Before I really enjoyed their chicken tacos in the restaurant. They have a dining room downstairs and a large bar area on the second floor as well featuring food, cocktails and beer.
Next door at 900 W. Randolph is Lena Brava, a fun spot for Baja-style seafood with a focus on live-fire cooking, plus mezcal & wine. When I toured Cruz Blanca, was able to taste two of their great mezcals. I will definitely go back to try the food, which I understand is excellent.
At 838 W. Kinzie is Recess, a huge bar and patio designed with shipping containers and large overhead doors.  It is very colorful along with some fun murals. They have a casual menu along with classic cocktails,  pizza and brunch on weekends.
Next and The Aviary: Next is the creation of Grant Achatz and Nick Kokonas. Achatz is one of the most acclaimed chefs in the US, being named James Beard Foundation Award for Outstanding Chef and James Beard Foundation Award for Rising Star. His Alinea restaurant in Lincoln Park has earned three Michelin stars. With one Michelin star, the restaurant theme changes several times a year and you have to buy tickets online through their website on Tock.com. The Aviary is the teams state-of-the-art cocktail bar/restaurant featuring creative drinks, and a chef's Kitchen Table for a 10-course cocktail tasting menu, paired carefully with crafted bites of food. Next is located at 953 W. Fulton Market. The Aviary is at 955 W. Fulton Market. Recently opened below Aviary is The Office, a speakeasy featuring classic cocktails and vintage spirits.
Saigon Sisters: At Clinton and Lake (567 W. Lake) is a top Vietnamese restaurant with great food and contemporary industrial design. The green papaya salad, shrimp spring roll and steamed​ sea bass fillet with shaoxing, soy, ginger and scallions are all excellent! They have a second location at the French Market at 131 N. Clinton a short distance away. They recently opened a small third location at Northwestern Memorial Hospital at 251 E. Huron just east of Michigan Avenue.
Chicago French Market: At 131 N. Clinton, this is Chicago's first indoor market featuring local artisans and food purveyors. It was named one of Bon Appetit's best five food halls in the US. Vendors include Saigon Sisters and Vanille Patisserie.
Sepia, 123 N. Jefferson: This is a stylish space with a warm and inviting decor. They feature a  modern, seasonal menu that is upscale and inventive. Chef Andrew Zimmerman was a James Beard finalist for Best Chef Great Lakes from 2012-2015 and has earned the Chicago restaurant a Michelin star every year since 2011. I have enjoyed the times that I have eaten there.
Others to try include Avec and Au Cheval. Avec has inventive small and large plates served in a minimalist space with communal seating. Au Cheval is known for its burgers and comfort food.
One of my favorite spots is Fulton Market Kitchen at 311 N. Sangamon. Billing themselves as part art gallery, part restaurant and part craft cocktail bar,  I had a wonderful meal surrounded by street art, paintings and eclectic furniture. They have a small menu of large and small plates for sharing and an extensive craft cocktail menu. The restaurant was inspired by the 1980's NYC art scene and the Wynwood Walls in Miami which is one of my favorite spots in my recent travels. We had great service and enjoyed meeting and visiting with Chef Kyle Petersen. The decor is one of the best in town!!
Soho House Chicago is a member's  hotel and club at 113 N. Green. In addition to two private restaurants for members only, it does have two public restaurants including the Fox Bar, and The Allis. The Allis is a perfect spot for a morning coffee, an after-work drink or cocktail or afternoon tea. The private rooftop bar has wonderful views of the city.
Soho House Private Rooftop Bar and Restaurant
Across from the Soho House is the popular Green Street Smoked Meats at 112 N. Green St. This is a casual spot in warehouse atmosphere that features house-smoked Texas BBQ and sides. I enjoyed the brisket sandwich with slaw and a tasty and rich banana pudding.  It is one of the concepts by Hogsalt in Chicago. In the same complex is their Sawada Coffee that features coffee and ping pong and pin ball. In the basement for ramen and Japanese beer is High Five Ramen.
Next door is their Trivoli Tavern for coal fired seafood, fresh oysters, charred butcher cuts and chops.
Sharing the same patio area is the recently opened The Bandit. At 841  W. Randolph, it replaced the popular Graham Elliott Bistro/Gideon Sweet which I enjoyed in the past. They have a hip dining room and colorful patio in the rear. They feature updated bar fare and craft cocktails.
El Che Steakhouse & Bar at 845 W. Washington gets great reviews. The Chicago Tribune just recommended it. Its open hearth produces grilled and roasted proteins as an homage to Argentina.
At 201 N. Morgan just below the el stop, is Bar Takito a fun casual Mexican spot. Here you can find a large selection of large and small plates as well as a great cocktail list. You can taste a flight of mezcal or margaritas or have a custom cocktail. I really enjoyed their None of Your Beeswax cocktail made with Mount Gay Black Barrel rum, zucca, chamomile, honey and Angostura bitters.
A great new find in the neighborhood is Swift & Sons, an American Steakhouse, at 1000 W. Fulton Market. It is part of the Boka Restaurant Group, one of the best in Chicago. They have a fun bar in the front and a very large dining room in the back. They have a great selection of steaks, seafood and more. I had a wonderful meal, with a perfect scallop dish, and a shared beet salad, hamachi crudo and crab cake. A piece from their chocolate trolley featuring bite-sized chocolate cakes cookies, pastries, candy was the perfect way to cap off the experience. You won't be disappointed.
I enjoyed dinner before the Goodman Theatre at Proxi. Located at 565 W. Randolph, this is a chic, new restaurant that has been been getting great press. It features a menu of global street food and cocktails in a contemporary setting with open kitchen. I enjoyed the roasted eggplant topped with tahini and pomegranates, a cobia fish entree in a coconut curry sauce and a tres leches cake topped with fresh strawberries. I highly recommend it.
Chef Andrew Zimmerman recently brought back Happy Hour to their bar, lounge and patio for the first time in three years. The offer half-priced appetizers and $9 glasses of wine.
BLVD Steakhouse:  Drawing inspiration from Hollywood's Sunset Blvd. in the 1950s, this is a swanky, upscale restaurant in the West Loop that features classic dishes, cocktails and champagne.  I recently went for dinner and loved the upscale decor with elegant booths, stunning chandeliers and great service. They feature seafood, pastas and steaks. I enjoyed my meal and was able to taste a number of dishes. The shrimp cocktail, salt roasted beet salad, hamachi, heirloom cauliflower and the scallops on a bed of white corn grits were all excellent. I highly recommend it. 817 W. Lake.
Opened in 2015, one of the hottest restaurants in Chicago that is hard to get into is Monteverde Restaurant & Pastificio. This Italian restaurant by Chef Sarah Grueneberg who in 2017, received her first James Beard Foundation Award for Best Chef: Great Lakes. She was a contest on Bravo's Top Chef. In 2016, Monteverde received accolades including, one of Food & Wine's America's Best Restaurants, and was a top 50 finalist for one of  Bon Appetit's Best New Restaurants.  After trying several times for a dinner reservation, I was lucky to get a brunch reservation and enjoyed the experience!  1020 W. Madison.
The area near Monteverde has a number of fun spots to try as well. Cone Gourmet Ice Cream is a neighborhood ice cream parlor at 1047 W. Madison. I stopped in for dessert after my brunch! I also just went and enjoyed a latte at Groundswell Coffee Roasters at 1168 W. Madison.
Further west is a classic Chicago diner, the Palace Grill Restaurant. It is known of its breakfast menu and has been a Chicago staple since 1938. "The restaurant has famously been visited by Mayor Daley, Al and Tipper Gore, the Russian Prime Minister Viktor Chernomyrdin, countless TV/radio personalities and of course, the Chicago Blackhawks. The Blackhawks regularly pick up breakfast sandwiches — aka "heart stoppers" — before practice, and they brought the Stanley Cup to the restaurant six times in 2015."
For a classic Chicago experience, stop in at J.P. Graziano Grocery Co., Inc. for one of their sub sandwiches and a cannoli.  Opened in 1937 as an Italian market, they have expanded into selling sandwiches as well. You can also buy some of their meats, salads and pasta sauces. 901 W. Randolph.
Opened in late 2019 is the very large Time Out Market Chicago. The 50,000 sq. ft., three-story, food hall is home to 21 of some of the top local restaurants including a bar, a demo kitchen and rooftop terrace for beer, wine and signature cocktails.They  also host events throughout the year including cooking classes and demonstrations,  live music and DJs. There are also markets in Boston, Lisbon, NYC, Miami, Boston and Montreal. They also have plans to open in Dubai, London and Prague.  It is very crowded on weekends, so you might go during the week. 916 W. Fulton Market.
Acorss the street is Rose Mary at 932 Fulton Market.  It opened in 2021 by Joe Flamm, winner of Bravo's Top Chef Season 15. This is a sleek, contemporary restaurant featuring Italian and Croatian cuisine. I have been wanting to go since it opened, and was pleased to join friends where we shared a number of pastas, entrees and vegetable plates. I was very happy to have been able to try eight different dishes which all were excellent. These included charred brussel sprouts, zucchini fritters, coal roasted beets with whipped ricotta and pistachio, roasted cauliflower, duck confit lasagne, squid ink risotto, baby octopus with potatoes and rigatoni. All were great as was the service! It is very popular so make sure to book your reservations well in advance.
It has received great press and has been included in "The 25 Best New Restaurants in Chicago" Chicago Tribune, "The Best New Restaurants in the World" TimeOut Global, "The Best New Restaurants" AFAR Magazine, "The 25 Best Restaurants in Chicago" The Infatuation and "The 38 Essential Restaurants in Chicago" Eater Chicago.
Down the street, at 839 W. Fulton Market, is the Emporium Arcade Bar. This is a hip bar featuring pinball machines, arcade games, foosball, air hockey and pool  tables.
Two other spots to try include Beatrix at 834 W. Fulton Market and Boqueria  Spanish Tapas Bar & Restaurant at 807 W. Fulton Market. With four locations in Chicago, Beatrix is a  neighborhood restaurant and cocktail bar along with a bakery and cafe. Opened in early December, 2019, Boqueria Tapas Bar & Spanish Restaurant features Spanish cuisine and tapas. With locations in New York and DC, this is their first in Chicago. They got their inspiration from the food market El Mercado de la Boqueria in Barcelona, which is one of my favorite spots in the city. The atmosphere is sleek and contemporary. I am excited to now try the food!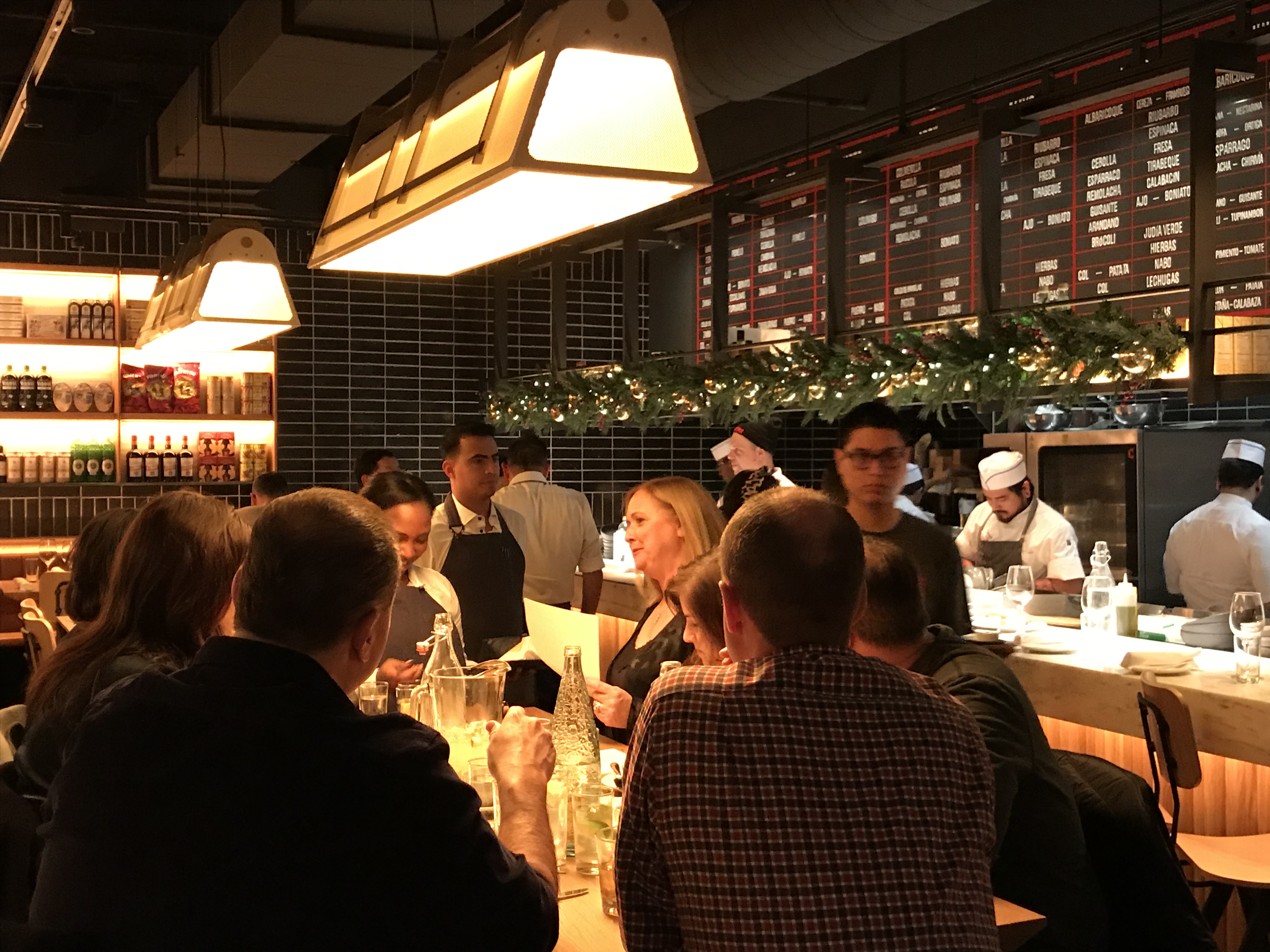 Randolph Street Market: Throughout the year is the Randolph Street Market at 1340 W. Randolph for food, music, antiques, art and vintage finds.
Chicago's Greek Town is part of the West Loop neighborhood. I recently went back after several years. The creation of Chicago's Greek Town started in the 1840s.  "During the late '60s, Chicago's Greektown was one of the first to introduce gyros and saganaki to restaurant cuisine. From the '70s through the '90s, business was booming so much that the majority of the restaurants and business that are open in current day Greektown date back to that time."
Popular today are the top two restaurants in the area. At 200 S. Halsted, the Greek Islands has been serving traditional Greek dishes in classically designed space since 1971. I recently enjoyed the Athena Restaurant at 212 S. Halsted. It was recently expanded to include a large outdoor patio which also serves as indoor dining in the colder months. I recommend getting several plates and appetizers in order to share and taste multiple dishes!
Breweries and Distilleries
I recently found some fun local breweries and distilleries to explore.  Many have large brewpubs and patios that are perfect for gatherings with your friends.  My new finds include:
Rhine Hall Distillery: Located in the Kinzie Industrial Corridor at 2010 W. Fulton St., this is a small, family -owned local distillery. It opened its doors on November 1, 2013 with a production facility and tasting room. They produce a number of fruit brandies, a European-style brandy otherwise known as  eau de vie or schnapps.  The bulk of their fruit is sourced from the Great Lakes Region with no flavorings, sweeteners or neutral spirits added to any of the brandies.  Flavors include plum, mango, pear, cherry, pineapple, apricot and banana. There is also a coffee liquor. I really enjoyed trying the cherry brandy. They have a small tasting room along with an outside patio with more seating.
If you need a caffeine hit, there is a Metric Coffee shop across the street at 2021 W Fulton St.
To the south is Midwest Coast Brewing Company at 2137 W Walnut St. This brewery has a large tap room and outdoor patio. They are known for their ales, lagers and IPAs plus pilsners and sours.
On Tour Brewing Company: At 1725 W Hubbard St., this is a warehouselike microbrewery tasting room featuring their pilseners, ales, IPAs, stouts and sours all made in-house. I enjoyed their light and refreshing Thalia Hall Pilsner, a Bohemian style beer.
Great Central Brewing Company, at 221 N Wood St., is a large microbrewery that was started in 2015. Their beers includes a Helles lager, a pilsner and a Hefeweizen or wheat beer. 
Goose Island Taproom: This is Goose Island's Brewery and Taproom located at 1800 W. Fulton St. Here you can try one of their Year Round ales, lagers, saisons and IPAs along with their seasonal offerings. I have had tour in the past which I enjoyed.
One  of the highlights of this area is District Brew Yards located at 417 N. Ashland, on the northside of the neighborhood. This is a unique concept, like a food hall, that is home to four different brewing companies: Burnt City, Around the Bend, Casa Humilde Cervecería and and Bold Dog Beer Co. They share brewing facilities in this renovated warehouse, giving each access to equipment they might otherwise have difficulty obtaining separately.  There is a beer hall decorated with murals offers all of their brews on tap at unique self-service cashless pour stations. The shop also features freshly-packaged beer to take home. They also have a colorful patio for outdoor dining and tasting. Lillie's Q is the latest addition to the mix and offers great BBQ. I just saw a segment on Casa Humilde on PBS in Chicago. Two brothers, José and Javier Lopez, bring their Mexican-American heritage to their craft beers by using Mexican ingredients including corn, coffee and prickly pear cactus.