There are many places to eat and drink in New York. I will continue to report on new openings and old standards, but here are my long-time favorites and recent finds.
Red Rooster at 310 Lenox Ave, just north of 125th, owned by award-winning chef, cookbook author and food activist, Marcus Samuelsson, which opened in December 2010. It serves comfort food celebrating the roots of American cuisine and the diverse culinary traditions of Harlem. I had a really wonderful lunch (gazpacho and shrimp with dirty rice) in the attractive, well designed dining room. Service was very good.
In Mid-town, I enjoyed ViceVersa, with friends, which is at 325 W. 51st, between 8th and 9th. The décor was outstanding and sleek and the pastas were wonderful. It is great for a pre-theater meal.
Eataly Flatiron: Located at 200 5th Ave. between 23rd and 24th Streets, this is a large complex consisting of a fresh food market featuring breads, pastries, cheeses, pastas, meats, fish, produce, beers, wine, chocolates and other specialty food items. There are a number of cafes and restaurants as well. They also offer a number of cooking classes and special events. Partners include the well-known restaurateurs Joe Bastianich and Lidia Bastianich. This is well worth the trip on your next visit to NYC. They also have a downtown location at 4 World Trade Center – 101 Liberty Street, 3rd Floor.
Shake Shack: Don't miss the  Shake Shack in Madison Square Park for burgers, fries, hot dogs, shakes and more. There are other locations in NYC as well.
Union Sq. Green Market: I loved walking through the Union Sq. Green Market on Saturday morning. It is open Monday, Wednesday and Friday also. It has been a neighborhood staple for 35 years.
ABC Kitchen: The restaurant by the famous chef, Jean-Georges Vongerichten was named Best New Restaurant of 2011 by the James Beard Foundation. This was a tremendous choice with a great décor and perfect menu for sharing. We chose several appetizers including the roasted butternut squash with hazelnuts, goat cheese and spicy onions and the pretzel dusted calamari with marinara and mustard aioli. We also had the kasha and bowtie pasta with veal meatballs plus the spinach, herbs and goat cheese pizza. Their focus is on organic and local ingredients. It is located at 35 E. 18th Street (between Broadway and Park Avenue). Make sure to take the time to check out the ABC Carpet & Home store where the restaurant is located. It is a beautiful home-decor store.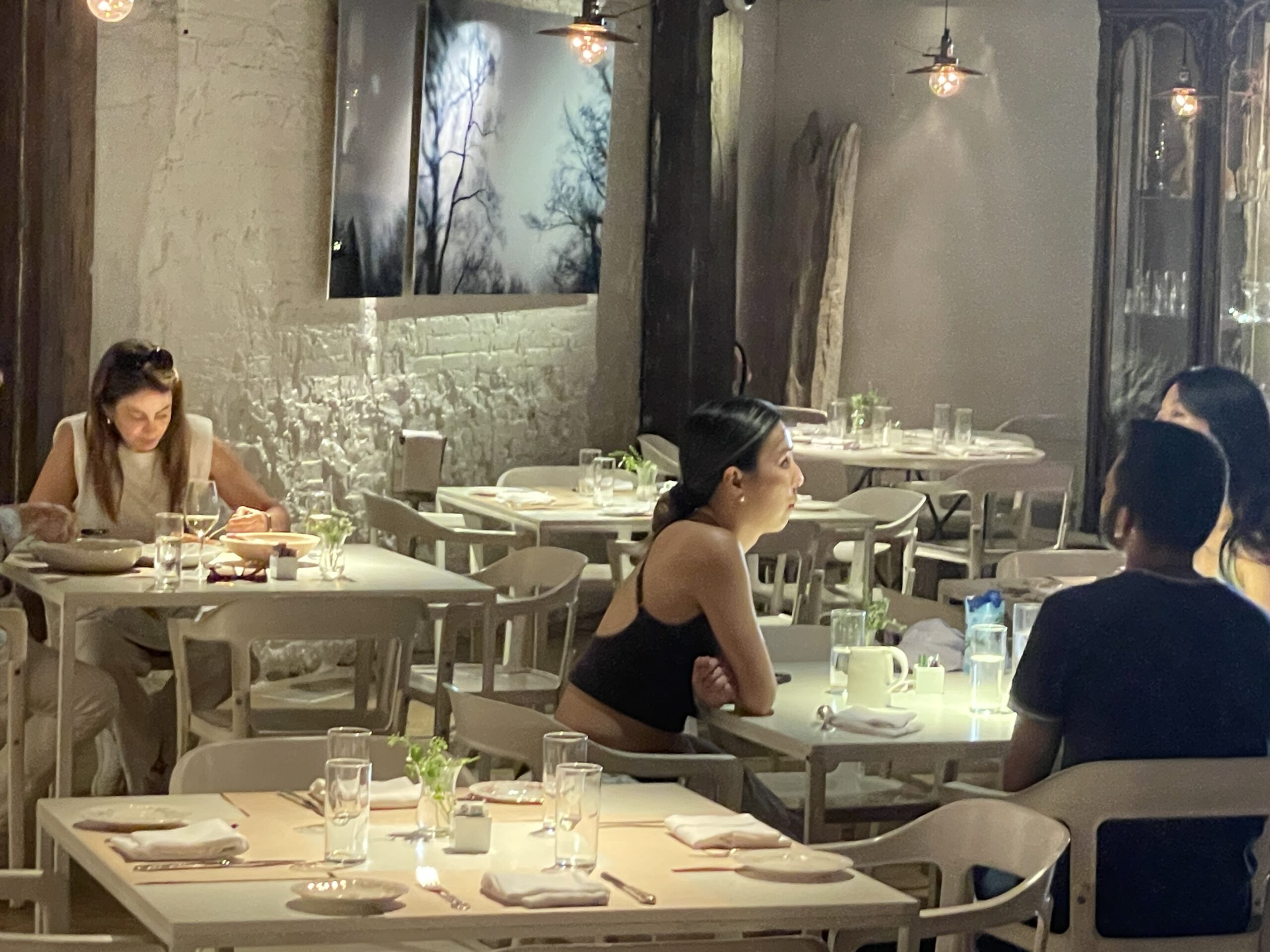 Also located at ABC Carpet & Home, is ABC Cocina which features an international menu and  a commitment to the freshest organic and local ingredients possible. Recently opened is there new concept, abcV, with a menu of plant-based and vegan items.
On my recent trip in July, 2023 I enjoyed brunch at Boucherie Union Square at 225 Park Ave. S.  I had read about it and decided to go after arriving in town. It is a traditional French bistro and steakhouse with great food and ambiance. I enjoyed the smoked salmon eggs benedict and the service. They have three other locations in NYC.
I also recommend Ci Siamo. Opened by  Danny Meyer's hospitality group in 2021, this contemporary restaurant, features an Italian-inspired menu around live-fire cooking and seasonal ingredients. It is known for its pasta dishes. Because of that I had to try one of the dishes and really enjoyed a great rabbit pasta entree and hazelnut gelato. It is located  at 440 W. 33rd St. #100, in the Manhattan West Plaza which is between 9th and 10th Ave. and 31st and 33rd St.  There are a number of other restaurants to try in the same complex.
Bryant Park Grill is an excellent spot for brunch. After reading good reviews, I met friends and we were all very impressed. with this beautiful, French-inspired restaurant. It is located in Bryant Park, behind the landmark New York Public Library. It has indoor as well as outdoor patio dining. 25 W. 45th St
Make sure to visit Keene's  Steakhouse at 72 W. 36th St. This is an historic steakhouse and restaurant with a classic interior that opened in 1885 in the Herald Square Theater District. Today it is the only survivor of this historic district. It has a large menu of steaks, seafood and items from its raw bar. The meat portions are huge! They also have a more casual pub menu.  I enjoyed the pan-seared artic char before heading an evening performance of a Broadway play. I highly recommend the experience.  It is very popular, so make sure make a reservation online prior to your visit. 72 W. 36th St.
I enjoyed staying at the Moxy NYC Times Square. On my last night after a long day and a food tour of Queens, I decided to eat at Legasea Bar & Grille, the hotel's attractive, second floor restaurant. I really enjoyed the steamed Pei mussels with white wine, fennel pollen, toasted bread.  They also have a large rooftop bar called Magic Hour Rooftop Bar & Lounge and Bar Moxy on the second floor.
Just outside of the hotel to the right is Café d'Avignon where you can enjoy coffee, tea, pastries and a  breakfast menu and lunch menu of sandwiches, tartines, quiches and salads. 485 7th Ave. with the entrance on W 36th St.
Modern Restaurant at MoMA: Light and bright, this is the Bauhaus inspired fine-dining room overlooking the Abby Aldrich Rockefeller Sculpture Garden at MOMA. In addition to the fine-dining room there is a more casual bar room as well. In the summer there is a casual cafe outside in the garden.
King Cole Bar & Salon: St. Regis Hotel at 2 East 55th. A New York classic since the hotel was built by John Jacob Astor IV in 1904. Stop in for a drink at the newly refurbished King Cole Bar & Salon, and see the famous mural painted by Maxfield Parrish depicting Old King Cole and sleek decor. Legend has it that it depicts the King after he has passed gas, which is the reason for the many varied reactions of the people surrounding him. The bar has been frequented by Salvador Dali, Marlene Dietrich and Marilyn Monroe and Joe DiMaggio.

Afternoon Tea at the Palm Court: A famous tradition at the Plaza Hotel since 1907, this is the place for the famous afternoon tea. Breakfast and lunch are also served. Fifth Avenue and Central Park South.

Laduree: Located at 70th and Madison on the Upper East Side, at 864 Madison, this is the NYC outpost of the famous Paris purveyor of the Macaron. The large selection is flown in from Paris and are well-worth the cost. They also have cakes, pastries and chocolates. They have two other locations in town as well.
At 1048 Fifth, at 86th St., is the Neue Galerie which is a museum devoted to early 20th century German and Austrian art and design. Café Sabarsky, on the main floor, is a wonderful café looking out on Central Park that draws inspiration from the great old cafes of Vienna. It is one of my favorite spots in Manhattan.
Pappardella: Since 1983, if you want a casual, neighborhood place on the Upper West Side with good Italian food, this is the place. It was packed with locals all enjoying the food and cozy, warm atmosphere. I loved my pasta dish!

Lincoln: A sleek, contemporary restaurant serving modern Italian cuisine in New York at Lincoln Center. "Our philosophy is simple: to source the best local ingredients and prepare them with authentic Italian methods and spirit. While our location beside Lincoln Center's reflecting pool and Henry Moore sculpture is exquisite, with panoramic views and a grass lawn roof, the heart of our restaurant is the central open kitchen". It is located on the north end of the plaza in the contemporary, new Hypar Pavilion with its sloping roof consisting of a grass lawn above.

Empellon Taqueria: A West Village Restaurant at 230 West 4th St. that has received some great press and accolades including Food & Wine Magazine naming Chef Alex Stupak as one of its Best New Chefs and one of the Best Taco Spots in the US and one of Forbes Magazine's All-Star New York Eateries for 2012. I enjoyed the attractive decor and a really great meal of different sopes and tacos with friends.
Las Ramblas Bar de Tapas: At 170 W. 4th in Greenwich Village, this is a small, cozy tapas bar serving Spanish specialties.
The Dutch: I made a reservation at The Dutch after reading all of the great press. It is the perfect spot for Sunday Brunch in the city. Loved the menu and the great atmosphere! It can be found at 131 Sullivan Street in SoHo.
Don't miss Robert, the sleek restaurant on the 9th floor of the MAD/Museum of Arts and Design with amazing views of Columbus Circle and Central Park. 2 Columbus Circle.
Many of the top museums have very good restaurants which are perfect while you are there. In addition to the Modern at MOMA, there is Café 2 which offers cheeses, salads, soups, and desserts and an espresso bar. I have eaten there twice.
The Morgan Library and Museum has the more formal The Morgan Dining Room and the casual The Morgan Café. I loved the cafe, for lunch, which is located in the stunning Renzo Piano atrium.
Barbetta, 321 W. 46th: Opened in 1906, this is NYC's oldest restaurant still owned by its founding family. It serves Northern Italian specialties in a formal, historic dining room. The interior is landmarked and can't be changed in anyway. They also have a formal garden for outdoor seating in the warmer months.
Other long-time favorites include Sardi's at 234 W. 44th and Cafe Un Deux Trois at 123 W. 44th, also in the Theater District and perfect for a bite before or after your performance.
One of the newest projects is Le District, the French inspired food hall, that opened in early 2015 in Brookfield Place. It is located at 200 Vesey St.  As the name implies, the project is divided into different districts. The Market District includes La Boulangerie, La Poissonnerie, La Fromagerie, La Charcuterie and La Rotesserie for wonderful food.
The Garden District has purveyors that sell groceries and prepared foods, with a salad bar at lunch and a chocolate mousse bar.
The Cafe District has stations with wonderful French pastries, crepes and waffles baked on the spot plus ice cream, coffee and candies. The Restaurant District includes fours bars and restaurants including L'Appart, with its seasonal tasting menu.
Russ & Daughters: The original store since 1914 is at 179 E. Houston Street. They carry caviar, herring, appetizers, smoked fish, canned good, bagels and wonderful sweets including chocolates and cookies. I tried two tasty macaroons. They also have a cafe at 127 Orchard St. which comes highly recommended by locals. Their new location just opened in July, 2023 in Hudson Yards at 502 W. 34th St.
Cosme: At 35 E. 21st St., this is well-known Mexican chef Enrique Olvera's new restaurant in NYC. I have enjoyed his Pujol restaurant in Mexico City. Located in the Flatiron District, it has a warm, contemporary atmosphere with really excellent food. The menu is contemporary Mexican, yet blending Mexican flavors and traditions with local and seasonal ingredients. I enjoyed the cobia al pastor with pineapple purée and cilantro plus a crispy octopus with hazelnut mole, pickled potatoes and watercress. The service was excellent.
Fig & Olive: Check out the well-known Fig & Olive Meatpacking District at 420 W. 13th St. I have had great experiences at their Chicago location on Oak St.
Gansevoort Liberty Market: Now located in the Oculus at Westfield World Trade Center at 101 Liberty St., this is a modern food hall with a number of purveyors.
Gotham West Market, Located at 600 11th Ave. between 44th and 45th, this is a great concept in a 15,000 sq. ft. space that has six restaurants serving tacos, pizza, shakes, burgers, sandwiches, ramen, coffee and pie.
One of the hot spots getting great press, is The Polo Bar by Ralph Lauren at 1 East 55th St. This clubby, warmly decorated restaurant is the third restaurant the company has opened after RL in Chicago and Ralph's in Paris.
Also high on my list to try is 54 Below, the supper club and restaurant that features great music and entertainment.
Market Table, 54 Carmine St.: I had heard about the restaurant on a segment on CBS Saturday along with their sister restaurants Little Owl and The Clam. It was opened in 2007 by Chef Mike Price and partner, Joey Campanaro and features farm-fresh fare. I really enjoyed the squash and pear salad with blue cheese and a pepita salsa verde. For an entree the broiled flounder with romesco aioli almonds, green beans and fingerling potatoes was really excellent.
Thanks to a friend I found the Columbus Circle Restaurants located near Time Warner Center, 10 Columbus Circle. Here you will find Thomas Keller's Per Se for upscale, fine dining and Masa, a three-star Michelin restaurant opened by chef Masa Takayama. He also has Bar Masa next door.
A close Chicago friend recommends Gabriel Kreuther, a sophisticated French restaurant, at 41 W 42nd St. It has two Michelin stars!!  Its chef and owner Gabriel Kreuther also owns Keuther Handcrafted Chocolate.