Cape May has many dining options. I was recently back for my second trip and was able to try some great new spots. There are many excellent restaurants, from casual to fine dining. My top picks include:
Blue Pig Tavern at the Congress Hall Hotel: This is the more casual dining restaurant at this historic hotel. 200 Congress Place. A great place for lunch or brunch!
Congress Hall also has a number of other dining options The Brown Room for cocktails and live music and the Boiler Room downstairs for pizza and live music.
Peter Shields Inn: This is a most elegant restaurant located in the Inn. It is the perfect spot for fine dining or a special occasion. I had a wonderful meal on my first trip to Cape May. 1301 Beach Ave.
Peter Shields Inn has recently opened, Fins Bar & Grille at 142 Decatur St. This is a more casual spot than the restaurant at the Inn and features seafood and cocktails along with outdoor dining and live music. It is open seven days a week for lunch and dinner.
Not to be missed in town is The Merion Inn at 106 Decatur St. This is an historic Inn from 1885. It is a wonderful spot for cocktails, dinner and listening to nightly live music. I loved the atmosphere and enjoyed a great old fashioned in the bar while listening to great music.
Locals love Tisha's for fine dining. It has been a popular spot downtown for over 30 years at 322 Washington St..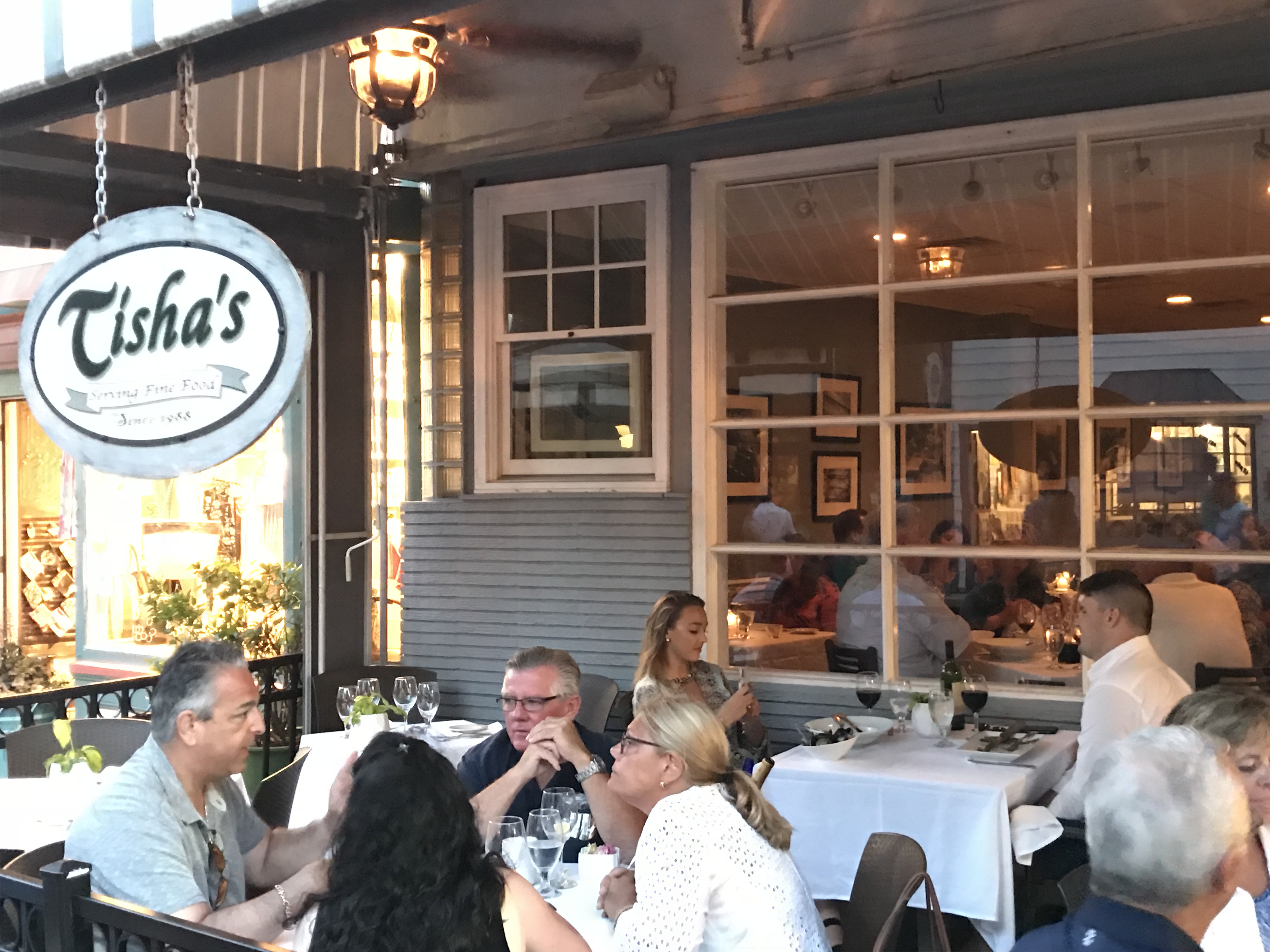 The Red Store is one of my favorite finds in Cape May has closed.  The owners  are in process of  opening Taco Shop at 5 Court House South Dennis Rd.  in Cape May Court House.
Ristorante A Ca Mia: Located on Washington St. at #524, this fine dining restaurant, featuring pastas and other Italian specialties, has a small Bakery and Cafe featuring breads, pastries and coffee drinks. It is a perfect place to hang out on the porch in the morning or take your coffee and explore the historic homes of Cape May.
The Lobster House: For dining on the docks, overlooking Cape May Harbor, this is the place.  Opened in the early 1950s, this large restaurant has several dining options including The Restaurant, The Raw Bar,  The Fish Market, and The Lobster House Take-Out. There is also the Schooner American which offers lunch, drinks and appetizers in the evening on an historic sailing vessel. 906 Schellengers Landing Rd.
While on the Washington Street Mall, make sure to buy some of Fralinger's Original Salt Water Taffy at 326 Washington Street. Since 1885, it is the best on the Shore. Also you must visit Kohr Bros. Frozen Custard, another Jersey Shore tradition, at 512 Washington St. Stewart's Root Beer is a fun diner serving burgers, shakes and root beer floats. 502 Washington St. Fudge lovers will enjoy a number of spots on Washington St. as well.
Other Restaurants to consider include:
Magic Brain Café: This is a fun cafe at 31 Perry St. with great coffee.
The Magnolia Room at the Chalfonte Hotel: A fine dining restaurant in an historic hotel. Offering Southern cooking, it also offers daily grilled fish specials and vegetarian options, a morning breakfast buffet and Sunday dinner buffet. The veranda on a summer evening is a great dinner location in Cape May. 301 Howard St.
The Ugly Mug Bar & Restaurant at 426 Washington St. is a casual pub with indoor and outdoor seating. I talked to some locals who enjoy the food.
Cape May Fish Market, at 408 Washington St., features a raw bar, seafood, salads, soups and chowders along with burgers and sandwiches.
Mad Batter: At 19 Jackson St., this is a well-known restaurant open for breakfast, lunch and dinner.
Margie D's Soda Fountain: This is a vintage soda fountain on the Washington St. Mall at 501-503 in the Della's 5 & 10. Make sure to stop in!
Ebbitt Room at the Virginia Hotel: Newly renovated and re-imagined restaurant located in the heart of historic Cape May. 25 Jackson St.
For casual dining on the beach, don't miss The Grille at Sunset Beach in Cape May Point for great ocean views.
Getting good press near the beach are Coffee Tyme at The Beach for coffee, pastries and breakfast sandwiches, the casual and rustic Rusty Nail, the Sea Salt Restaurant at the Ocean Club Hotel for seafood, Harry's Ocean Bar & Grille along with a rooftop bar with live music and the Harbor View Restaurant – Marina, Deck and  Bar.
Also recommended include the casual and colorful Key West Tacos,  plus The Kitchen at Beach Plum Farm and the Bella Vida Garden Cafe, both in West Cape May.