Denver is becoming a great "Foodie" destination with great chefs and restaurants. Our top new finds include:
Root Down: I enjoyed brunch at this great restaurant just west of downtown. It was referred to me by a friend. It was frequented by a very young, hip crowd that gave it a fun energy. Make sure to make reservations ahead of time. It is located at 1600 W. 33rd Ave.

Yampa Sandwich Co. (formerly Backcountry Provisions): Located at 1617 Wazee, this casual dining spot was recommended for lunch. They have a huge menu of sandwiches. I thought the food was good and the service excellent. Don't miss the cranberry chutney.
Linger: Located at 2030 W. 30th Avenue in the hip Highlands neighborhood, just west of LoDo or Lower Downtown in downtown Denver, this is a great spot featuring around the world street food. They have a roof top bar with views of Denver.
Little Man Ice Cream: After a great meal at Linger, don't miss having hand-man ice cream at Little Man Ice Cream next door at 2620 16th St.
Rioja: At 1431 Larimer St., this is an excellent restaurant on Larimer Square. It has has a menu featuring Mediterranean inspired ingredients and local and seasonal products. Owner/Chef Jennifer Jasinki was recently featured on Top Chef Masters and received the James Beard Award for Best Chef Southwest 2013.
Bookbar: At 4280 Tennyson St., west of downtown, this is a cozy, new bookstore that features a wine and coffee bar. It also features house-made hors d'oeuvres using local and organic ingredients.
A great new restaurant on our list is Old Major, Seafood, Swine and Wine located at 3316 Tejon St. in the Lower Highlands (LoHi) neighborhood. It is a great spot for brunch on Saturday and Sunday. They focus on heritage-raised meats from Colorado farms. They have a butchery program with a focus on pork. They butcher and prepare two pigs each week and even cure in-house. I thought their smoked ham served on cheddar chive biscuits with a red pepper jam was really excellent.
The Thrillist listed it as one of the best new restaurants in the US in 2013 and was Eater Denver's Restaurant of the Year 2013.  It was also on 5280 Magazine's Top 25 list for 2013.
Avanti F&B: This is one of my favorite new food halls that I have found in recent months. Located at 3200 Pecos, it features an eclectic mix of local bars and restaurants. I enjoyed lunch at the recently opened Bistro Georgette which features French fare. I thought the moules-frites (mussels and fries) were very good as was the peach pie made with local peaches. The food hall has a bar, and restaurants featuring tacos, burger, sandwiches, pizza, pasta, Venezuelan style arepas or flatbreads and poke and bowls.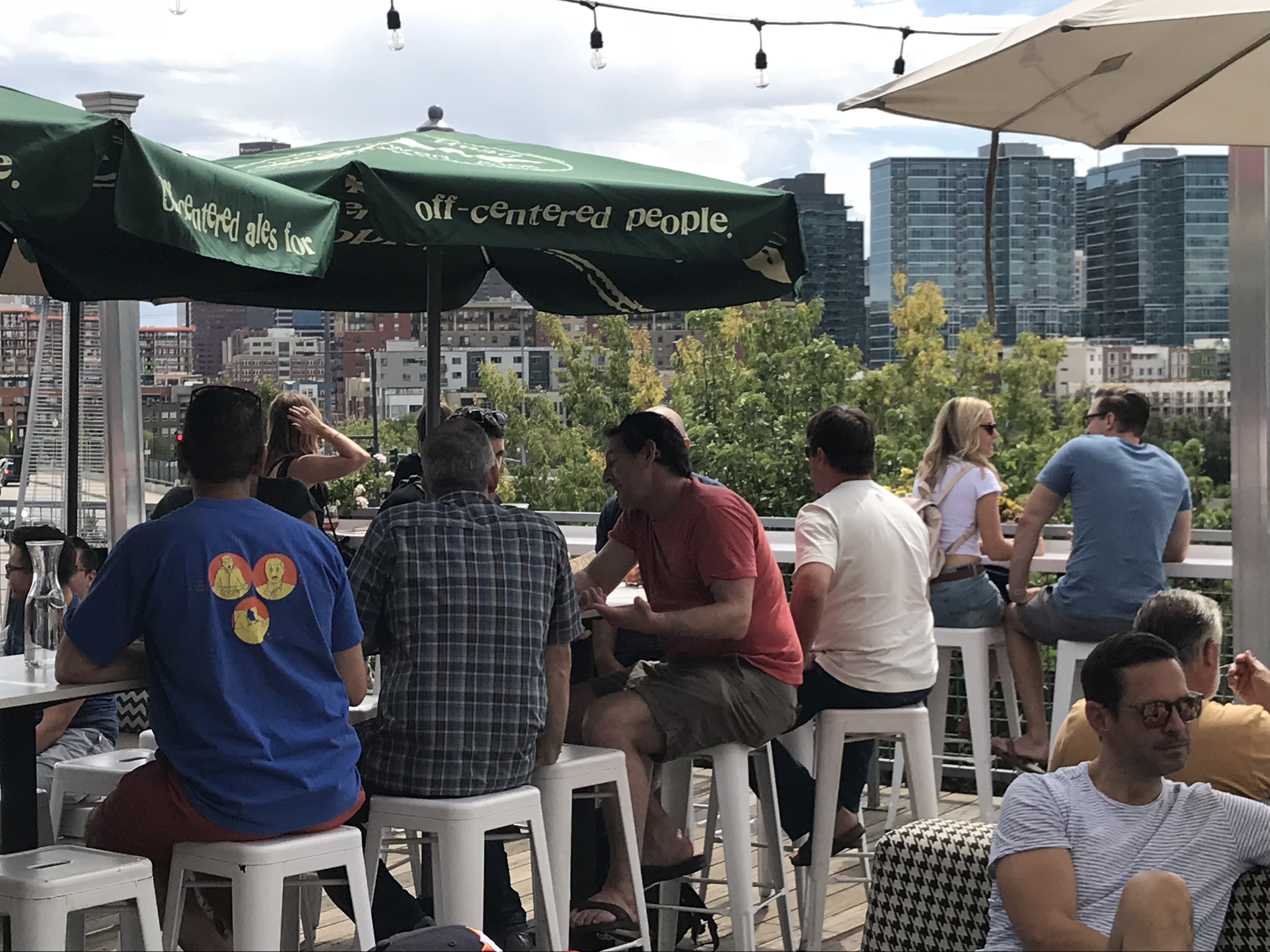 The Bindery: I enjoyed brunch at this casual LoHi restaurant, market and bakery. At 1817 Central, it was named 5280 Magazine's Readers Choice Award for Best New Restaurant 2018. I loved the yummy Croque Madame Tartine with spinach, bechamel sauce, ham, and Gruyere cheese with a sunny egg on sourdough toast.
The Source is one of my favorite new finds in Denver. Located in RiNO, the River North Arts District, at 3350 Brighton Blvd., this is a former 1880's steel foundry that is a hot new "foodie"destination. Here you will find an artisan food market, restaurants and stores featuring Babettes Artisan Bread, a French bakery with the best almond croissants; Beet & Yarrow floral shop and SVPER ORDINARY, an attractive design store. There is The Proper Pour for wine and spirits and the Crooked Stave Artisan Beer Project, a small brewery specializing in sour beers. There is Cafe Figurati a coffee roaster; Mondo Market, a cheese, spice and specialty food store and  RiNo Yacht Club for craft cocktails. There are special events, cooking classes and mornings talks.
One of the great restaurants in The Source is Comida, a modern Mexican taqueria, started from a food truck is popular.
The Source Hotel opened in September, 2018 next to the The Source food hall. The Hotel added 100 contemporary rooms to the complex and a new wing that features a barbecue restaurant, Smok BBQ,  a brewery, New Belgium Brewing, a new restaurant, Safta, by James Beard Award-winner Alon Shaya and a rooftop bar and restaurant, The Woods. It is a great spot to stay in one of the top emerging neighborhoods of Denver.
The Populist: At 3163 Larimer, this is a popular restaurant, featuring small plates and communal tables.
Nearby is the popular Snooze Eatery for breakfast and brunch at 2262 Larimer where you will see lines out the door on Sunday mornings. I really liked the vibe and coffee on a Sunday morning at Crema Coffee House at 2862 Larimer.
If you like historic, plus beef, buffalo and game, you might like trying Denver's oldest steak restaurant The Buckhorn Exchange. I was there recently for the first time and loved the food and the atmosphere. You can have everything from buffafo burgers, a buffalo reuben to larger plates. This is a great experience that is not to be missed. It is also close to downtown.
ChoLon Asian Bistro, at 1555 Blake, was also recommended as is Bittersweet, at 500 E. Alameda Ave., which is getting excellent reviews for its artisanal cuisine and beverages.
On my list to try are Work & Class at 2500 Larimer whose chef Dana Rodriguez, was just nominated for a James Beard Foundation Award for Best Chef Southwest in 2018.It features American and Latin American cuisine. 2500 Larimer, Suite 101.  Also nominated for the same award in 2018 was Slex Seidel for Fruition at 1313 E. 6th Ave.
The renovated Union Station at 1701 Wynkoop, that reopened in 2014, has some great dining options. Make sure to check out Mercantile Dining & Provision. It is two concepts in one—one half of the space sells everything from coffee, pickled beets and fruit spreads to cheese from Fruition Farms while the other half is a full, dinner-only restaurant. Breakfast and lunch are served at the counter. Thought I enjoyed coffee, I wanted a sit down experience with a local friend. I therefore, enjoyed a really excellent lunch at Stoic & Genuine, Seafood & Oyster Bar. I had a lovely panzanella salad with scallops. My friend had a great lobster roll. It has a contemporary, sleek atmosphere with outdoor terrace seating as well.
Brider Rotisserie + Kitchen at 1644 Platt. It is the newest offering by the owners of Oak at Fourteenth in Boulder and Acorn in Denver. Open for breakfast, lunch and dinner, this sleek, contemporary space offers coffee, pastries, rotisserie items, soups, salads and sandwiches. It is a fast casual spot, where you order at the counter. No reservations are taken.