Greenport has some great dining options from upscale restaurants to casual waterfront cafes.  My top finds include:
The Frisky Oyster:  I had a really wonderful meal at this Greenport restaurant at 27 Front St. I enjoyed my sea scallops with a roasted tomato risotto, but the Cornell oysters Friskafella with garlic-scented spinach, chipotle and parmigiano aioli were totally amazing!!!
Billys by the Bay: Located at 2530 Manhanset Ave. in Greenport, this is a fun, casual seafood restaurant and tiki bar near the docks. They have a full menu with great seafood. The lobster roll was perfect!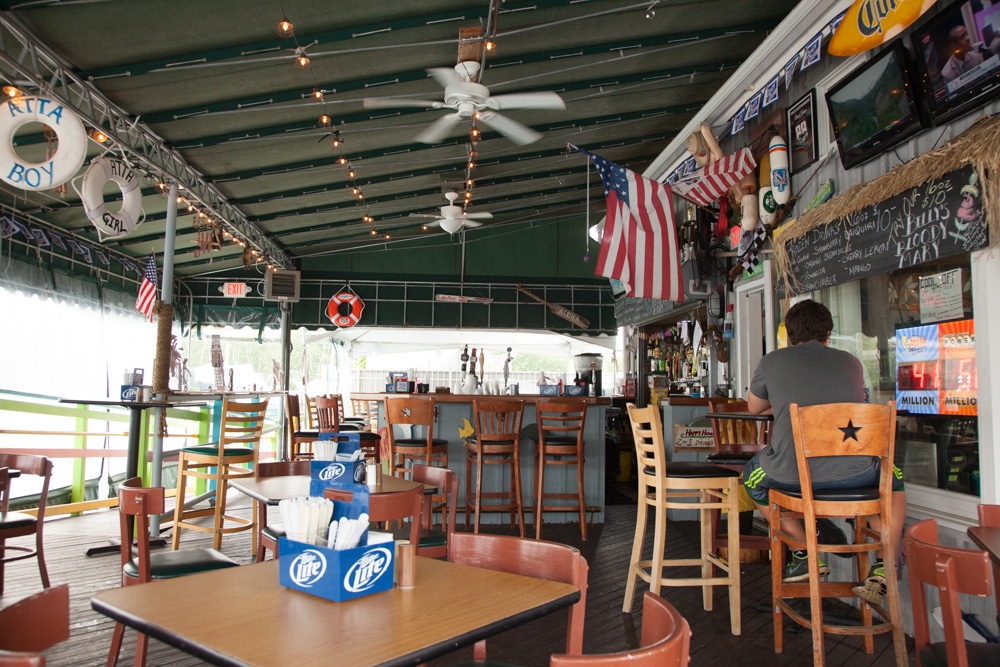 Noah's: This upscale restaurant, in Greenport, is a great spot to eat. They have a good number of small plates to share, entrees and daily specials. I enjoyed a really great halibut poached in coconut milk and served in the sauce along with fresh summer peas and vegetables. A perfect meal on a beautiful summer night. 136 Front Street.
D'latte Cafe & Bakery has wonderful gelato with unique flavors along with pastries and coffee. 218 Main St.
The Blue Duck Bakery Café: Stop in for a sweet at this great bakery at 130 Front St.
Greenport Harbor Brewing Company: Stop in at this micro-brewery's tasting room at 234 Carpenter St. I really enjoyed the Summer Ale brewed with a touch of orange blossom honey!
The Lin Beach House also has a downstairs bar, called Days Like These that serves local wine and sprits.
Crabby Jerry's: Across from Scrimshaw, at 111 Main St., this fun restaurant and bar is located on the docks. It is the perfect spot for a drink at the end of a full day.
Based on a NY Times review, I am excited to try American Beech Restaurant-Bar-Suites. In addition to the restaurant that is "inspired by the farming, fishing and viticulture industries of the North Fork" they have five guest suites in the historic carriage house.
The NY Times in a recent 36 Hours in Greenport, NY also recommends Crazy Beans at 2 Front St. for great omelets, Brix & Rye at 308A Main St. for cocktails and pizza, Aldo's Coffee Company at 103-105 Front St., Casa Amigos Restaurante (formerly Agave Grill and Cantina) at 110 Front St., First and South at 100 South St. for great cheeseburgers and Lucharitos at 119 Main St. for great fish tacos and guacamole. Little Creek Oyster Far & Market at 37 Front St. is  great for fresh oysters and local craft beer from Greenport Harbor Brewing Company. For ice cream, Sand Piper Ice Cream Shop, now Greenport Creamery, gets great marks at 142 Main. Claudio's Restaurant gets good reviews for its seafood menu at 111 Main St. near Crabby Jerry's. Both are part of the same ownership. They are known for their lobster rolls!
Food & Wine Magazine also recommends Bruce and Son for their breakfast and lunch menu. 
There are number of excellent North Fork wineries that you should visit while you are there.