After visting the city several times, I have found a number of great places to eat in Querétaro. The city is growing rapidly and now has a population of close to 2 million people. Though there are several excellent restaurants outside of the city center, I feel that for the best experience you should focus on the colonial heart of the city.  Here you walk and explore without having to drive everywhere. There are fine dining restaurants, many new coffee shops that have opened since my last visit plus many casual bars and restaurants to choose from. Therefore, based on this point of view, my top recommendations include:
PÍA Cocina Libre: I highly recommend this casual, farm-t0-table restaurant featuring local organic ingredients. Open for breakfast and lunch, I went for lunch on my last visit to the city and thought the food and the service were excellent. They offered a three course menu for $13.  I loved he beet salad, the the flautas with rabbit meat along with a tasty dessert. I highly recommend the experience.
Restaurante Di Vino, Anador 5 de Mayo 12: This is a sleek, upscale restaurant featuring Italian food and wines and one of my friend's favorites.
El Globo: This is a traditional Mexican pasteleria, part of a chain from the 1800's, located a short walk from the Main Square. It is a great spot for a  latte and a pastry while you explore this colonial city. Av. Corregidora #41 Col.Centro, Esquina Independencia
La Fabrica de Chocolate: This is a chocolate and coffee shop in the middle of the historic center. Here you can buy chocolate, coffee, hot chocolate, churros and chocolate and other food items. Calle 5 de Mayo 10, Centro.
Save room for wonderful gelato at Piacere Italiano located at Anador 5 day Mayo #10. The hazelnut was my favorite!
Maria y Su Bici: This small, casual restaurant  features the cuisine of Oaxaca. The large menu features many tacos, tamales and moles. It is a short walk from the Main Square. Calle 5 de Mayo 91.
El  Meson de Chucho el Roto:  This is a perfect spot on the  Av. Luis Pasteur Sur #16 on the Plaza de Armas. It is next to Restaurante 1810, another attractive cafe on the Plaza de Armas. Andador Libertad #62
Also on the the Plaza de Armas is a fun new find, Más Café  (More Coffee) at Av. Luis Pasteur Sur 9, Centro. I stopped in for coffee with a friend to start our day of exploration. They have a colorful patio in the rear, but part of the fun is being in front on the sidewalk enjoying the life of the city.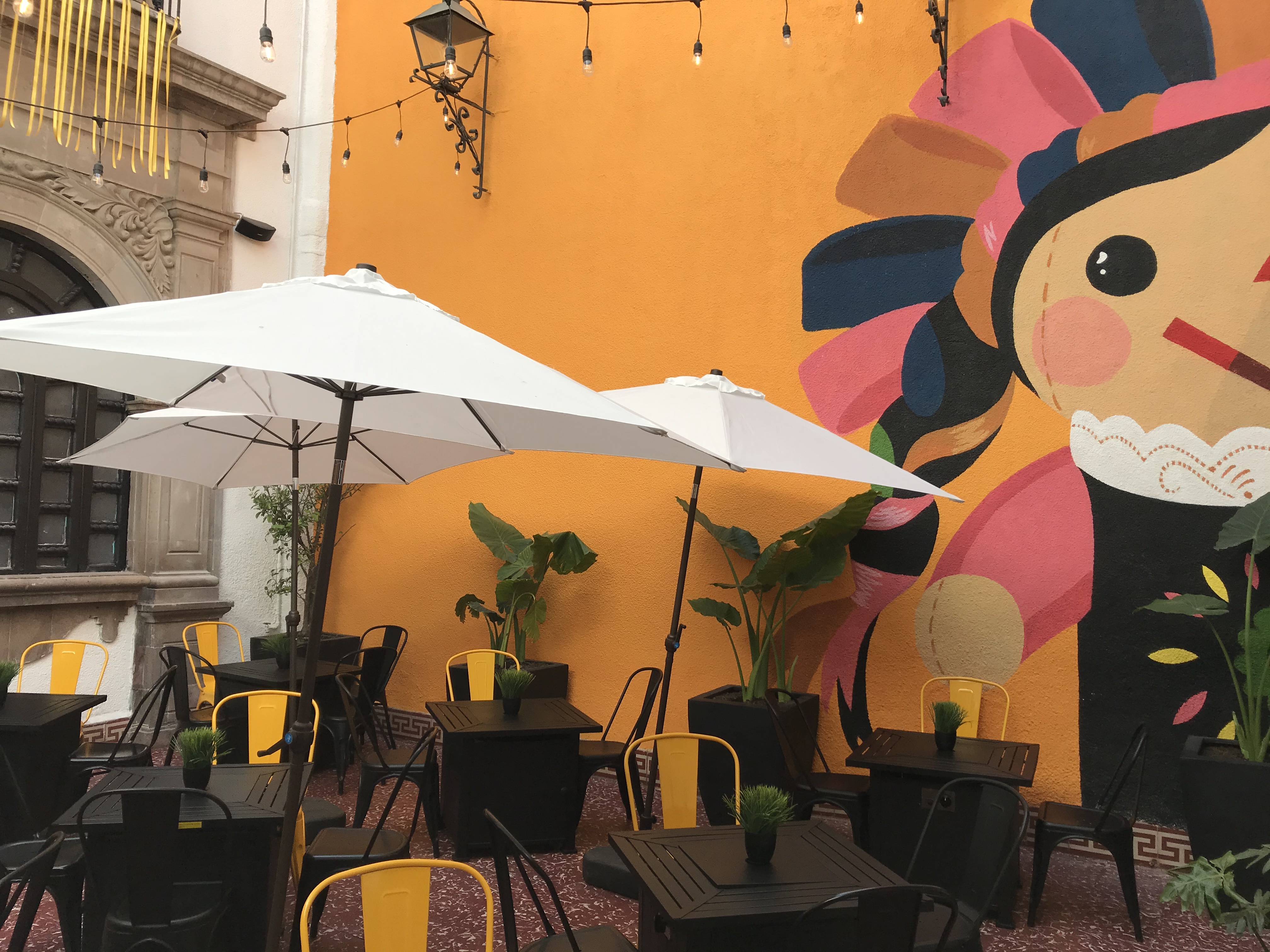 Also on the Plaza de Armas are two locations of Josefa Downtown Café y Bistro at the both locations of the Hotel Mesón  de Santa Rosa.
Pasteleria Edelweiss is a good spot for cupcakes, cakes and pastries at Madero 79.
Piix Cafe: At Calle Francisco I. Madero 52, this is a casual cafe for breakfast and brunch.
Carpe Diem Librería y Café: This is a colorful bookstore and coffee shop in downtown Querétaro at Av. Prol. Luis Pasteur 22.
After our visit to the Contemporary Art Museum we stopped in for coffee at El Chamizo. This is a fun, casual cafe with indoor and outdoor seating. They serve coffee, beer wine and have a food menu as well.  Calle Venustiano Carranza 56
My local driver and guide recommends San Miguelito Restaurante, a colorful, casual restaurant and bar with amazing murals. Calle 5 de Mayo 39
Also for coffee you might try, Black Juice & Coffee Lab which has a large menu of coffee drinks and food. I want to try the horchata cold brew on my next visit. Calle Vicente Guerrero 15.
For a cocktail, make sure to stop in at Esquina Mezcal at Hidalgo 21. Centro
If you want to eat outside of downtown, friends also recommend Restaurante Nicos located at Bernardo Quintana Arrioja #506, Col. Arboledas and Barbecoa Santiago at Carretera México – Queretaro km 152.1, Palmillas 76803 San Juan del Río for Mexican and Spanish food. Other suburban spots getting good reviews are Bruno Cucina at Blvd. Bernardo Quintana 5260, which has a very good new restaurant in San Miguel de Allende as well.  Hacienda La Laborcilla gets some of the top reviews in town. Prol. Corregidora Nte. 911 bis, Plaza del Parque.
I met Santiago Mogoya through mutual friends. Born in Mexico City, but he  started his culinary journey in Spain, where he worked in restaurants such as  Arzak in  San Sebastian and El Bulli by Ferran Adria. Later he worked in Los Angeles, where he spent six years as head chef at the Patina restaurant, rated as one of the best in this city. Today he heads a restaurant group in Mexico City that includes spots in Polanco and Roma Norte. He also started Barro de Cobre mezcal and opened a brewery with a fun beer garden in Querétaro called Cervecera Hércules. I went on my most recent trip and loved the experience. Located in a former textile factory on the outskirts of town Av. Hércules Ote. 1, it is a large complex with brewery, a outdoor movie theater, several cafes, a retail store for purchasing some of their beer, and an outdoor seating area for tasting, eating and playing games.