St. Louis has some excellent dining options and a growing food scene that is attracting national attention. All are covered in the neighborhood sections, but a summary is below:
In the Tower Grove neighborhood at 2900 Virginia Ave., is The Shaved Duck which is known for it good BBQ.
Also not far is the new Kitchen House Coffee, at 3149 Shenandoah, featuring local products.
Park Avenue Coffee:  A casual, local's hangout for good coffee and coffee drinks in Lafayette Square. It has comfortable indoor seating and a lovely outdoor patio in the rear.  1919 Park Ave.
Baileys' Chocolate Bar, at 1915 Park Ave., is nearby.  Here you will find a large number of chocolate martinis, hot chocolates, coffee, shakes, floats, desserts, cheese plates and other entrees including pizzas, sandwiches and salads.
Olio at 1634 Tower Grove:  Open for lunch and dinner in a former gas station from the 1930's, this is a wonderful spot with a creative menu, great design and really outstanding food.  I would go back in a minute.
Elaia:  Upstairs from Olio is Elaia.  This is a small, contemporary space featuring a wonderful creative menu.  A four course prix fixe menu is available or you can order by individual courses.
Across the street from Olio/Elaia is La Patisserie Chouquette at 1626 Tower Grove. They have wonderful pastries, teas and coffees.  This is a perfect spot for dessert or tea in the afternoon. The space is beautifully done as well.  They do offer breakfast and lunch items.  Loved the pear tart!  They offer special events, classes and special order items.
Just a short drive west is Farmhaus Food & Wine. This well-known restaurant with chef Kevin Willmann received the award from Food & Wine Magazine for Best New chef 2011.  It features farm-to-table Southern and Midwestern cuisine. 3257 Ivanhoe Ave.
Tenderloin Room:  This is a landmark restaurant at the Chase Park Plaza hotel since the 1960's that is dark and comfortable, like a private club.  232 N. Kingshighway Blvd.
Bissinger's Handcrafted Chocolatier:  Since 1845, this is a great spot to stop in for chocolates, dessert, wine or coffee.  32 Maryland Plaza.  The dark chocolate is excellent.
Juniper is recommended for Southern cooking at 360 N. Boyle.
United Provisions:  Located in a sleek, contemporary building, Olio and Elaia chef-owner Ben Poremba has teamed up with Suchin Prapaisilp to create a food store with international items, prepared foods, sushi, coffee and great food court/restaurant called the Dining District with table service for lunch or dinner.  6241 Delmar Blvd.
Blueberry Hill: A local tradition featuring local brews, a restaurant and  a music venue.  6504 Delmar Blvd.
Adriana's On The Hill: At 5101 Shaw Ave., this is a casual sandwich shop.
Charlie Gitto's at 5226 Shaw Ave. and Rigazzi's are highly recommended for great Italian food. Rigazzi's opened in 1957 at 4945 Daggett. I first went there around 1977.
Anthonino's Taverna is known for its toasted ravioli.  2225 Macklind Ave.
Bogart's Smoke House, 1627 S. 9th St.:  Be prepared for lines out the door. This Soulard restaurant features ribs, pulled pork, turkey, beef brisket, burnt ends, pastrami and tri-tip sirloin. You can get sandwiches, plates, combos and sides. The sides include pit baked beans, slaw, fire and ice pickles, deviled egg potato salad, chips, applesauce and BBQ pork skins.  There are four sauces to choose from.  Carryout is available as are orders by the pound and large sizes of sides.
After lunch at Bogarts, stop in at the Sweet Divine, at 1101 S. 9th, for a cupcake, ice cream or cookie.
St. Louis Art Museum:  The Panorama Restaurant in the East Building is a great spot for a lunch break.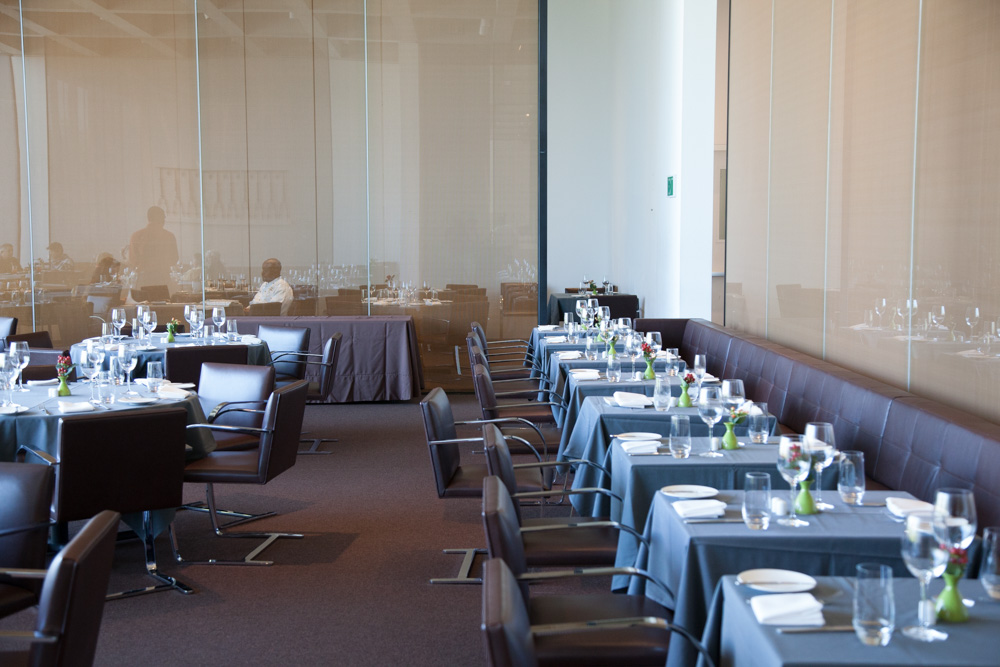 Chef Gerard Craft is a four-time James Beard Foundation finalist for Best Chef: Midwest and Food and Wine named him Best New Chef in 2008. It is considered one of the best regional restaurants in the country. I have tried some of his great menu options at Chefs Club by Food and Wine in Aspen but have yet to try Niche.  There is also Brasserie by Niche at 4580 LaClede Ave., Taste by Niche at 4583 LaClede St. and Pastaria at 7734 Forsyth Blvd in Clayton for pizza and pastas.
Vicia is on my list for next time. Chef Michael Gallina was named one of Food & Wine Magazine's Best New Chefs 2018. It is located at 4260 Forest Park Ave. He has an emphasis on seasonal vegetables and local ingredients.
Also on my list for next time is Rooster Cafe at 1104 Locust Street downtown.  It is known for its breakfast, lunch and brunch menu.
While visiting Silver City, NM several years ago, I loved the experience at Curious Kumquat. The restaurant has seen closed and its acclaimed chef Rob Connoley returned to St. Louis where he has since opened Bulrush, a contemporary dining and craft bar experience in the Grand Center Arts District. Its menu is rooted in Ozark cusine. This is defined as the food traditions of the people who settled in northern Arkansas and southern Missouri (and tips of Oklahoma and Kansas). According to St. Louis Magazine, "extraordinary native ingredients are rendered into meals that are simultaneously a celebration of a regional cuisine and an unmatched dining experience."  I am anxious to try it!!
SQWires, at 1415 S. 18th,in Lafayette Square is a fun spot for a casual dinner.  The atmosphere is better than the food, however.