Asbury Park is coming back!!! There used to be a great boardwalk with amusements and rides that I remember visiting as a child. It went through some tough times, but it has seen a big resurgence in its downtown area and along the boardwalk. It is well worth the visit.
Downtown, on Cookman Ave.,  and the nearby side streets, you can find a number of shops, galleries, coffee shops, microbreweries and distilleries and wonderful restaurants. There are have been several new openings since my last visit.   My recommendations include:
America's Cup Coffee, at 633 Cookman Ave., is a good spot for a latte. This is a fun coffee shop, that serves food also and roasts their own coffee on the premises. Also good for coffee which I found on my last trip is Cafe Volan at 510 Bangs Ave. Also for coffee and tea is Asbury Park Roastery. where coffee is roasted on-site.  603 Second Ave. and also at 1300 Ocean Ave. Grand Arcade/Convention Center. 
Across from Cafe Volan is  great new option for breakfast and lunch, Cardinal Provisions, featuring locally sourced ingredients. 513 Bangs Ave.
TAKA:  At 660 Cookman Ave, this is a wonderful sushi restaurant. The decor is really wonderful and colorful.  Looks like it could be in New York or Chicago. I chose the lunch bento box special which was a great value. Loved the salmon, California roll, salad and other tastes.  I highly recommend it.
Toast, at 516 Cookman Ave., is good spot for breakfast, brunch or lunch. Next door is Brickwall Tavern & Dining Room featuring a tavern menu and many beers on tap.  On the other end of the spectrum is Twisted Tree Cafe, featuring a vegan menu of salads, sandwiches, wraps and soups. 609 Cookman Ave.
Lola's European Cafe: At 539 Cookman, this is an attractive cafe featuring, wines, cheese platters, cured meats, and other entrees. They also have a great selection of gelatos.
Nearby is the new Talula's Pizza, Bar, Bread  at 550 Cookman which features pizzas, salads and sandwiches for lunch. For dinner they have pizzas, bowls, salads and toasts with various toppings. Their brunch menu looks wonderful with brunch pies, toasts, bowls and salads. The eclectic space is very attractive.
Confections of a Rock$tar Bakery: This is a funky, pink colored bakery offering cookies, macaron, cupcakes  and more. 550 Cookman.
The Bonney Read: This is a newer downtown bar and restaurant featuring chowders, seafood,  a raw bar and cocktails. I really enjoyed the crab cake sliders for lunch. 525 Cookman Ave. 
At 527 Lake Ave. is Asbury Festhalle & Biergarten, a great bar featuring a large selection of craft beers. They also have entertainment and events including Polka on the roof, yoga,music and more.
Next door is Moonstruck at 517 Lake.  This is a fine dining restaurant overlooking Wesley Lake. The feature a menu of pastas, seafood, steaks, pastas, salads and seasonal specials. My local friends highly recommend it.
Art 629, at 629 Cookman Ave, is a gallery featuring contemporary art. SALT Design Company has some wonderful home accessories with a shore/beach influence. 550 Cookman Ave. Exhibit No.9  Gallery also at 550 Cookman Ave. unit 1, features contemporary art as well.
On the Boardwalk, Cubacan Restaurant & Bar and Langosta Lounge are great dining spots. I enjoyed my dinner at Langosta Lounge on my previous trip.
Overlooking the Boardwalk with great ocean views, is Watermark which is a sleek bar on the second floor of the First Ave. Pavilion located at 800 Ocean Ave. It has 8,000 square feet and serves classic cocktails along with some food items. It also has a roof top patio. I understand that there is another Boardwalk concert venue that should be open in 2018/2019.
Nearby is the famous The Stone Pony associated with Bruce Springsteen and many others. Check out their concert schedule online. 913 Ocean Ave.  You might also check the website for live entertainment at Tim McLoone's Supper Club. I recently found the site for the Asbury Park Boardwalk which also has a calendar for other concerts at the Paramount Theatre and Convention Center. They have full line-up of entertainment from June through October.
Asbury Lanes is a vintage bowling alley and bar with live performances ranging from live musical acts, burlesque,  dance parties, film and art shows. It recently re-opened in its original location from the 1960s. They also have a fun diner that is open for breakfast, lunch and dinner from Wednesday to Sunday, and for dinner only on Tuesday. 209 4th Ave.
To stay in Asbury Park you can go traditional at the historic Berkeley Carteret Hotel from 1925, which has been reincarnated into the lovely Berkeley Hotel. 1401 Ocean Ave. They have a bar and grill open on weekends. For more of a contemporary vibe, there is The Asbury a new contemporary 110 room boutique hotel with great public areas, rooftop garden, beer garden and lounge with table tennis. you will find live music, yoga,movies on the roof, tea dances, a lobby bar and two rooftops with artificial turf. There is no restaurant, but there is grab and go take-out food.
Another hotel option is the recently opened Asbury Ocean Club Resort which features a 54 room boutique hotel along with a Beach Club, residential homes and a pool deck with bar and grill.  It is a very upscale property at 1101 Ocean Ave.
There are a number of emerging microbreweries and distilleries starting to appear in town. Check out Dark City Brewing Co. at 801 Second Ave.,which was the first craft brewery in town. Asbury Park Distilling at 527 Lake Ave. is now open with a new tasting room, as is the new location of Asbury Park Brewery at 810 Sewall Ave. They make a stout, an extra pale ale, a blonde and an IPA.
Thanks to Eater NY and Philly, I found Frank's Deli & Restaurant, a casual diner/cafe in Asbury Park from 1965. It has a great selection of breakfast items, breakfast sandwiches and sandwiches. The atmosphere is right out of the past and attracts a local crowd. I just went back for the second time and really enjoyed the pork roll sandwich. It was recommended by the late Anthony Bourdain and is a featured stop on his NJ Food Trail.
Downtown, don't miss The Complex. It features Loteria at  632 Mattison Ave. for Mexican street food, Capitoline for Italian specialties and pizza at  639 Cookman and Bond St. 208 Bond St. for cocktails.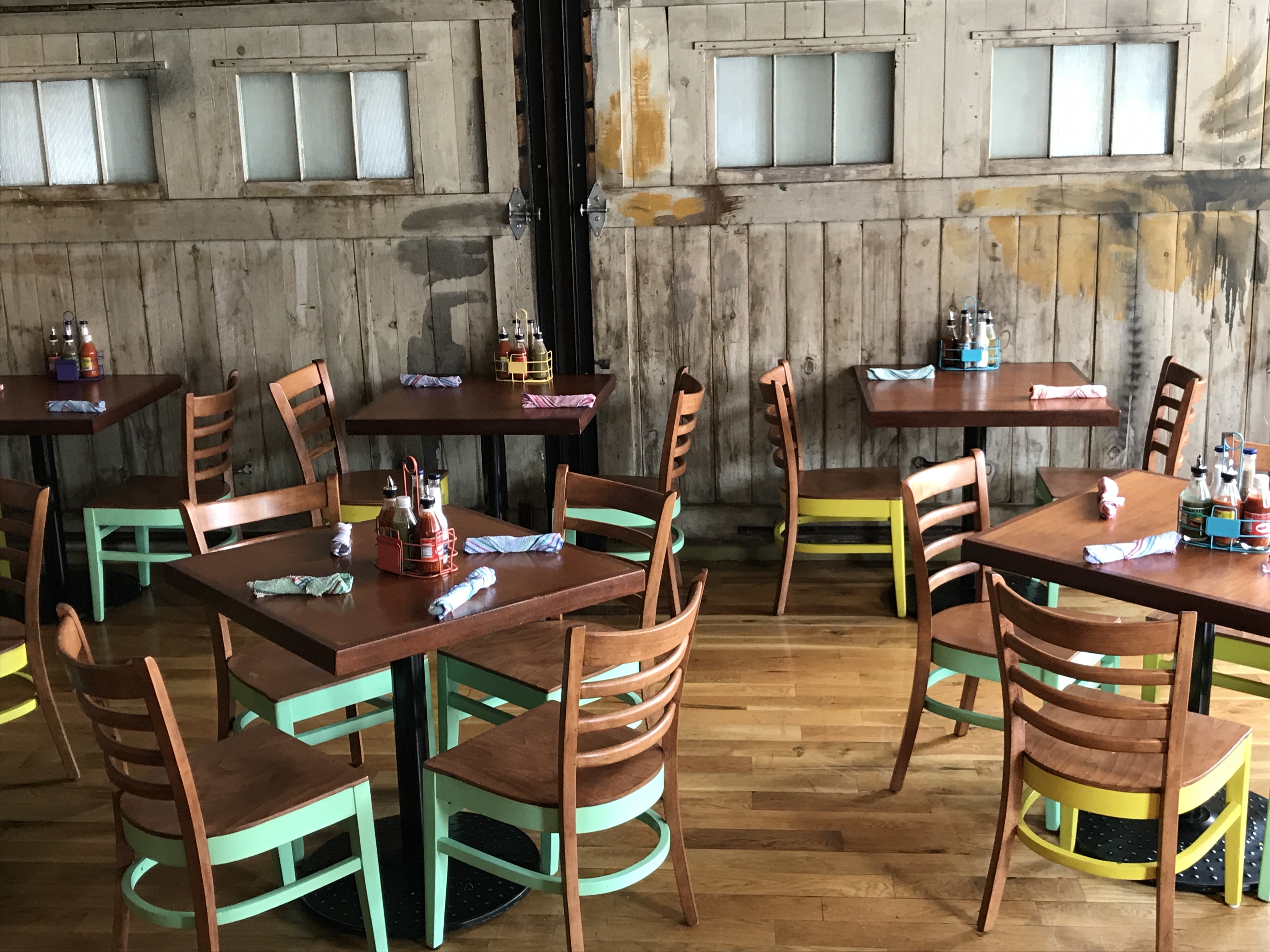 Also getting great reviews is Porta located 911 Kingsley St.  It is known for its great pizza in a fun, casual atmosphere a block from the boardwalk. They also have a Jersey City location.
At 711 Cookman Ave, the Cookman Creamery is a really excellent ice cream parlor serving artisanal ice cream. They feature a number of traditional and vegan options.  I loved the Key Lime Pie flavor on a beautiful July day at the Shore.
I had ready about the opening of Modine in early 2018, so wanted to try it on my recent trip to the Shore. At 601 Mattison Ave. in a former bank building, it was opened  the team behind the nearby Talula's. It features Low Country Southern cuisine. Open for dinner and brunch on weekend, I chose it for brunch where they had a DJ with music which added to the experience. I had to try the shrimp and grits which was a great choice. I thought the design was excellent which utilized some of the former building elements as was the service. I highly recommend it.
The team  who created Barrio Costero,  the contemporary Mexican spot in town, recently opened Reyla with a contemporary approach to Mediterranean and Middle Eastern cuisine.  It is located in a casual, contemporary spot downtown, near Cookman Ave. at  603 Mattison Ave. They are open for lunch and dinner plus brunch on the weekends.
On my list for next year are places recommended by NJ Monthly. These include Pascal & Sabine for French comfort food, Cross & Orange gastropub  La Tapatia for Mexican food,  Medusa Stone Fired Kitchen  and Stella Marina Bar & Restaurant on the boardwalk.