Highlands
This area, just west and northwest of downtown, is a trendy neighborhood with restaurants, bars and shops attracting a younger crowd. I love the area and have to go every time I am in Denver. My top recommendations include:
Root Down: I enjoyed Brunch at this great restaurant just west of downtown. It was referred to me by a friend. It was frequented by a very young, hip crowd that gave it a fun energy. Make sure to make reservations ahead of time. It is located at 1600 W. 33rd Ave.
Linger: Located at 2030 W. 30th Avenue in the hip Highlands neighborhood just west of LoDo or Lower Downtown in downtown Denver, this is a great spot featuring around-the-world street food. They have a roof top bar with great views of Denver.
Little Man Ice Cream: After a great meal at Linger, don't miss having hand-made ice cream at Little Man Ice Cream next door at 2620 16th St.
A great new restaurant on our list is Old Major, Seafood, Swine and Wine located at 3316 Tejon St. in the Lower Highlands (LoHi) neighborhood. It is a great spot for brunch on Saturday and Sunday. They focus on heritage-raised meats from Colorado farms. They have a butchery program with a focus on pork. They butcher and prepare two pigs each week and even cure in-house. I thought their smoked ham served on cheddar chive biscuits with a red pepper jam was really excellent.
On the southern part of the Highlands is Platt Street where you will find a number of restaurants, bars and shops between 16th St. and 19th. St.  Make sure to stop in at  the Denver Beer Co. Taproom at 1695 Platt St. to sample their porters, ales, IPAs and seasonal offerings.
Across the street is Brider Rotisserie + Kitchen at 1644 Platt. It is the newest offering by the owners of Oak at Fourteenth in Boulder and Acorn in Denver. Open for breakfast, lunch and dinner, this sleek, contemporary space offers coffee, pastries, rotisserie items, soups, salads and sandwiches. It is a fast casual spot, where you order at the counter. No reservations are taken.
Avanti F&B: This is one of my favorite new food halls that I have found in recent months. Located at 3200 Pecos, it features an eclectic mix of local bars and restaurants. I enjoyed lunch at the recently opened Bistro Georgette which features French fare. I thought the moules-frites (mussels and fries) were very good as was the peach pie made with local peaches. The food hall has a bar, and restaurants featuring tacos, burger, sandwiches, pizza, pasta, Venezuelan style arepas or flatbreads and poke and bowls.  
Across the street is Prost Brewery, a craft brewery making German-style beer. They have nice patio area in the warmer months. 2540 19th St.
Method Collective: This is a local coffee shop in LoHi at 32nd and Tejon or 2011 W. 3rd Ave. It opened in mid-2018 and is a fun spot for coffee when you are in the neighborhood. I stopped in before my Sunday brunch.
El Five Tapas Bar: This sleek, contemporary restaurant is located at 2930 Umatilla on the 5th floor. Valet parking is available, as parking can be tight in the neighborhood. Open for Sunday brunch and dinner, they feature Spanish style tapas. The views from the dining room and large outdoor terrace are really spectacular.
Señor Bear: Señor Bear has received great press and reviews for its flavors of Latin America — from Peru to Puerto Rico — in both food and drink, since it opened in mid-2017.  3301 Tejon.
The Bindery: I enjoyed brunch at this casual LoHi restaurant, market and bakery. At 1817 Central, it was named 5280 Magazine's Readers Choice Award for Best New Restaurant 2018. I loved the yummy Croque Madame Tartine with spinach, bechamel sauce, ham, and Gruyere cheese with a sunny egg on sourdough toast.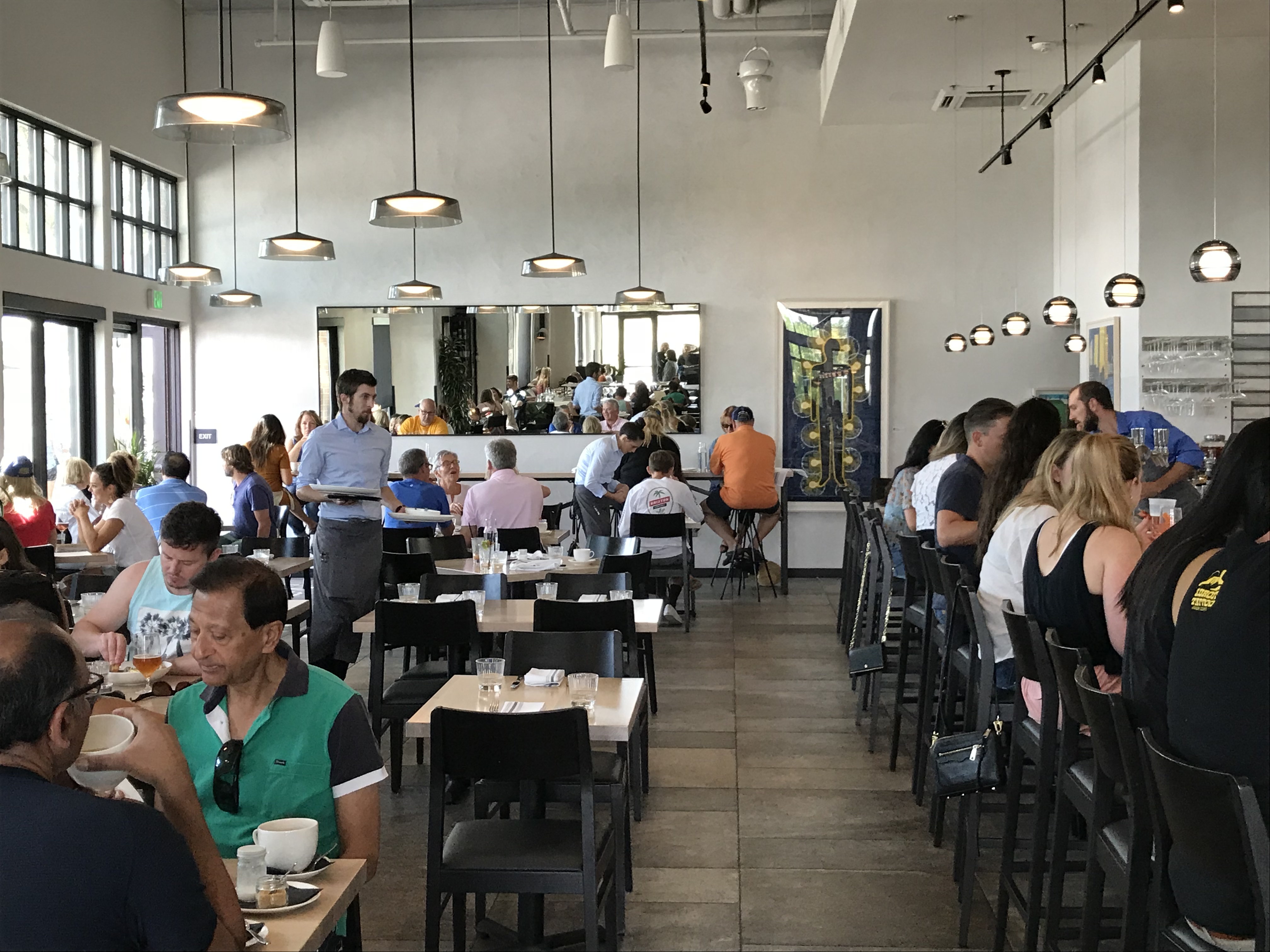 The Family Jones Spirit House: Opened in November, 2017, this is a restaurant/bar and craft distillery featuring their own spirits and small plates. They make a rum, vodka and gin and are currently aging their bourbon and rye whiskey. 3245 Osage.  
Mythology Distillery: This is the new bar and craft distiller, opened in mid-2018, that specializes in spirits and cocktails plus beer, wine, and food with an emphasis on international street fare. They produce a line of spirits including vodka, gin, rum and an American whiskey.  I thought the whiskey was very smooth and good. 3622 Tejon St.
I enjoyed Sunday brunch at Duo. Duo is a hip, neighborhood spot at 2413 W 32nd Ave.  It features creative farm-to-table cuisine in a "warm, rustic, continually packed space." I thought the food and service were top notch. It is open for dinner nightly and brunch on Friday, Saturday and Sunday.
On my recent trip to DIA (Denver International Airport), I stopped for lunch at Highland Tap & Burger at 2219 W. 32nd Ave. This is one of their four Denver locations. They have a large menu of gourmet burgers, salads, sandwiches and craft beer. I had a craving for a tasty burger and was glad that I went.
Berkeley
Just northwest of Highland is Berkeley and the Tennyson St. Cultural District. It is one of my favorite areas of Denver and is a fun multi-block area featuring coffee houses like Downpours Coffee, bars like the West End Tap House and restaurants including Hops & Pie for beer and pizza.
High Point Creamery: Make sure to stop in at 3977 Tennyson for great ice cream. Food & Wine Magazine's list of 7 Best New Ice Cream Shops in 2014.
Also in the neighborhood, there is Downpours Coffee at 3927 Tennyson that features classic coffee drinks, plus breakfast burritos, pastries and bagels.
Vital Root: At 3915 Tennyson St., this is a casual dining spot by the group behind Linger, Root Down and El Five. They feature soups, salads, tacos, ramen and noodle dishes and brunch items from Friday to Sunday.
Whit's Frozen Custard: At 3926 Tennyson, Whit's has a great selection of frozen custard, sundaes, shakes and floats.  
The Royal: Also at 4000 Tennyson is this casual spot offering burgers, salads, sandwiches and bar food.
Kyle's Kitchen is a diner with great atmosphere at 4018 Tennyson St. It is open for breakfast and lunch.
Atomic Cowboy: This is a casual cafe at 4257 Tennyson. It shares the space with Denver Biscuit Company and Fat Sully's NYC Pizza.