River North Art District  or RiNo, is an up-and-coming Art District in a warehouse area near downtown. There are many galleries and retail stores, but it is now booming with great, restaurants, bars, food halls, microbreweries, distilleries and new hotels. While much of the activity is centered along Larimer St., many of the new spots are to the west along Blake and Walnut as well as further west on Brighton Blvd.
Larimer Street
The heart of the district is found along Larimer St. from 22nd St. north to 36th St.
Very popular is Snooze Eatery for breakfast and brunch at 2262 Larimer where you will see lines out the door on Sunday mornings.
Work & Class: Make sure to check out this casual RiNo restaurant. Chef Dana Rodriguez received a James Beard Nomination for Best Check Southwest 2018. It features American and Latin American cuisine. 2500 Larimer, Suite 101.  
SuperMegaBien: At 1260 25th St, this new spot is located across the street from Work & Class at the hip Ramble Hotel. This is the second project of Tony Maciag and chef Dana Rodriguez, the Work & Class duo. It features pan-Latin American flavors which they discovered on research trips to Peru, Cuba and Mexico. They serve small plates served on dim sum-style carts and family-style offerings. There is Cuban ropa vieja with plantains, Jamaican jerk chicken wings, carne asada with chimichurri, Yucatan style ceviche and more.
The Ramble Hotel: This new, 50 room boutique hotel in Denver's hip RiNo neighborhood, is a great place to stay and base yourself when in town. It is a short walk to many galleries, boutiques, bars, restaurants, distilleries and microbreweries in the area. In addition to SuperMegaBien, described above, it has a fun rooftop bar with great views of downtown  1280 25th St.
I really liked the vibe and coffee on a Sunday morning at Crema Coffee House at 2862 Larimer.
Barcelona Wine Bar: This this is a wine bar featuring over 400 wines and tapas with Mediterranean, Spanish, and South American influences. The paella looks excellent. 2900 Larimer. 
Shakeshack: There is a large Shakeshack at 2995 Larimar where you can grab a burger and a frozen custard. It is close to Epic Brewing and Ratio Beerworks. They also feature local brews in the restaurant.
Food Halls
Not open on my last trip, I was pleased to be able to visit the Denver Central Market at 2669 Larimer. This food hall has a number of vendors and restaurants including Vero Italian for pizza and pasta; Curio neighborhood bar; Crema Bodega for coffee; Izzio Artisan Bakery for breads, pastries and desserts; High Point Creamery for great ice cream; Tammens Fish Market for seafood, sandwiches and poke; Temper Chocolates and Confections and SK Provisions for sandwiches, burgers and tacos.
The Source is one of my favorite new finds in Denver. Located in RiNo, the River North Arts District, at 3350 Brighton Blvd., this is a former 1880's steel foundry that is a hot new "foodie"destination. Here you will find an artisan food market, restaurants and stores featuring Babettes Artisan Bread, a French bakery with the best almond croissants and  Beet & Yarrow floral shop There is The Proper Pour for wine and spirits and the Crooked Stave Artisan Beer Project, a small brewery specializing in sour beers. There is Caffe Figurati a coffee shop and roastery; Mondo Market, a cheese, spice and specialty food store and RiNo Yacht Club for craft cocktails. There are special events, cooking classes and mornings talks.
Comida, a modern Mexican taqueria, started from a food truck is popular.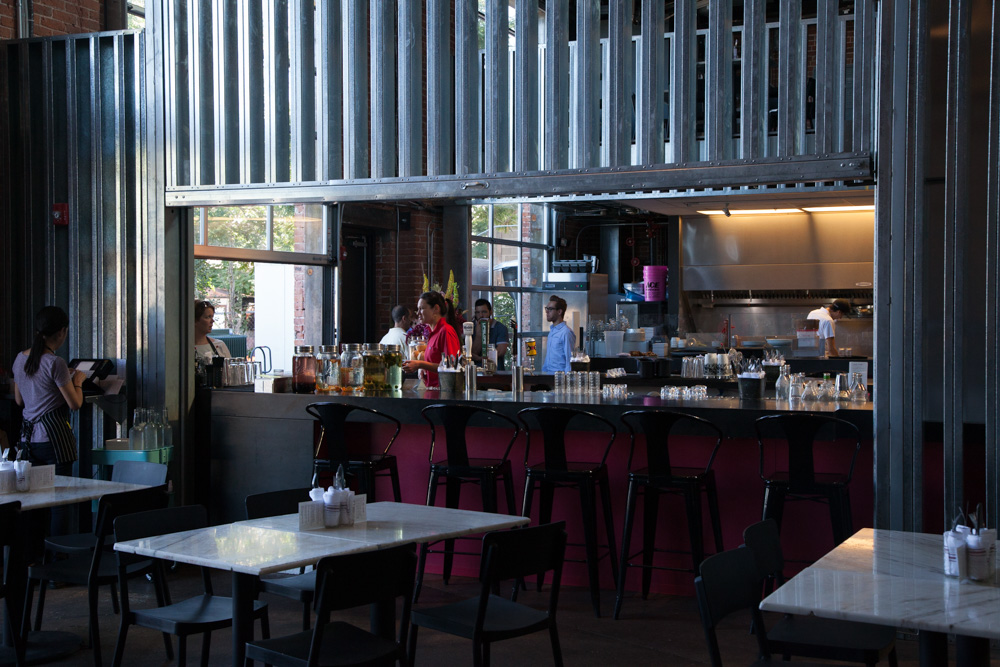 The Source Hotel opened in September, 2018 next to the The Source food hall. The Hotel added 100 contemporary rooms to the complex and a new wing that features a barbecue restaurant, Smok BBQ,  a brewery, New Belgium Brewing, a new restaurant, Safta, by James Beard Award-winner Alon Shaya and a rooftop bar and restaurant, The Woods. It is a great spot to stay in one of the top emerging neighborhoods of Denver.
Another neighborhood Food Hall is Zeppelin Station at 35th & Wazee which opened in March, 2018. It is located on the north end of RiNo not far from The Source. It has a work space above and food hall below. It is also located near the 38th & Blake Station on the RTD's Commuter Rail Line. Here you can find gourmet gelato, coffee, bahn mi sandwiches, poke bowls and poutine.  
Breweries, Wineries and Distilleries
Mile High Spirits: This is a Denver craft distillery that makes a rum, gin, tequila, bourbon, vodka and a peach/bourbon blend. 2201 Lawrence St.
OMF/Our Mutual Friend Brewery: Opened in 2012, in a building with colorful murals, this is a fun taproom at 2810 Larimer. They make a number of stouts, ales and IPAs including a coffee stout and one aged on cherries.  
Ratio Beerworks: Located at 2920 Larimer, this is a large, industrial taproom featuring a variety of craft brews plus a dog-friendly courtyard with games. They currently feature a number of ales and saisons.
Ft. Collins based Odell Brewing Co. has a Denver taproom at 2945 Larimar in RiNo. They have a large list of year round beers, seasonal specialties and some limited release or barrel aged options as well.
There is also the River North Brewery where you can taste their Belgian-inspired ales. 2402 N. Blake St. #1.  Epic Brewing at 3001 Walnut has a Tap Room for tasting as well.
Mockery Brewing: Mockery Brewing is located at 3501 Delgany St., near Zeppellin Station and The Source. They produce a number of ales, IPAs, pilsners, stouts and porters. They have a fun, casual tasting room that also features food trucks and events.
Great Divide Brewing Co.: With two Denver locations, I visited the RiNo location at their Barrel Bar & Packaging Hall at 1812 35th St. I really liked the smoothness of their Hoss Octoberfest Lager which is only available in August and September.
Lustre Pearl is a casual spot for cocktails, beer, live music and barbecue on weekends.1315 26th. St.
Galleries and Shopping
Redline Gallery at 2350 Arapahoe was recommended to me by a local artist. There are First Friday openings as well as Second Saturday openings and art walks.
Modern Nomad: At 1211 Delaware St., this is a local design store featuring new and vintage furniture, textiles, lighting, rugs and home accessories. Make sure to stop in when you are exploring the neighborhood. They have great quality merchandise!
Opened in RiNo in April, 2017 at 3070 Blake St. is the Backyard on Blake. It is a complex featuring shared office and private office space, retail shops, services, restaurants and spaces for music and events. Current tenants include Blue Sparrow and Coffee  offering brunch, dinner and music performances.