Greenwich Village and SoHo are neighborhoods that you should not miss. Start in Washington Square Park in the Village; this is the perfect spot for people watching in Greenwich Village. It is a large open space dominated by the Washington Square Arch and by the popular fountain area. The surrounding streets are full of boutiques and many restaurant choices. SoHo is to the south and has wonderful shopping and restaurants.
Where to Eat
Empellon Taqueria: A West Village Restaurant, 230 West 4th St., that has received some great press and accolades including Food & Wine Magazine naming Chef Alex Stupak as one of its Best New Chefs and one of the Best Taco Spots in the US and one of Forbes Magazine's All-Star New York Eateries for 2012. I enjoyed the attractive decor and a really great meal of different sopes and tacos with friends.
Las Ramblas Bar de Tapas: At 170 W. 4th in Greenwich Village, this is a small, cozy tapas bar serving Spanish specialties.
The Dutch: I made a reservation at The Dutch after reading all of the great press. It is the perfect spot for Sunday Brunch in the city. Loved the menu and the great atmosphere! It can be found at 131 Sullivan Street in SoHo.
Market Table, 54 Carmine St.: I had heard about the restaurant on a segment on CBS Saturday along with their sister restaurants Little Owl and The Clam. It was opened in 2007 by Chef Mike Price and partner, Joey Campanaro and features farm-fresh fare. I really enjoyed the squash and pear salad with blue cheese and a pepita salsa verde. For an entree the broiled flounder with romesco aioli almonds, green beans and fingerling potatoes was really excellent.
King Restaurant: After reading great reviews about King Restaurant, I enjoyed dinner with my two nieces who live nearby. It is a small neighborhood spot, the kind that I love in NYC, that features the cuisine of  Southern France and Italy. It is open for lunch on Sunday and dinner during the week. 18 King St., at the corner of King and 6th Ave.
Canal Street Market: I love food halls and this was my most recent find in NYC. This is both a food hall and retail market with small indy shops or boutiques. The current list of food offerings include ceviche,  Lebanese and Japanese cuisine. The shops are attractive and feature home goods, personal accessories, clothing, shoes and more. 265 Canal.
Fanelli Cafe: Fanelli Cafe is a classic old SoHo pub dating back to 1847, making it one of New York's oldest continuously operating places to drink. It was considered an art bar as it was still open when artists and galleries began moving into the neighborhood in the early 1970's. When one of the galleries closed in 1972, Fanelli rented the artist a space above the bar to start her own gallery. It became a popular meeting place for many local artists and gallery owners. Today it is still a popular spot and serves pub food, beer and cocktails. I had a great old fashioned prior to my dinner in the neighborhood. I loved the classic atmosphere with red checked tablecloths. 94 Prince St.
Balthazar Restaurant & Oyster Bar: I went to Balthazar for the first trip on a recent trip to NYC. It is considered to be the best French bistro in town. It is open for breakfast, lunch, dinner and weekend brunch. It has a classic French decor with great food and service; I highly recommend it. Next door is Balthazar Bakery, with a great selection of breads and pastries. The quality is great. You can go to the bakery separately or enjoy one of their wonderful desserts at the restaurant. 80 Spring St.
Laduree New York: Their location in SoHo, one of two in NYC, can be found at 398 W. Broadway. This is a classic French bakery with Parisian origins, specializing in macarons in a number of flavors. They also have an attractive restaurant in back where you will also find a lovely patio. Here you can enjoy breakfast, lunch, dinner and afternoon tea served from 3pm to 6pm. I enjoyed the cafe in front for a latte and wonderful macaron. 
Another great  option is La Mercerie Cafe at the Guild located at 53 Howard St. I loved the ambiance of this contemporary French cafe attached to an attractive home decor store, The Roman and Williams Guild. You can enjoy breakfast, lunch, dinner or just a coffee and pastry!  
Antique Garage: Located in a converted mechanic shop, thus the name, this a is fun spot featuring Turkish and Mediterranean cuisine. The space itself is worth the visit to see the many antiques lining the walls. 41 Mercer St. There is also a location in Tribeca at 313 Church St.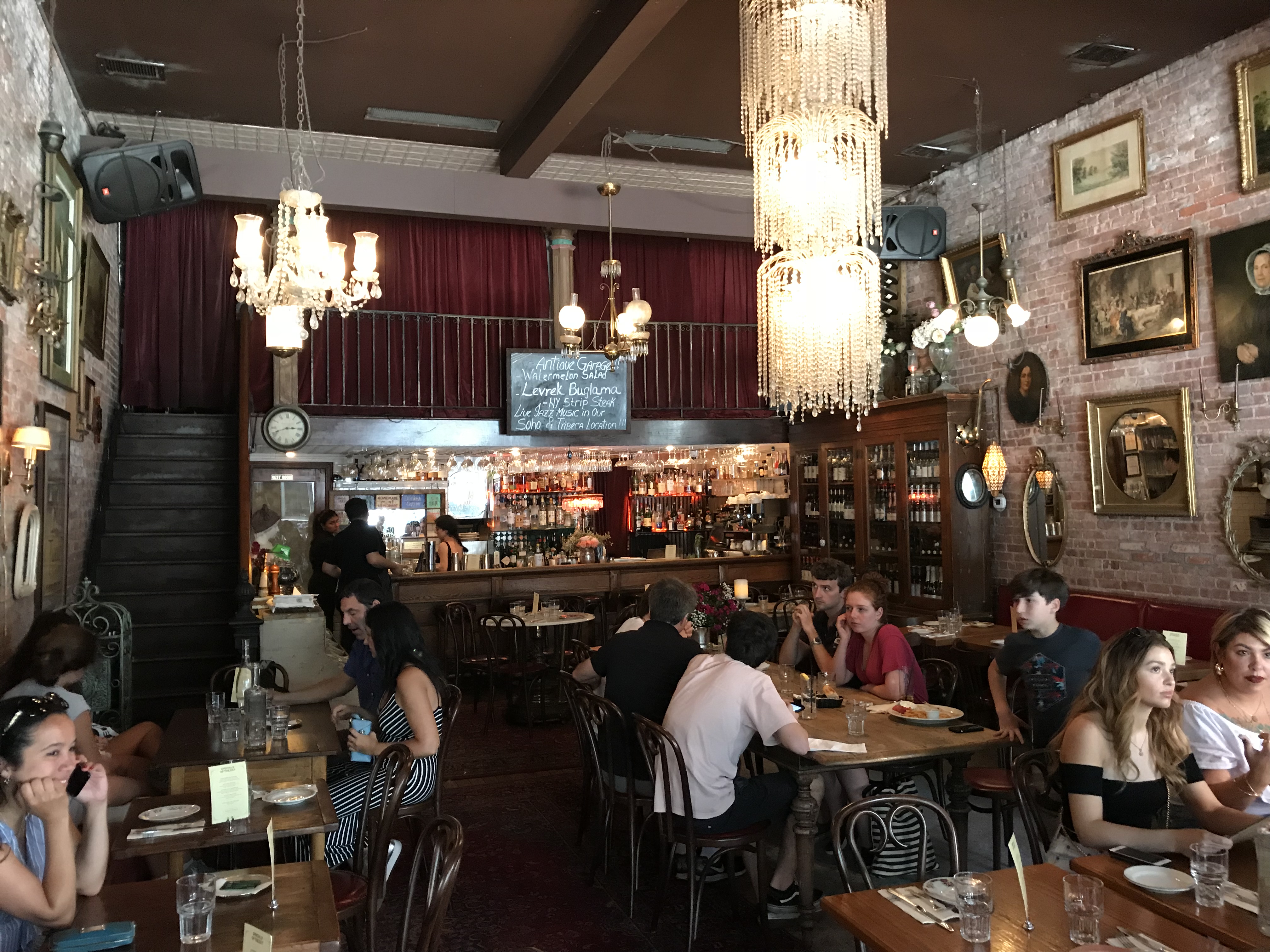 Baz Bagel & Restaurant: This is a popular neighborhood spot that specializes in hand-rolled bagels, smoked fish and other Jewish comfort fare and other diner favorites in a colorful space with retro touches. Bon Appetit called it one of NYC's Best New Jewish Delis while the NY Times featured it in an article about The New Golden Age of Jewish-American Deli Food. 181 Grand St.
Lupa Osteria Romana: My niece loves this casual, neighborhood Italian spot at 170 Thompson St., near her apartment. They also feature special events and special wine dinners. I am excited to try it on my next trip.
Make sure to walk through Little Italy.  You can find some fun casual spots, many with outdoor seating.
Where to Shop
The Guild: The Roman and Williams Guild is a beautiful home decor store featuring furniture, home accessories, lighting, cookware and gifts. The store is attached to the contemporary French Cafe La Mercerie Cafe. 53 Howard St. 
What to Do
After dinner you might stop in at the famed Blue Note Jazz Club for a performance. It is located at 131 W. 3rd St.
Judd Foundation: After visiting Marfa, Texas in 2016 and learning about the art and influence of artist Donald Judd on Marfa, I wanted to visit his home and studio in SoHo. He and his family lived here before buying a number of buildings in Marfa starting in 1973. Located at 101 Spring Street, in a five-story cast-iron building, you can sign up for a guided tour to see some of his work, his furniture design and the work of other great artists. I thoroughly enjoyed my 90 minute tour.  
I just learned on a virtual walking tour that, similar to the Judd Foundation building, today there are approximately 250 cast iron buildings in New York City, most of them in SoHo and mostly built from the mid-1800's  after the Civil War through the late 1800's. So make sure you look for them as you walk around and explore. The strength of the iron provided the structural support that allowed for the construction of  beautiful architectural details and much larger windows than seen prior. This allowed for substantially more light into the buildings.
Museum of Chinese in America: Located on the northern end of NYC's Chinatown, this is a small museum that traces, the history and stories of Chinese Americans and their journeys, memories and contributions to the American culture. It features the design by famed artist and designer Maya Lin. They have a permanent exhibitions and also features special exhibitions of contemporary art, design and historical subjects. 215 Centre St.  
The Drawing Center: The Drawing Center is a small museum and a nonprofit exhibition space that focuses on the exhibition of drawings, both historical and contemporary. It "explores the medium of drawing as primary, dynamic, and relevant to contemporary culture, the future of art, and creative thought." In addition to exhibitions, they feature classes, workshops, lectures and visits to artists studios. 35 Wooster St.
Tenement Museum: New York's Tenement Museum focuses on America's urban immigrant history. A National Historic Site, it is located on the Lower East Side at 97 and 103 Orchard Street. 97 Orchard Street served as home to immigrant families between 1863 and 1935, Under One Roof shares the stories of those who started their lives anew in their tenement at 103 Orchard Street. A number of different tours are available by purchasing tickets. You can do this online before your visit.
They recently launched a new tour where you can visit the homes of Bella Epstein, whose parents survived the Holocaust, Jose and Andy Velez, whose mother left Puerto Rico for garment work, and the Wong siblings, whose stories of their mother and other garment workers are highlighted in an interactive, recreated Chinatown garment shop.
Minetta Lane Theater: Theater lovers might enjoy attending a performance at the Minetta Lane Theater. It is a 391-seat Off-Broadway theatre on Minetta Lane in the Greenwich Village neighborhood. 18 Minetta Lane.