Located 90 minutes northwest of Chicago and 45 minutes west of Milwaukee is the popular Lake Geneva. Here you will find the three small towns of Lake Geneva, Fontana-on-Geneva-Lake, Williams Bay along with Lake Como an Lake Delavan to the north. You can spend the weekend in the area or enjoy a day trip.  My top recommendations include:
Lake Geneva
This lakeside community has been a popular resort town for people from both cities for many years. With many wealthy Chicago families building summer mansions there after the Civil War, it became known as the Newport of the West.
Today it is a popular day trip or weekend destination with hotels, resorts, bars, restaurants, galleries, antique stores and gift shops. Plus, there is golfing, boating, hiking and lake cruises. The 26-mile Geneva Lake Shore Path is a great way to see many of the large mansions along the lake.
I always enjoy walking downtown in the Main Street Historic District, dating from the 1860s, which was listed on the National Register of Historic Places in 2002.
Where to Eat and Drink in Lake Geneva
I recommend enjoying a great lunch at the Simple Cafe located at 525 Broad St.,  which is a three block walk from the lake. This colorful restaurant has a large breakfast menu featuring eggs, omelets and frittatas. They also have a lunch menu with salads, soups and sandwiches. Using locally sourced ingredients, the food is fresh and very good.
Next door is their Simple Bakery & Market if you want to take home some of their great bread or cookies. I recently went back and loved the oatmeal raisin cookies. 
On my recent trip I enjoyed my brunch at Lake Aire Restaurant. It is a classic American restaurant that has been open for over 50 years. They have a large breakfast menu along with many lunch and dinner options. I recommend the eggs benedict. 804 W. Main St.
A local friend recommends Barrique Bistro & Wine Bar near the beach downtown. It has a menu of small plates, flatbreads, seafood and other entrees. They have popular patio as well. 835 Wrigley Dr.
Stop in at Kilwins Confectionary for an ice cream as you explore downtown and the lakefront. It is always good!!! 772 Main St.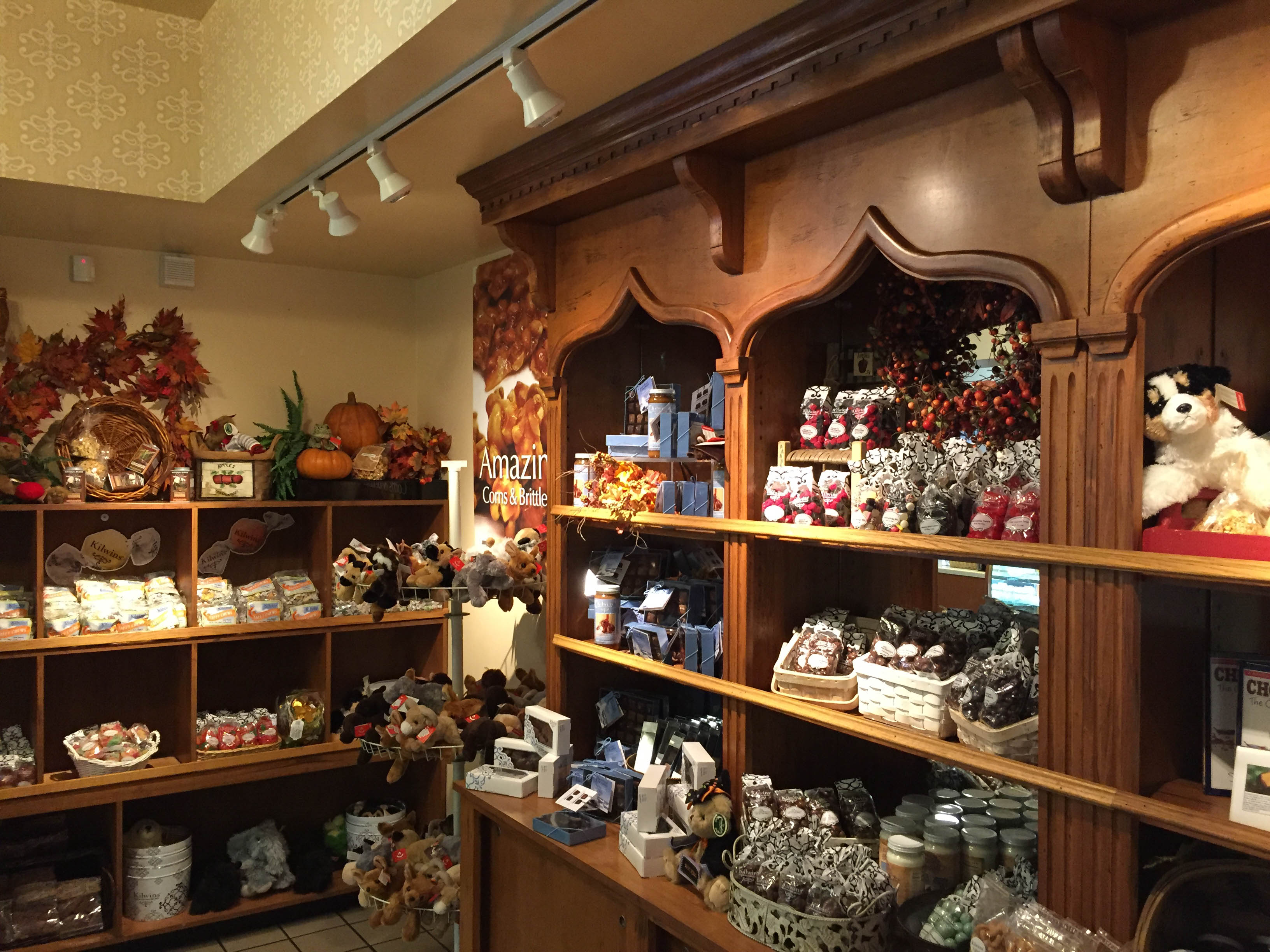 I also recommend Scoops Ice Cream at 101 Broad Street. I loved the pumpkin flavor on a beautiful October afternoon!
For coffee I suggest supporting Inspired Coffee which "employs people with intellectual, developmental and physical disabilities where they are celebrated, job trained, coached and, over time, placed into a fully integrated work setting." 883 W. Main.
Also downtown is The Olympic Restaurant, a retro diner, at 748 W. Main St.  known for its breakfasts. It has been open for over 60 years.
Other restaurants that get good reviews include Sopra Bistro at 724 W. Main for Italian specialties and the waterfront classic steakhouse, The Geneva Inn Restaurant and Lounge at N2009 S. Lake Shore Drive. Oakfire Pizza is a casual lakefront bistro serving pizza and other Italian specialties. 831 Wrigley Dr. Also, for Italian you might check out Tuscan Tavern  & Grill at 430 Broad. St.
Recently opened in August, 2021 is Zaab Corner Bistro at 501 Broad St. It replaced the former and popular Medusa Grill and Bistro. Their menu features seafood, steaks, barbecue and Hibachi-fusion prepared dishes.
I love classic diners, so next time I want to visit Jonie's Diner, just outside of downtown at 111 S. Wells St. Built in 1954 in Pennsylvania, it was then moved to Connecticut and later to Lake Geneva. I also want to try Great Eggs, a cafe at 220 Cook St. for breakfast and lunch wraps along with smoothies and coffee drinks.
One of my favorite new finds is the Topsy Turvy Brewery located at 727 Geneva St. in a former church building. I loved the atmosphere as they have kept many of the stained glass windows from the church. They have an outdoor patio as well as a beer garden in the back. They make a number of beers onsite including ales, IPAs, lagers, porters and stouts. I really enjoyed the Secret Cherry Tree Stout which is a rich beer made with a dark sweet cherry puree.
My other favorite new spot is Mars Resort, a classic supper club, located on the shores of Lake Como just northwest of downtown Lake Geneva. I really enjoyed the experience. We sat on the outside terrace overlooking the lake and loved the fish fry which they have on Wednesday and Friday evening. The baked cod was a great choice.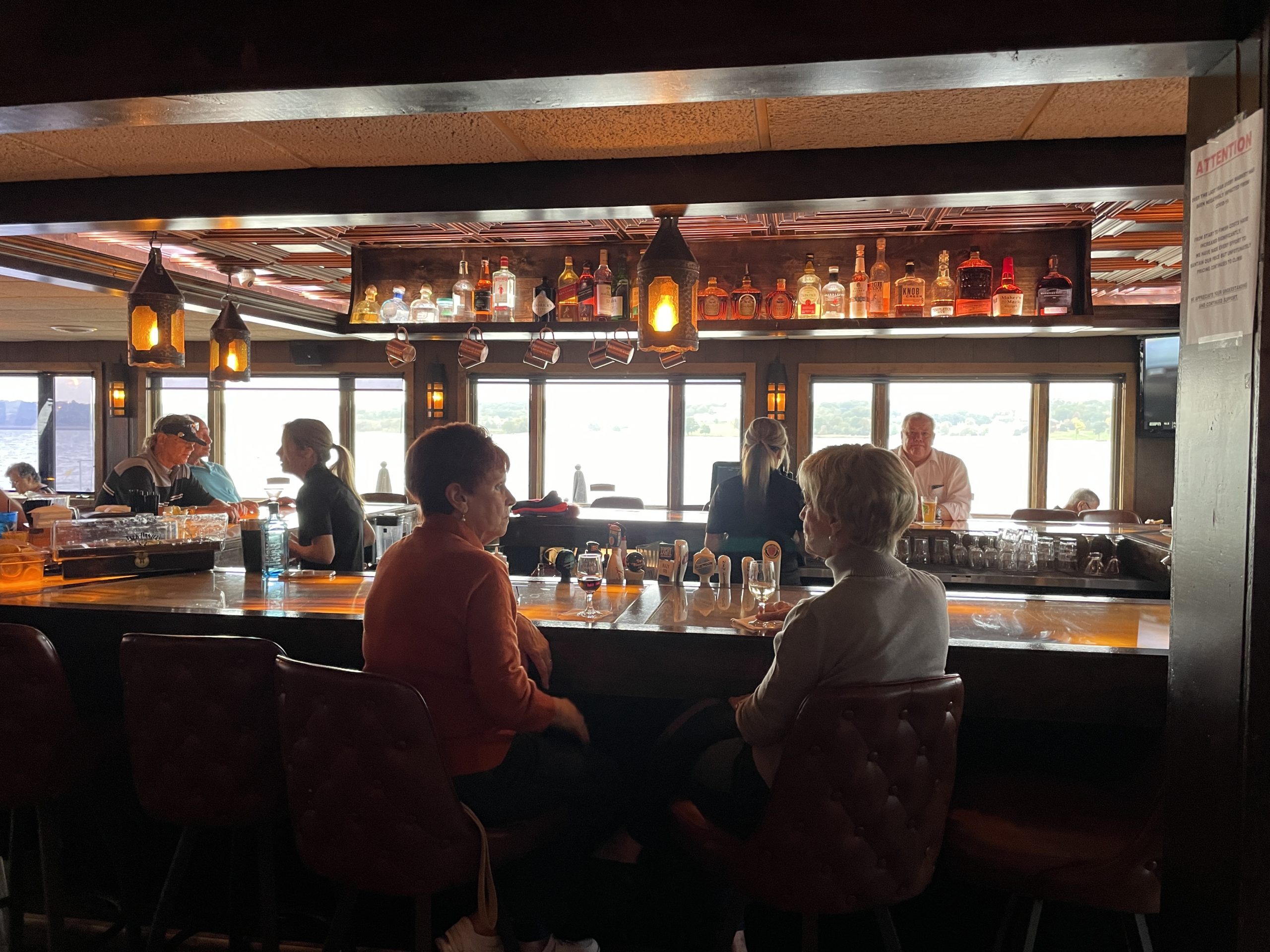 What to Do in Lake Geneva
On my most recent trip, I did a boat tour from Gage Lake Geneva Cruise Line. They offer a number of tours, in the warmer months, from an hour tour of 1/2 of the lake to full lake tours, lunch cruises, cocktail cruises, supper club dinner cruises, jazz dinner cruises and Sunday brunch cruises. My friend and I opted for the 1/2 of the lake tour which highlighted many of the historic mansions. We both enjoyed it and were very pleased that we chose to do it on a beautiful fall, October day. I recommend that you book your cruise online before you go. The boats leave from the Riviera Docks at 812 Wrigley Dr. downtown.
Make sure to stop by to view the Lake Geneva Public Library at 918 W. Main. Designed by Frank Lloyd Wright protege, James R. Dresser, the prairie style building overlooks the lake from its downtown location in Library Park.
There are a number of attractive shops downtown offering home accessories, gift and clothing. My favorites included Cornerstone Shop & Gallery at 214 Broad St. Since 1988, this boutique features apparel, furniture, home accessories, wall art, rugs and gifts.
At 235 Broad St, Water Lilly features clothing for women and children including colorful apparel, gifts and accessories from Lilly Pulitzer.
Where to Stay in Lake Geneva
As to where to stay in Lake Geneva, I just read about the Maxwell Mansion. This is a small inn that is part of the Historic Hotels of Lake Geneva. You can stay in the main building, an historic mansion from 1856, with elegant traditional rooms or in the carriage house and stables that features modern suites. Here you can enjoy a cocktail in their Apothecary Bar or subterranean The Speakeasy. 421 Baker St.
To stay on the lake, The Geneva Inn at N2009 S. Lake Shore Dr. has really lovely rooms and a restaurant overlooking Lake Geneva. Chicago friends were just there and loved it. Golfers might enjoy The Ridge Hotel, upscale hotel and golf resort.
The Grand Geneva Resort & Spa  is an award-winning hotel and spa with a golf course, ski hill and other winter sports along with a number of restaurants. Geneva National Resort is also a popular golf destination along the water on Lake Como.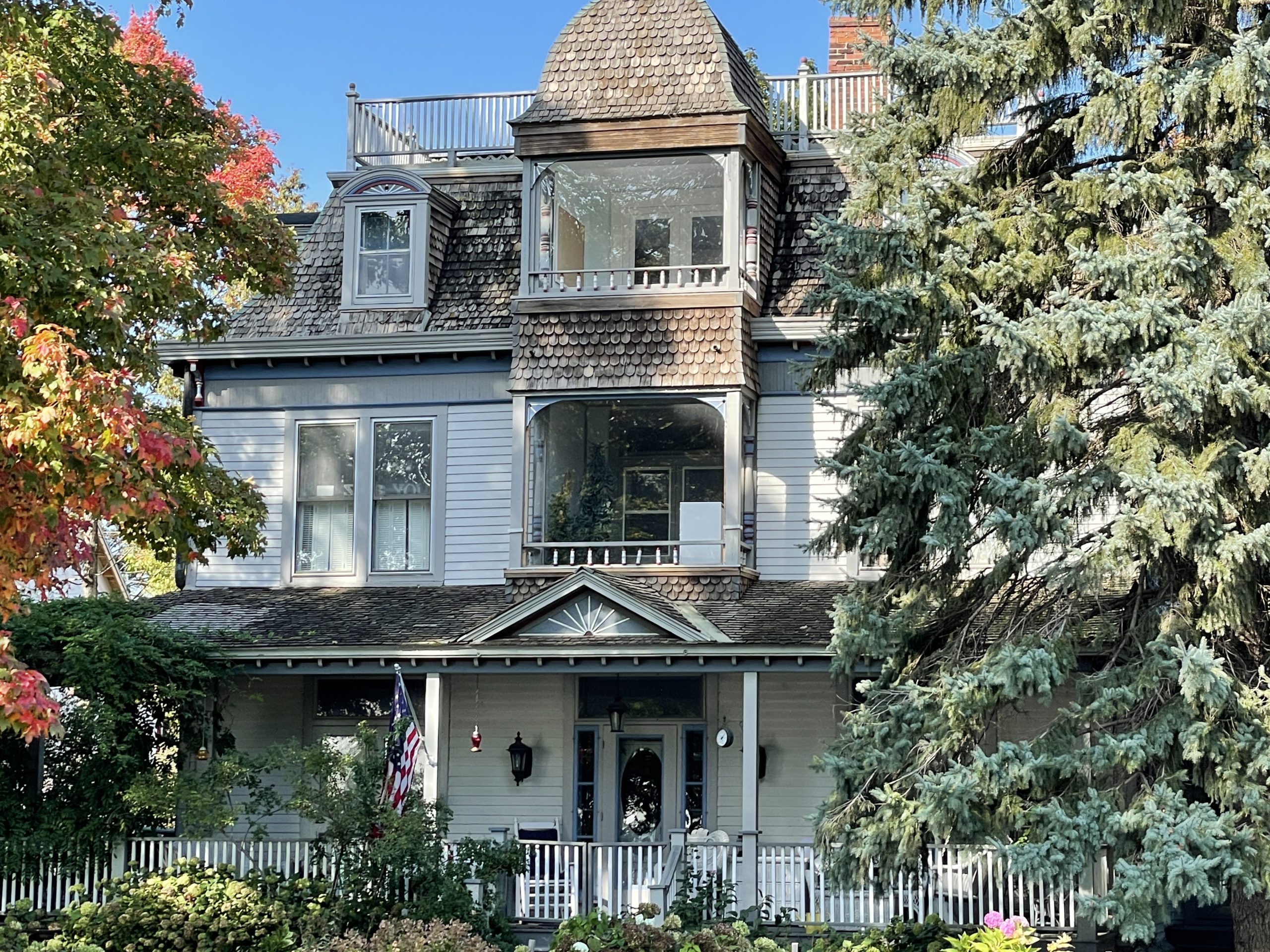 Fontana-on-Geneva-Lake
Fontana-on-Geneva-Lake is a small, charming village of 3,100 people in the southwest corner of Geneva Lake. I recommend that you add it to your visit to the area.
Along the lake you will the Fontana Municipal Piers, The Shore Shack at Gordy's Marine for dining on the water and Chuck's Lakeshore Inn for dining near the water.
At 269 Fontana Blvd, The Abbey Resort is one of the most popular resorts on Geneva Lake. It is a large resort with some room overlooking the Abbey Harbor. There are several dining options including the Waterfront Restaurant with great views.
Williams Bay
Williams Bay is another small village of 3,000 people located at the northwest corner of Geneva Lake. Here you can visit:
Yerkes Observatory: The Yerkes ObservatoryYerkes Observatory is an astronomical observatory located in Williams Bay. It was operated by the University of Chicago Department of Astronomy and Astrophysics from its founding in 1897 to 2018. The observatory, often called "the birthplace of modern astrophysics," is now operated by the Yerkes Future Foundation. Visits and tours are available. 373 W. Geneva St.
Cafe Calamari is a popular Italian steakhouse for its steaks, seafood and pastas. It is located at 10 E. Geneva St. They also own Harpoon Willie's at 8 E. Geneva St. It is a pub with bbq, steaks, tacos and more.
Make sure to stop in at the Frosty Moose, 35 W Geneva St., for ice cream or a sandwich. It has been in town since 1980.
PIER 290: This is an upscale restaurant with excellent views and an outside bar/patio. They also have live music. I really enjoyed having a drink in the bar overlooking the lake on a perfect fall day. They are open for lunch, dinner and weekend brunch along with outdoor dining on the patio.1 Liechty Drive in Williams Bay.
Delavan
Delavan is  a 15 minute drive north of Williams Bay.  I recently went back after many years on a beautiful fall day. I found some must-sees that I will share with you.
Pearces's Farm Stand is known for growing, harvesting and delivering fresh produce seasonal fruits and vegetables  at W5740 N. Walworth Road Walworth WI, just north of Williams Bay on the way to Delavan. I was there in October and loved seeing their pumpkins and fall decor, live music, the corn maze and childrens activities. They feature corn, jams and jellies, specialty breads and donuts, hand-dipped caramel apples and maple mustard.  It is a great experience, particularly for families. It is open daily from July through October.
The Duck Inn: Located at Hwy 80 and A in Delavan. The Duck Inn is an historic Wisconsin supper club serving American steakhouse fare including steaks, duck and seafood dishes and cocktails in a rustic setting. It is now owned by Jeff and Nora Karbash. It was first a speakeasy during prohibition, but became a supper club afterwards. It is open for dinner Thursday through Sunday and for lunch on Sunday. I went on Sunday for lunch a loved the roast duck served on wild rice along with three sauces, a l'orange, mushroom, or cherry jubilee. I highly recommend the experience.
Staller Estate Winery:   Across from The Duck Inn is Staller Estate Winery. They make a number of white, blush, dessert and red wines on this very attractive property with historic barns. I opted for tasting of the four flight and chose the Sunset Cuvee blush wine, the Cabernet Sauvignon,, Old Vine Zinfandel and Estate Reserve red wine. My favorite was the Old Vine Zinfandel which was full bodied with a smooth finish. W8896 County Highway A.