Paonia
Located in Colorado's North Fork Valley, beneath 11,400 ft. Mt. Lamborn, Paonia is known for its farms, orchards and now wineries. It is becoming known as the farm-to-table capital of Colorado. I was back recently to eat, visit some wineries and explore. I always love walking down the cute main street, Grand Ave., with its bars, restaurants and local shops. You will also see some murals and sculptures.
I enjoyed my Sunday brunch at Sweet Grass. This is a lovely, small cafe and coffee shop with outdoor patio. They feature a menu of coffee and tea along with breakfast and lunch dishes. I loved the avocado toast with smoked salmon and a fruit salad along with a latte. They took over The Living Farm Cafe & Inn, where I had eaten in the past. 120 Grand Ave. 
Located downtown, nido, is recommended by locals for Mexican comfort food and farm-t0-table tacos. 201 Grand Ave.
There is also The Diner at 203 Grand Ave. which is a casual spot for breakfast, lunch and dinner.
At 530 Grand Ave., Paonia Bread Works, is a cafe and bakery that sells artisanal bread and coffee, along with breakfast and lunch items. I enjoyed a latte in and the casual atmosphere.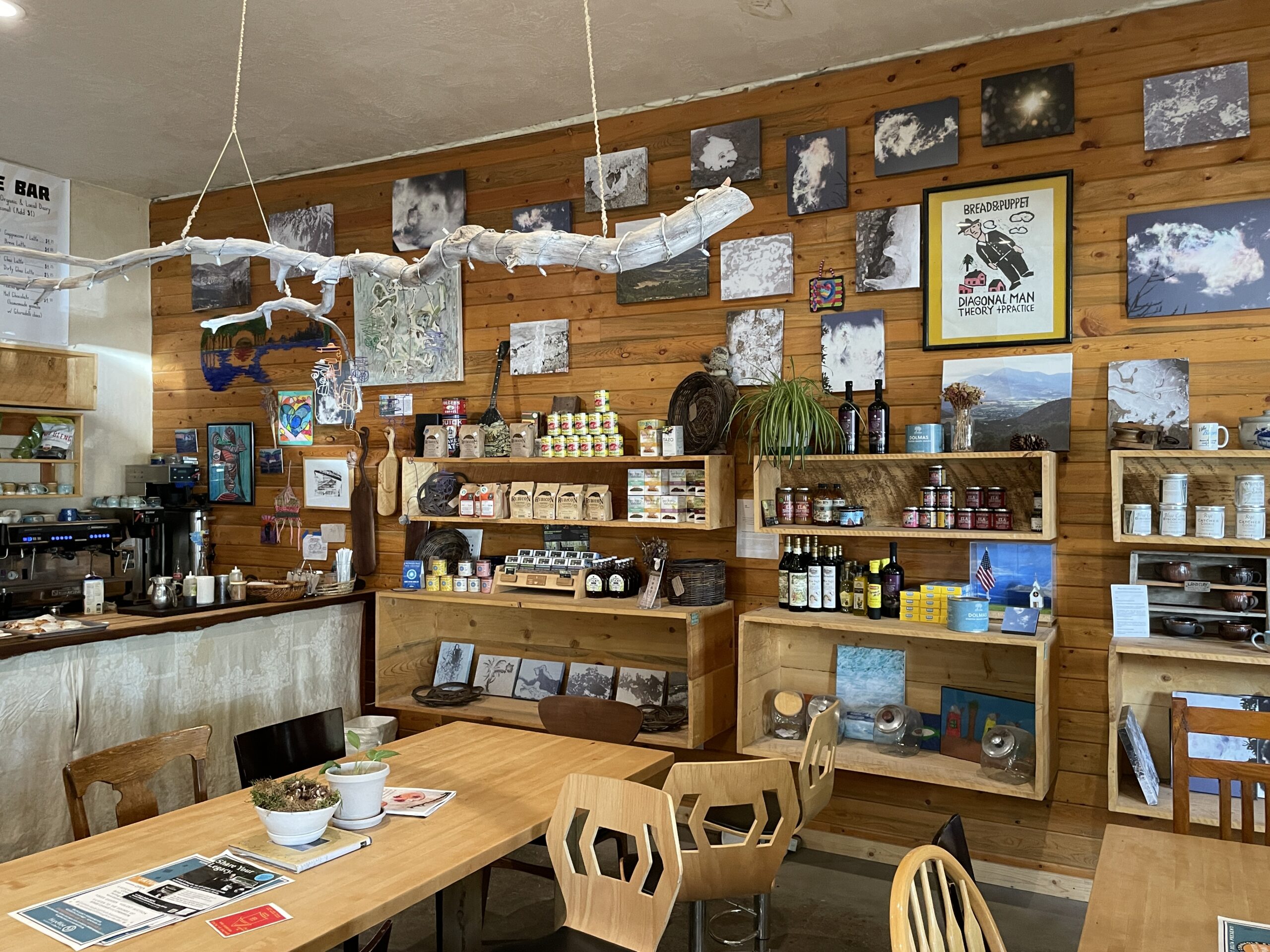 I also recommend TLC Kitchen Ice Cream Corner for dessert after your meal! It is run by The TLC Kitchen, "a passionate, non-profit organization determined to provide our community with complimentary alternative education in music, art, cooking, agriculture, and hand working. It aims to bring together students of all ages with enthusiastic teachers to facilitate learning in these necessary and life-changing subjects."
Though it was closed on the Sunday I was in town, make sure to stop in at Crysalis Beer to try one of their oak barrel aged beers.
Root & Vine Market: A short drive from downtown Paonia is Root & Vine Market. This is a gourmet market and cafe that features freshly roasted coffee along with breakfast and lunch dishes using locally sourced ingredients. It is also the home of the tasting room for the nearby Qutori Winery. This family run winery makes a number of varietals including Chardonnay, Riesling, Rosé, Barbera, Pinot Noir, Red Blend, Bourbon Barrel Merlot, Merlot, Cabernet Franc, Syrah and Cabernet Sauvignon.  I enjoyed tasting their full-bodied Cabernet Franc.  40823 Highway 133.
Stone Cottage Cellars: Located at 41716 Reds Rd., this is a small winery and tasting room that makes their wines from their own vineyard and grapes purchased from others. There is also a small stone cottage for a farm-stay experience.
Azura Cellars & Gallery: Located a short drive from downtown Paonia, this is a beautiful facility which has an art gallery and tasting room. They bottle their own wines but they purchase the grapes locally and from Palisade. The contemporary art is produced by the owners Ty and Helen Gillespie. Their reds were excellent. They were named Colorado Winemaker of the Year in 2017. They recently opened a beautifully decorated guest house that can be rented while you are in town. It has stunning views of the West Elk mountains and the North Fork Valley below. 16764 Farmers Mine Rd.
Black Bridge Winery & Tasting Room, 15836 Black Ridge Rd. in Paonia: Here you can try one of their award winning  Pinot Noir, Chardonnay or Riesling wines. They also have the  Orchard Valley Farms and Market where you can buy local produce from their family farm in Paonia. The peaches were excellent. Don't miss the historic bridge that spans the Gunnison River next to the property.
Hotchkiss
Hotchkiss, just west of Paonia, is where the economy revolves around agriculture and coal mines. Here you can find several  cafes, wineries and farm stands as well.
Make sure to stop in at Two Four Six Coffee and Gift Shop. This is a casual coffee shop to visit while you are wine tasting or driving to Paonia. In addition to coffee, they serve pastries, cakes, burritos and sandwiches.  They have a nice, shady outdoor patio as well. 246 Bridge St.
Also in Hotchkiss is Big B's Delicious Orchards, a working farm and organic orchard. This is a popular cafe and store along with u-pick orchards.  They also feature live music on Friday and Saturday night from May through September. Camping is available as well. 
Leroux Creek Vineyards & Inn: At 12388 3100 Road in Hotchkiss, this is a lovely winery that also has a small adobe-style Inn or B&B. I tried a local rose which I enjoyed on a hot August day in the valley. The French owner/winemaker also is a great chef and hosts special wine maker's dinners and other tastings and events. 
Also in Hotchkiss is Mesa Winds Farm & Winery. They have a 36 acre farm where they grow grapes, peaches and apples.  Their "gently sloped, south- facing vineyards with clay loam and limestone gravel, similar to soils of Burgundy, create a vineyard site optimal for growing varieties such as Pinot Noir, Pinot Meunier, and Pinot Gris." There is also a farm-t0-table restaurant which has a menu of small plates using organic produce. It is open for dinner and Sunday brunch.
Make sure to check out the West Elks Wine Trail for a listing and map of all area wineries, tasting rooms and special events.
Another wine region is located in Delta and Montrose Counties. Cedaredge to the north has at least four vineyards and many orchards producing apples, pears, peaches, apricots and cherries. Olathe, to the south of Delta, also has three wineries.