Brooklyn is hot! There are new hotels, new restaurants and newly emerging neighborhoods. It seems like I see new information on this borough almost daily. Williamsburg is one of my favorite neighborhoods to explore. It is easy to get to Brooklyn from Manhattan. You can take a cab, take the subway and now there is even a water taxi on the East River that includes several stops in Brooklyn, from Wall Street or Midtown, during the warmer months.
What to Do
Williamsburg has great brownstones, some great street art and is a place where many younger artists and creative types live. I highly recommend the Brooklyn Flea on weekends from April through Thanksgiving. There are two locations. On Saturday you can hit the one in Ft. Greene. I enjoyed exploring this Saturday market at 176 Lafayette Ave. On Sunday the vendors move to Williamsburg. There is also a winter market during the off season. Make sure to check out the website for all market details and vendors.

There is also the Brooklyn Flea Food Market, or Smorgasburg, on Saturdays near the East River in Williamsburg between N. 6th and N. 7th. Here you can find many local restaurants and food trucks offering every imaginable ethnic food. It is a festive atmosphere so head over for lunch. It is close to the water taxi stop on the East River, therefore easily reachable from Manhattan.

Where to Stay
I loved the feel of the Wythe Hotel at 80 Wythe Ave. Next time I will stay here rather than in Midtown. This is an older factory building, dating from 1901, that was converted to a new, hip boutique hotel. Their restaurant, Reynard, has a great atmosphere and a really good brunch menu. It was the perfect spot for lunch with a local friend. There is also a rooftop bar where you can enjoy great views of Manhattan at night. Both the hotel and restaurant have received very good reviews.
The William Vale Hotel: At 111 N. 12th St., this is an 183 room, contemporary boutique hotel. In addition to great views of Manhattan and Brooklyn, it has Leuca for southern Italian food and  Westlight, an appropriate name for the 22nd floor  rooftop bar. Be prepared for lines getting up to the bar. It has Mister Dips for take out in a 1974 Airstream trailer and Du's Donuts and Coffee is right outside the hotel entrance.
The Williamsburg Hotel: At 96 N. Wythe Ave. this is a recently opened hotel. They have attractive, contemporary rooms with stunning rooms along with the Harvey restaurant and  the The Hotel Bar. Opening in summer and fall of 2017 are The Cellar downstairs for late night drinks, Pop-up Eatery for  seasonal food, Watertower Bar and the Roof with a pool, bar and cafe.
Where to Eat and Drink
Across the street from the Wythe Hotel is Brooklyn Bowl, at 61 Wythe Ave., which is a fun spot to try with really great décor and atmosphere. Bowl or attend a music concert. They have a great bar as well.
Around the corner is Brooklyn Brewery, at 79 N. 11th St., where you can sample a number of local craft beers.
Diner: The Diner opened in 1999 in a classic Kullman Diner underneath the Williamsburg bridge at 85 Broadway. It is open for lunch and dinner along with a weekend brunch. The menu changes daily. I enjoyed the pork sandwich and salad and my friend his burger. The atmosphere is right out of the past including old tile floors. I highly recommend it.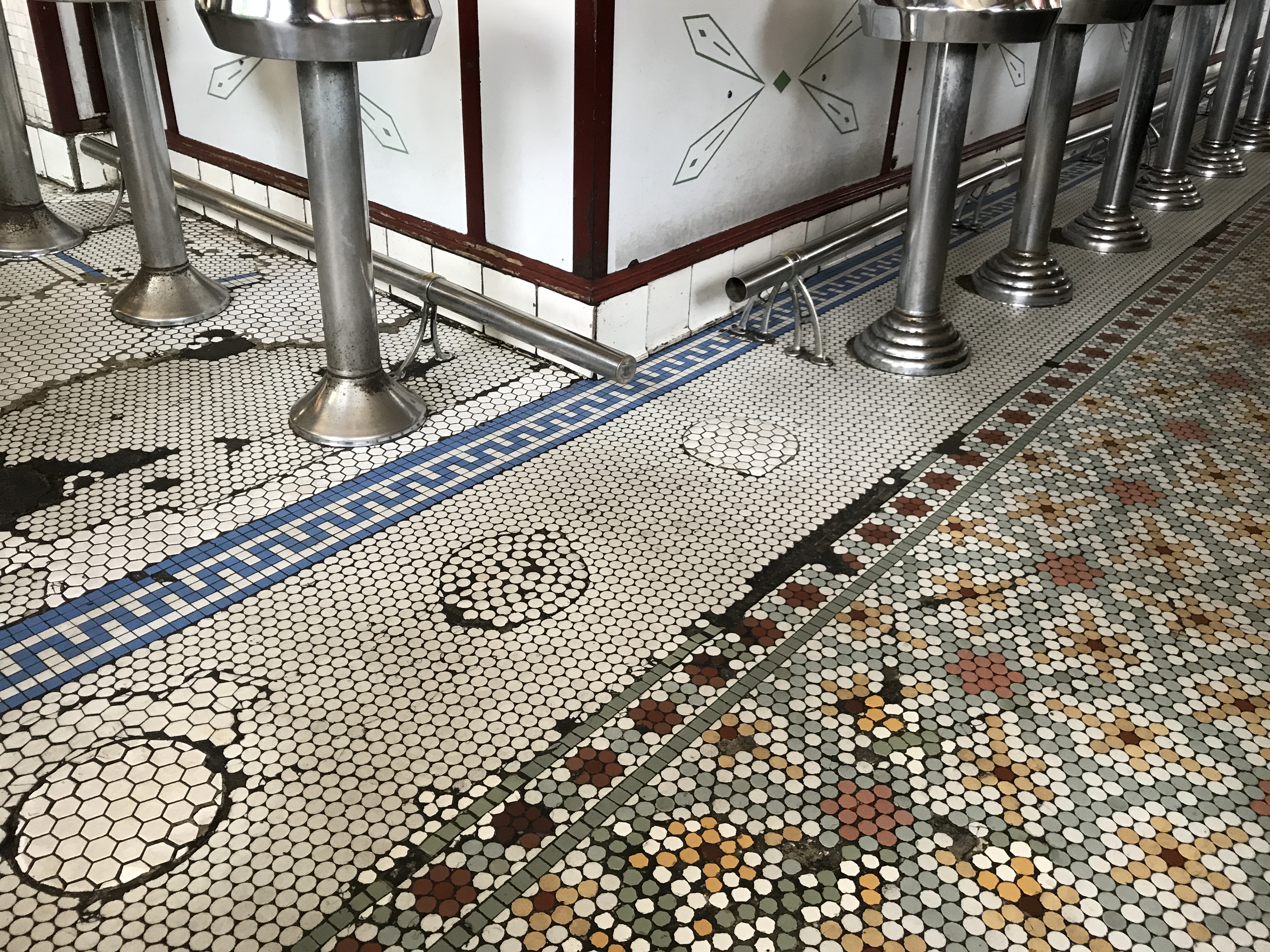 Marlow & Sons: Located next door at 81 Broadway, they serve great breakfast items from a frittata, smoked whitefish salad, scones, lox and bagels, to oysters and green tomato sandwiches. I went for dessert of coffee and almond ice cream after lunch next door at Diner. 
Marlow & Daughters: Just up the street at 95 Broadway is Marlow & Daughters, owned by the same group. This is a small butcher shop and market featuring locally sourced meats, cheeses and produce plus housemade charcuterie and sides.
Peter Luger Steak House: From 1887, today Peter Luger's continues to be a classic steak house with one Michelin Star. It is also listed in the book, 1000 Places to See Before You Die. Its beef is dry-aged onsite. It is open for lunch and dinner. 178 Broadway.
Drop in for a drink at The Woods at 48 S. 4th St. This is popular bar that has special events from DJs to Sunday Cookouts.
Lilia Restaurant & Caffe, 567 Union Ave. corner of N. 10th: This is a casual Italian restaurant by chef and owner Missy Robbins that gets great reviews. The NY Times named it one of the best new restaurants in 2016. During the day, when the restaurant is not opened, the casual Caffe is perfect for coffee and one of their homemade pastries, a sandwich or gelato.
The Bedford: At 110 Bedford Ave., this is a casual, rustic restaurant located on the site of a former garage. It has a menu that features burgers, seasonally sourced oysters and local meats. It is a great spot for coffee, drinks, brunch or dinner. According to them "the back room and bar are perfect for after-work cocktails or late night drink with friends."
Mable's Smokehouse: This is a fun spot, known for its BBQ platters, sandwiches salads and sides. They feature chicken, brisket, pulled pork, andouille sausage and ribs. 44 Berry St.
Martha's Country Bakery: At 175 Bedford Ave. or a second location at 263 Bedford Ave. for a great selection of cakes, cupcakes, cookies, pies, cheesecakes and coffee drinks.
Bakeri: This is a local bakery and cafe at 150 Wythe Ave. in Williamsburg. They have one other location in Greenpoint, Brooklyn. They have a large selection of breads and pastries, a full menu of breakfast items plus salads and sandwiches for lunch. 
Chocolates Michel Cluizel: At at 270 Bedford Ave., this is a shop that features beautiful chocolates, pastries and macarons created by Michael Cluizel. They have another location in Manhattan at 199 Madison at 35th St.  
SIMPLE Cafe: This is a small cafe featuring French Algerian cuisine. It is open for breakfast, lunch and dinner as well as for brunch on Saturday and Sunday. 346 Bedford Ave. 
Partners Coffee Roasters: Formerly Toby's Estate Coffee, this is a local coffee roaster with five area locations. Their Williamsburg location is at 126 N. 6th. St. In addition to coffee, they feature sandwiches, toasts and pastries.
At 66 S. 2nd St., you will enjoy 1 Or 8 Japanese restaurant which has a sleek, white décor with great sushi and a very innovative menu.
Aska is known for its contemporary Scandinavian tasting menus from Swedish chef Frederik Berselius. Expensive, it has two Michelin stars. It is in Williamsburg at 47 S 5th St.
Where to Shop
Whisk:  Chefs will love this store featuring a large selection kitchen and table items. It is now at 197 Atlantic Ave.
Goorin Bros. Hat Shop: This is a great shop for amazing hats since 1895. 181 Bedford Ave.  
The Whiskey Shop: At 44 Berry St., offers 99 varieties of scotch, bourbon and rye whiskey, plus wines and  other spirits. Downstairs, in the brick-walled cellar is The Whiskey Brooklyn, a fun bar. Upstairs, next door is the smaller The Whiskey Annex for cocktails, burgers, tacos, salads and sandwiches.