During my visit to Charlottesville, I found some great restaurant options. My recommendations include:
The Whiskey Jar: Located in the historic downtown, this is a fun spot for a cocktail or a casual lunch or dinner. They feature 125 bourbons, rye whiskeys, single malt Scotch and Irish whiskeys. I had a really excellent Virginia ham sandwich as soon as I got to town. 227 W. Main.
C&O Restaurant: At 515 Water Street, this is a Charlottesville favorite from 1976 that is located in an historic building downtown. They have a more formal dining room upstairs, a warm bar in the basement, a mid-level dining room with warm decor and an outdoor terrace in back. I enjoyed the staff and a perfect halibut entree.
Chaps Ice Cream, at 223 E. Main St., is an old fashioned soda fountain, featuring homemade premium ice cream and donuts. The German chocolate cake ice cream was worth the drive!! It has been popular with locals for over 20 years.
Mudhouse Coffee Roasters: Located at 213 W. Main, this is a great spot for coffee.
Michie Tavern: This is an historic tavern located very close to Monticello. It is a great spot before or after your visit to the historic home. A buffet lunch is served featuring Southern specialties with seating in a rustic tavern setting. The servers are dressed in period attire. It also features a General Store located in the former Meadow Run grist mill, an armory and artifacts shop plus a metal smith shop. No reservations are taken, except for groups. It is a little touristy, but is an enjoyable experience.
Other places to try, based on recommendations by my B&B and recent press, include:
Petit Pois, at  201 E Main, for French specialties.
Rapture Restaurant: Featuring Southern cuisine, Rapture is a farm-to-table restaurant  at 303 E. Main St. 
Mas Tapas at 904 Monticello Road features Spanish tapas and wines.
Southern Living Magazine recommends several other restaurants. These include Red Pump Kitchen for Italian and Mediterranean specialties, Public Fish & Oyster for great seafood, and Lampo Neapolitan Pizzeria for pizza. First opening its doors in 1923, The Virginian is Charlottesville's oldest restaurant. Their menu includes burgers and sandwiches, fresh salads, signature crab cakes, and their famous mac 'n cheese. 1521 University Ave.
For breakfast, brunch, lunch, coffee and baked goods. MarieBette Café & Bakery comes highly recommended. They also have Petit MarieBette downtown. Tip Top Restaurant is also recommended for breakfast.
There are over 30 vineyards, plus small-batch breweries and hard ciders produced by local orchards in the surrounding area. Make sure to visit the website Monticello Wine Trail to get the details of the wineries in and around Charlottesville in Central Virginia. I just read that Virginia is the 5th largest producer of wine in the US. I enjoyed the following tasting rooms:
Blenheim Vineyards: At 31 Blenheim Farm, 20 minutes southeast of Charlottesville, this is a winery established in 2000 by famed singer, Dave Matthews. They grow Chardonnay, Viognier, Cabernet Franc, Petit Verdot, Cabernet Sauvignon, Merlot and Pinot Noir on three vineyards sites. Their timber frame tasting room has spectacular views of the vineyards. I also loved the fact that you can look down through glass floor panels to see the winery operations on the floor below. I loved tasting their full-bodied Painted Red which is a blend of Merlot, Cabernet Sauvignon, Petit Verdot and Cabernet Franc and their Rose which was a blend of Merlot, Cabernet Franc, Petit Verdot, Malbec, Syrah and Pinot Noir.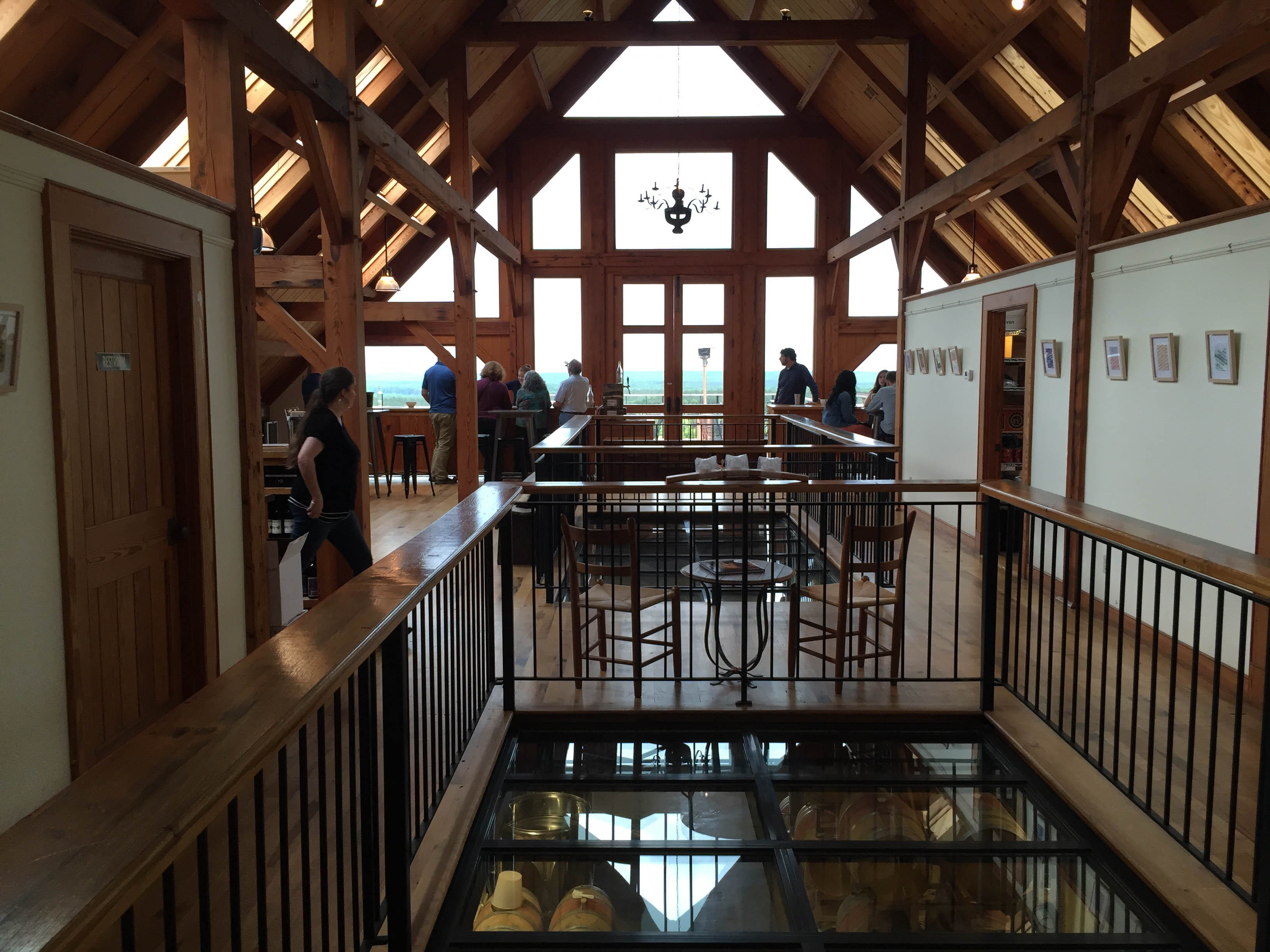 Jefferson Vineyards: This vineyard is located next door to Monticello. It was named in honor of Thomas Jefferson who had the dream of establishing a commercial vineyard on his land. The Petit Verdot was good but I really liked the full-bodied Meritage. 
Pollak Vineyards: This is a lovely, family owned vineyard and tasting room located at 330 Newtown Rd. in Greenwood, VA, west of Charlottesville. I enjoyed tasting their Merlot and a dry Rose. They also feature Chardonnay, Viognier, Pinot Gris, Cabernet Sauvignon, a Meritage, Petit Verdot and a Mille Fleurs port.  
Veritas Winery: This is a lovely winery and tasting room, located west of Charlottesville, VA. I enjoyed their Claret, which is a Bordeaux blend of Merlot, Cabernet Franc, Petit Vertos and Cabernet Sauvignon. They also produce Sauvignon Blanc, Chardonnay, Viognier, a Rose plus Merlot, Red Star Blend, and several Reserve Wines.  
King Family Vineyards: Located at 6550 Roseland, in nearby Crozet, VA, this winery produces reds, whites, rose and a meritage. I tasted their Meritage which was very good.
Blue Mountain Brewery: Blue Mountain is part of the Nelson 151, a group of 5 wineries, 3 breweries, 1 cidery and 1 distillery. Rt. 51 in Nelson County, VA. Located southwest of Charlottesville at 9519 Rt. 151 in Afton, VA. They have a tasting room and restaurant with large patio seating that features their lagers, ales and wheat beers.  
Though my focus was on the local wineries, there are also a number of local micro-breweries and distilleries in the downtown area you might enjoy, including South St. Brewery, Vitae Spirits Distillery for rum, and Three Notch'd Brewing Company.

For local ciders, make sure to visit Bold Rock Hard Cider in Nellysford, VA and Castle Hill Cider in Keswick, VA.
I also focused on the wineries to the southeast, southwest and west of Charlottesville. On my next trip I would definitely add Barboursville Vineyards and Keswick Vineyards which are to the east and northeast. Several locals enjoy the Palladio Restaurant at Barboursville Vineyards. I would also add Montpelier, John Adam's home, to the itinerary.