San Sebastian, in the Basque Region of Spain, is known for its gastronomy. From casual pintxo bars to Michelin starred restaurants, some of the best in the world, the city is a great destination for culinary travel. I had some wonderful food and loved the pintxos. They are Basque tapas which are usually served on a piece of bread with the ingredients spiked with a skewer or toothpick. Pincho, or pintxo, means spike! I found that the best way to explore the pintxo bars was to stop by 2-3 different spots in one night and sample a few small plates at each place. This is known as a Txiketeo.  My top finds include:
Mugaritz: According to the San Pelligrino's the World's 50 Best Restaurant Awards for 2011, Mugaritz is the 3rd best restaurant in the world. It has two Michelin stars. I decided to have an adventure and booked a lunch reservation for a Sunday afternoon lunch. What a great experience. The restaurant is in the country outside of San Sebastian and is therefore surrounded by farms and rolling hills. I was glad that it was a beautiful Fall day so I was able to sit by the window and enjoy the colors. I think you would have a totally different experience at night.
I was welcomed and taken into the kitchen where I was shown the list of items that they had found at the market and that they were cooking that day. The staff was busy preparing for the afternoon seating. I then sat and let the experience happen. They asked that I use the next 150 minutes to feel, imagine, reminisce and discover!
I then had roughly 20 small courses from their tasting menu. The list included edible stones which was actually a potato covered in a coating that looked like a rock, quail broth with galampera mushrooms, homemade mozzarella infused with smoked black tea, cured cheese with mushrooms and coastal herbs, orange slices with olive oil and salt, spoons of béchamel and cauliflower, silky bread stew infused with pink geranium leaves covered in crab meat, a portion of hake in a milky reduction of stewed turnip sprouts, grilled beef with a butter made of the smoky fat from the grilling, and three decadent desserts. By the end I could not eat another bite!!  But what a great experience.
La Cuchara de San Telmo, Calle 31 de Agosto 28: A well-known pintxo bar. The veal cheeks and oxtail pintxos were really excellent.
La Cepa, at Calle 31 de Agosto 7, is a very good traditional tapas bar as is Bar Haiza at Calle de Aldamar 8.
When visiting  the Museo San Telmo at Plaza Zuloaga 1, make sure to stop in for a meal, snack or tea at the attractive contemporary Kafe with great outdoor seating overlooking the busy square.
Other recommendations for pintxo's are Gandarias at 31 de Agosto 23, Goiz Argi at Fermin Calbeton 4, Iturrioz at Aldamar 12, La Vina at 31 de Agosto 3 and Portaletas at Puerto 8. The Chicago Tribune just reported that Borda Berri, Txepetxa, Bar Nestor and Casa Urola are also great pintxo bars. Epicurious likes Atari Gastroteka at Calle Mayor 18.
Restaurant suggestions include Bernado Etxea at Puerto 7, Juanito Kojus at Puerto 14 and Kokotxa at Campanario #11, which has a 1 star Michelin ranking. Restaurante Narru, Restaurante Ni Neu, Saltxipi, Xarma, Akelare,  Casa Valles, Bernardina Vinoteca, and Abakando.
Arzak: Listed by San Pelligrino as the number 8 best restaurant in the world, of the 50 best in the world, but it was closed while I was there. It is in San Sebastian at Avda. Alcade Elosegui, 273 – 20015 Donostia. This might be another  great choice. The restaurant has three Michelin stars.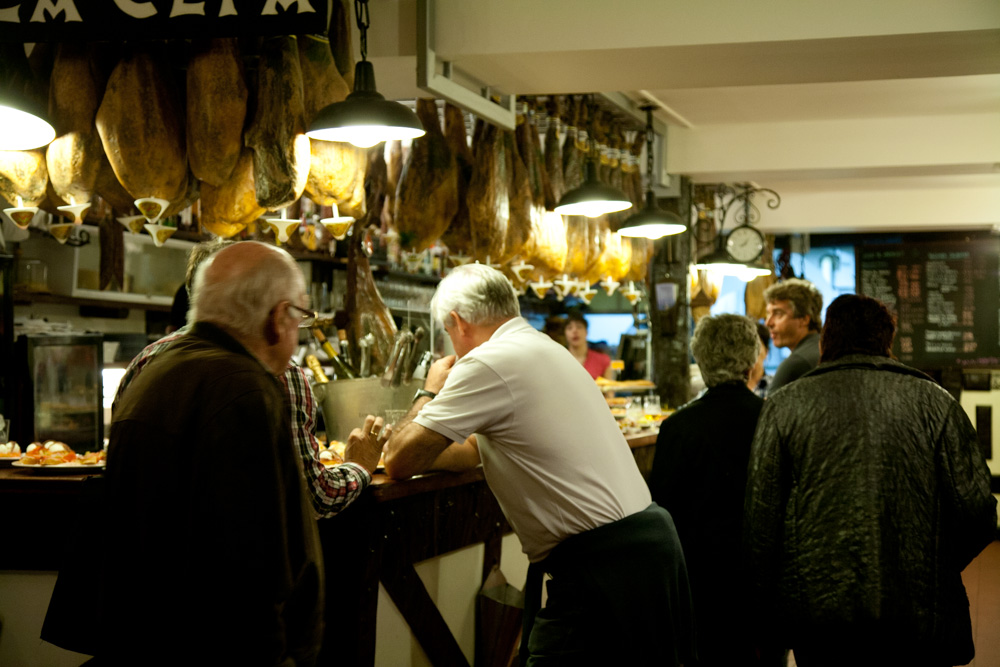 If you want help in exploring the region's food offering you might arrange a tour through San Sebastian Pinxtos Tour. They offer a pintxo tasting tour, vineyard tours, Basque cooking classes, a tour to Rioja, a pintxo cooking class and a gastronomic tasting immersion.
The New York Times recently featured La Madame, which was opened by an American. You might check it out as it sounds very good. Also just heard about Ganbara which gets great reviews as well. Food & Wine Magazine named it one of the World's Best Restaurants in 2019.