I hired Ralf Hollman, at William Lawson Company, to visit the surrounding countryside, haciendas and  see Mayan ruins. I highly recommend that you do the same. We first stopped at Uman for a quick visit to the local market. It was bustling with people using the Mexican version of the Asian tuk tuk ,which I have seen in Thailand, Cambodia, Laos and other countries.
Hacienda Yaxcopoil: This is a former hacienda from the 17th century which is now a private museum. There are also two rooms you can rent by the night. It is great to be able to walk through the rooms decorated with the furnishings and art of the hacienda when it was fully functioning to grow and process henequen from which they made sisal that was used for rope. You can visit the small chapel and the machine rooms where they processed the henequen. The hacienda went out of business with the discovery of nylon which replaced the sisal rope.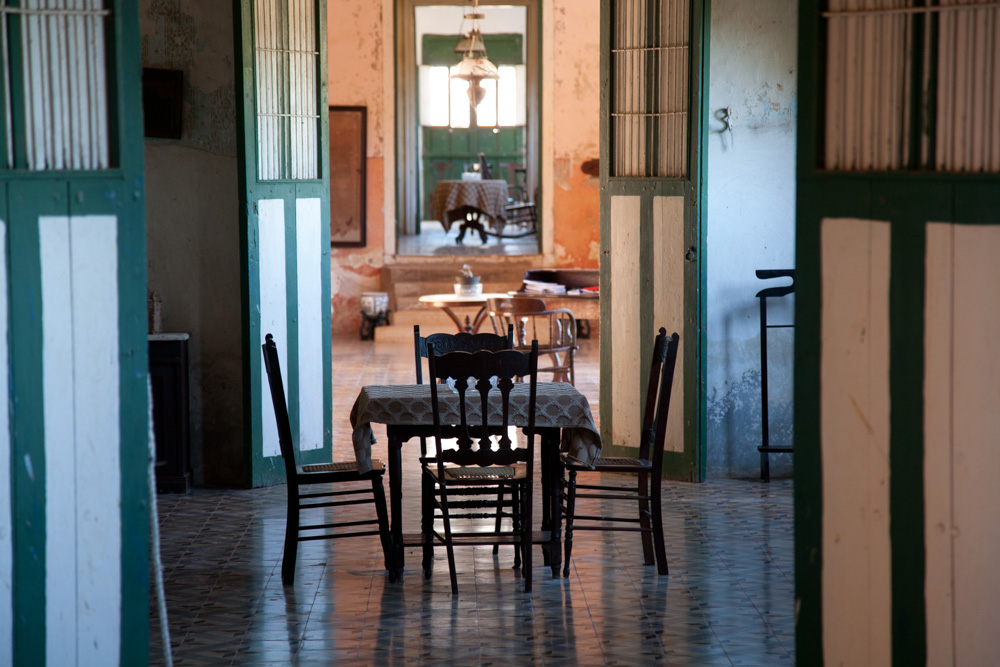 Hacienda Temozon Sur: Also a former henequen grower and processor, this Hacienda has been turned into a wonderful boutique hotel and is a Luxury Collection Hotel. It is beautifully decorated  with lovely outside and indoor seating areas and a nice restaurant overlooking the grounds. There is a great pool and spa in the building where they processed the sisal. You can also see wonderful carriages from the period and the old cars and tracks from the short gage railroad that was used on the property. The rooms are attractive and, in addition to the spa, there are several cenotes (underground caves) with water that you can visit. There were actually massage tables set up in one in the cenotes, near the water, which would be a very relaxing experience. I highly recommend this property if you want to get out of the hustle and bustle of Merida and experience the Hacienda lifestyle.

Hacienda San Pedro Ochil: This is another hacienda that has a restaurant and folk art studios for various local artists which are sponsored by Coleccion Fomento Cultural de Banamex. There is a nice display of folk art in one of the buildings. There is a nice restaurant with lovely terrace overlooking the grounds where I enjoyed lunch.
Located just 15 minutes away from downtown Merida, Hacienda Xcanatun, from the 18th century, is an iconic and traditional hacienda which also gets excellent reviews.  Today, this former sisal plantation has been beautifullytransformed into an elegant hideaway with 18 spacious and tastefully-appointed suites, all of them decorated with a fusion of local artworks and contemporary details.
The resort's signature restaurant Casa de Piedra is located in what used to be the threshing room, surrounded by gardens. The restaurant offers a culinary experience dating back to the origins of the region, inspired by French techniques combined with a distinctively Mexican touch.
Muna: We stopped in the small town of Muna to visit  Patricia Martin who specializes in Mayan reproductions, as well as another store owned by Pedro Ayuso, an artisan who works mainly with Jicara, a type of gourd. They also carry nice jewelry.