If  you find yourself north of Chicago for an outing at the Chicago Botanic Garden in Glencoe, a concert at the Ravinia Festival in Highland Park or a performance at the Writers Theatre in Glencoe, both Highland Park and Highwood have some excellent dining options.
Highwood is a small Lake County town north of Highland Park that has been a top restaurant destination for many years. I have always liked Froggy's French Cafe, at 306 Green Bay Rd., since it opened in 1980. I had not been back in many years, so just made a special trip to have lunch with a local friend who lives nearby. I thought the menu choices and service were excellent. The food was really great! I was there for lunch so the cafe was perfect on a sunny winter day. The cozy back dining room is perfect for dinner. It was well-worth the drive from Chicago to have a great experience!  Make a point to stop in before or after at the Gourmet Frog at 316 Green Bay Rd. where you can buy one of their great pastries, croissants, macaron or cakes.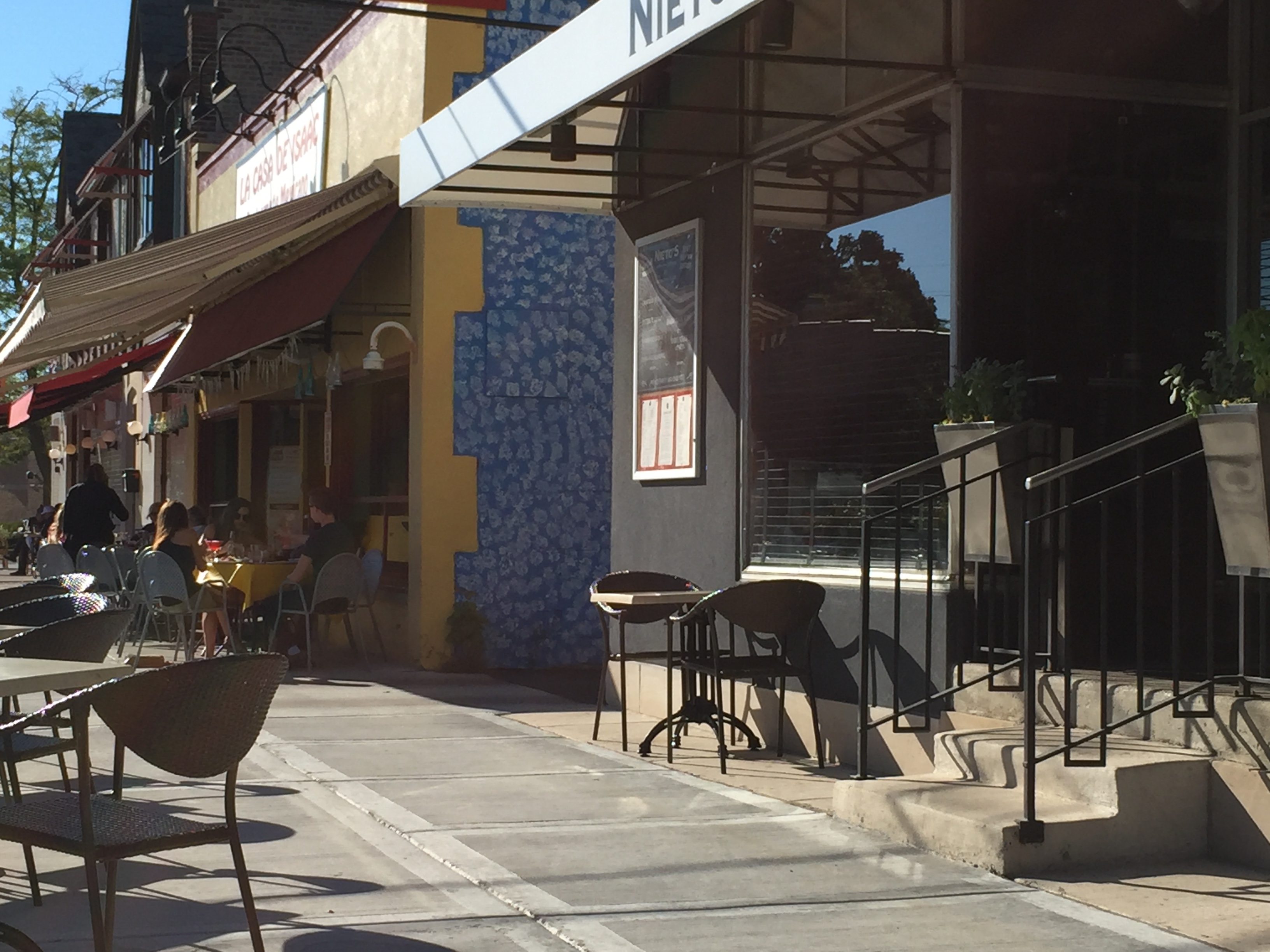 Other fun spots to try include La Casa de Isaac & Moishe at 311 Waukegan Rd. for Mexican food, The Del Rio Restaurant at 228 Greenbay Rd. for Italian fare, and Miramar Bistro for French food with a few Cuban accents. All get good reviews.
I just read about Tala Coffee Roasters in the Chicago Tribune for its quality. I will definitely try it on my next visit. 428 Green Bay Rd. Suite B
Also in Highwood is the 28 Mile Distilling Co. at 454 Sheridan Rd. It was just recommend to me. They produce a vodka, a gin and a bourbon. They also have the Soto Bar for cocktails and tasting and the Bourbon Lounge where they feature live music.
Highland Park
Downtown Highland Park has some great shops and restaurants to visit. Walker Bros. Original Pancake House at 620 Central Ave. is popular for breakfast and brunch, but the lines can be out the door. So a fun alternative is Country Kitchen down the street at 446 Central Ave. where they serve breakfast all day. I went with local friends and had a great Sunday brunch. The same local friends also love Norton's at 1905 Sheridan Rd. for live music, burgers, salads and more. Prefect Blend Coffee at 491 Central Ave. downtown is a great spot for coffee.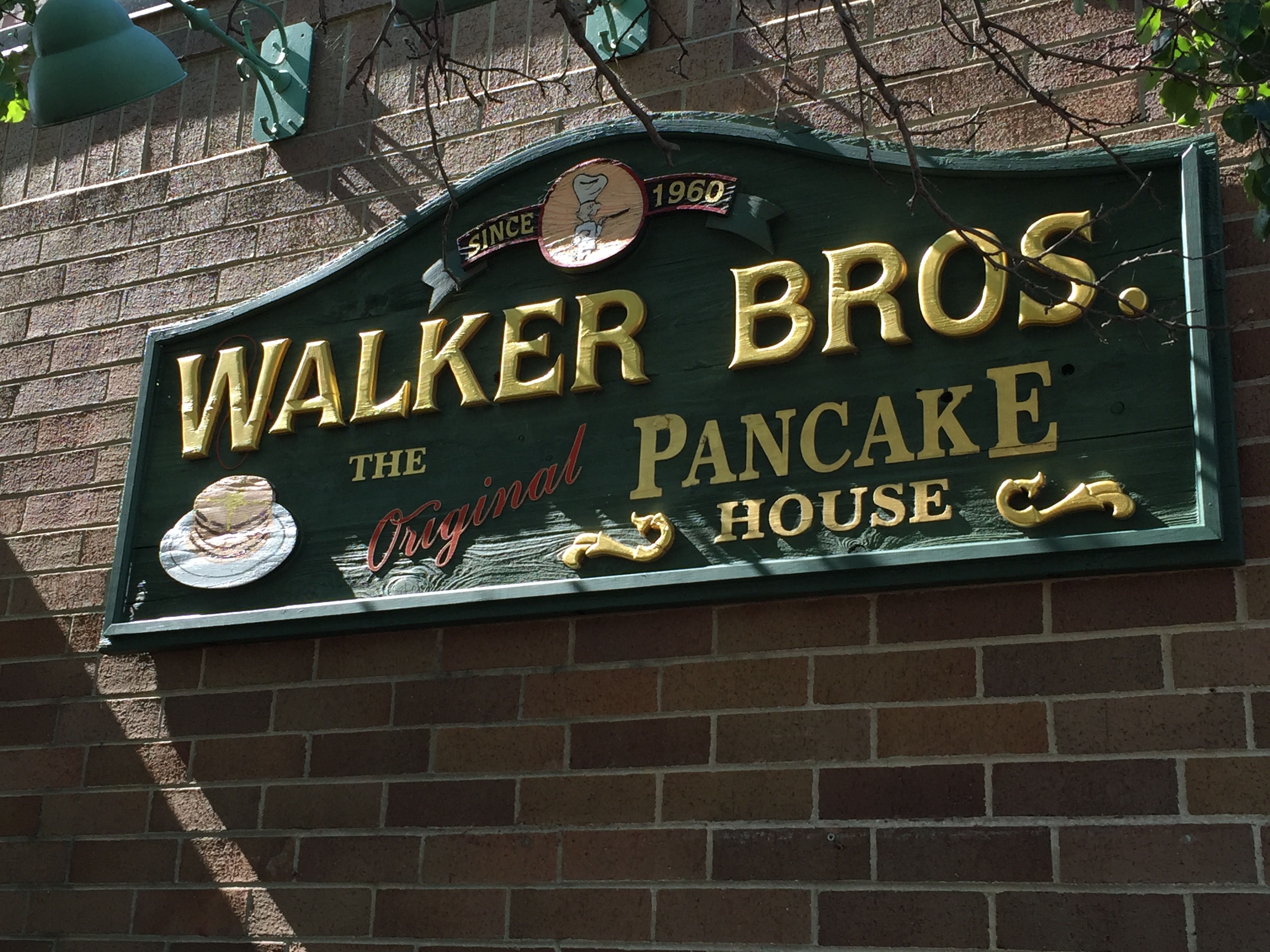 A longtime friend who lives in Glencoe to the south, highly recommended That Little French Guy – Patisserie & Café, a  French café and bakery at 1791 St. Johns Ave. Based on her recommendation, I had to go on my last visit to town. The menu is quite extensive and the pastries are wonderful. I loved the macarons and my latte.
As a big fan of Frank Lloyd Wright architecture, I was please to see that there are three homes he designed in Highland Park. So on my last visit to the area, I made a point to see all three.  If you have time, I suggest you do the same. In order of the year built, they are:
The Ward Willits House, built in 1901, at 1445 Sheridan Rd.  is considered one of Wright's first true Prairie-style houses.  It has a complex shape, consisting of a rectangular central space with a rectangular wing projecting from each side of that space
"The new owner and his wife mainly completed the work, focusing on returning the building to a point in time approximating 1909, and they made sure to maintain Wright's unique features throughout the house. The restoration was acknowledged by many to be Museum quality, and received a Driehaus award."
Mary Adams House, 1905, 1923 Lake Ave. The Adams House is a two-story home, Prairie School home,  with three bedrooms and two bathrooms with a light stucco exterior and wooden trim that emphasizes the horizontal. It as listed in the National Register of Historic Places in September, 1982. New owners purchased the home in December 2010 and embarked upon an 18-month restoration using the original plans of Frank Lloyd Wright.
George M. Millard House, 1906, 1689 Lake Ave. This Prairie School house by Wright with a floor plan that is cruciform in design. The exterior walls are brown-stained board and batten siding laid horizontally. Like the Mary Adams House is was  was recognized by the National Park Service with a listing on the National Register of Historic Places on September 29, 1982.
I also just saw on a local newscast that there is a Highland Park Arts Center at 1957 Sheridan Rd. It offers exhibitions, classes and other events. I will definitely stop by on my next visit to the area.