Lavallette
Between Bay Head and Seaside Heights, NJ is the charming town of Lavallette.  At just under 2,000 people, the town has a small downtown area with restaurants, shops, coffee and ice cream shops.
At the suggestion of locals, I enjoyed a fun lunch at Crab's Claw Inn, a popular casual restaurant for decades, that serves seafood staples such as crab cakes and oysters, plus draft beer and cocktails. 601 Grand Central Ave. (Rt 35). I loved the warm, casual atmosphere and good service.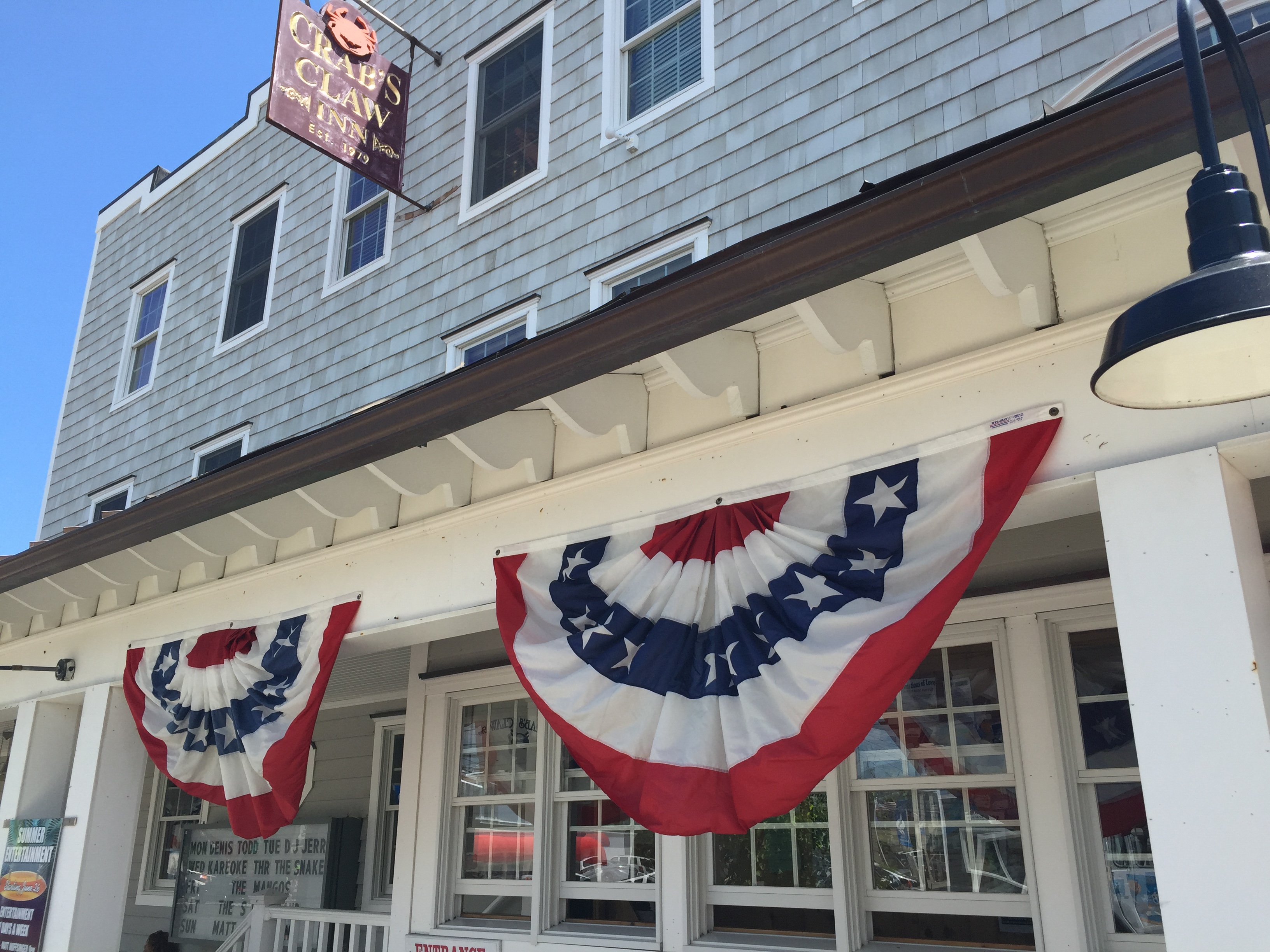 For ice cream check out Iceberg Ice Cream at 403 Grand Central Ave. They make all of their ice cream in-house. The coconut was great!! Kohr's is a great spot for frozen custard at 507 Grand Central Ave.
Lava Java is a fun spot for breakfast, lunch or coffee. 500 Grand Central Ave.
On my list to try is The Parlor Lavallette, now The Parlor Creamery, for breakfast, lunch and dinner along with ice cream in the evenings. 1901 Grand Central Ave.
Seaside Heights
Seaside Heights is a small borough south of Lavallette that is popular with families  and young adults particularly during the summer months. It is known for its famous, classic American Boardwalk that has many amusement rides, bars, restaurants, sweets and treats plus arcade games.
Make sure to stop in at the Kohr's Frozen Custard, The Original, at the  for ice cream and frozen custard. Go to the original spot at 301 Boardwalk and Franklin Ave.  It is an institution since 1919 that was originally a shack on the beach. There are two others in Seaside Heights further north on the Boardwalk. I highly recommend the banana flavor frozen custard.
I also loved my latte at Blue Cup Specialty Coffee at 400 Boardwalk. There are many other food options from hot dogs, pork roll and sausage sandwiches, french fries, cheese steaks, seafood, salt water taffy, Mexican food specialties and pizza. You won't go hungry!
I always enjoy walking and watching the kids enjoying the rides!
Seaside Park
South of Seaside Heights is Seaside Park. Just like Seaside Heights, it is a small borough in Ocean County.
In June 2022, I drove down for the first time after reading about Chef Mike's ABG (Atlantic Bar & Grill) located on the beach at 10 24th Central Ave. Executive Chef Mike Jurusz, has received outstanding reviews for his culinary skills. He took over the former Atlantic Bar & Grill and made it into a fine dining restaurant with excellent ocean views.
The restaurant is open in the evenings only. But during the day from 11am to 4pm, you can enjoy their Tiki Bar with a casual food menu, cocktails and live music. There is a covered rooftop and tables below scattered along the dunes. I had a great lobster roll for lunch! I enjoyed the experience and the service! It is right next to the beach which is nice if you want to grab a bite while you are there.
After lunch or dinner stop in at Ice Cream Boss in Seaside Park at 10 NE Central Ave. This is a traditional ice cream parlor featuring a large number of flavors! I loved the sea salt caramel with cashews. It was well-worth the calories.
One of the main reasons for my day trip was to visit Island Beach State Park. The entrance to the park is located on the south side of  Seaside Park at 2401 Central Ave. I had not heard of the park until I saw it last year from the Barnegat Lighthouse State Park in Barnegat Light, NJ on Long Beach Island.
This is one of the last undeveloped barrier beaches along the Atlantic Coast. With 3,000 acres and 10 miles of coastal dunes, it is well-worth the visit. It is home to diverse wildlife and over 400 types of maritime plants. It is the state's largest osprey colony. There are also foxes, peregrine falcons, wading birds, shorebirds, waterfowl and migrating songbirds.  You will also see maritime forests, rolling sand dunes, and tidal marshes.
Visitors can swim, surf, fish, kayak, clam, hike, bike and more. There was no entrance fee on the Tuesday I was there, but there is often times a daily fee with the rate based on the day of the week and the season of the year. Remember that when all of the parking spots are full, no more cars are allowed access, so I recommend going during the week.
There are several points for beach access. At Swimming Area #1, there is a store, Islander Food Court and the Red Fox Beach Bar & Grill featuring a raw bar, burgers and seafood. There is another Food Court at Swimming Area #3.