I always enjoy visiting the Historic Third Ward every time I am in Milwaukee. Located a few blocks south of Downtown, it reminded me of similar areas of Denver, Philadelphia and Seattle. There are many restaurants, bars, art galleries and specialty shops in the old warehouse buildings. There is theater, entertainment and neighborhood events throughout the year. There is also an historic Riverwalk opened in 2005. Where else could you find the streets, Bloody Mary running into Sunday Brunch!!
Milwaukee Public Market: This is a very attractive public market at 400 N. Water St. There is an indoor market with vendors selling bakery goods, coffee, candy, flowers, seafood, soups, sushi, wines and of course Wisconsin cheese. In the summer there is an outdoor market featuring, fruits and vegetables and various arts and crafts.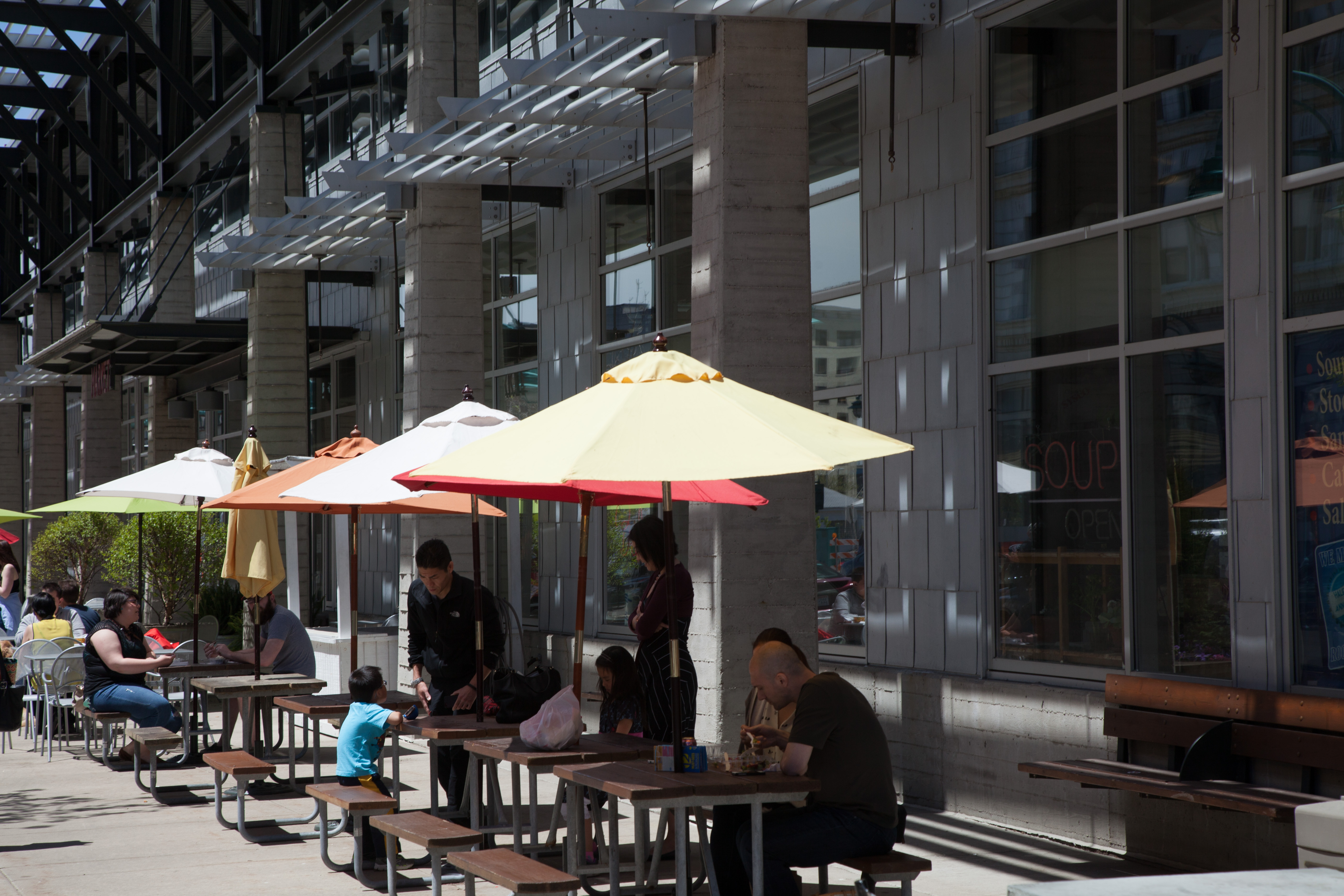 Gallery Night and Day: I just happened upon this October event where the galleries in the Third Ward are open Friday night and all day Saturday. The building at 207 E. Buffalo has the largest concentration of participants which I enjoyed seeing. There are four such events throughout the year in January, April, July and October.
Cafe Benelux: At 346 N. Broadway, near the Milwaukee Public Market, this is a fun spot for brunch in Milwaukee. It was named after the Benelux region of Europe, Belgium, Netherlands and Luxembourg. It offers many of the region's specialties like mussels, frites and pannenkoeken or crepes with toppings. The quinoa skillet with portobello mushrooms, butternut squash, oven-roasted tomatoes, fried eggs and roasted tomato sauce was really excellent and perfect for a day of beer and food tasting in the city. There is also outdoor as well as rooftop seating.
Not far is Onesto Italian, a popular spot for a modern twist on Italian cuisine. 221 N. Broadway.
Also good for coffee is the Colectivo Coffee location at 223 E. St. Paul Ave. across from the Milwaukee Public Market.
Torry Folliard Gallery: I had seen the Gallery at shows in Chicago but was pleased to finally visit it in Miwaukee and see it current exhibition. It is a quality gallery located at 233 N. Milwaukee that features painting, sculpture and photography by regional and nationally recognized contemporary artists.
In addition to art, theater lovers should check out the performances at the Broadway Theatre Center at 158 N. Broadway. Here you can see works by the Skylight Music Theatre,  The Milwaukee Chamber Theatre and the Renaissance Theaterworks.
To stay in the area, a great choice is the Kimpton Journeyman Hotel. Located at 310 E. Chicago St., this new boutique property is the perfect place from which to explore the neighborhood and the city. They have a rooftop bar and restaurant, The Outsider, and a restaurant downstairs, Tre Rivali, for coffee, breakfast, lunch,  dinner  and weekend brunch. The rooms feature art by local artists.