I have recently visited four wonderful museums in Miami. Make sure you have time for:
Wolfsonian Museum, 10th and Washington: The Wolfsonian–Florida International University is a museum, library, and research center whose collections comprise approximately 120,000 objects from the period of 1885 to 1945—the height of the Industrial Revolution to the end of the Second World War—in a variety of media including furniture; industrial-design objects; works in glass, ceramics, and metal; rare books; periodicals; ephemera; works on paper; paintings; textiles; and medals.
"The Wolfsonian uses objects to illustrate the persuasive power of art and design, to explore what it means to be modern, and to tell the story of social, political, and technological changes that have transformed our world. It encourages people to see the world in new ways, and to learn from the past as they shape the present and influence the future".
Their cafe in the museum shop is so attractive, make sure to stop in for coffee!
The Margulies Collection at the WAREhOUSE: At 591 NW 27th Street, in the Wynwood Arts District, this contemporary art collection is considered the best in Miami. Real estate developer Martin Margulies has spent more than 30 years collecting paintings, sculptures, photography and video installations; the collection includes works by Olafur Eliasson, Donald Judd, George Segal, Sol LeWitt, Richard Serra and Willem De  Kooning. The museum, with approximately 45,000 sq. ft. of exhibition space, is a real gem and not to be missed!  

Rubell Family Collection:  Formerly at 95 W. 29th St., this is a private museum and contemporary arts foundation now located in a larger 100,000 sq. ft. building. It is now one of the world's largest, privately owned contemporary art collections. It is now further west of Wynwood n the Allapattah neighborhood of Miami at 1100 NW 23rd St.
In a recent segment on CBS This Morning Saturday, I heard about the opening of the new Museum of Graffiti. It states that is the world's first museum dedicated to graffiti art. "Our mission: Exhibit,  educate, and celebrate the thousands of graffiti artists who have transformed walls in our public spaces into vibrant masterpieces." I will definitely go on my next trip to the area. 299 NW 25th . St.
Bass Museum of Art: At 2100 Collins, this is a large museum with works spanning more than five hundred years and five continents. The permanent collection includes Renaissance and Baroque paintings; Rococo court paintings and English portraiture; nineteenth and twentieth-century landscape and historical paintings; painting and sculpture from North America, Latin America and the Caribbean; contemporary photography; Asian art; European decorative arts; as well as a unique collection of works on paper.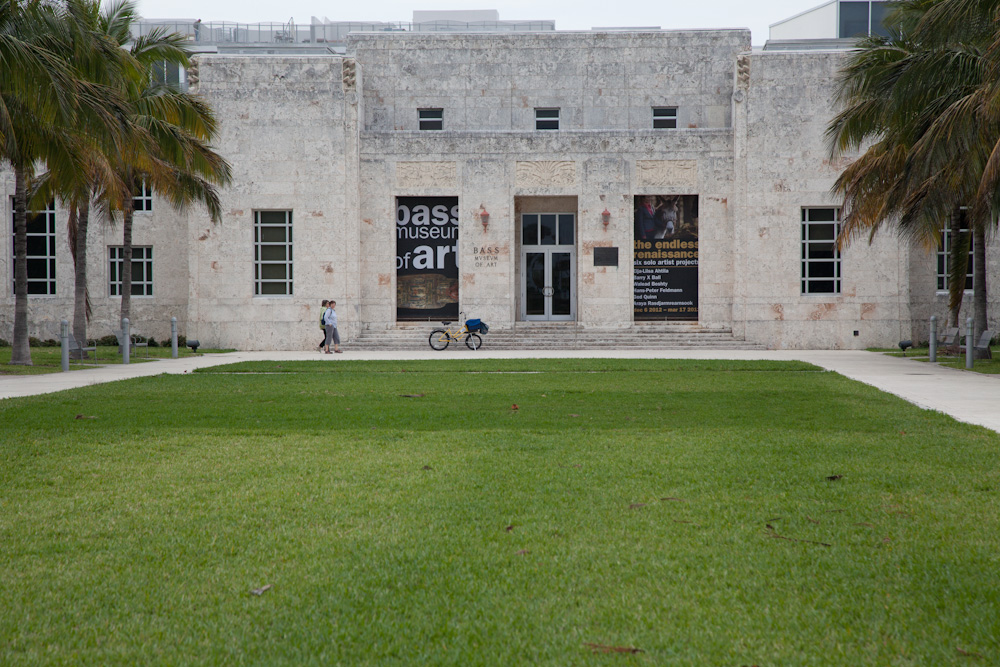 One of the highlights of my most recent visit was the Perez Art Museum with its spectacular setting on Biscayne Bay. The collection focuses on international art from the Americas from the 20th and 21st centuries that reflects the cosmopolitan makeup of Miami. It also features temporary exhibitions. Its contemporary building was designed by Pritzker Prize-winning architects Herzog & de Meuron. It also has a restaurant called Verde. This modern, casual restaurant, has received good press and has both indoor and outdoor seating. They have a coffee bar where you can get a coffee, pastry or sweet and a salad or sandwich. 1103 Biscayne Blvd.